Artist Sara Birns is in love—with her profession of being an artist, that is. And she has a laser focus on engaging that bliss.
Upon one's first glance of her work, though, that intention may be surprising. Through painted portraits, at once surreal and hyper-realistic, Birns explores the emotional meaning of facial expressions and the vibes that reside underneath the surface.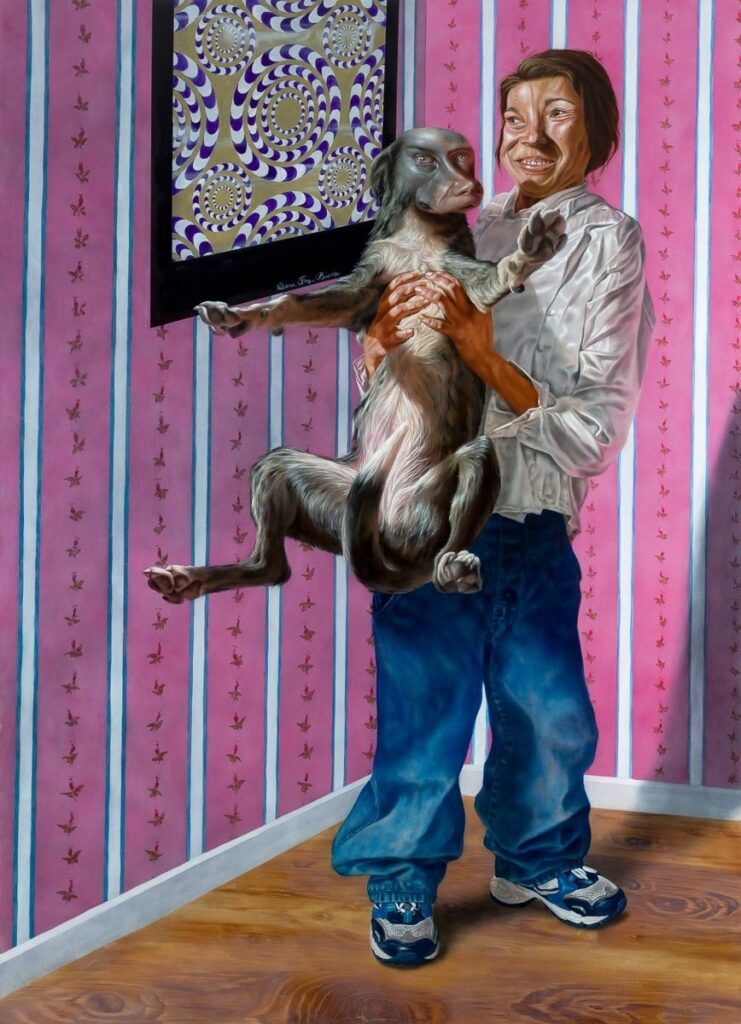 "I love to observe this aspect of people and run with it, tampering and morphing the cues that we usually use to recognize a person in their current state," Birns told 48hills.
Cues such as physical style, facial features, and occasionally, glimpses into situations her subjects find themselves in is what drives her work. Birns goes past skin-deep to uncover the layers of ever-changing emotions that are revealed in our faces. She sees her work as focusing on the universal emotions that we all experience as we explore ourselves and our influence on others and our environment.
Birns grew up in Santa Cruz and has lived there most of her life, with the exception of four years at the University of Oregon (BS, 2014) and a three-year stint living in the Mission District, which she describes as "a blast." At 30, she is not done exploring, and is planning a move to Sydney, Australia.
"My dream is to buy a Victorian chapel and have a studio with stained glass windows, gothic ceiling beams, ghosts, and a rose garden," she said. "And a barn to keep my future horses and ponies—my other passion."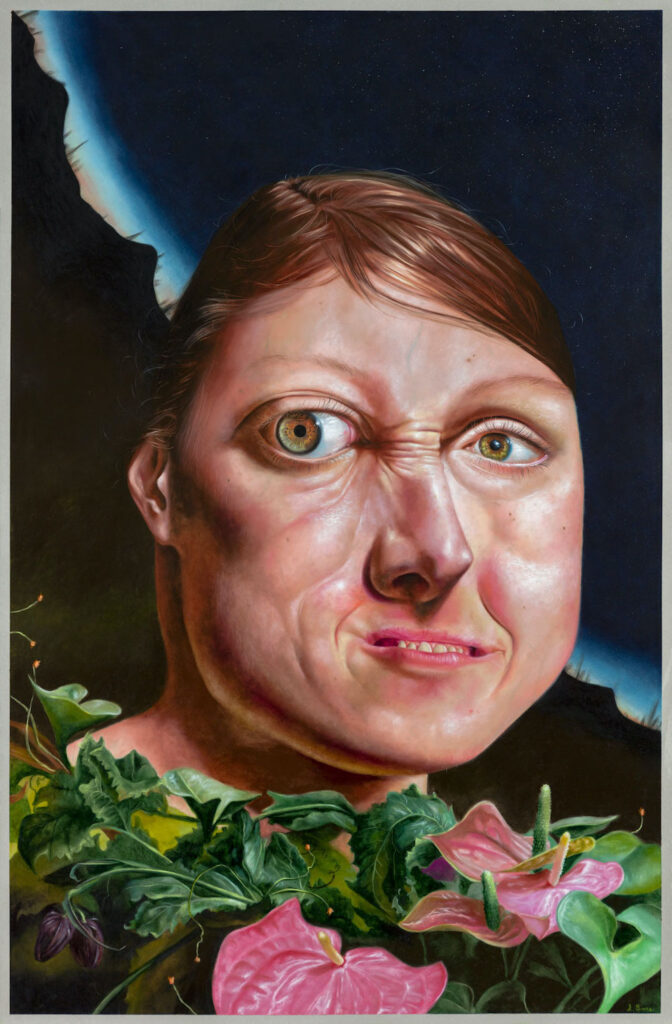 Rendered with technical precision, the trippy, distorted, and sometimes-grotesque features of the characters in her paintings ask us to look deeper at what at first seems fine, then quickly morphs into off-center, misshapen perceptions.
Birns wants us to experience an altered state while looking at her portraits, urging us to break out of harmful patterns or cycles in our own lives. She's asking us to question what's underneath our own exterior features that is not being revealed or examined. To question if it eventually comes up to meet us on the outside, to alter our physicality to expose our interior truths to others. Maybe our hidden truths are not quite so obvious as those expressed in her characters—yet the idea is enough to give one pause.
A day in the studio for Birns begins with coffee or tea and a session of communing with sun and birdsong, a slow relaxing morning to quiet her mind is important to her before she jumps into work. In the small back rooms of her house in the Live Oak neighborhood of Santa Cruz, Birns plans her day, mixing oil paints to accommodate current paintings underway.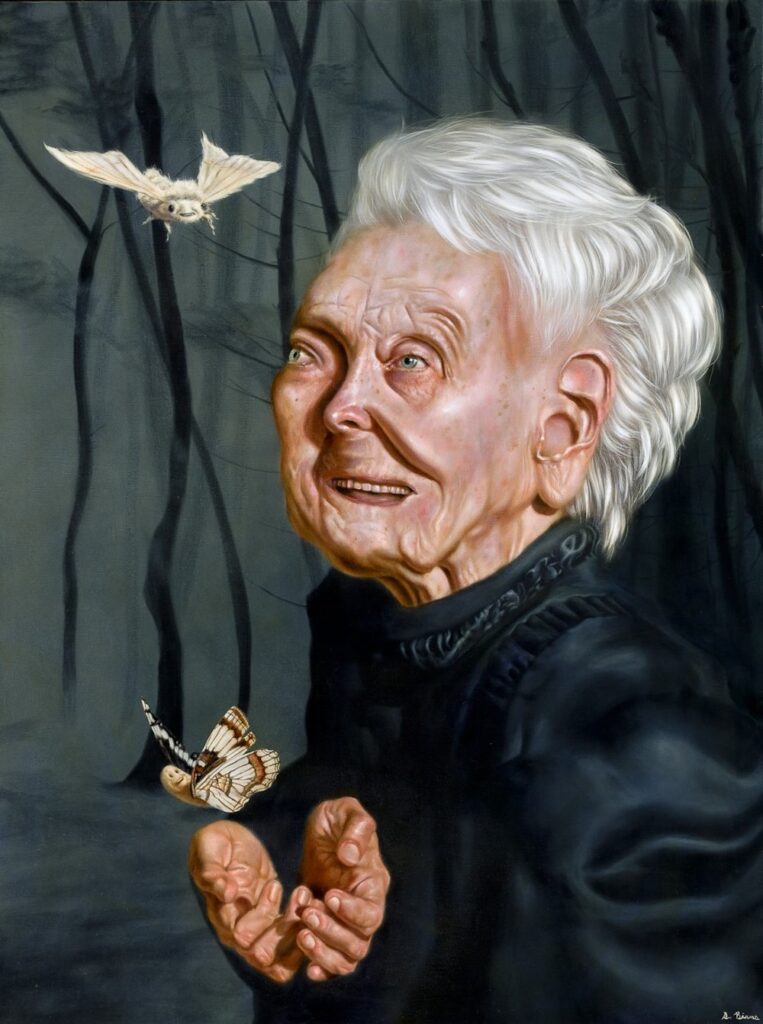 To add proper ambiance to her hallucinogenic visuals, she queues up some paranormal podcasts, music, or audiobooks. Her subjects are usually friends, family, interesting-looking people she finds online, and sometimes herself. Taking different features from numerous reference photos that she's gathered, Birns blends them together to create each unique personage possessing emotional states of her own invention.
"I most enjoy using people I know, because the feelings those works exert seem deeper to me," Birns said.
The artist avoids being too influenced by outside events or the negativity of the media. She thinks it's good to be aware of big issues going on, but prefers that her work be reserved for expanding her mind in an optimistic way, rather than through external sources that attempt to pump us full of fear.
"I think new experiences, new pieces of music, poetry, art, etc., allow our minds to open up and our perspectives to expand wide enough to create a path that we can stroll down to a new corner of our mind, showing us the view of a new angle of ourselves," Birns said.
She adds that when something touches us deeply enough, we see the blurry parts of our own selves more clearly, helping us to break the habits that prevent us from walking a better path.
At the moment, Birns is coming up for air. She's in transition while looking for a new studio space, but she maintains a routine with oil pastels in preparation for a future body of large work, while allowing space for new ideas to percolate.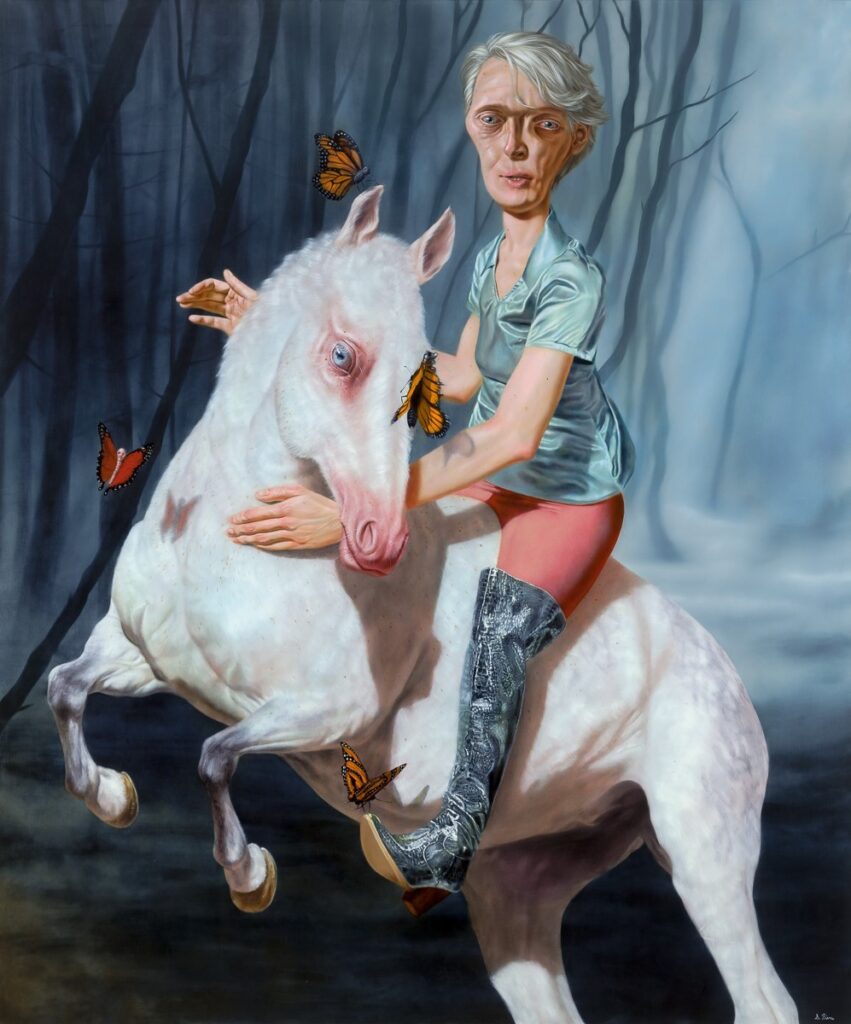 Her most recent shows include an April 2022 solo exhibition titled "Explorers of the Garden Planet" at the Richard Heller Gallery in Santa Monica, which regularly represents her work. For the month of May, she held residency at Palazzo Monti in Brescia, Italy that concluded with a group show titled "Girl Talk." And in June, Birns participated in a group show at Cassina Projects Gallery in Milan, titled "Fluuuuuid."
Though she is planning to leave the greater Bay Area for a time, Birns comments on her indelible connection to the place she has called home.
"In my travels, I've always enjoyed coming back to my hometown where the weather is perfect year-round, the sun is always shining, the waves always rolling, [and it has] the most chill vibes in America," she said.
For however long and wherever she lands, it seems Birns will thoughtfully seek her destiny and continue to share that trip with us. Through her painted characters, she teaches us how interior thought becomes identity, emerging forward from underneath the superficial layers of our exterior lives.
Believing there is a domino effect started by the focus of our thoughts and emotions, she reminds us that the more energy we pour into things that we fear, the more negative correlations and collections of thought we will experience.
"It takes up the space of our lives and influences our words and actions, and ultimately becomes who we are, infecting those around us," Birns said.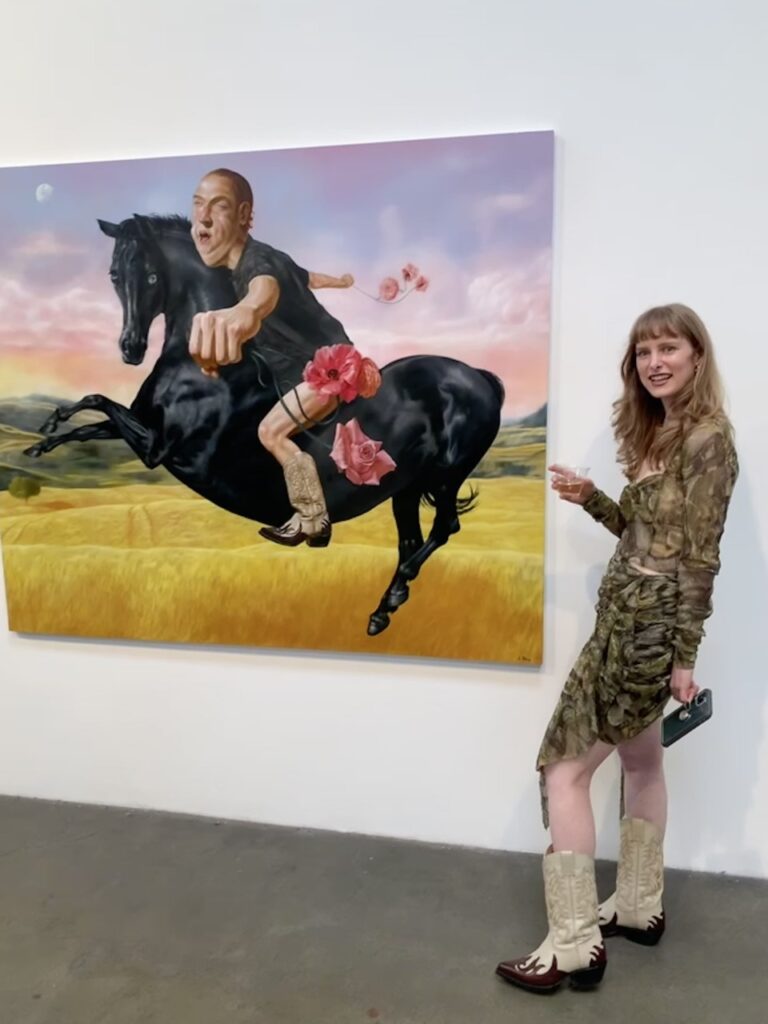 On the flip side, she notes that the more time we spend observing and putting thoughts into what brings us joy, the more doors will open up, the more life will become that reality, and the more we will influence others around us in positive ways. In her case, she says that love of being an artist brings joy, beauty, sensitivity and magic to her life.
On that note, Birns leaves us with these words of wisdom:
"Grow free, grow honest, be vulnerable, identify, and push past your fears," Birns said.
For more information, visit her website at sarabirns.com and on Instagram.