The title of the exhibition "Do Not Fold, Spindle, or Mutilate," co-presented through December 3 by Casemore and Rena Bransten Galleries, draws upon a slogan from the 1964 Free Speech Movement that Stanford communications Professor Fred Turner addresses in his fascinating 2008 book From Counterculture to Cyberculture.
Turner explains that when UC Berkeley students protested the computerization of student records, a protesting student pinned a punchcard to his chest printed with, "I am a UC student. Please do not fold, spindle, or mutilate me." (Turner also speaks of the subject in this 2007 talk at Stanford.) The students viewed the university as an institution rife with mechanization that was whittling away their humanity.
Given this extremely rich and local history, the content of "Do Not Fold" unfortunately shies away from addressing the confluence of counterculture and technology, though that legacy is referenced by the exhibition. Taking a more formalist approach, the galleries have positioned the titular slogan as a strategy for artists breaking gallery, disciplinary, and formal rules.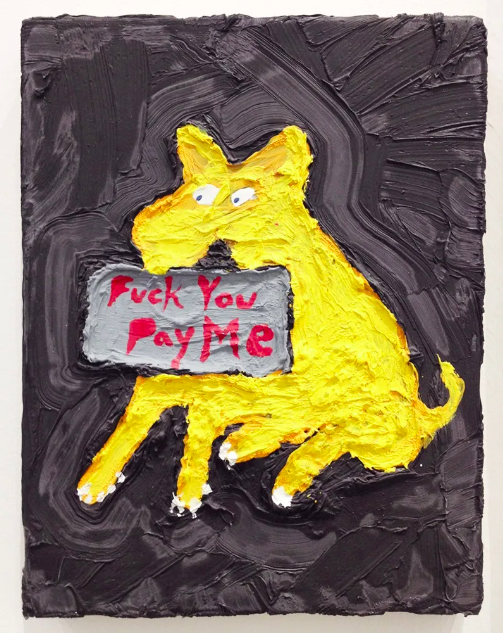 Of only a few works in the exhibition that engage in an explicit disobedience, Charles Linder's "Fuck You Pay Me" (2012) at Bransten presents a crudely-painted yellow dog holding a sign in its mouth with the expletive statement demanding funds. Linder's brash humor sets up an absurdist prompt for a dog's directives.
Additionally, Scott Grieger's "Impersonations" (1972) presents a series of 10 photos in which he is depicted comedically using his own body to "impersonate" the themes and formats of artists like Sol Lewitt, Richard Serra, and Robert Smithson. Within this series, Grieger lies in front of a mirror, appearing as if asleep or dead. Here, the artist's prone body is positioned as a decidedly unconvincing resemblance to Smithson's icon mirror and dirt installations. The artist's deadpan humor irreverently intervenes on the grand intentions of Conceptualist artworks, which sought to "dematerialize" the art object as a critique of commodification.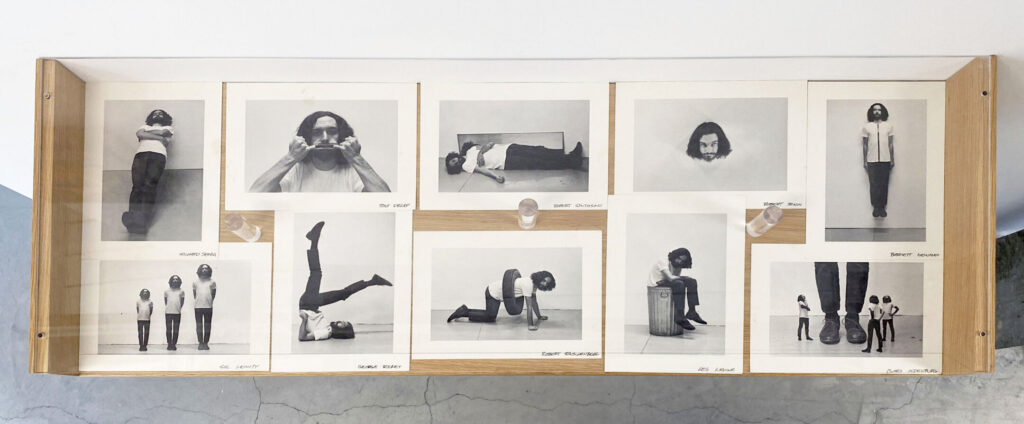 Aside from these two works, most of the exhibited works use folded, crumpled, bended, and collaged materials as abstraction and manipulated materials. The most exciting of these works challenge the pristine care with which artists, galleries, and museums hold the photograph print.
In particular Suné Woods imparts a grunginess in "River Keeper" (2016-2018). Hovering off the wall as a bending organic form, Woods sets the scene in what appears to be an urban park. A cement pathway leads the viewer into a lush green landscape of trees and shrubs. With crudely-wadded prints collaged to the work, Woods suggests trash, debris that interrupts the picturesque landscape. The imagery's creases and warps suggest the scene is being sucked in by a gravitational pull, like a wrinkle in time or a discord in time and space.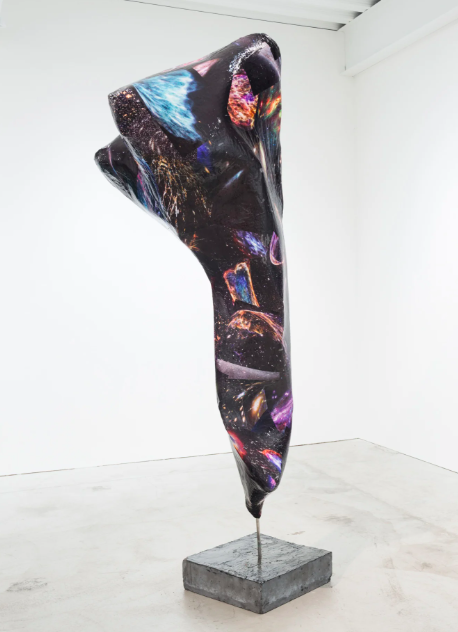 Anouk Kruithof's "Another Universe" (2015) resonates with Woods' work in its content, form, and materials. With over 200 photographs of outer space collaged over a papier-mâché form, Kruithof presents a largely black sculptural form accented with brightly-colored cosmic swirls. Standing erect at over seven feet tall, the object looms over viewers like an oversized human or otherworldly presence. With the gallery's inventory list suggesting that a selfie stick embedded in the concrete base might be supporting the vertical papier-mâché form, Kruifhof engages in a humorous dialogue about self portraiture and photography in the digital age.
While there are very compelling works in "Do Not Fold, Spindle, or Mutilate," the exhibition of 21 artists ultimately feels like a group exhibition that showcases the galleries' rosters. The strongest through line in the exhibition is artistic process and abstraction, and if it had been framed as such, the collaborative exhibition could have seized this opportunity to facilitate a richer and more nuanced dialogues about the artists' works.
DO NOT FOLD, SPINDLE, OR MUTILATE runs through December 3. In Minnesota Street Project at Casemore and Rena Bransten Galleries, SF. More info here and here.