When performing with his band OFF!, Keith Morris doesn't jerk around. The dreadlocked vocalist goes hard, fast, and long.
"You have to understand that we played last night and it was so loud that my head is just filled with fuzz," said the OFF! and Circle Jerks frontman. "My head is filled with cotton."
Free LSD, the first full-length album in eight years from the hardcore supergroup made up of Morris, guitarist Dimitri Coats (ex-Burning Brides), bassist Autry Fulbright II (…And You Will Know Us by the Trail of Dead), and drummer Justin Brown (Thundercat, Flying Lotus, Herbie Hancock), is equally thunderous, soundtracking stories of warring aliens, duplicitous politicians, and Operation Overcast with vitriolic punk, explosive jazz, and intergalactic electronic.
The 20-song album is in and of itself a soundtrack to its same-name companion sci-fi flick, due out in 2023. The videos for the album's first two singles, "War Above Los Angeles" and "Kill To Be Heard," feature footage from the upcoming film starring OFF! members as well as Jack Black, David Yow (Jesus Lizard), Chelsea Debo, James Duval, Dana Gould, Chris D. (Flesh Eaters), Chloe Dykstra, Davey Havok (AFI), Don Bolles (Germs), Don Nguyen, and the late D.H. Peligro (Dead Kennedys).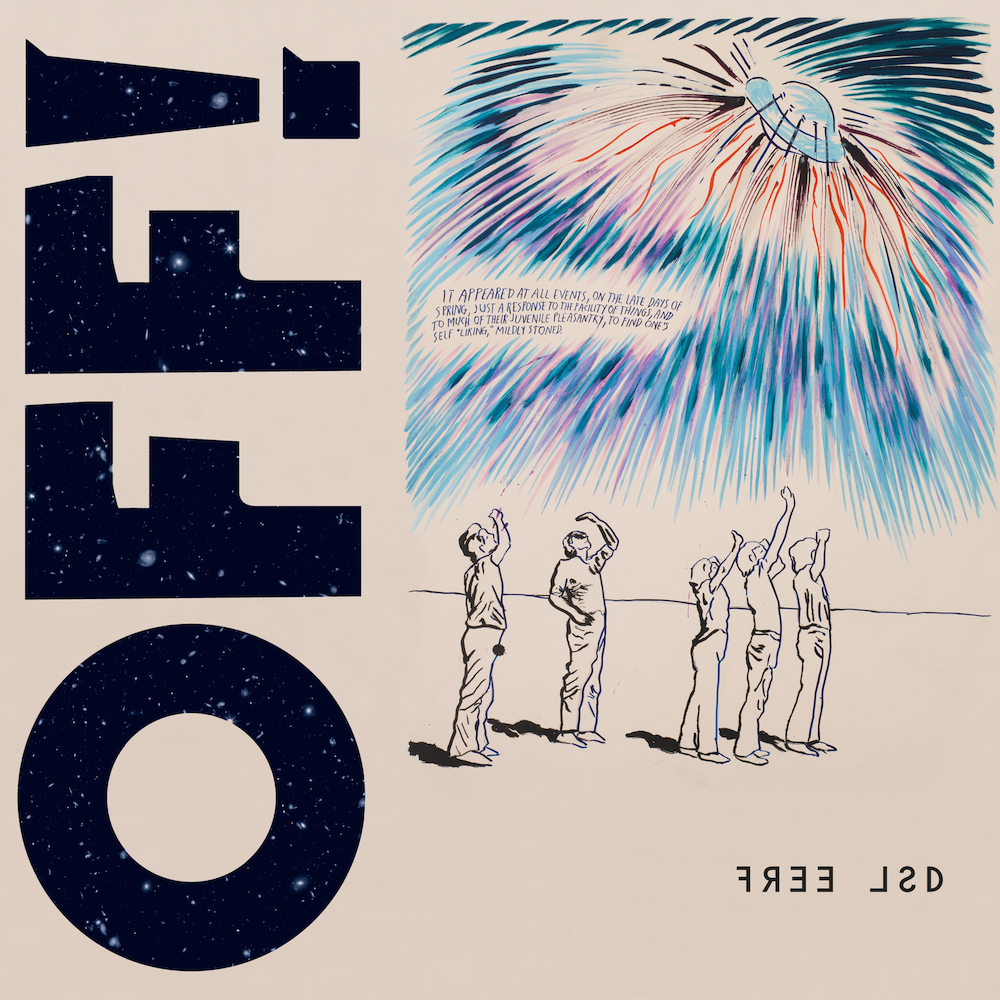 OFF! is set to play the new record in its entirety along with some of the old favorites from their 12-year catalog when they take the Independent stage (Fri/16). In advance of the show, I spoke to Morris about going in new musical directions, the movie that'll have viewers scratching their heads, and the importance of mind expansion.
48 HILLS How would you describe an OFF! show?

KEITH MORRIS Well, for one thing, we're loud. Secondly, our drummer is all over the place because he's a jazzbo. So he came to us and said, "Guys, when I play, I don't play the same thing twice." So we have that extra added bonus of this pu pu platter of miscellaneous drum fills. And what's great about him is that he gets out in front of us like he's the bandleader and we're all trying to catch up to him. But then he'll bring it back when he needs to.
Ultimately, we're just a rock band and we're going to all of these different places. We have all of these different soundscapes.
48 HILLS I read that OFF! came together as you were working with Dimitri on a Circle Jerks project that never took off. How did you go from there to starting another band?
KEITH MORRIS The problem with the Circle Jerks is they're all now senior citizens and some of them have a bit of a rockstar attitude and there was no creativity whatsoever. We would get in a room and normally somebody would have a riff and we'd do this: Doo doo doo doo doo doo doo doo doo doo doo doo.
And Dimitri, being the young, energetic guy, was the one that was going to light a fire under our asses. But it didn't work. At one point, Dimitri and I had written about eight or nine songs because they decided they were not going to work with Dimitri. They didn't like Dimitri. And while Dimitri and I were writing these songs, I said, "We're writing these songs for a Circle Jerks album. But they're going to figure out a way to sabotage what we're doing. We need to be prepared for that because I know that it's going to happen."
And I got a phone call one night at about 10:30. I was laying in bed, getting ready to watch a DVD, when I got a call from one of the guys—and it was very lopsided. It wasn't even a conversation because the way it started was, "We know that you're going to quit the band because of our decision. But we're not working with Dimitri." Then he started rattling off all of these adjectives to describe Dimitri. And as he was rattling off these adjectives, each adjective fit a member of the Circle Jerks. At the end of his half-hour spiel, I said, "You're right. I quit."
And the next day I was sitting with Dimitri and said, "We've written all of these songs. Now it's time for us to start our own band." He was ecstatic. 
48 HILLS How did you settle on the name OFF!?
KEITH MORRIS Dimitri took it upon himself. We were tossing around a few names and he loved the name Black Flag. And I don't think he realized … A lot of people think that Black Flag is the ant spray. OFF! is also a mosquito repellent. So now there are all of these people that think, "Well, Keith Morris, he just names all of his bands after insect sprays and all of these different repellents," and no, not really. The Circle Jerks certainly isn't a bug spray and Midget Handjob is certainly not a bug spray.
48 HILLS I know that OFF! is one of Anthony Keidis' favorite bands and that he regularly sports OFF! hats.
KEITH MORRIS We are one of his favorite bands. Anthony is a big fan of the Circle Jerks and Black Flag. Flea played in the Circle Jerks for a while. It was one of my favorite lineups of the Circle Jerks. All of the Red Hot Chili Peppers are fans of the band. We're one of those bands where all of these musicians love us, but the majority of the time, that does not equate to us selling a lot of records.
48 HILLS To say the new album is ambitious as far as subject matter is an understatement. Within a matter of 38 minutes, you debunk the American Dream, vilify internment camps and deceitful, greedy, warmongering politicians, and expose alien invasions and Operation Overcast.
KEITH MORRIS Now, the majority of the subject material is real. Even "War Above Los Angeles," that's a true story that happened where there was a big silver thing flying across the sky that slowed down. Their message was, "Hey, look at us. We're up here and you're down there and there's nothing you can do about it." It flew over Los Angeles and made a U-turn just to double down on its message. Our military was firing on it but there was nothing they could do about it. The majority of the subject material sprang out of conspiracy theories.
48 HILLS You're kind of a conspiracy theory enthusiast. I know you had a podcast, Blowmind Show with Pete Weiss and Keith Morris, on which you tackled many of them.
KEITH MORRIS All we did was dig into conspiracy theories, whether they were true or false. Normally, a lot of these people, when they're going into a conspiracy theory, they'll tap onto the first thing that comes up on Google rather than going 10,15, 20 deep, getting into some real stuff.
We, in the podcast, started with the white stripes in the sky. Are they contrails or chemtrails? And in my research, I'm watching one of the heads of the CIA step up and say, "We're spraying aluminum nanoparticles to control the weather."
Living in Los Angeles, there are many [defense contractor] companies. So the scenario with the aluminum nanoparticles is that it also deflects any of the Chinese satellites flying overhead from being able to use infrared technology to look into all of these installations, like "What's going on in here? What are they building in here?" So it was twofold.
But one of the bigwigs at the Air Force stepped up and said, "We've been spraying lithium." And why would our government do this, knowing full well the effects that these metals will have on people's health? Because our government doesn't care.
48 HILLS Does this album have a mission statement or something you want to get across to listeners?
KEITH MORRIS Be thoughtful and open your mind up to all of these different things that can affect you. Dig into some of this stuff.
I get into arguments with people on Facebook over the chemtrails. "Oh, no, no, no. They were doing that back in the '40s and '50s. They don't do that now." Yes, they're spraying stuff over certain areas that you don't even really want to know about. 
48 HILLS The Free LSD movie is described as an intergalactic tale about the making of the album. What more can you tell me about it?
KEITH MORRIS The movie is a science-fiction love story where we're able to go back and forth in realities. And the first reality before we become a band is all of this mundane stuff. I own a porno store. Autry is part of a cult. Dimitri is a sleazy scuzzy, horrible record company executive, and D.H. Peligro, RIP, plays our drummer in the movie.
So we go through these existences. And then finally, the four of us are told, because of the music we're making and how we're capable of dealing with the evil aliens, that we're going to save humanity. 
48 HILLS What made you want to do something this enterprising?
KEITH MORRIS Dimitri had an idea for a movie script. It's just ridiculous. Now, we purposely created some of these scenes and parts of this movie to have people scratching their heads at the thought of who is crazy enough to give these guys the money to make this.
48 HILLS You said that after making music for as long as you have, it was time to use a palette that includes lime green, turquoise, and magenta. What did you mean by that?
KEITH MORRIS We're going back to Free LSD. Open your mind. Let your world be more colorful. Let's not get caught up in all of the black and white and the red, white, and blue. Let's be more vibrant. Let's be more exciting. Let's go to some new places. Let's do some new things.
When we started on this journey with this particular recording and this movie, Dimitri and I were sitting on his couch and Dimitri said, "I don't come from hardcore. I don't come from punk rock." I love that because that's all I've been doing musically all my life. I had a couple of breaks with Midget Handjob, which was more free jazz and krautrock, or Bug Lamp, which was just basically a hard rock band. For the most part, it's been wham, bam, bam, bam, bam. Dimitri said, "I can't do this anymore. It's not who I am, Keith. Let's explore some other musical territories."
He's a classic industrial fan so we went to some other places. We even listened to free jazz. And you can hear bits and pieces of all of the stuff in what we're doing now—but we are a hardcore punk rock band. We have to have that as our base. That's our foundation. Then once we build the house, we're going to paint it chartreuse with black trim. And the door is going to be turquoise and the driveway is going to be painted magenta, and we're all going to drive cars that are lime green.
OFF! Fri/16, 9pm, The Independent, 628 Divisadero, SF. $25. Tickets and more info here.