It is probably safe to say that before 1900, the upwardly mobile fantasies of children (and adults who still thought like them) fixated largely on royalty, in their idealized public and/or storybook form. After 1900, that time-tested aspiration finally shifted, to a new glamorous role model: the movie star. Then a few decades later, elbowing for space if not quite eclipsing the prior two, along came the pop star. All these species still very much occupy the popular imagination, as yet only faintly threatened by such 21st-century inventions as "influencer."
Of course hand-in-hand with their durability as idols is a fascination with the grief, scandals, weirdness, petulance, excess, et al. behind the glittering facade. Two new movies, both somewhat fact-based (one overtly, one vaguely), offer further dramatized proof that it's lonely—and dysfunctional—at the top. We'd have had all the above-noted celebrity flavors represented here … but alas, it turns out that costume saga Corsage (with Vicky Krieps as Empress Elisabeth of Austria) isn't due to open in the Bay Area for another two weeks.
Someone who was a pop star, a movie star, and something close to royalty—complete with the press hounding her every, sometimes-unflattering move—was Whitney Houston, whose story is (yet again) told in the new I Wanna Dance With Somebody. Actor turned director (Harriet, Talk to Me, Eve's Bayou) Kasi Lemmon's film charts a rapid rise and protracted, eventually fatal fall already familiar from several prior documentary and dramatic depictions, not to mention a million lurid print accounts. Lemmon begins in 1983, when young Whitney (British thespian Naomi Ackie) is barely out of her teens, but already something of a showbiz veteran, having been rather rigorously groomed for success by her driven parents, well-known singer Cissy Houston (Tamara Tunie) and manager John (Clarke Peters.)
When the vocal prodigy is brought to the attention of Arista Records chief Clive Davis (Stanley Tucci), he pronounces her "the voice of her generation"—a term repeated as fact in closing onscreen text—and plays starmaker to a degree of popularity even beyond such disparate prior protégés of his as Barry Manilow, Billy Joel, and Janis Joplin. She becomes, almost immediately, a mainstream phenomenon, one whose racking up of awards, sales records, and "firsts" is tainted only by some grumbling that as a Black artist she is a "sellout" to the most vanilla Top 40 tastes. (She was notoriously booed by the audience of Black industry pros at a mid-'80s Soul Train Music Awards ceremony.)
I'll admit being indifferent to Houston during her career. She clearly had a natural gift, but that big voice was largely applied to MOR schlock with maximum bombast and little real personality. Those were the huge commercial wins she was hogtied to, while the funkier material she preferred was less widely embraced. Death lent her the usual celebrity martyr's sanctification, yet it's hard to overlook the other legacy left behind: That Davis-honed style became the gateway drug to the whole "American Idol" era of imitative pyrotechnics too often divorced from any organic feel for melody or lyric, and frequently now (thanks to the preponderance of electronic processing effects) even from actual vocal ability. Whitney Houston the talent—and its less-than-fully realized potential—may be sorely missed, but WH the chart-topping jeremiad made music in general worse.
Still, there is no denying her story is high drama. I Wanna Dance earns props for placing an unapologetic (if very PG) emphasis on the subject's complicated-yet-very-long-term relationship with female lover (and eventual employee) Robyn Crawford, played by Nafessa Williams. Though not a physical ringer, Ackie impresses by managing to give a confident performance that is more than astute imitation. And Lemmons deserves credit for keeping this very straightforward biopic shy of camp cliché, even though Anthony McCarten's screenplay doesn't help—it feels like a series of biographical bullet points (Super Bowl! Bodyguard! Miscarriage! etc.) that leave little room for depth or texture, with nuance-free dialogue.
It's only in the last hour that this smooth, skillful if somewhat generic retelling begins to belabor, skimming over all the infamous ugly stuff in order to present an overall picture of triumph that's simplistic to the point of revisionism. One assumes the still-living figures depicted (including Davis, Cissy Houston, and Whitney's ex-husband Bobby Brown, played by Ashton Sanders) exerted enough sway that whatever faithful-to-life edginess the material might have had got sanded away.
So what we get is a superstar whose addictions are portrayed as something that almost incidentally happens to her, rather than as the thing that gradually controlled, and finally killed her. Nor do we get much sense in this scrubbed, superficial treatment of just who she "really is" under the superstar facade, no matter how many times she asks to be allowed to "just be me." (A much clearer sense of that conflict came though in Nick Broomfield's 2017 doc Can I Be Me, as well as other past portraits.)
Instead, this movie simply bolsters the public persona so much that despite all solidity of craft and performance, for me it wound up reaffirming a complete personal disinterest in the career at hand. It climaxes in a concert medley that fully shows off the singer's famous technique and dynamics. (Ackie can sing, and occasionally does, but the big numbers are all her miming to Houston's original recordings.) Yet if you're not dazzled by those particular fireworks, you'll be reminded that her style was a kind of steamroller capable of flattening songs from Porgy & Bess, Dreamgirls, and the Bodyguard soundtrack into one flavor of histrionic pop goo. It's a finale guaranteed to leave you either on your feet applauding, or slumped in your seat, half-asleep.
If I Wanna Dance ultimately prefers to downplay the disarray of Houston's later life to present of talent triumphing over all, Damien Chazelle's Babylon has a somewhat different perspective. This fiction about Hollywood's early heyday nearly a century ago begins with an elephant (being transported for a film shoot) spraying fecal matter at the camera—and you've got another three hours of being shat on to get through.
I'll admit I disliked Chazelle's prior hits Whiplash and La La Land, which in their different ways seemed showily fraudulent to me. (I did like his astronaut drama First Man, but other audiences didn't.) Still, it was easy to see how their crowd-pleasing mechanics appealed to many. With Babylon, however, the writer-director seems to be daring viewers not to feel his contempt for the art form itself, its history, its business, and (particularly) its actors. He's made a supposed valentine to cinema that is poisoned in the worst way. It's condescending and caricaturing towards his betters, without even genuine wit in its attack, then pulling a phony late turn towards sentimental pathos of "But aren't we all in love with the magic of movies!" This film is the kind of shapeless, bloated, self-indulgent mess fit to kill that love.
Sprinkling references to real personalities, studios and, events amidst fictional ones, Chazelle's awful screenplay rests principally on two composite characters. In 1926, Jack Conrad (Brad Pitt) is a huge star, though one already tempting ruin in his excessive drinking and womanizing—which did ruin his real-life model, MGM's silent luminary John Gilbert. Crawling up from the bottom of the career ladder is Nellie LaRoy (Margot Robbie), a furious striver from a rough background whose natural ability does bring success, though her own demons make it a brief stay at the top. (She's a stand-in for original "It Girl" Clara Bow, who like Gilbert faded quickly in the talkie era—in part because their studios found them too expensively problematic to bother "saving.")
Observing their separate rises and falls is Manny Torres (Diego Calva), a gofer whose resourcefulness eventually pushes him to the level of executive, though he too is fated to tumble. Other major figures include jazz trumpeter Sidney Palmer (Jovan Adepo), who's not based on anybody because there were no African American movie stars in this era; and the vaguely Anna May Wong-ish Lady Fay Zhu (Li Jun Li), who in another elephantine signal of the movie's smirking vulgarity is introduced winking her way through a song about "My Pussy." But it is notable that these non-white figures are never really integrated into the main narrative; Manny is just there to sympathetically watch others self-immolate, while Sidney and Fay stay on the margins. As in Chazelle's prior films, his notion of diversity feels token-ish even when he strikes the usual disapproving attitudes towards racism.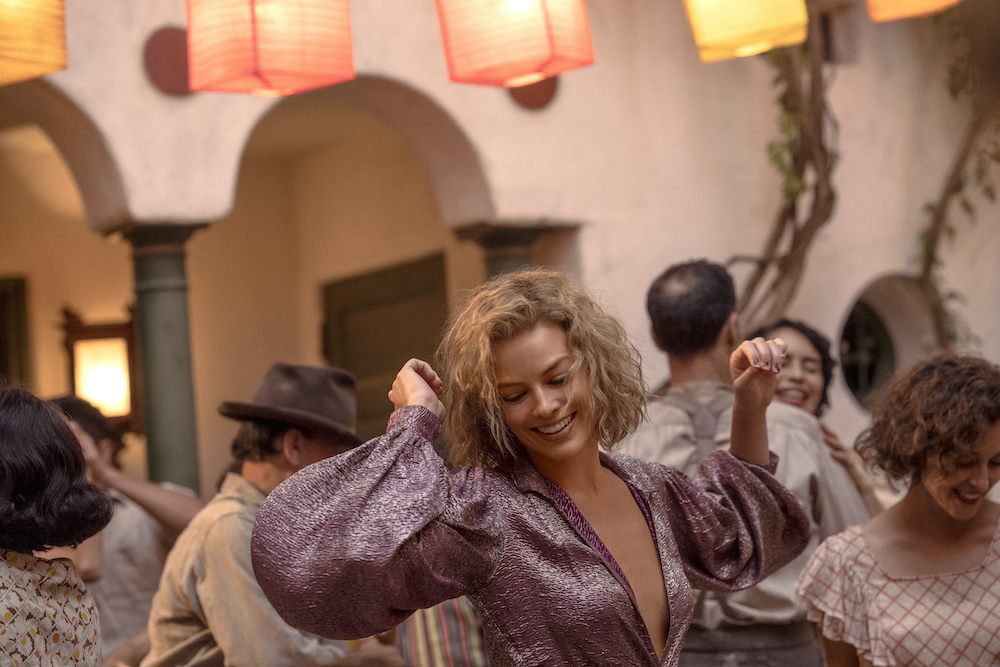 But what Babylon is really about is a prurient, peurile fantasy of retro decadence more dependent on Kenneth Anger's rumor-mongering, ambulance-chasing gawkfest Hollywood Babylon than any historical reality. Many will be shocked by the amount of nudity, profanity, bodily fluids, and whatnot here. But what's depressing is how artless, unimaginative, and just plain needy Chazelle's shock tactics are, from the stock "show us your tits" and lipstick-lesbian stuff to kink that feels sneaked in from a Hostel sequel. In contrast to the genuine horror at exploitation that suffuses something like The Day of the Locust (an obvious influence here in its various forms), this movie seems to be simultaneously smacking its lips and clucking in moral superiority.
The terminally juvenile effect is underlined by the lack of period flavor. Like his strenuously middlebrow prior takes on jazz and the musical, Chazelle renders the Roaring Twenties (and Talking Thirties) in watered-down terms, presumably believing audiences need to be pandered to in "modern" terms. Thus Nellie supposedly becomes a star by improvising business on a Western set that would be more apt for a Megan Thee Stallion video, and everybody cusses like an angry seventh-grader of today. (I'm sure "golden age" Hollywooders swore, but I also suspect they had more expansive arsenals of salty language.)
By the time a character played by Tobey Maguire announces, "Welcome to the asshole of Los Angeles," we feel like we've already been squeezed in that fragrant zone for two-plus hours. Babylon is demeaning to its performers, and to Florencia Martin's production design—the one aspect here allowed a splendid period faithfulness. Slathered all over the film like inescapable elevator music is an original score by Justin Hurwitz. He's won two Oscars, yet still seems to me primarily qualified for his job by virtue of having been the director's roommate at Harvard.
After biting and crapping on the hand that fed it for most of a 189-minute runtime, the movie has the gall to end on a series of maudlin "Isn't showbiz wonderful, after all?!?" notes, including a bizarre montage of highlights from the entire history of motion pictures that's heavy on the gratuitous psychedelia and latterday CGI. Babylon has rare grace notes, and a pointed (if on-the-nose) monologue or two amidst the general dross. But it is almost exclusively the kind of colossal miscalculation that makes you think, "What were they on?"
Even Ken Russell's garish 1977 Valentino wasn't quite so scornful of his flawed-yet-nobler predecessors—he too suggested "the biz" was entirely populated by hucksters and whores, but at least he seemed to be enjoying the cartoonish antics he put them through. Babylon is a venomous turd pie with pretensions, not least of the tacky, "I think my orgies are at least as good as Fellini's" type.
No, they're not, and while auteurs like Fellini (or even Russell) at their most self-parodying still expressed an individual style, Chazelle's showoff moves are all clumsy imitation and pastiche. Nothing is organic: You can feel decisions were made on the basis of "No, I want the longest tracking shot!" and "More extras must flash boob just as the camera passes by!" He's made a movie in which talent is mostly viewed as a poseur's sham—yet he's the party primarily exposed as such. Babylon, like I Wanna Dance With Somebody, opens Fri/23 in theaters everywhere; standing upwind is recommended.