It was Stevie Wonder who introduced Jeff Beck to a completely different generation and demographic.
Talking Book (1972), which many consider to be the start of Wonder's classic period, featured a collaboration with Jeff Beck. According to Paste magazine, the two musicians came to an agreement whereby Beck would play on the album and Wonder would then pen a song for him.
Beck played guitar on "Lookin' for Another Pure Love" and Wonder gave him the go-ahead to record a version of "Superstition." On Beck, Bogert & Appice, Beck was supposed to release the song first. Nevertheless, Wonder's version was heard by listeners first after that Beck record was postponed and Motown founder Berry Gordy predicted "Superstition" would be a smash hit. (Gordy could always smell the money.)
But it marked a magical moment of rock and funk conversation—Stevie the R&B wunderkind and Beck the heavy '60s rock legend who could make his guitar talk like Wonder's Book.
In some ways, Beck's guitar work on "Looking for Another Pure Love" squalls more directly, and clearer than Wonders' lyrics. We're walking through a mellow jazz-fusion fog with Beck's changing patina moving around incrementally. No rush. All feel and float. Even before we reach the pirouette high point, Stevie says at 1:58 "do it Jeff" in the middle of the serenade, emphasizing a mastery Beck held over his instrument and the entire song.
Tellin you.
This deep crate joint? It recommended Jeff Beck, co-signed him, to a particular generation of American ears and minds. Sight unseen. It being the '70s, a good record would get played all the way through. No skips. Then flipped to the other side without hesitation.
That's better branding than a Minions meets M3GAN Tik-Tok dance.
After developing bacterial meningitis, Beck passed away on January 10 at the age of 78, at a hospital near his home in England. In addition to founding and serving as the lead singer of The Jeff Beck Group and Beck, Bogert & Appice, he first gained notoriety as a member of the rock group The Yardbirds, his fuzzy, bluesy guitar paving the way for genres like psych-rock and heavy metal, as well as some branches of jazz fusion.
"He was a great soul who did great music," Wonder told The Detroit Free Press. "I'm glad that I was able to meet him and have him in my life, giving some of his gift to my music."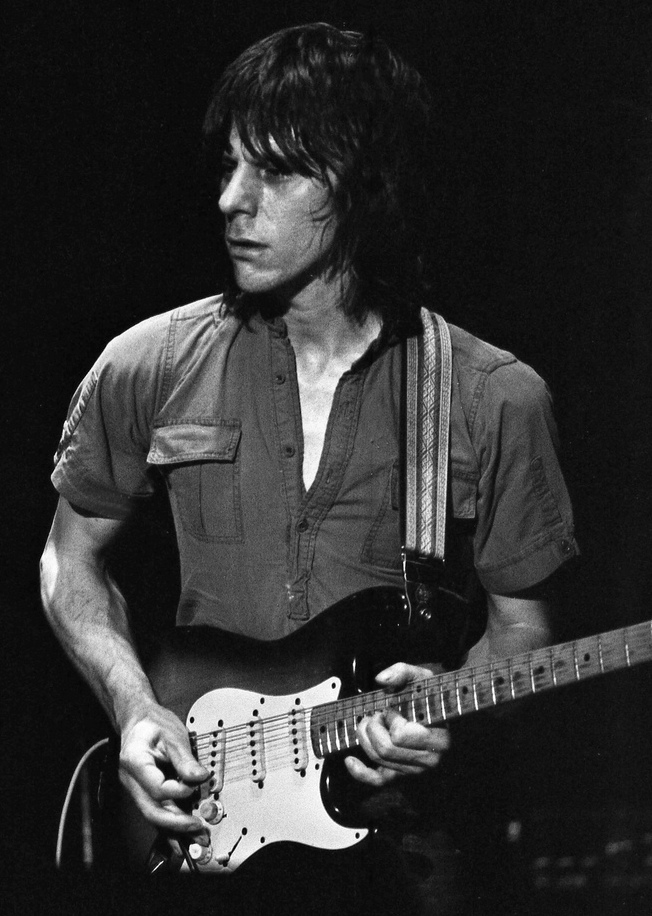 Wonder and Beck were introduced to one another by Robert Margouleff and Malcolm Cecil, producers who had worked with Wonder on 1972's Music of My Mind and were involved in the follow-up sessions which would become Talking Book.
"I really didn't know too much about him," Wonder said of Beck. "But then I heard him play in New York. We were working on 'Lookin' for Another Pure Love' (in the studio) and I said to him, 'Why don't you play on this?' He thought that would be great. He laid one part down, then another part, and another part. It was just amazing."
As for the solo, Wonder immediately knew it was the vibe the song had to have.
"It was just a wonderful thing, the whole deal," said Wonder. "He gave it such a mixture — sort of a jazz feel with a bluesy feel, with the chord structure he took from what I had done. It was great. He put his touch on it. It was just really cool."
Becks' heavily known highlights can be found by performing a quick Google search. But when I first moved to San Francisco, I went to Thrift Town and Community Thrift and found two Beck classics for $1.25 each.
They remain in my turntable rotation.
Blow By Blow (1975) features the funk-up "Constipated Duck" and the Stevie Wonder cover "Cause We Ended as Lovers" on some washed-out LA blues ballad-type steeze. The fusion-y "Head For Backstage Pass" along with the Mingus cover "Goodbye Pork Pie Hat," written for Lester Young—a friend of Mingus who played sax and clarinet, known for donning unusually broad-brimmed pork pie hats and known lovingly by the nickname "Prez"— are the next-level tracks on the timeless '76 Beck record, Wired.
With those runs, fusion-rock designs: Joy and loss are evenly shot through a blues lens, as Beck strides down an updated cover. Such a feat that Charles Mingus himself wrote Beck a letter expressing how impressed he was with the reimagining.
RIP Jeff Beck.