Maybe it was the weather here—heavy, as you know—but Sterling Elliott's voice burst out of the telephone like a ray of sunshine. In New York, where the up-and-coming star cellist is completing his Master's in Music program as a Kovner Fellow at Juilliard, the weather was surprisingly mild, and he had just returned from warmer climes. "I just got back from playing in Hong Kong for the first time," he said, "so that was a lovely place to spend the holiday break."
As 2023 ramps up his traveling schedule, Elliott is coming to Davies Symphony Hall Wed/18 for a concert recital, accompanied by pianist Elliot Wuu, presented by the San Francisco Symphony. "The first time I played in San Francisco, I was so young I can hardly remember," he said, "but I popped in for a few hours in 2021 to get my cello fixed." (Between Elliott's cello and Lizzo's flute, San Francisco's secret as a classical instrument repair Mecca seems to be getting out.)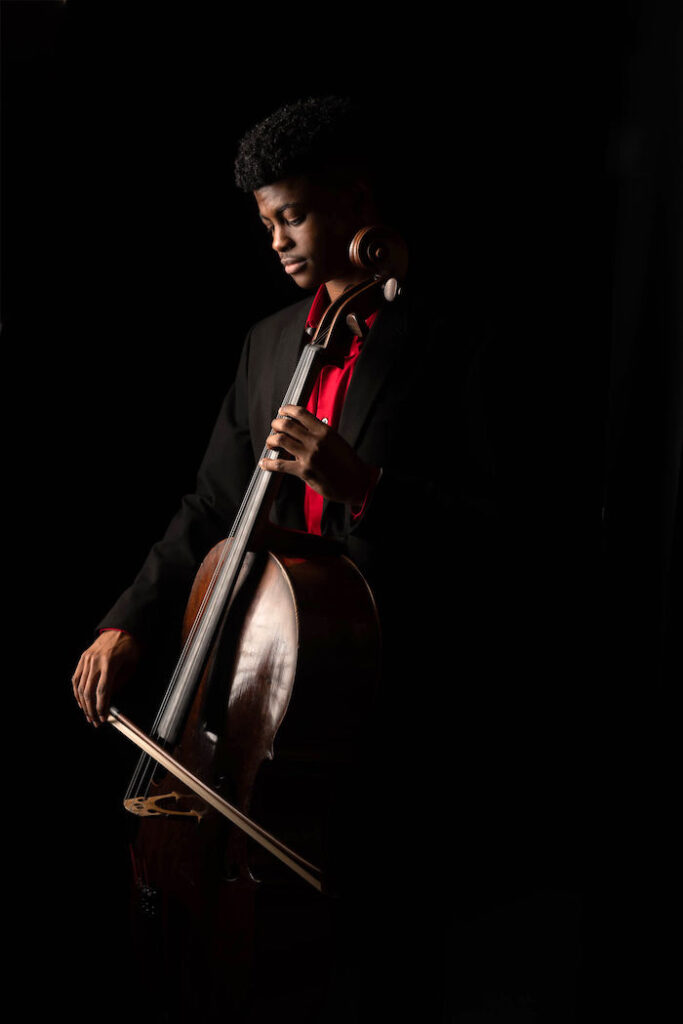 Elliott grew up in Newport News, Viginia, and started extremely early on the strings as part of a lively musical clan that included the well-known Elliott Family String Quartet—made up of his mother Dannielle and siblings Justine and Brendon. He started playing when he was three years old, performing at church, and the Elliott family was soon in demand—hitting the road playing a variety of classical works, as well as traditional American compositions.
"My mother and my brother played together before I was even born, so I basically emerged from the womb with a stringed instrument in my hand," he laughs. "Playing with them was so valuable, growing up constantly making music with others, being surrounded by music all the time, basically. It still feels strange to play solo.
"My brother is my idol and professional role model," he says. "I love stealing things from his violin repertoire because he plays so beautifully. And my mother is the whole reason I'm here, doing things like flying off to Hong Kong for a concert."
Still, playing the cello wasn't Elliott's first choice. He wanted to be like his brother and play the violin. "My mom convinced me when she told me that cellists make more money," he laughs. Do they? "I would say in my experience, note for note, they do."
Elliott still plays with the family, but since he's gone on to solo success he's racked up a huge list of achievements, including being a 2021 Avery Fisher Career Grant recipient and the winner of the Senior Division of the 2019 National Sphinx Competition. He's appeared with almost every US symphony you could name, from Raleigh to Los Angeles. But he's particularly excited about this solo showcase in San Francisco, playing two longer, fascinating pieces.
He'll jump right in with Bach's epic Cello Suite No. 6 in D major, "I haven't done the Bach before in this type of setting, why not start big?" he says. "It's one of the pieces I love and it pairs so well with the Mendelssohn, not only in the tonality but in the aura of both pieces." The Mendelssohn in question is the other big piece on the program, the composer's Cello Sonata No. 2 in D major. "That's been on my bucket list forever and I'm so excited to play it. The opening just caught my ear with its enthusiasm and exuberance.
"It's possibly the most joyful thing you'll ever hear. I was so fortunate to find a pianist to tackle its whirlwind of notes." (If attendees are lucky, there may be an encore of Black composer William Grant Still's 1943 "Mother and Child.")
Elliott is stoked to be returning to live performance. "Navigating the pandemic was crushing, to be honest. That's what I love about my peers at Juilliard: They surrounded me and gave me constant inspiration. But to be isolated physically was to be isolated musically. It was hard to find a reason to keep making music. The streaming thing just wasn't doing it for me, though I did do some streams.
"But when I finally got to see my brother, we started playing together right away and streamed things. It's just what we do, and it felt wonderful."
SF SYMPHONY SPOTLIGHT: STERLING ELLIOTT Wed/18, 7:30pm. Davies Symphony Hall, SF. More info here.