You're eyeballing Good Taste, a weekly look at the Bay Area's innovative food world. Today, you have a chance to support the creation of a wild new candy bar!
One of the quiet stars of San Francisco's adventurous small-batch, bean-to-bar chocolate making scene is Oodaalolly. I first got the chance to sample its products back in 2018 at Undiscovered SF, an event highlighting up-and-coming Pinoy makers and culture which will return this year. Oodaalolly sources cacao beans from the Philippines and Switzerland, and is now working on an intriguing idea utilizing a remarkable new product from the Bay Area.
A Kickstarter campaign hopes to raise at least $12,300 to produce a non-psychoactive Mushroom Milk Chocolate bar that utilizes a non-animal protein milk made from flora by Berkeley's Perfect Day. This isn't the first out-there idea from Oodaaolly, which made a chocolate version of the fertilized duck egg embryo called balut for Easter. But it has real potential to open a lot of minds in the chocolate world and beyond.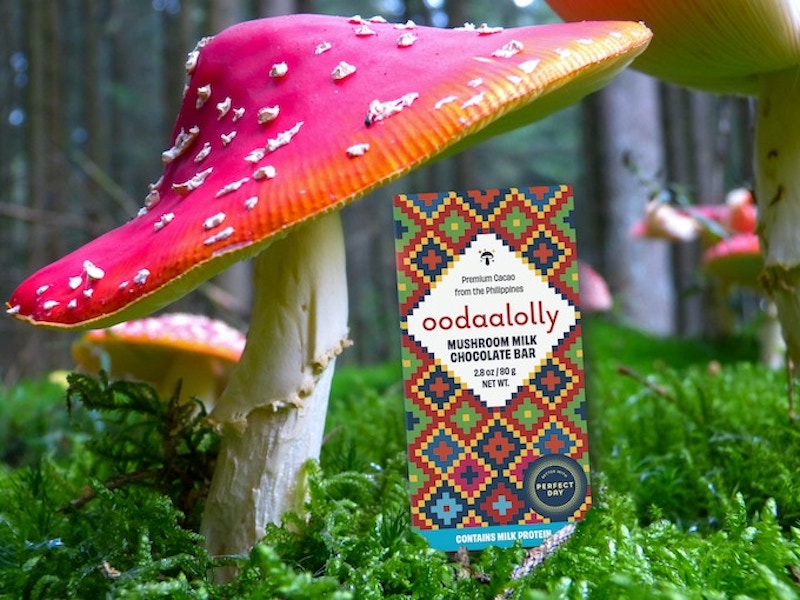 Perfect Day injects the Trichoderma reesei mushroom with recombinant DNA to prompt the production of milk proteins identical in structure to cow milk proteins, which results in a milk chocolate bar that tastes like dairy milk. The proteins are extracted by precision fermentation. Perfect Day is partnering with a growing number of companies that offer products such as plant-based whey protein powders and drinks, ice cream, and confections, some of which are already on the market and available to try.
Oodaalolly is offering different Kickstarter rewards at several price levels, but you can receive a bar in April for at least a $10 donation now. At press time, there's just a few weeks left on the campaign, which could use a boost in order to get funded and make the Mushroom Milk Chocolate bar a reality. From there, the door seems wide open for even further innovation in vegan confections, so let's make it happen!
Keep the weird food party going at Tamara's site California Eating.