The Chapel in San Francisco, California, was packed with Gen Y and Zoomers on February 20, who proudly displayed their Super Mario stuffed toys. This despite having to wait in a line that stretched all the way down the street, almost to the threshold of Taqueria El Buen Sabor, to enter the Valencia street temple of independent music culture.
These kids were overjoyed because their band, the one that resembled them, had returned. No Vacation currently resides in Brooklyn, but tracks as West Coast cool lo-fi surf pop from their early days. Playing an unofficial homecoming show on the opening night of Noise Pop's 30th-anniversary celebration, they sold the joint out. Plush Warios and all.
Spanning more than 25 local venues, Noise Pop kicks off the national music festival cycle, with raucous mosh-pit frenzied happy hour shows, dominated by gritty edgy bands on the cusp, to after-hours discothèque pulsation at local dance club venues. It's an all-inclusive, crosstown, downtown, around-town music party that reads vast and feels personal. There is a reason why it precedes SXSW.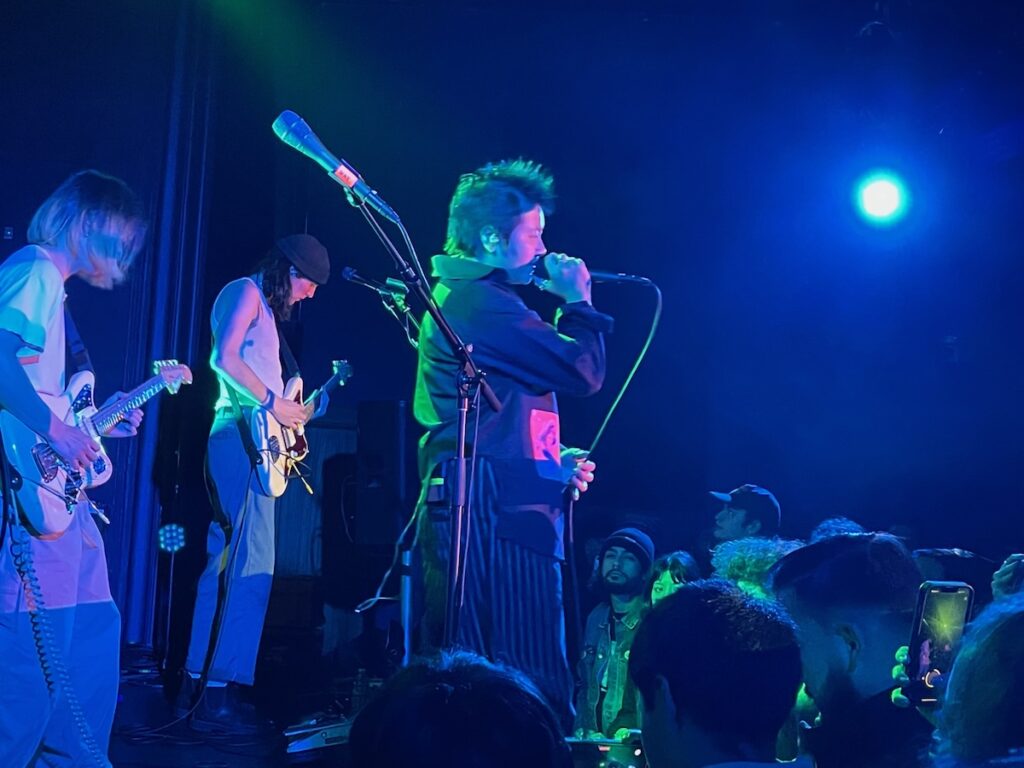 But these sweet, cool kids—puffing mad weed. I mean, lotsa weed, Dude. Some probably USF students, graduates, or maybe even professors, made the unofficial return of No Vacation a "can't find a ticket" affair. From the nut-to-butt accommodations in the rafters to the main floor standing-room-only purview. Even press credentials got scaled back.
This night? Became, San Francisco legit.
Sab (Sabrina) Mai, a San Jose native and the band's quiet-spoken lead singer and guitarist, addressed the positive energy just before the band, comprised of core players Nat Lee on synth-violin and Harrison W. Spencer on guitar—who met while attending USF about nine years ago—kicked off the festivities as a headlining act. With a ceremonious "Hello friends," the ensemble launched into an 18-song set that snatched highlights from their mixtapes, singles, and EPs.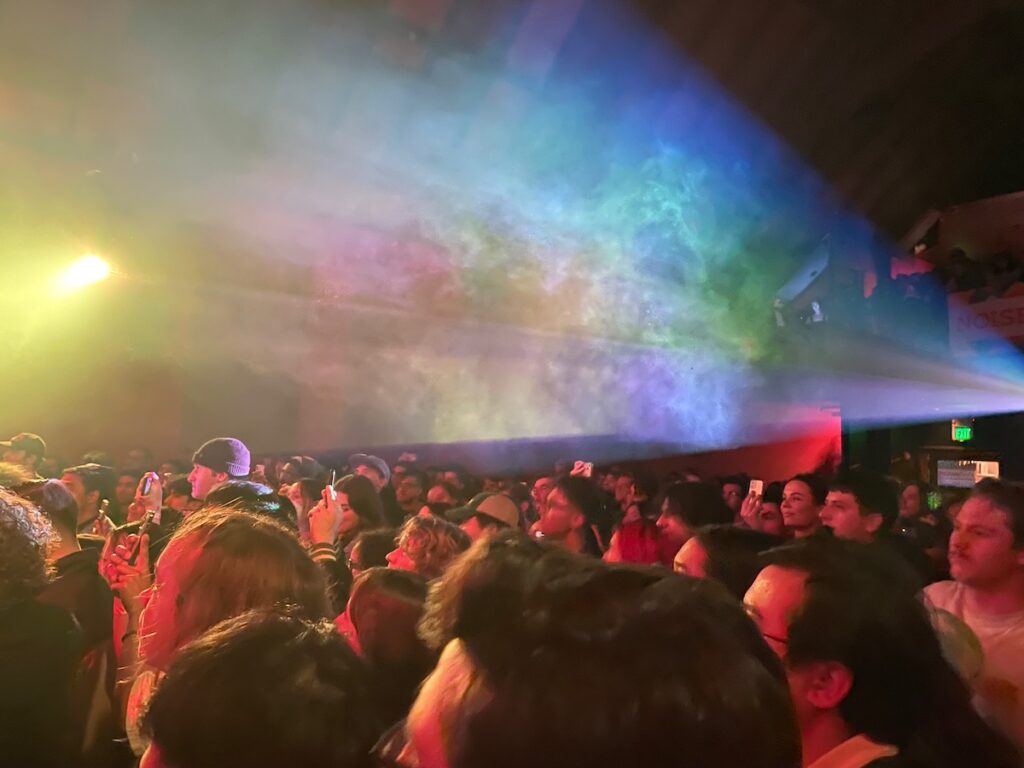 The show paid homage to the hooky, blissed-out vibes of their dream pop arrangements as well as the more rousing punkish darts along the way. It didn't matter; No Vacation could have played anything from a Pollen Spotify playlist and the crowd would have still face timed with friends, about the "cool hang" of the show, or how "saweet" the nite was hitting.
Jumping, shouting, and shaking Super Marios in the air, to get close to Sab when she dove into the crowd singing their recently released single "How", it seemed to be a staple in the canon already.
"It's been a dream to play The Chapel," Sab said after the crowd erupted. "Ever since I was 15."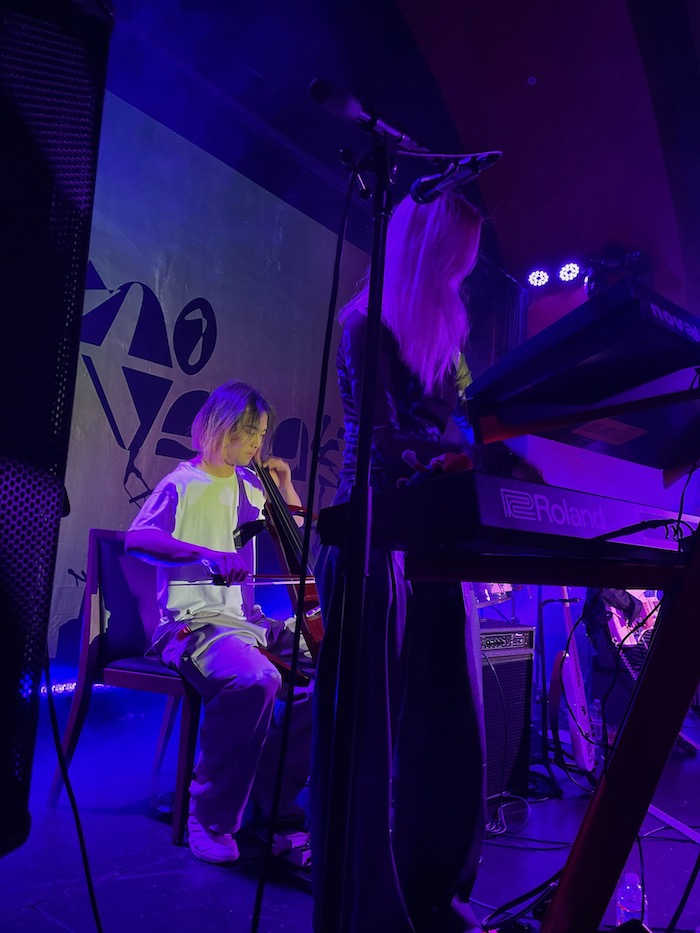 A quick glance at the tools at their disposal—nearly 78 million Spotify streams of their band-defining song "Yam Yam" from 2017, or the 2000 or so Tik-Toks in which fans use their music to package Lotus Candles, give camera operating instructions in French, or showcase longboard skateboard tricks. Is it hype, or current programming on how to sell music in 2023?
Nope.
"Yam Yam" in concert is a true snapshot of how tenderness, warmth, and vulnerability, shot through melodic guitar pattern, lithe drum support from James Shi, supple bass playing by Marisa Saunders, and Sab's gentle but unyielding affirmation of young love, made this bands homecoming show the rare occurrence fans knew it'd be.
At one point Spencer asked over the mic for the board operators to adjust the tone of his guitar, laughing a bit at the scene, " I can't see you through the haze".
Seb Mai retorted without missing a beat summarizing the night's victory with a hushed voice everyone clearly understood:
"You don't need to see, you need to feel."
NOISE POP runs through February 26 at SF venues. More info here.