Have you ever seen—no, felt two different energy pockets move in opposite directions at the same time?
That was the scene on Thursday, February 22, at SFJAZZ's Joe Henderson Lab, where spiritual improvisational music heavyweights Nate Mercereau, Carlos Niño, Jesse Peterson, and special guest SF's own Idris Ackamoor drew modal vibrations from the sky. 
Looking out the glass wall of the space, you could simultaneously watch pedestrians, tarnished and wind-beaten by the rainstorm conditions—some separated from their umbrellas by mother nature's wicked pitch—go shuttling down perilous Gough Street with well-deserved caution. Their multi-dimensional soundtrack, coming from this performance, at times resembled a day spa sound machine gone rogue.
Who knew this collaborative effort between Noise Pop and SFJAZZ, booking some of the heavyweight ambient masters of contemporary music, would be taking place on this night, one when most of California was under a treacherous snow watch?
Snow-watch, people. Insert mind-blown emoji.
But It didn't make a difference. Vibes, which generally present energy like no other, remain impervious to disaster.
Idris Ackamoor, a former student of legendary pianist Cecil Taylor and a sort of spiritual disciple of Sun Ra, who founded his legendary free-jazz band The Pyramids in 1972, brought his own atmosphere on this night. Consider it an early celebration of his 50th year in the performing arts.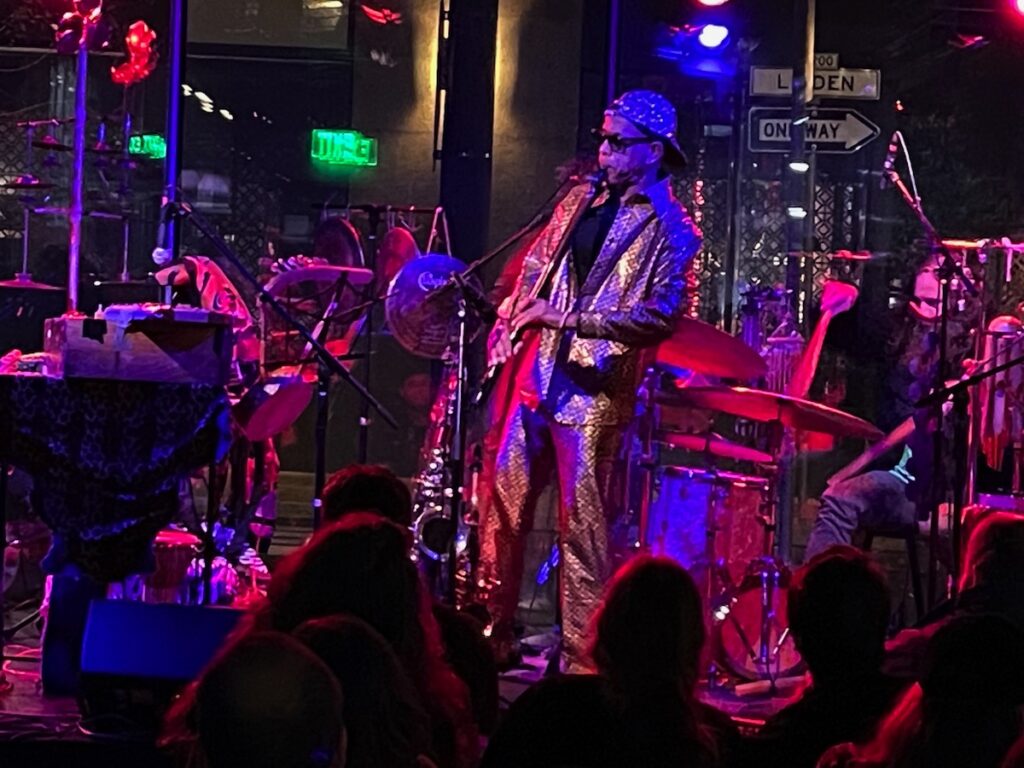 Bespectacled in a gold shimmering outfit, from hat to jacket and even pantaloons, the spry septuagenarian jazz exemplar weaved about the sound structure, mindfully in tune with his featured band members. Moving from the kalimba, an African plucked idiophone (essentially a thumb piano), to a variety of Indigenous people instrument—animal hide drums, Anasazi flutes.
Nate Merceau has a patient and detail-oriented ear, as evidenced by the LA-based artist's release Duets | Golden Gate Bridge, which featured the bridge's famously eerie humming sounds alongside Nate's improvised guitar work. It was the world's first human and bridge duet album. He was oscillating tonight, eyes closed, feeling about the textures on the headstock of his guitar. Switching from a bass-like app to surface washes atop the hour-long improvised set, in sync with what was unseen but definitely heard.
Carlos Niño sat to the far left, deep in a corner full of shakers, bells, and whisks, directing the gentle wind inside. On the mic, guiding "Stretch with us Ahhhhh" or purposefully picking short gaps in Ackamoor's emotional sax solos with the heightened chant of "IDREEES" floating out from that corner of rattles, locked on with ambient Rick Rubin hype-man energy.
This was the trip to take, not the one outside.