A new Carol Doda mural glimmered on the wall of the San Francisco wine bar Bodega during a block party honoring the late performer on Saturday, January 28. The pastel painting by artist Natalie Gabriel charmed pedestrians and dozens of admirers under a clear blue sky on the corner of Filbert Street and Columbus Avenue.
"She was the ultimate entertainer," said Doda's friend and local tour guide Blandina Farley. "Clothes on or clothes off it didn't matter. She loved entertaining people."
Doda launched a nationwide revolution after performing in a topless Rudi Gernreich bikini in 1964 at the Condor Club, which still stands at 560 Broadway only a seven-minute walking distance from where the mural honors her.
Unlike her bikini-clad image that bolted like an exclamation point atop the Condor Club, the portrait at 700 Columbus Ave. offers a clothed yet seductive and assertive Doda. Artist Gabriel, 29, describes Doda as "an epic, badass woman" whose image she immortalized with the vibrant North Beach skyline that echoes in her artwork.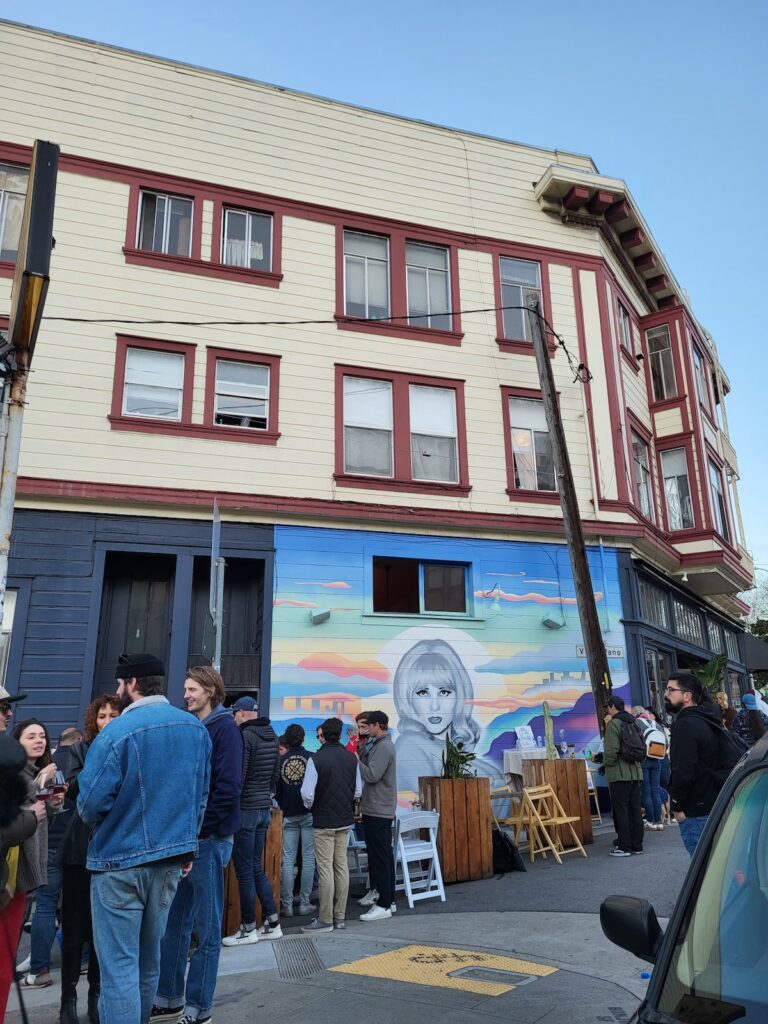 Gabriel moved to San Francisco in 2013 when she began attending the Academy of Art University and has since completed paintings and murals for various businesses in the city. Choosing Doda as the focal point was a collaborative decision between Gabriel and local artist Jeremy Fish who both wanted to celebrate a woman proudly representative of the neighborhood.
Doda's 44-inch assets also known as the second "Twin Peaks of San Francisco," entices the viewer's curiosity but it's her eyes and her stance in the portrait that dominate the attention. "Carol was very well admired by many women, but she didn't see herself [as an icon]," Farley said. "She was very humble, she was a hard worker, just a great person, and a sweetheart."
The sun metaphorizes a halo behind the legendary stripper who continues to be a symbol of sexual freedom for locals and tourists alike. The soft palette used for the skyline holds the day's moment in time, which according to Gabriel, was an intentional technique.
"We've all had that moment where we are enjoying a sunset or a sunrise, or walking on the beach or up at Coit Tower, and it's like 'oh my gosh, I would just like to live in this moment—it's so beautiful,'" Gabriel said. "My goal was that people were going to relive those moments and wherever it takes them [through] the painting."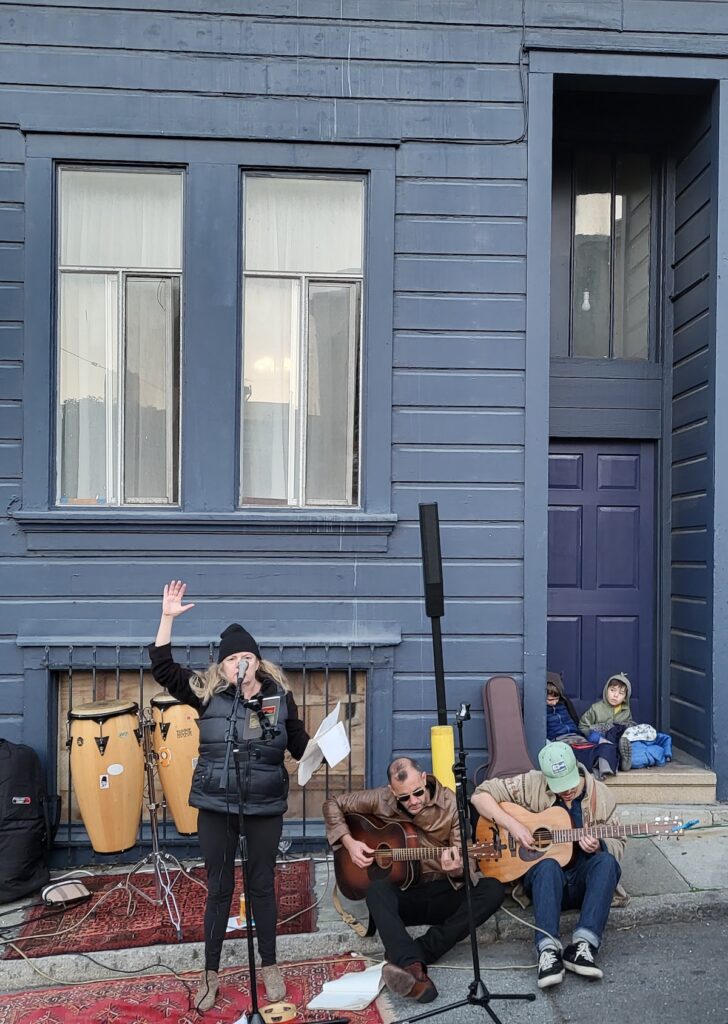 The mural took about a week and a half to complete due to weather delays, but the result pleased smiling spectators who took selfies with it and bought prints while others stopped with curiosity.
Since 2pm the indie folk band We Are the Kind performed classics like Fleetwood Mac's "Dreams," Ray Charles' "Hit the Road Jack," and their new song "Luz de la Mañana." For singer Elisa Rodriguez, 27, learning about Doda through the mural was a new experience. "It's just electric. It looks beautiful," she said. "She's so classy and so bold."
Gabriel was honored to work on what she described as an "epic wall that so many people get to see" daily, because it would show two types of artists in North Beach and the impact they are creating within the community. "It kind of sounds like a collaboration of me and Carol. We're both getting the word out there."
San Francisco has often honored male poets, writers, and sculptors, so when Native Italian of North Beach Alex Pellegrini, 79, heard a woman was getting recognition, especially through a woman artist, he was glad.
He recalled the first time he saw pictures of Doda's topless dance in the '60s. "It was a grand time because the city was alive," Pellegrini said. Bachelors and tourists traveled from around the world to witness the "unusual" sensation. He had friends who worked in the night clubs on Broadway and drew people nightly to watch the cultural icon perform. He saw Doda dance at the Condor and later fully clothed in local clubs during 1980s with her rock band the Lucky Stiffs.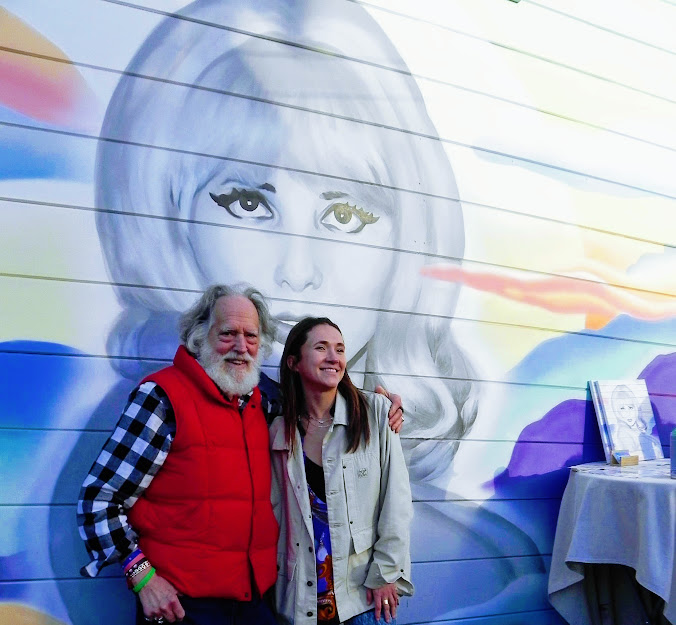 Pellegrini stood before the mural and observed the new generation of Doda fans gathering to take a look. "I was expecting more people in the older age bracket, so I'm surprised that so many young people know about her," said Pellegrini. "That's a good thing that they've got an interest in her."
About 25 percent of the people who talked to Gabriel while she worked on the painting last December were unfamiliar with Doda, but she said 75 percent knew the icon and were excited to see her represented in a mural. One of those enthusiasts was Kevin Moylan who recognized the performer's portrait as he rode by on his bicycle one morning. He had heard of Doda during his adolescence and adult life through his father, Mike Moylan, and his friends who often reminisced about the "dream girl" who was smart, classy, and a cutting-edge singer and dancer.
The elder Moylan saw Doda perform during her prime while he studied at the University of San Francisco in the late '60s. In 2007 Kevin finally met the North Beach icon. "She was classy and had style," said Kevin. "[I thought] wow, no way! Carol Doda! This is the woman whom my dad and all his friends would dream about."
Kevin showed 48 Hills the texts he exchanged with his father after sending him a photo of the mural. "Great painting," Mr. Moylan exclaimed. "She's just about as young as I remember her when I was 21."
This was Gabriel's first portrait done mostly with spray paint, a medium she said she loves and is constantly learning about. The clouds are sharp while the mountains are softer due to freestyling, an artistic energy that flows with her imagination. "I can feel in the moment what shape I want to make and not be too rigid with it, and it's always nice to leave some room for surprises and magic once I'm up there painting."
At 5:11 pm the temperature dropped but glasses of wine and the warm conversations comforted friends and new admirers. Local poet Jessica Loos read poetry including her signature poem "Breakfast" to celebrate the S.F. legend and friend who died at age 78 due to kidney failure in 2015.
As the sun descended, Gabriel's mural became a reverie, swirling into a nostalgic scene. It beamed with the Bodega lamps that mimicked spotlights, and her bold eyelashes seemed to flutter as she held your gaze long enough to cease blinking. Gabriel's signature vibrant colors danced with the traffic lights. It was 14 minutes past 6pm, and at a seven-minute walking distance the Condor Club opened its doors for its nightly acts that continue the topless dancing Carol Doda popularized.
"I'm so happy that Carol has received attention and recognition so that her memory will stay alive for future generations," said Pellegrini.