Mark de Clive-Lowe, the half-Japanese, half-New Zealander pianist, producer, live remixer, and composer based in Los Angeles, has been a fixture in the futuristic jazz scene for quite some time. Let's get official: Dude is royalty.
From 1998 to 2008, he was at ground zero of Londonʻs broken beat movement. Through collaborations with producers Bugz in the Attic and 4Hero—two giants of that low-end humid swing—de Clive-Lowe became a pro at lining up electronic music, funk, jazz, and percussive low-end beats from the African diaspora in a connected frequency.
That go-for-broke, let's-get-in-between-all-the-genres, build-'em-up, break-'em-down forged intensity can be heard on "Strings," one of nine tracks in a state of constant motion from the upcoming album Hotel San Claudio. The project features esteemed Detroit drummer-producer-DJ Shigeto and Verve Records' Melanie Charles, a Brooklyn-based, Haitian-rooted flutist-songwriter. It's an all-star power trio for the bass-bin electronic jazz set.
That's correct. Shigeto holds court with that certified 313 boom-bap, Charles serves bars like a three-card molly set-up and MdCL shoots the rays of light through the swirling, wafting keys before things swing up into hectic drum and bass metier. Hotel San Claudio, described as "a collaborative LP of spiritual jazz, live deconstructed beats," hits like a new standard erected for modern corridors.
de Clive-Lowe will present this project at a show presented by Jazz Is Dead at the Ivy Room in Albany on April 5. We were able to catch up with the constantly touring artist.
48HILLS Good day, Mark. Thank you so much for taking the time to do this. You never cease to amaze those who try to keep up with your various projects. Your workload keeps moving at a rapid pace. How did you and these incredibly gifted individuals end up in the same room to record this one-of-a-kind project?
MARK DE CLIVE-LOWE Shigeto and I first met when we did an improv show together at MotorCity Wine in Detroit, a legendary local music head spot. The owner was bringing me there a couple of times a year at the time and each visit, I'd do something different—a solo live remix one time, CHURCH sessions another. He asked if I knew Shigeto, and how I'd feel about doing an improv show with him. I'm a fan of Shigeto's music and felt like we'd gel, so I jumped at the opportunity. We met in person for the first time at soundcheck, hit for a few minutes, and were all smiles like, "This is going to be fun!" Fat Fat Fat festival in Italy, where I'd done a solo set, caught wind of the collab, and invited me to bring Shigeto for the next edition. I wanted to add a third member to the project (three's the magic number.) I'd met Mel at a festival I played in Brooklyn, and was loving what I was hearing her do with her triple threat bag of vocals, flute, and SP sampler. So I jumped at the chance to invite her to complete the trio collaboration. We spent a week staying at Hotel San Claudio in the Italian countryside, prepping for the festival and had so much fun together. The hang, the meals, the jokes—it all fed into the music. The live set we put together to open the festival went down as a treat and we ended up reuniting again a few months later at the Nublu Jazz fest in NYC on a double billing with Sun Ra Arkestra. Again, the magic was in the room. We went into the studio in NYC the next day to lay it all down.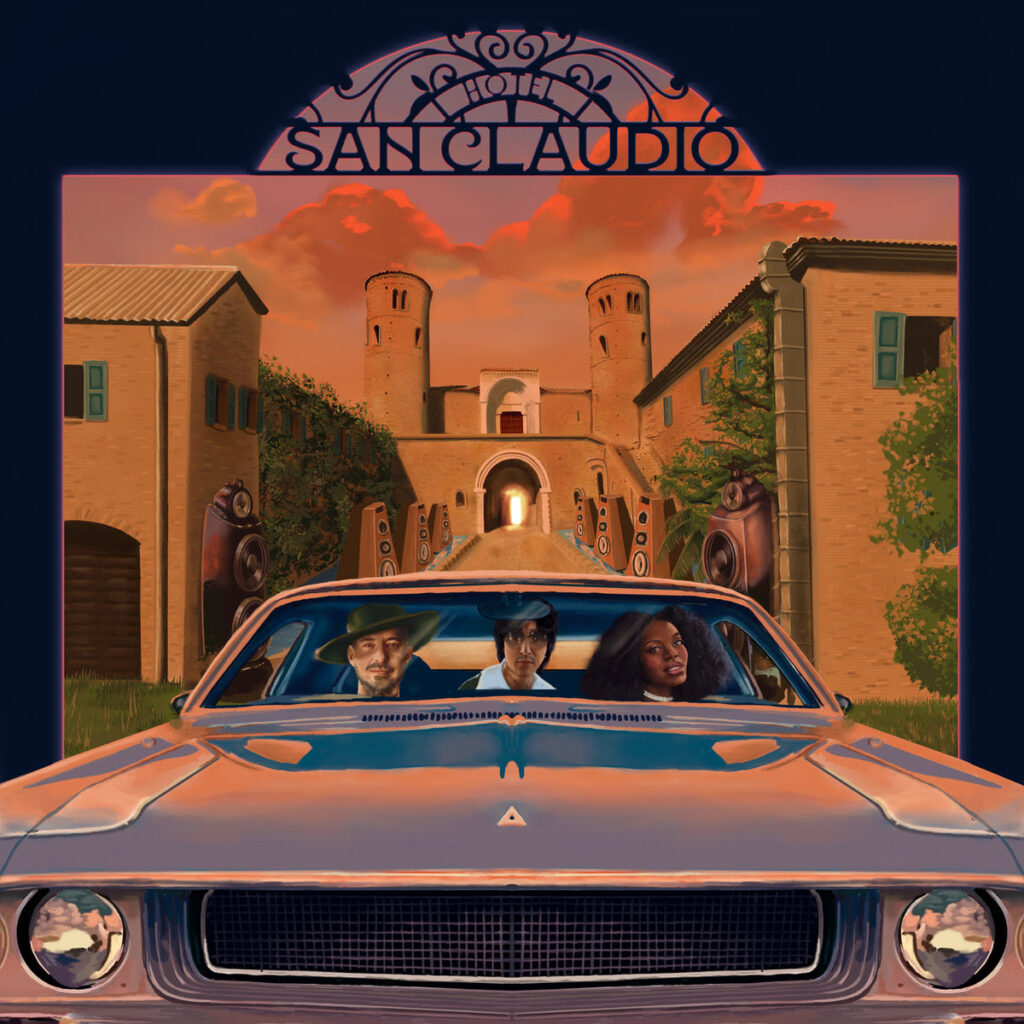 48HILLS Just a second, to go back in time. Your previous album Freedom was a tribute to the late master teacher Pharoah Sanders. If you could just share with us what role he played in your career and what you learned from his legacy, that would be great.
MARK DE CLIVE-LOWE Pharoah's offering to us is a reflection of the human condition, wrapped in all the aspirations of what we can become. We're inspired by him to no end, and see his spirit as a beacon to guide how and why we create … his message must be kept alive.
Pharoah is on my Mt. Rushmore for sure. Along with a few other pinnacle artists, he contributed such definitive work to the timeline of culture and history. I feel like he's an eternal inspiration for so many, across countless genres, far beyond just jazz fans. From deep techno artists and hip-hop heads to ambient sound sculptors and avant-garde-ists, [the people he has] influenced show how he's captured the zeitgeist across decades and generations. I adore the simplicity of his music, compositions both melodically and harmonically uncluttered by intellectualism, which are at the same time able to be vehicles for extrapolating to the extreme, however the moment invites. That's a beautiful metaphor for life right there.
48HILLS That warrior-themed track "Bushido," which was first heard on your album Heritage, sounds like a beautifully fierce arrangement from the Strata-East imprint of the 1970s. Sure, the effects bring it up to date, but its heart—its DNA—is in an early morning jazz-fusion session that just keeps building. What inspired the three of you to go all-in on this epic track?
MARK DE CLIVE-LOWE The answer isn't that deep, to be honest. It's one of my compositions that I love to play, and it's always fun to hear it reinterpreted in different settings and contexts. It felt ripe to be included in this project, and gives us an opportunity to explore that jazz-fusion side of everything we love.
48HILLS So as stated in the album notes, this project contains, "head-nod boom bap, psychedelic jazz, and soulful house moments." It's easy to say that many of your projects do. It's lovely, and feels so collaborative and genuine. I've been a fan since your 1998 days collaborating with Bugz in the Attic and 4Hero, two massive purveyors of that humid swing. How do you take something a little more complicated and still shine that MdCL light on it?
MARK DE CLIVE-LOWE In short, it's about being myself. It's one of the biggest goals for any musician to find their own sound, to find their voice, and that's something that I feel very comfortable with. Whether something is electronic or acoustic, downtempo or uptempo, chill and smooth, or aggressive and angular, I'm still me. Like anyone, I have significant influences in both my approach to the piano or keys and in production, but have also digested and assimilated those to a point where they become part of the base layer on a canvas that I feel free to paint on without pre-determination or restriction. One of the biggest compliments I ever received was when Pino Palladino (a prolific session bassist known for his recent work with D'Angelo) and I started playing together and he said to me that I sounded like myself no matter what we played. That's the achievement of a lifetime.
JAZZ IS DEAD PRESENTS: MARK DE CLIVE-LOWE, SHIGETO, AND MELANIE CHARLES April 5, 7pm, $25. Ivy Room, Albany. Tickets and more info here.