There are probably very few brighter stars on the global music scene than Amadou and Mariam, the beloved West African duo who met at Mali's Institute for the Young Blind when they were youngsters and have been making irresistible tunes together ever since. Their danceable Malian blues style broke through to European and US audiences in the 1990s, garnering instant acclaim, as they addressed both romantic and political themes with gusto. And they're still going strong as they near their 70s, touring with the Blind Boys of Alabama and cutting crossover dance singles with Sofi Tukker and Blond:ish while they work on their ninth album, due later this year.
They're also instantly recognizable performers, with fabulously vibrant clothes and insanely stylish sunglasses. But what if that visible connection was de-emphasized in favor of sound and storytelling? This was the concept of their raved-about "Eclipse" show at 2012's Manchester International Festival: The lights went out, and the audience was immersed in darkness, as Amadou and Mariam (and full band) embarked on a musical tale of their life journey together so far, including marriage, children, global acclaim, and, in one ecstatic moment, meeting Stevie Wonder.
Now "Eclipse" has been released as an album with English narration by actor Isaach de Bankolé, and the couple are coming to SFJAZZ March 16-19 (more info here) to perform songs from the release as well as other favorites and newbies (feel free to close your eyes as you listen along). I was fortunate to catch the busy couple for some quick email questions about "Eclipse" and beyond.
48 HILLS Thank you so very much for taking the time to answer these questions for your fans (and new ones!) in San Francisco. It's been 10 years since the original Eclipse concert. Why have you decided to release the album now and tour with some of the songs?
AMADOU & MARIAM Thank you for for your interest in our music! Indeed, 10 years since we performed this unique project! We wanted to have this show released live so the audience could experience what happened back then and what better than doing it for it's 10th anniversary! We will be performing some of the songs included in the LP among other tracks from our latest album La Confusion.
48 HILLS What was the original spark of the idea for Eclipse, and how was the response from audiences?
AMADOU & MARIAM The spark was to provide a chance to the public to feel how we feel music. We spoke with our manager back then and this idea of performing on a dark venue came up. It was indeed very challenging due to many production matters (security, etc) but the audience enjoyed such unique experience, dark room, only our music and our story.
It was a very specific production that we played in a handful venues across the globe. Right after that, we released our album Folila with plenty of collaborations—Santigold, TV on the Radio, Theophilus London, and others we were excited to work with.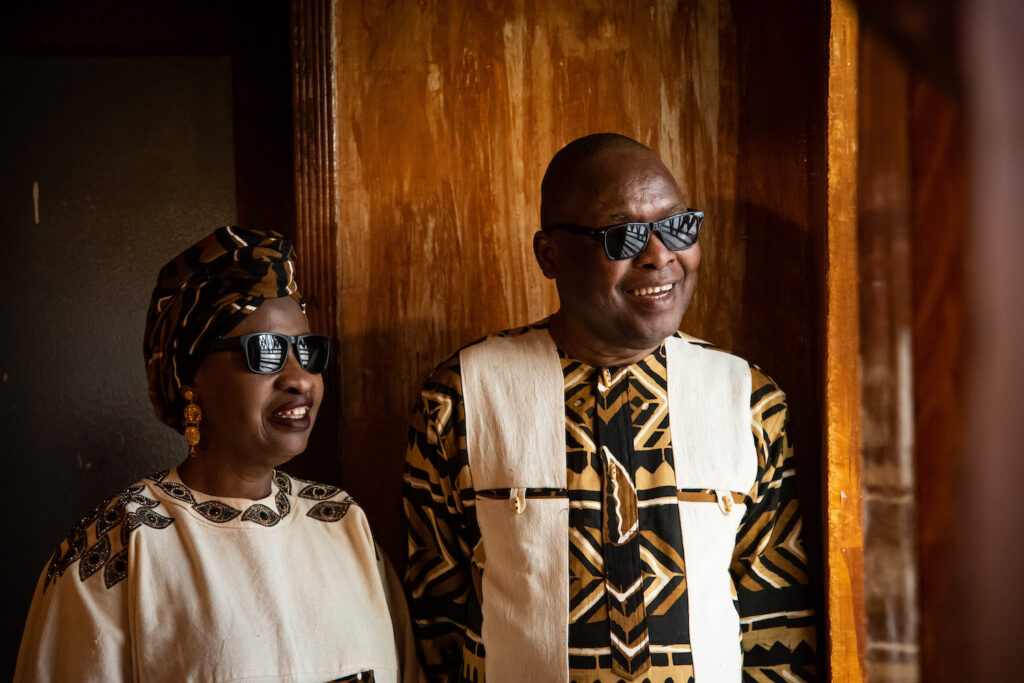 48 HILLS You and your music have gone so many places. You've collaborated with so many different kinds of people and your songs have been remixed for different contexts. Do you feel your own unique musical style has changed, and can you tell us anything about what we will hear on the new album?
AMADOU & MARIAM We are so thankful that our music is appreciated by some many people and artists. Indeed, our sound has a lot of influences, from traditional sounds, to rock, blues, afro-pop. We listen a lot of music at home, and our music playlist is very eclectic, from traditional Malian music, to Rihanna, Eric Clapton, Stevie Wonder, Black M, Led Zeppelin. We have a very personal sound and it will be present in our future album. We can't wait to release it this year!
AMADOU & MARIAM perform March 16-19 at SFJAZZ. More info here.