I am reminded that When I Get Home, Solange's iconic album, in which jazz-fusion samples, electro-funk, lucid reggae, and soul ballads—written in 5/4 time signatures—swirl non-linearly, was released just about four years ago on March 1. This comes to mind as we transition from Black History Month into Women's History Month.
Moving through deeply psychedelic altered states, purposefully nominal rhythmic structures, brief songs (19 tracks in 39 minutes), and an emphasis on the collective whole rather than the individual parts comprising it, When I Get Home is Solange's Around The World In A Day and Parade anti-pop union. Following 2016's A Seat At The Table, her first No. 1 album on the Billboard 200 chart, her watershed Purple Rain moment.
Go back and look in on this contemporary masterpiece. OK. It's Under The Stars. Let's get it:
DESTINY MUHAMMAD TRIBUTE TO DOROTHY ASHBY & ALICE COLTRANE AT SF JAZZ, FRI/10
Need a little spiritual jazz harp to lighten your load?
Singer and harpist Destiny Muhammad, known for work with Azar Lawrence, Marcus Shelby, Omar Sosa, and John Santos, calls the entirety of her musical approach "Celtic to Coltrane," according to the SF JAZZ press sheet. Her latest project Jegnas in Flight: In the Energy of Dorothy Ashby and Alice Coltrane sounds like the spirituality the world needs right now. Plus, if you study both of those harp masters you already know when the spirit really starts to hit, you got a jazz jam coming down the pike that scores better that any 'script a doctor could prescribe.
Destiny Muhammid plays a 7pm and 8:30pm show. Get tickets here.
ANGEL BAT DAWID, REQUIEM FOR JAZZ (INTERNATIONAL ANTHEM)
Clarinetist, vocalist, and keyboardist Angel Bat Dawid has announced her new work, Requiem For Jazz, out March 24 by International Anthem.
David, who uses improvisation as part of the composition process, was inspired in part by dialogue from Edward O. Bland's 1959 film The Cry of Jazz. The album is a comprehensive study of the African American experience from one of its most insightful narrators.
That political documentary explores the relationship between Black History and jazz through footage of Chicago's Black neighborhoods, interwoven with performances from Sun Ra, John Gilmore, and Julian Priester. We can't wait to hear what sounds emerge, and suggest you pre-order here.
NABIHAH IQBAL, DREAMER (NINJA TUNE) + CAFE DU NORD, JUNE 3
The debut album Weighing Of The Heart by this London-born artist, curator, broadcaster, and lecturer was released five years ago. It featured post-punk-influenced house and electro, along with gleaming guitars and ambient synth tones that recalled Chris & Cosey arrangements from the mid-'80s. It was a revelation.
Back with a new project, the London artist's 10-track ode to self-discovery is titled DREAMER. One of my recent favorite shoegaze musicians, I can't wait, no BS—I am serious, to see her perform on June 3 at Cafe Du Nord.
Pre-order the record here and get tickets to the show here.
KENDRA MORRIS, BABBLE (KARMA CHIEF RECORDINGS)
Voice and resume. Those are the two things about Kendra Morris that stand out right away.
DJ Premier, 9th Wonder, Ghostface Killah, Dennis Coffey, and David Sitek—high-profile producers—can attest to the big voice in the small frame. Finally, Karma Chief Records saw a path, tip to tail, on how to administer this special bandwidth. Last summer, Morris cold rocked The Independent in front of a capacity, sold-out crowd. It's potent.
Karma Chief (a branch of Colemine Records) has just reissued the independently released EP Babble from 2016, adding three extra songs "Playing Games," "Dial Back," and "Ride On," as well as some rad new artwork.
Morris's voice and vibes, however, continue to be the draw. Kids, pay attention: post-soul hip-hop darts, psychedelic arrangements, and retro-tastic chart readings can all be used to support contemporary soul music.
Before a new project arises, Babble is a great way to look back on a talented career. Morris is the conduit who always delivers the goods. No matter the year, she remains a force for good behind the mic.
Pick it up here.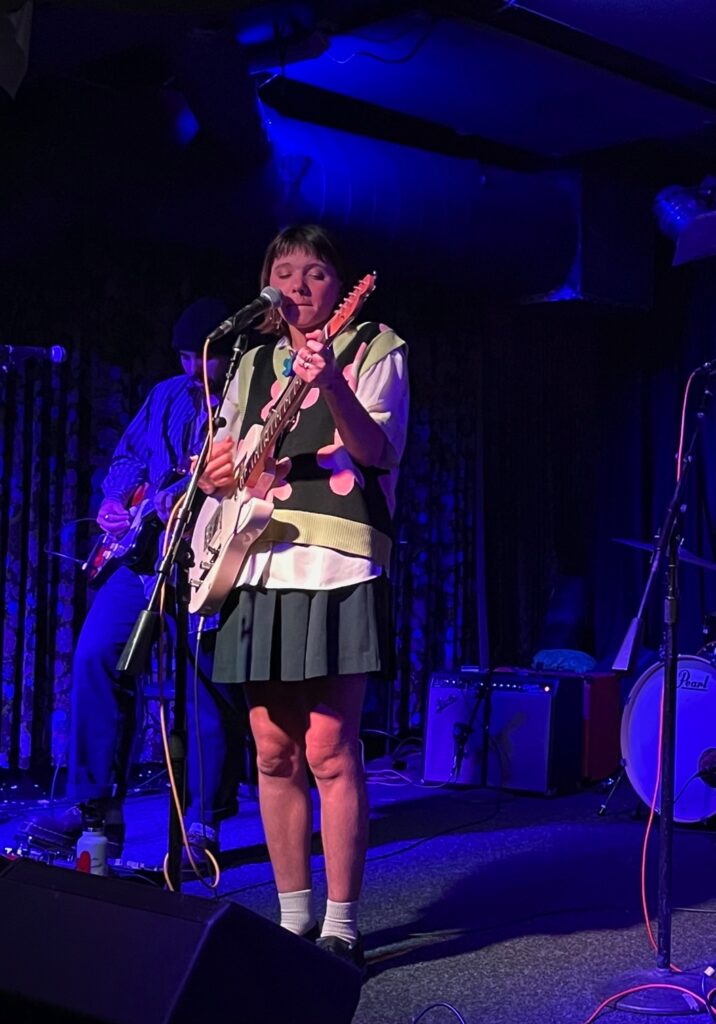 MAE POWELL AT NECK OF THE WOORDS, MARCH 28
I had a revelation while watching the Bay Area artist perform at Noise-Pop.
I observed several, no. More than a few. Nope. An entire room of music aficionados at Bottom of The Hill come to have a certain feeling of comfort wash over them during her set, which was every bit as welcoming, charming, and sweet as expected.
This sense of shared experience. The freedom, yearning to engage in conversations with total strangers about music while listening to amazing music.
Mae Powell is gifted, has a beautiful voice, and exhibits a lot of eccentricity in the right ways. Her strength is stage presence, which is something you either have or don't. She has this ambient light that radiates, shoots out goodwill, and makes strangers become, well, non-strangers.
That magnetism on stage relaxed everyone in the room. It's her superpower, for sure. I advise you to check out her show and that band whenever you get the chance.
I didn't mention a single song in this passage because I can't recall what songs she chose. At all. Just how, at the conclusion of her set, she managed to make an entire room float out the door.
That's weight.
Go see Mae Powell at Neck of The Woods on March 28, get tickets here.