I may have mentioned this before, but I once collaborated with someone familiar with what is now known as the official dialect of Việt Nam. As explained to me, the country was once akin to other southeast Asian countries, in that it had its own spoken and written forms. But now, having been subject to colonization more than most others, its spoken dialect includes a heavy mix of French words, and its written language uses accents over an entirely Western alphabet. The original spoken and written forms are considered lost, and with them a lot of the country's non-Eurocentric history.
I watched the opening of Sanaz Toossi's English (West Coast premiere through May 7 in Peet's Theatre at Berkeley Rep) thinking that lead character Marjan (Sahar Bibiyan) might actually welcome such erasure. As the English instructor at an Iranian school, she frequently expresses a great affinity for her time in London and her frequent use of its native tongue. It's inevitable that the students notice that such affinity barely masks a disdain for the Farsi on which they were all raised.
Yet, one of the wisest and most captivating elements of Toossi's script is that Marjan's Anglophilia makes perfect sense, especially if you've ever been the one non-white face in the room. I don't want to spoil her reasoning, but I will say that peer pressure is the same no matter what age you are. It's not that one should assimilate, but there's a sting to being reminded that you're the only one around "like you". Not everyone is cut out to handle it. When she says at the beginning that she always wanted to learn English "because English doesn't try to be poetry, like Farsi", it's a damning statement, but we know exactly why she would say such a thing.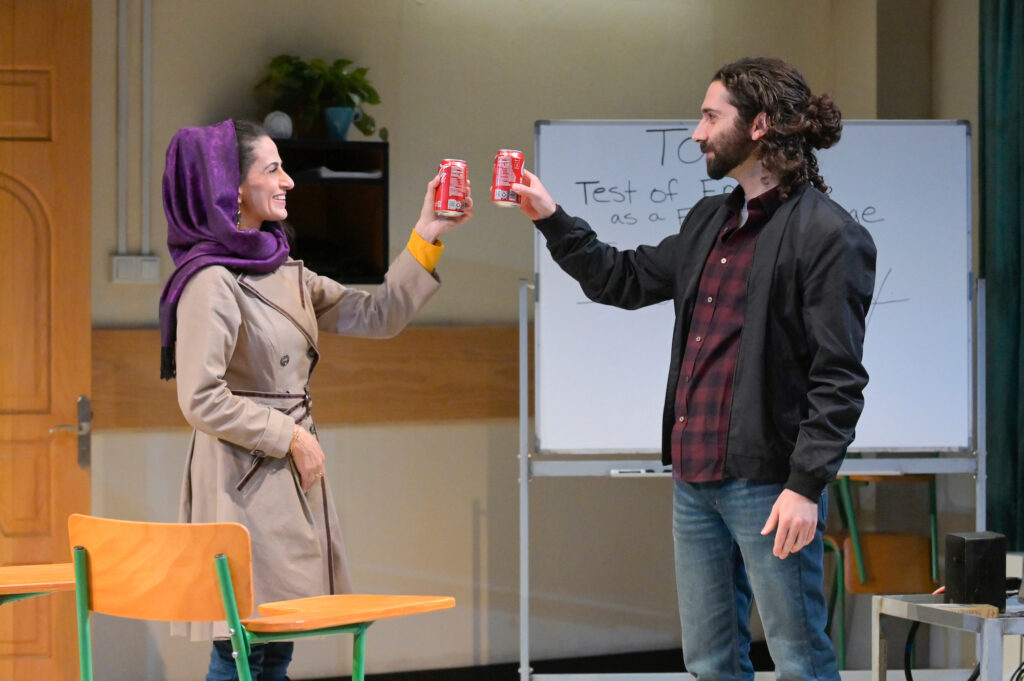 In the meantime, Marjan is jovial and courteous with her adult students: the outspoken Elham (Mehry Eslaminia); the maternal Roya (Sarah Nina Hayon); enthusiastic young Goli (Christine Mirzayan); and lone male student Omid (Amir Malaklou). They're taking the advanced class, so Marjan writes "English Only" on the dry-erase board and cites them for slipping into Farsi. Lessons include elocution practice with "w" words; bouncing a ball to help with verbal memory, and even reporting on the narrative of English-speaking music. (Goli's quite fond of Shakira.)
As with Dustin H. Chinn's Colonialism is Terrible, but Phở is Delicious and Mia Chung's You for Me for You, so too does this play have fun with its depiction of English learning for non-English speakers. This is represented by the Farsi-language exchanges spoken with American accents and the "English" lessons spoken with thick Iranian accents. There's only one scene in which we, the audience, hear proper Farsi spoken.
One really loves spending time with these folks, even as their circumstances change with each successive lesson. Roya actually has both Iranian and Canadian citizenship, but can't seem to get her Canadian-residing son to answer the phone, let alone get updates about her new grandchild. She begins to suspect that he's trying to keep her (and Iran) at arm's length. That possibility is brought up by Elham, a medical student with top-notch MCAT scores. Watching these two is particularly fascinating after all the scenes of elementary English lessons because it's a direct rebuke of the idea that someone who doesn't speak "your" language is someone lacking in intelligence.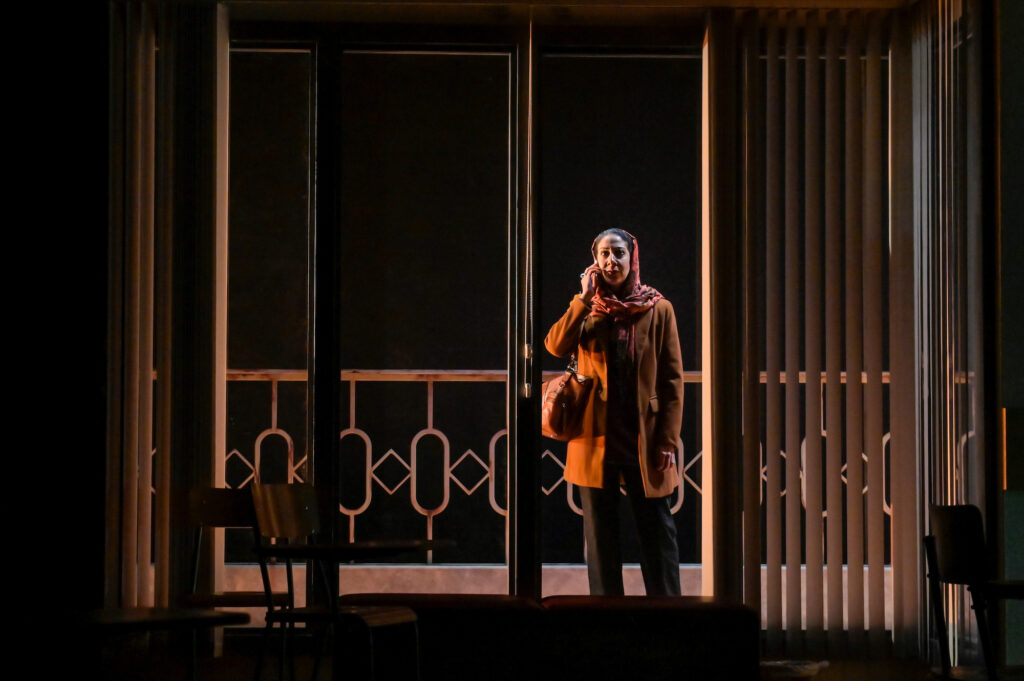 Meanwhile, it's not hard to see a mutual attraction forming between Marjan and Omid. His command of the language easily makes him her prized pupil, but there's clearly something more happening when the two watch American films together—on VHS, no less. (I've never seen Notting Hill, so I didn't recognize it as quickly, but I can shamefully admit that I instantly recognized the audio from Good Will Hunting.)
The appeal of these characters—played by an excellent cast all around—can be attributed to director Mina Morita as much as her talented ensemble. Best known as the AD of SF's Crowded Fire Theater, Morita's spent the last decade becoming one of the Bay Area's most invaluable auteurs, particularly when it comes to giving PoC stories their due diligence. She uses and appropriately delicate hand here, allowing her cast to run the gamut of barely-restrained rage to bubbling enthusiasm, all without chewing the scenery of Annie Smart's detailed multi-purpose room set (something I seem to have seen a lot in recent productions). Quite the contrary: The characters often restrain themselves out of cultural decorum, but are no less passionate whether loud or quiet.
With the Rep's mask mandate still in place, I was pleased to see more people actually adhering to it than I had the last time. CO² readings on my Aranet4 hovered around 920ppm over the course of the 90-or-so-minute runtime in the packed Peet's Theatre.
English is being promoted as a homecoming for Morita, who studied at the Rep. It certainly fits into her repertoire hand-in-glove, casting a gentle-but-direct light on PoC characters (mostly women) who are traditionally dismissed. What's more, Toossi's script percolates with the sincerity of someone who's been on both the inside and outside of acceptable cultural norms. Add in an excellent cast of Middle Eastern-heritage actors and the Rep can boast having one of the best shows of 2023 thus far. 
ENGLISH runs through May 7 in the Peet's Theatre at Berkeley Rep. Tickets and further info here.