There are countless instant ramen brands on the market around the world, but almost none of them contain enough dried toppings! SF's Ramen Bae offers a brilliant solution to a global issue by selling big bags of seafood and vegetable toppings. The first assortment available contains freeze-dried cabbage, bean curd, carrot, fish cakes, imitation crab, shiitake mushroom, corn, squid, and green onion. I ordered a bag as soon as I stumbled across it on Instagram, and then I waited.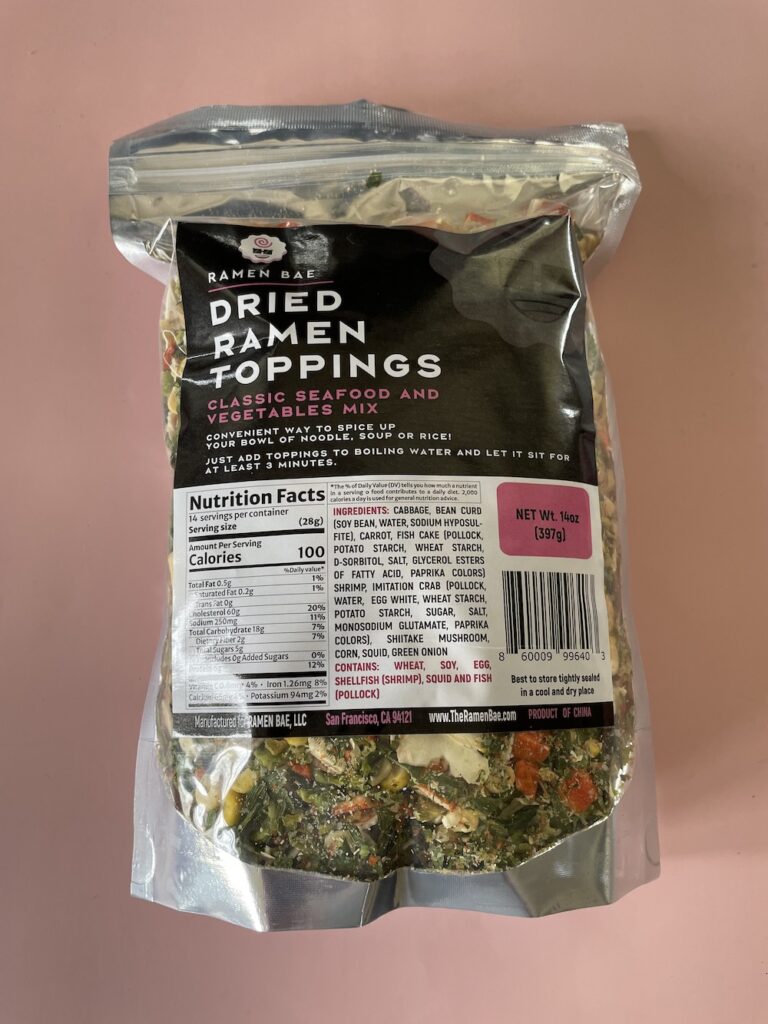 After a few unfortunate supply and delivery delays that befell the company's first shipment, the product finally arrived. (Hopefully it'll be smoother sailing for future orders.) I selected a big bowl of instant ramen, Japanese Hokkaido style shrimp and scallop flavor, to use for a taste test. I scoffed at the paltry amount of instant toppings that came out of the included packet, and then added a ton of Ramen Bae toppings.
Like the toppings that come in the package, Ramen Bae only needs three minutes to hydrate. They're a lot more flavorful than the average topping that comes in your ramen pack. These toppings also taste pretty good straight out of the bag (don't judge me.) The package recommends adding them to noodles, soup, and rice, but I can also see sprinkling some in popcorn or a Chex Mix.
The nutritional info on the label suggests that there are 14 servings in each 14-ounce bag (which sells for $24.99, with free shipping in the US), but it seems like that is quite a conservative estimate. I may not have the bag for as long as the year and a half shelf life, but it's going to last a while.
The company is currently working on a spicy seafood and veggie mix as well as an all veggie mix. You're smart, Ramen Bae—it'll be fun to see what other ideas emerge in the future.
Discover more food finds at Tamara's site California Eating.