San Francisco-based solo artist Peter Case has empathy in spades for anyone who's struggling with substances and/or houselessness today.
That's because before Blondie blew up his proto-punk trio, The Nerves, with a cover of their pleading "Hanging on the Telephone," in 1978, Case was barely surviving as a street musician after moving to the city 50 years ago. 
So the New York native—who's since gone on to achieve fame with rock quartet The Plimsouls ("A Million Miles Away") and as a successful solo artist—finds the media's unsympathetic portrayal of San Francisco particularly unnerving.
"I just think the conversations going on about San Francisco are garbage—about the homelessness, the drugs, and what's happening in the Tenderloin," says Case.
He hopes his latest album, the moody and atmospheric 11-song jazz, gospel, and folk collection, Doctor Moan, inspired by Greek Mythology's wounded healer Chiron, will be a salve for anyone suffering through these difficult times.
The acoustic piano-driven release, supported by a bass and B-3 organ duo, is also a return to the blues Case learned to play on guitar, while street singing in San Francisco.
Recorded and mixed at The Sun Machine in Novato with its restored 1905 Steinway piano, the album finds the guitarist at ease on the keys (along with the harmonica, mellotron, and guitar), which he credits to his time jamming at San Francisco's St. John Coltrane African Orthodox Church.
It was the piano in the artist's living room that first beckoned when he was faced with downtime early in the pandemic. Doctor Moan's tracks, which Case first punched out on his Acrosonic by Baldwin Spinet Piano, are meant to take listeners on a journey through the singer-songwriter's many musical influences.
I spoke to Case about making his lockdown album, growing his confidence as a piano player at St. John Coltrane Church, and the difficulty of building a career as an artist in a big-money tech mecca like San Francisco.
48 HILLS The piano-driven Doctor Moan is a huge departure from your previous material and it features your first-ever instrumental. What inspired you to go in this new musical direction?
PETER CASE I was trying to think of a positive way to spend being home during lockdown. I'm just hanging out there depressed with this Acrosonic by Baldwin Spinet Piano that somebody had given me. So I started playing things I like—blues and boogie-woogie—because I didn't have any designs on what to do. I like this piano player named Jimmy Yancey from Chicago that invented the boogie-woogie thing.
So I started playing that music, and then I do these gutbucket versions of jazz. I'm not a jazz player. I tried to learn as much as I could, though, and would sit there and figure out "In Walked Bud" by Thelonius Monk, like a real basic, almost kind of rock 'n' roll version of it. But I was having fun just playing things that I liked. And every once in a while, I'd sing a song I liked or I was just playing, and the song started to materialize. Then I would get a lyric idea and the whole thing would pop and start going through my brain. So I just started focusing on it, tuning in to that channel, and soon realized that I was making an album.
I don't even know what genre this new record is. I suppose it's got blues to it and some jazz, but it's also got The Crystals and Darlene Love. So you put all that you love into it and the gift of being an artist is you're given these things that you learn to do, that you grow into, that you can share.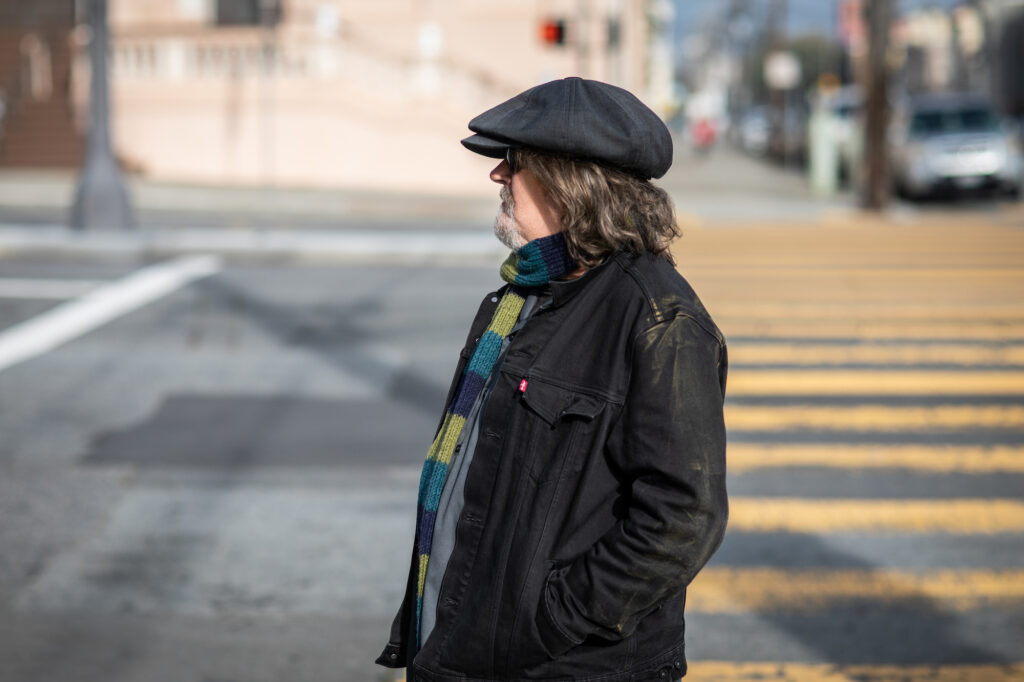 48 HILLS What was it like producing an album during lockdown?
PETER CASE It was so quiet in the city that people would walk by my house and say, "Are you the guy that plays piano up there? I like that song you're working on now." It was strange. So I just went from one to another. Some of them took a while and some went quicker. 
Usually, when making an album, I have to go out on the road in the middle of it. But on this one, I could just keep going. So it has continuity and a focus to it.
48 HILLS What brought you to San Francisco 50 years ago?
PETER CASE I was going through terrible changes as a teenager in Buffalo and wanted to get out. I'd always dreamed of San Francisco—the music, the people, the Beat poets. It seemed like it was just calling me. 
As soon as I got here, I was so happy to be in San Francisco, and it was a great experience here in '73 and '74. It was alive with all kinds of things—music, art, and poetry and people on the streets every night, everywhere.
I lived and played on the street for a few years, and then I joined The Nerves in early '75 and still played on the street a bit during the early Nerves. It was an incredible learning experience.
The last time I played on the street was July 4th, 1976, on the United States Bicentennial. That was my last performance on the street to make it. But The Nerves' record was just about to come out.
Now, I have a long history with San Francisco after that. The Nerves played here—Mabuhay, The Garden of Earthly Delights, and Minnie's Can-Do Club—before we moved out to Los Angeles in '77.
Then, The Plimsouls played here all the time in the '80s, and when The Plimsouls broke up, I came up here and wrote and played my solo material.
So I was down in Los Angeles and I had kids and they grew up and left. And I was like, "Let's go back to San Francisco." I wanted to come back so I've been back now about 10 years.
48 HILLS After you returned, you spent a lot of time at St. John Coltrane Church. What kind of impact did that have on your music?
PETER CASE Well, that church had a big influence on me and the music that I love. I heard about it forever, but when I started to go there, I was just bowled over by what they had going on. I thought it was uplifting. And once a week, we went there and I took my shot at playing piano. My first time playing, they went into "A Love Supreme." I didn't know how to play that music.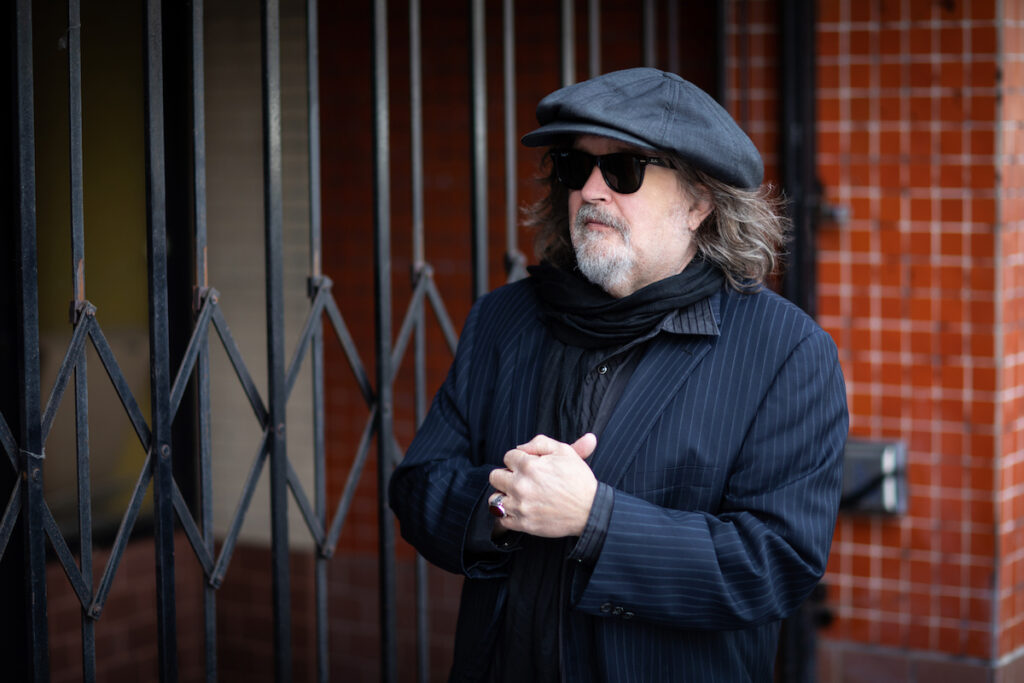 48 HILLS I've heard that that's a particularly complex piece to play.
PETER CASE For me, it was. I didn't know what I was doing. So I just played gospel and blues piano for a while. They never told me the key or anything. They just played the music and let you do it. Then, I started coming every week and playing. After about two months, Wanika, the pastor there, turned to me and said, "I think you're starting to get it."
But it was fun. The thing about music with them is that it's a sacrament. It's like the music is the worship. The whole atmosphere was so free and uplifting, and they were very encouraging. There's a lot of love in it. That's what they say there. It's a love supreme. It's not so much a religious expression as it is an expression of love.
48 HILLS So how did that influence your music going forward?
PETER CASE It's kind of profound in that Coltrane was about making authentic music that's also very beautiful and uplifting. Coltrane was always looking for things that avoided cliche and he was very dedicated to being himself.
What you get from it is this sense of presence, being alive, and the beauty of being in the moment—the eternal now. So it's very positive and healing. It inspires you to do your best, be authentic, and find what's important.
The whole job is to take your vision of what you think things should be and make it. You're given these intuitions to do the best you can do and come up with something that you can give to people.
I know this record I did doesn't fit into anything that's being promoted right now. But it is an authentic version and vision of where I can come from. So that's what I'm trying to fulfill and hopefully, people get inspired by that.
48 HILLS You said earlier that you were eager to come back to San Francisco. What's it like being a working musician in The City these days?
PETER CASE Well, it's difficult. I'm sad about the state of San Francisco right now. People need homes. Any program you're going to do to help people, the first thing they need is a home. People need a place to live and there are all these movements to build what they call "housing." But it's not affordable housing.
Then, they give more money to the police. They didn't get defunded here. There's a strong police officer's union here that keeps things going.
But it's a beautiful city with an incredible legacy. And there are still a lot of great people here like the Coltrane people, Tongo Eisen-Martin, and a bunch of different poets. There's still an underground of people here. 
It's not like it was when I got here, just exploding with talented people because people need affordable housing. My first apartment in San Francisco was in the Tenderloin. I was splitting it with somebody, and it was $90 a month. It was hard to make $90 a month then but I only had to come up with $45 of it.
But that's where I learned how to play bass guitar. I was sitting in that place with records when I was in The Nerves. That's what it means to be an artist.
But you will see this place in a few years getting on the right track. You can't just have a city for the rich, man. That's not a city.
DOCTOR MOAN is available as a CD release and on streaming services.