The threat of lightning strikes, hail, and high winds that extended a one-day event into two made the second annual Cruel World music festival in Pasadena not-quite-as-smooth as its inaugural event in 2022. But both years have firmly established a market for goth and New Wave legends to take centerstage in a party worth traveling to attend (as I did, from San Francisco.) To see bands with members in their sixties and seventies relentlessly rocking out in full-energy sets is eternally inspiring, and the people-watching was unparalleled. You won't see any flower crowns here for any reason.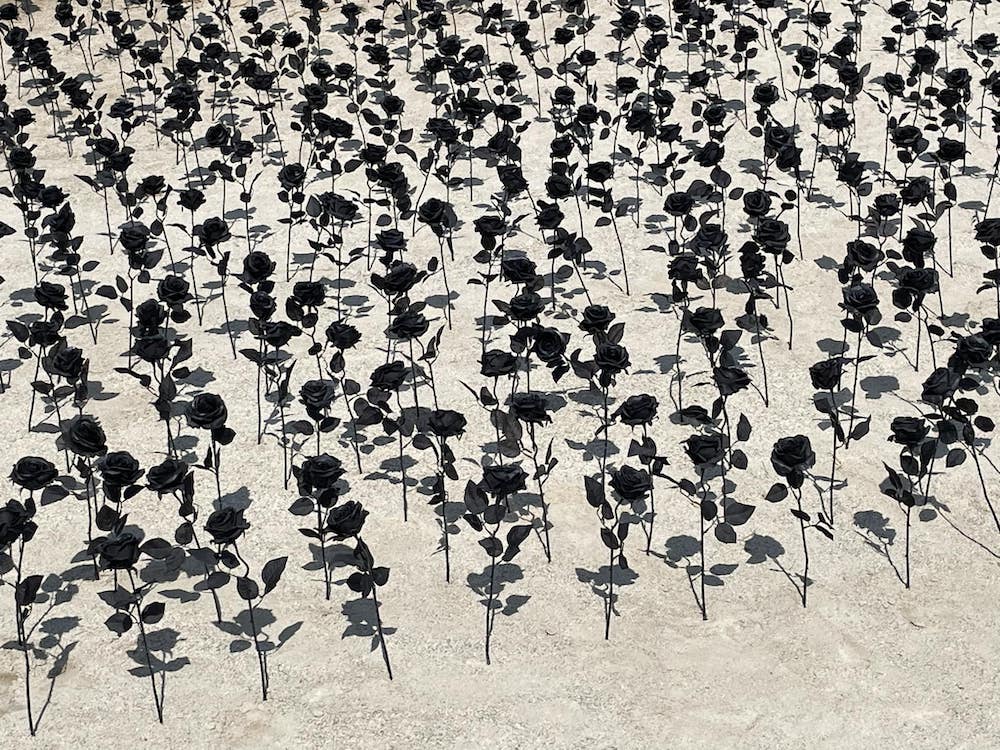 I arrived a few hours into the day in time to catch Gang of Four, whose messages of women empowerment, standing up for the poor and critiquing the status quo still resonate hard. Getting to see a player's-player like Sara Lee on bass had to inspire many in the crowd.
With hits like "Poison Arrow" and "Look of Love," New Romantic stars ABC were so huge in the early '80s, but don't seem to get as much shine as some of the other heavily-touring acts who ruled that decade. That's a shame, because lead singer Martin Fry still wears his gold tux with panache, and his distinctive voice hasn't cracked one bit. Fry talked about how men in London and Manchester wanted to beat him up back in the day for his style choices, but 40 years later, he sees that he was right to follow his passion for looking dapper.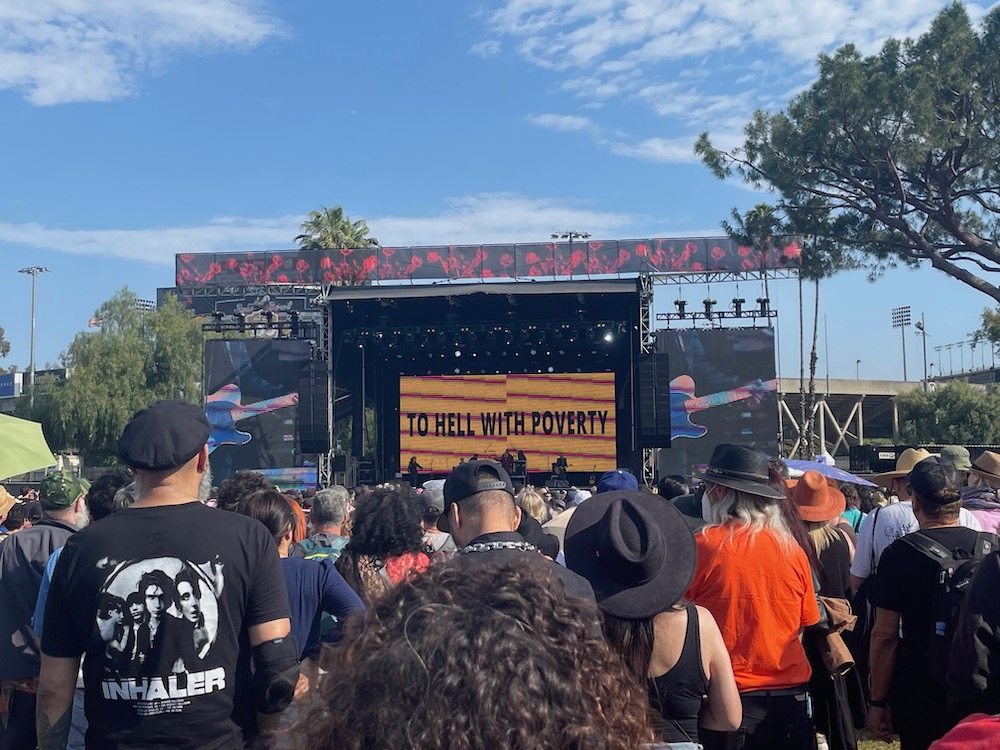 Love and Rockets comprises three-quarters of last year's marquee act Bauhaus, and it was brilliant to see them back again this year with their own anthems like "Ball of Confusion" and "No New Tale to Tell," as well as some pretty lysergic visuals. Here's another set of brilliant musicians whose wide-ranging influence hasn't been properly touted. (Two of the members watched me DJ once in the mid-'90s and said that I should tour with them. If you're reading this, call me!)
Wax Trax! Records, a legendary imprint from Chicago that championed industrial music and other dark sounds, sponsored a photography exhibit called "Bright Light – Dark Room" that featured images of many of the participating acts from the '80s. Evocative pictures of headliners Iggy Pop and Siouxsie underscored the enduring style and musical impact of their youth. Props to everyone who showed up in full Siouxsie face paint, even as temperatures in the upper 70s made people start to glisten.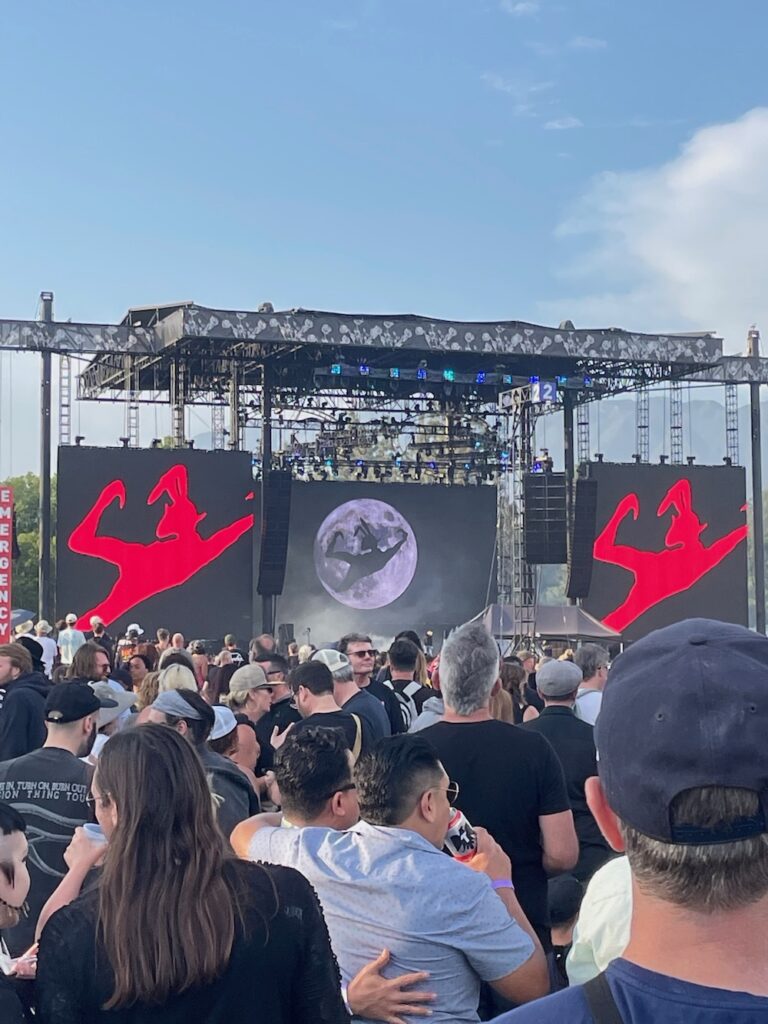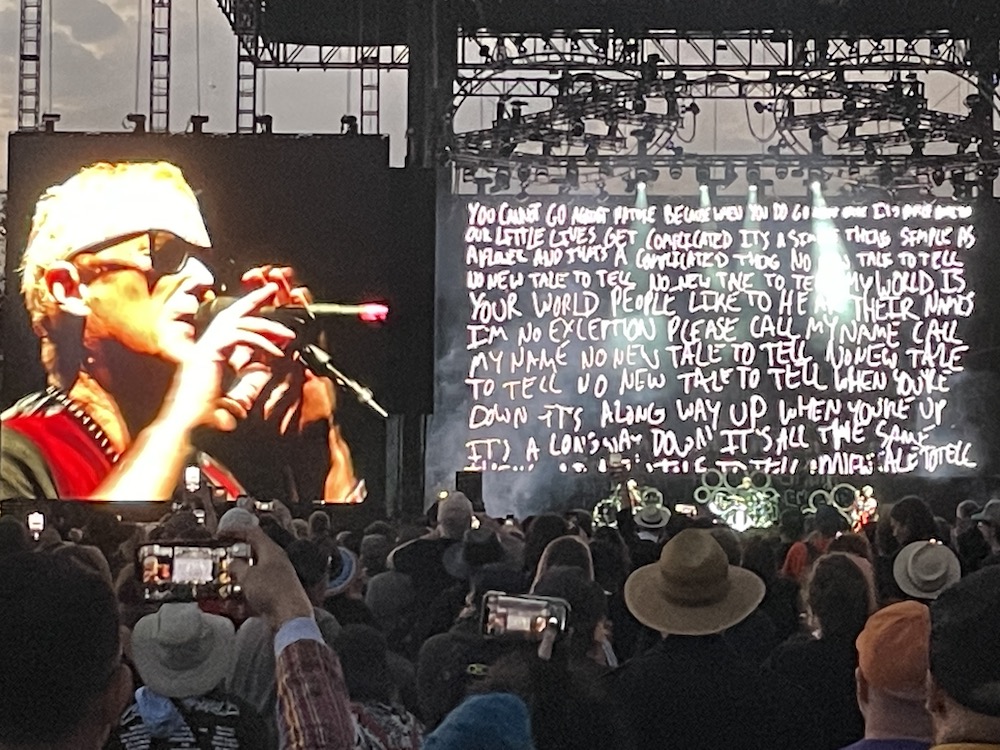 I was reaching untold heights of synthesizer ecstasy (with a small e) during Human League's set when lead singer Phil Oakey apologized and said they had to leave the stage because there was a threat of a lightning storm. He said he didn't know how long they would be offstage, and then said they couldn't come back. They hadn't yet played some of their biggest smashes, like "Human" and "Don't You Want Me," but I was getting my life to jams like "Love Action" and "Sound of the Crowd." This iconic band does not get enough credit for imprinting on the young brains of the best techno producers around the world.
After Human League walked off stage, an ominous warning flashed across all the screens instructing the crowd to quickly and calmly move to the nearest exit because of impending inclement weather. I heard someone say they saw lightning flash in the mountains when Billy Idol was performing a really endearing set of hits, but that may have just been his "Rebel Yell." As he thanked the Southern California community, his home of many years, for making his life amazing, Idol noted that he was spending the day with his grandchildren.
It was tense leaving the venue (Brookside, a golf course adjacent to the Rose Bowl), as we didn't know if bad weather might cause stampedes or freakouts. Luckily, we were close to an exit and got on a shuttle bus to our car quickly, but other friends weren't so lucky and had to wait more than an hour to leave.
By 3am, Goldenvoice tweeted that a make-up show with Iggy Pop (who had only performed for a few minutes) and Siouxsie (who hadn't started) the next day, and repopulated our tickets back into the sales app. Jokes about it really being a cruel world after all flooded social media.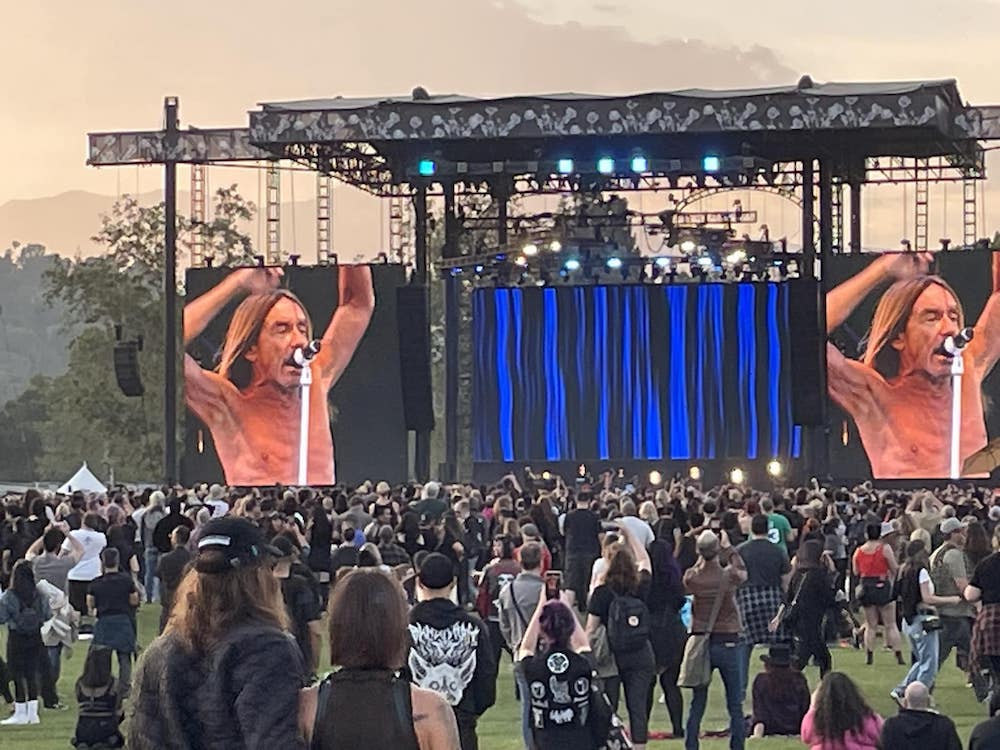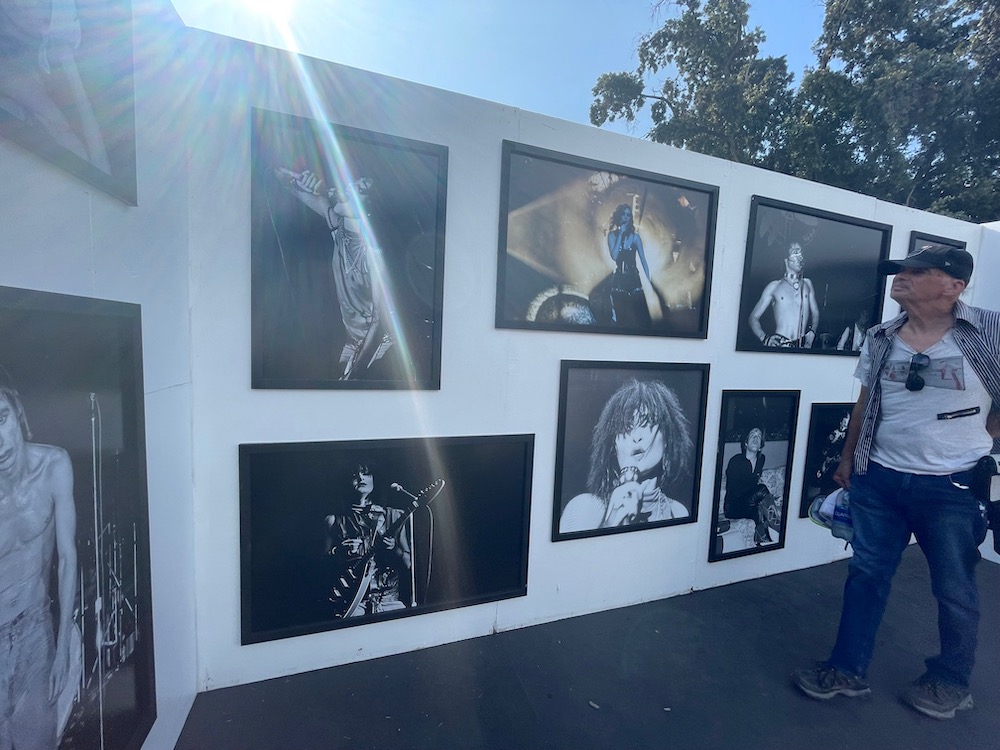 Iggy Pop was in smashing spirits on Sunday, when Cruel World returned with a five-hour event featuring the Stooges legend and Siouxsie, plus opening support from Gary Numan and Club Doom's Dave from the Grave. He unleashed his essentials like "Lust for Life" and the Stooges' "Search and Destroy" with support from a band that included a proficient horn section.
"I can't believe what happened last night!" Siouxsie said in the middle of her set. "The wonderful Fire Department broke in—I was trying to tell 'em, 'It's part of our fucking light show!'"
Siouxsie, who is the forever goddess and godmother of punk, goth, darkwave, you name it—didn't need a light show to dazzle and illuminate, though she did have classy black, white, and red visuals on the giant screens. Like every major act of the day, she's taken pristine care of her voice, and she still sounds like she does on all of her recordings. I can't be the only one in the crowd who felt like they were positively levitating as she sang "Kiss Them For Me," "Cities in Dust," "Christine," and her haunting cover of The Beatles' "Dear Prudence" during a 17-song set.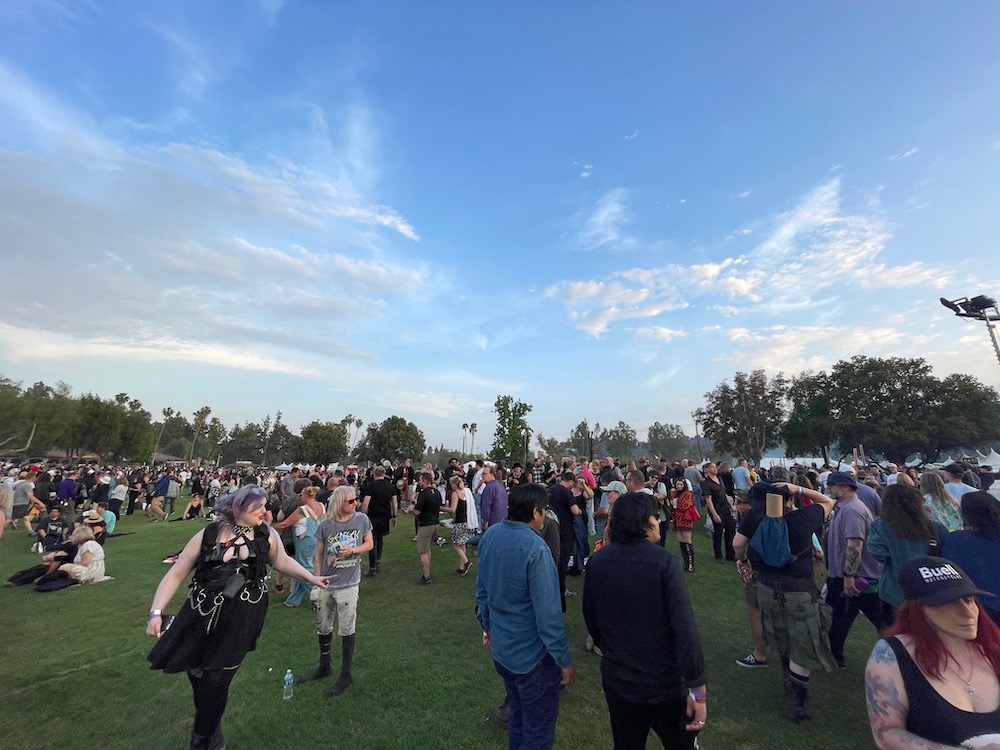 One difference between Siouxsie and many of the other artists at the festival is that she hadn't performed in North America in 15 years, and she doesn't plan on doing any more shows here this year. Goldenvoice is to be commended for pulling off this rarity on Sunday, even to a diminished crowd that's estimated to be one-third of the size of Saturday's show. Sensitive to travel and work plans that may have kept some people from returning on the second day, the promoter is offering partial refunds for people who couldn't make it, and free parking for those who could.
Southern California's current oldies music scene these days is essentially goth, gangster rap, and rave, and it couldn't be more fun. Many of the Cruel World acts played full-length shows in the Bay Area over the last few days—it would be wonderful if the festival could appear in Northern California, too.