I first met Alyssa Mitchel in 2021, when I reviewed her first site-specific work titled "Here. Now." at the Embarcadero in partnership with The Exploratorium. After that piece, she was still loathe to return to indoor theater performances in the COVID era. She looked into other spaces and museums with which to collaborate, and eventually landed on the Contemporary Jewish Museum, largely due to her own cultural connection to the space and its many Jewish artists who inspire her.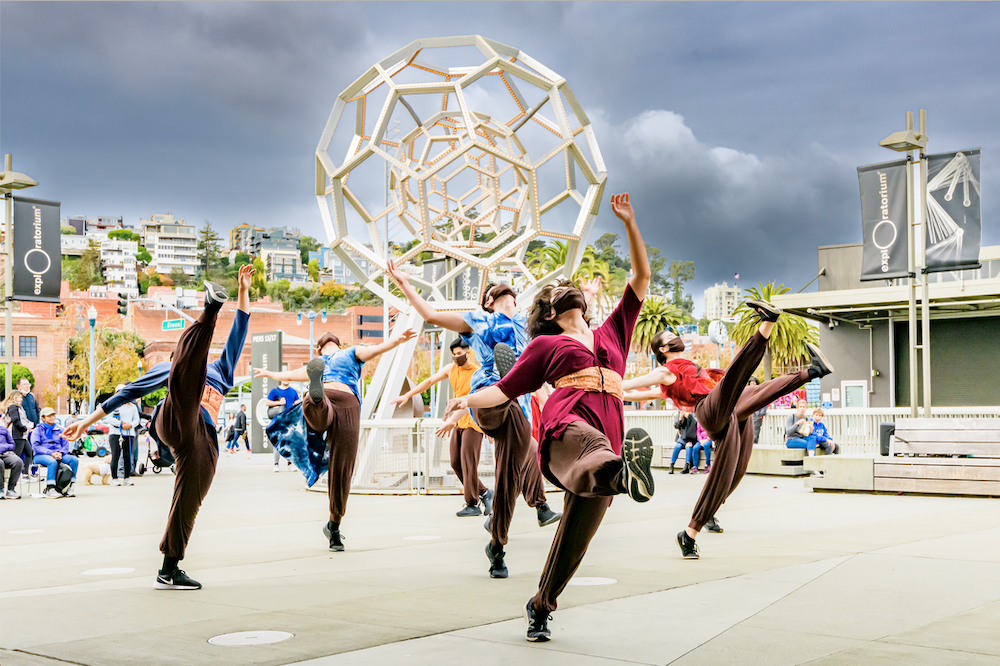 And now, her "Regard" is a site-specific dance piece taking place in the CJM's Stephen and Maribelle Leavitt Yud Gallery (runs August 4–6 and August 11–13.) This performance revolves around the complexity of human relationships and the experience of grief, loss, and self-doubt as an artist. Its setting in the Yud Gallery, a geometric room with a high ceiling and 36 different windows, will inform how the piece is made and presented. It represents somewhat of a departure from her previous works, as Mitchel is collaborating with two live musicians and a muralist for the first time on this project.
I was once again lucky enough to speak with the artist, sitting in on one of her rehearsals to discuss the process that brought "Regard" to life.
48HILLS What are the main themes and inspirations for this project?
ALYSSA MITCHEL It's based a lot on two Jewish artists, Ronald Brooks Kitaj and Martin Buber. Buber wrote a book called I and Thou about the "I-it" relationship vs the "I-Thou" relationship. With "I-It," you use someone and manipulate them, whereas "I-Thou" is a really tender, loving, supportive relationship. "I-It" is a monologue and "I-Thou" is a dialogue. The second section of the piece is about this.
Another section is about the inner critic. We are our harshest critics, and as artists I feel like everyone can relate to being really hard on themself. The first section of the piece I created in 2016 called "Close, Far and Somewhere in Between." It's about two close friends who have tension and conflict, and the friendship will never be the same as it was. Other sections are about loneliness and grief as an artist. I feel like whether you're a cellist, a guitarist, a visual artist, or a dancer, we can all relate to these ideas. And this has to do with the artist Kitaj, a painter who lost both of his wives and was always questioning what it meant to be Jewish and to be an artist.
48HILLS You are collaborating with a lot of people and also have different props and physical elements. How do you find working with all these factors?
ALYSSA MITCHEL Yeah, I've never [before] collaborated with live musicians or a visual artist. I have used props before for a production in 2019, but nothing to this extent. I think it's been a really fun process. It was harder when the murals were not present, there was a lot of pretending and gesturing. That was a challenge, and it's so refreshing that they're all done. It has been a yearlong process to design them. There is so much communication that needs to happen, because there are so many moving parts.
48HILLS How did you start the artistic process with your collaborators?
ALYSSA MITCHEL We would have these long rehearsals on Sundays. [Muralist ORLUarts a.k.a. Liv Losee-Unger] was in one corner sketching, the musicians were in another corner playing and the dancers were working through choreography. It was the start of all this.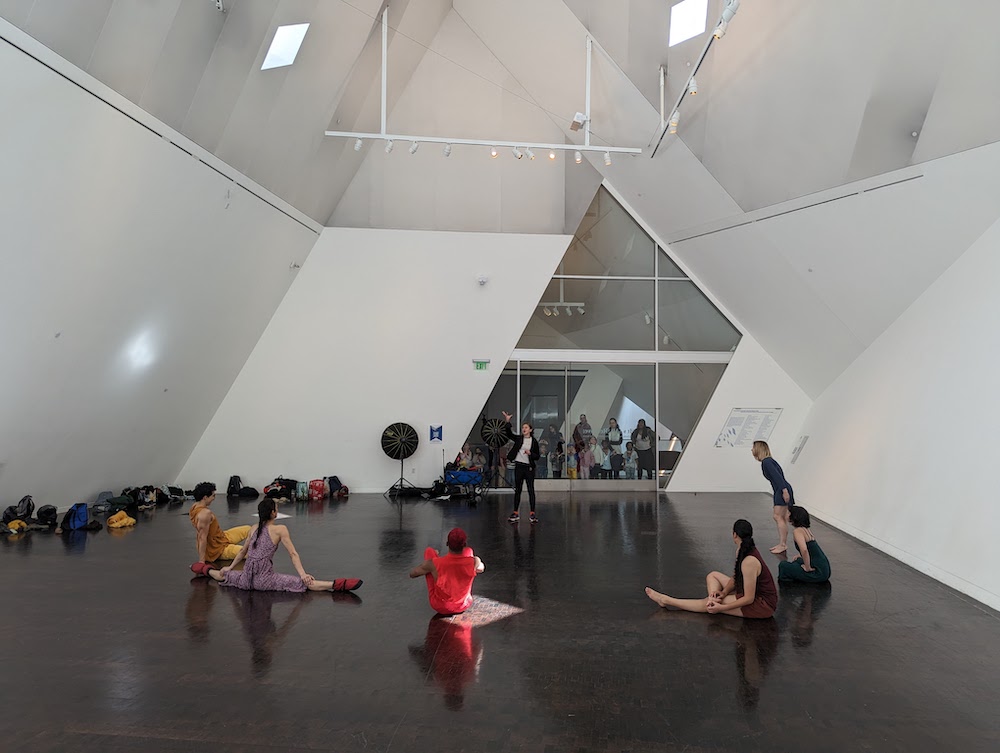 48HILLS What is your process like with the dancers?
ALYSSA MITCHEL I come into rehearsal and teach my dancers between two to four phrases [a phrase is a combination of different movements ordered together]. With a lot of sections, I'll have the dancers get in groups and I give prompts and tasks to work with. I'll say for example, "I want you to include my phrase, create your own gestures, and I want you to add a circle here and travel this way." And especially with these panels, I'll say, "I want you to move the panels around and do a lift, and then go back to gestures, then move the panels another way, then do another lift." A lot of it is really collaborative, because they are using the base of these phrases, and then their own creative ideas. Because there is so much space in the Yud Gallery, I really want them to see where the traveling of the movement takes them.
48HILLS And how is it practicing for a site-specific piece when you are not in the performance space regularly?
ALYSSA MITCHEL Yes, we get to be in the space [starting] July 27. We are aware that it's not just a box, it caves inwards and has interesting angles. When we get there, all the sections of the dance will be complete, so we will have time to focus on the transitions between each section, using the walls at the beginning and the end. Right now my mind is knowing that we will have these transitions of climbing, and different patterns will help knit everything together. Luckily, we have five or six days in the museum before the show.
48HILLS What do you find interesting about the choreographing/directing role, as opposed to dancing?
ALYSSA MITCHEL I think my real passion is choreography, because I love being the director and putting everything together. Making an environment where everyone can listen to each other, but there is structure and every rehearsal I have exactly what we need to get done. I think that balance of the connection and friendship and also the organization make it a really great environment. I wouldn't be in this position if not for my five to seven years of professional dancing for other people.
REGARD runs August 4–6 and August 11–13. Q&As with the choreographer, musicians, and muralist willl be held after both Saturday shows. Tickets and more information here.