At the entrance of Mika Rottenberg's solo exhibition "Spaghetti Blockchain" (through October 22 at the Contemporary Jewish Museum, SF), the artist presents viewers with two choices: enter through the vibrantly colored and sparkly garland draped door, or through the gray faux rock tunnel. With the garlands and tunnel also appearing in Rottenberg's video "Cosmic Generator" (2017), the artist extends the surreal spatial relationships of her videos into the physical museum space.
Moreover, almost like a "Choose Your Own Adventure" book, moving through pathways and portals are the building blocks in Rottenberg's wondrous videos "Spaghetti Blockchain" (2019), "NoNoseKnows" (2015), and "Cosmic Generator," as well as in a room of Rube Goldberg-like interactive sculptures. Through Rottenberg's eccentric spaces and fuzzy logic, the artist slyly tells stories of cross-cultural hybridity, where the physicality of bodily humor and place impart a refreshing concreteness to the mind-spinning abstraction of globalization.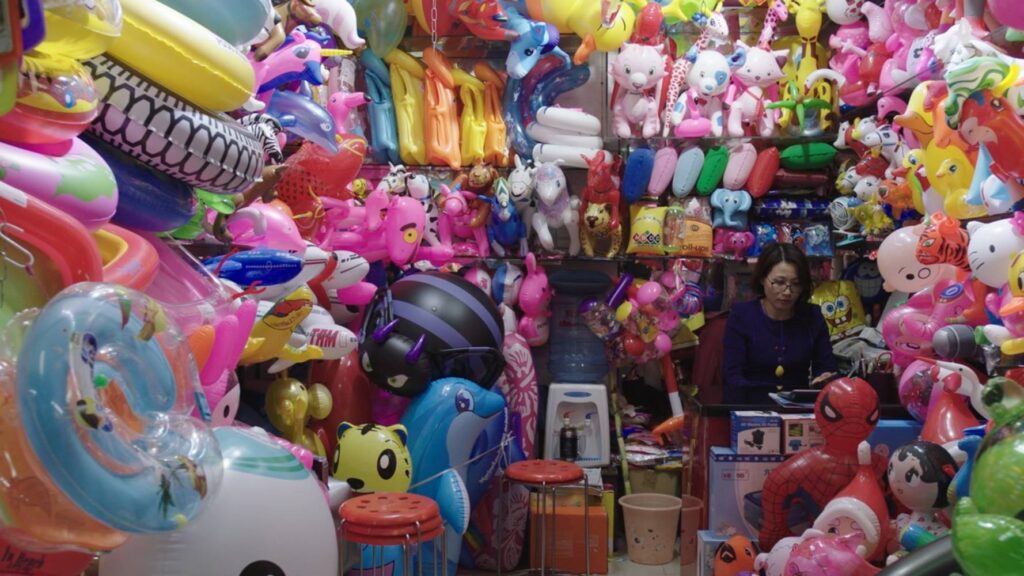 In "Cosmic Generator," Rottenberg presents viewers with a series of narrow stalls and store rooms tightly packed with colorful and sparkling merchandise, commonplace in the Global South. While the Asian female clerks working in the stores brings viewers to virtually any Asian city, geography becomes disrupted as a street sign indicates we're in Mexicali. Situated along the US-Mexico border, Mexicali is home to the largest concentration of Chinese-Mexicans; Rottenberg highlights a series of Chinese restaurant with names like "Nuevo Gran Palacio" and "China Royal Salute," along with Chinese, Spanish, and English signage.
Traversing the other side of the globe, in "Spaghetti Blockchain," Rottenberg focuses on the Tuva region of Siberia, formerly Outer Mongolia. Indicative of the area's history, Soviet-style monuments, murals, and Cyrillic signage juxtapose yurts, Chinese script, and a Tuvan throat singer in traditional dress. While the fusion of Mexican, American, Russian, Mongolian, and Chinese may appear unlikely, these regions represent the flux and porosity of borders, and the paths of individual and national histories.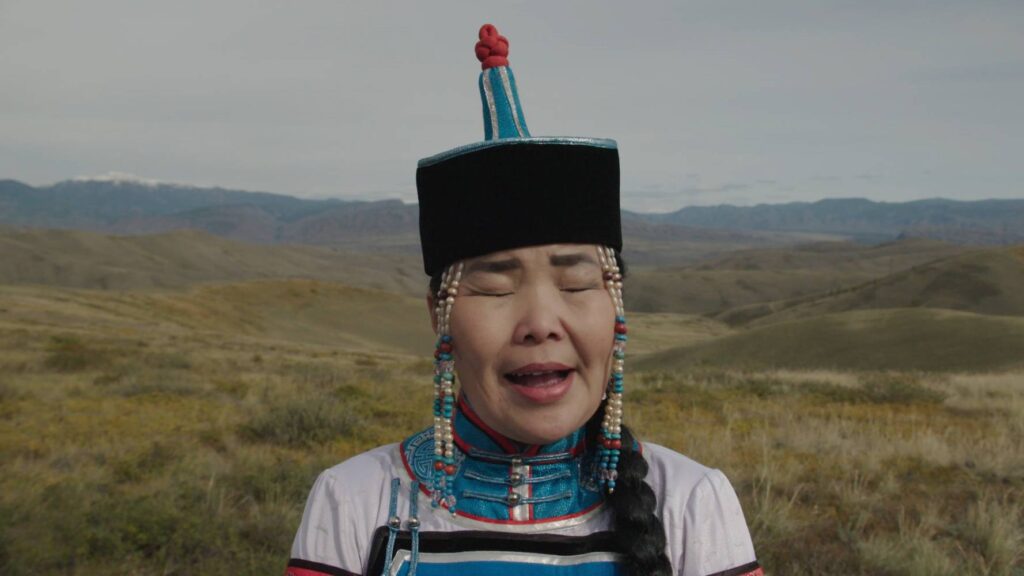 Using these hybrid sites, Rottenberg's astute camerawork pushes the boundaries of place into the fantastical. In "Cosmic Generator," the camera careens viewers through a cement tunnel like an amusement park ride or a toy train. Operating as portal, the tunnel transitions the video between a Chinese-Mexican-American restaurant, a food cart on the streets of Mexicali, and scenes of a woman smashing brightly colored lightbulbs, possible the bauble of globalized trade.
In "NoNoseKnows," Rottenberg skillfully frames key shots of office worker Bunny Glamazon below the desk and towards the floor. The camera highlights a bell, trash can, and a pair of dismembered upside-down feet sitting in a basket on the floor, all of which lead to and signal the world beneath. The video toggles between Bunny Glamazon and overhead views of a windowless workspace in Zhejiang, China, where women incubate, extract, and sort freshwater pearls. Rottenberg's tunnel shots move the narrative through space and time like a portal; her tilt shots suggest a vertical and hierarchical relationship between laborers and geography.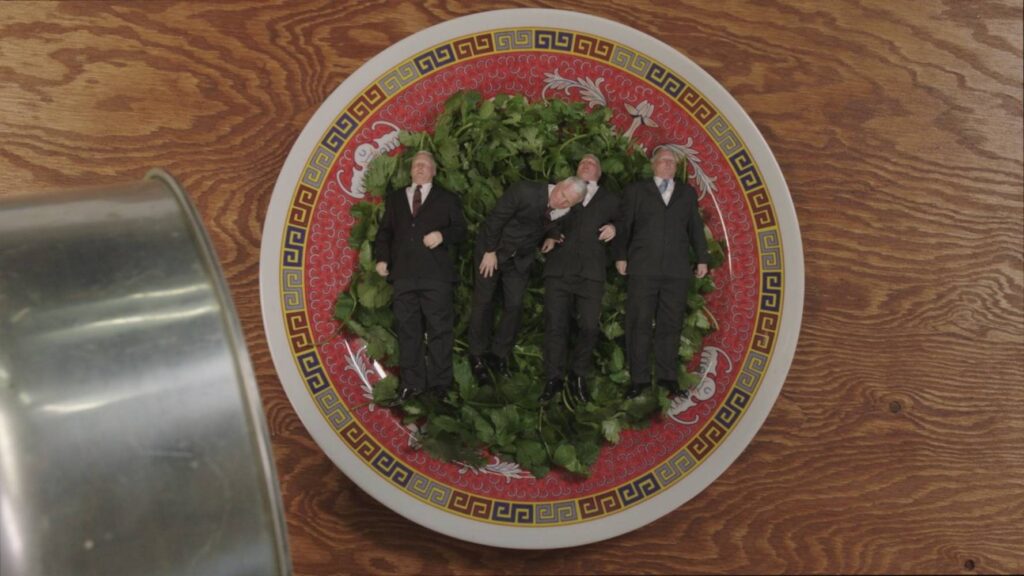 Throughout Rottenberg's work, physical bodies and humor create a specificity and tactility to the abstraction of globalized labor and culture. As Bunny Glamazon's nose becomes engorged, extended like Pinocchio, and sneezes in "NoNoseKnows," a squishy unnaturally colored gelatinous roll, like over-processed bologna, gets sliced and melted in "Spaghetti Blockchain." Additionally, in her physically engaging interactive sculptures "#33 With Bamboo and Bicycle" (2020) viewers pedal a make-shift reclining bicycle to nonsensically rotate or raise a head of cabbage, bamboo, and soft drink. Charlie Chaplin's iconic "Modern Times"(1936) used physical humor to critique capitalism; Rottenberg engages in a bodily play to address labor and product.
Expanding upon an atypical mix of real world global identity, the New York-based Argentinian-Israeli artist, a global citizen herself, offers a quirky and humorous take on the messy world we live in. While war, colonization, and globalization are undeniably responsible for much of the world's hybridity, Rottenberg imparts a magic to create fairy tale-like stories of place, lineage, and culture. As Rottenberg's physical and cinematic movement offers a proxy for the ever changing world, she provides a momentary and visceral grounding.
MIKA ROTTENBERG: SPAGHETTI BLOCKCHAIN runs through October 22 at the Contemporary Jewish Museum, SF. More info here.