SCREEN GRABS If ever there was a week that called for straying off the multiplex path, it's one in which the only notable new wide release is Maze Runner: The Death Cure—the latest chapter in a franchise that absolutely nobody under the age of 20 knows anything about, secure in the faith that they're not missing anything good. 
Ergo, it's a perfect moment to turn the Wayback Machine six or seven decades to accommodate the 16th edition of Noir City (January 26-Feb 4), which re-inhabits the Castro for eleven days starting this Friday. This year Eddie Muller's retro festival steps forward one year with each succeeding double-bill, starting with Friday's 1941 duo of murder mystery I Wake Up Screaming (a rare dramatic vehicle for musical pin-up queen Betty Grable) and southern gothic tale Among the Living. 
Later highlights include two with the great 40s duo of Alan Ladd and Veronica Lake (This Gun for Hire, The Blue Dahlia), Hitchcock's classic Shadow of a Doubt, the seldom-revived omnibus Flesh and Fantasy, lesser-sung Bogart vehicle Conflict, and amusingly tawdry 1953 new-blonde-in-town meller Wicked Woman.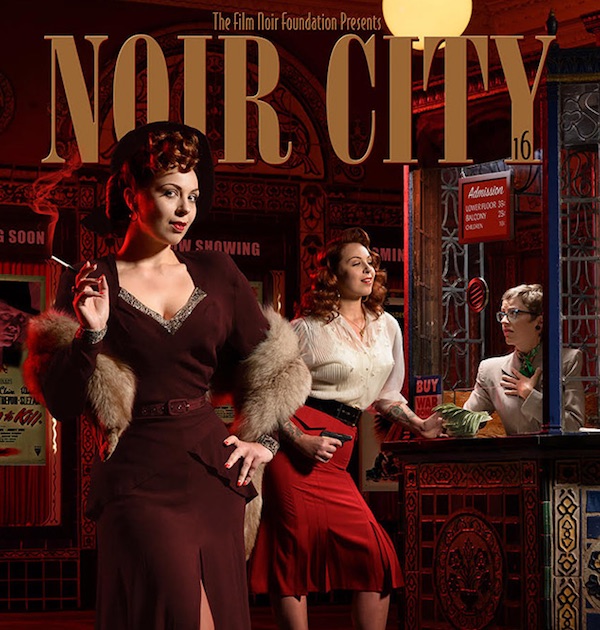 While some of the offerings may already be familiar to jaded noir aficionados, several are likely to be discoveries, including a brand new 35mm restoration print of 1950's obscure The Man Who Cheated on Himself, a San Francisco-set, independently produced suspenser featuring Lee J. Cobb, the normally squeaky-clean Jane Wyatt as a vamp, and Gun Crazy's John Dall. Dust off your fedora, head to the Castro and brace yourself for some vintage thrills. Thurs/26-Sun/4, Castro Theatre. http://www.noircity.com
There are, however, plenty of other worthy-looking prospects at local arthouses if you're looking for something a little more contemporary:
MOM AND DAD
There's another form of nostalgia on tap in Brian Taylor's manic, delicious black comedy. Remember when Nicolas Cage was a reliably thrilling source of gonzo performance in inspired showcases like Raising Arizona and Vampire's Kiss? Before he started seeming like just an occasionally amusing ham in not-so-inspired movies like the heinous Wicker Man remake and those vacuous National Treasures? 
Well, lapsed fans, happy days are here again, as he's ideally deployed playing one Dad among many in a pristine suburban community where one day a mystery phenomenon abruptly induces all the resident parents to really, really want to kill their kids. There's no explanation as to how or why this has happened—just terrific high energy and a lot of outre laughs. Cage is hilarious as this homicidal Dagwood, but arguably the movie is stolen by Selma Blair in a more tonally diverse but equally funny turn as his suddenly just-as-bloodthirsty spouse. If your sense of humor is on the mordant side and you need some cheering up, trust me: This movie is like getting plastered with no risk of hangover. Opens Friday, Roxie. More info here. 
THE INSULT
Riad Doueiri's acclaimed Lebanese feature is a vividly dramatic microcosm of the social, poiitical, and cultural clashes that seem to dominate our world today—not least in the Middle East, where their roots often seem to stretch back over millennia. In a Beirut neighborhood, the chance-forced relationship between a native Christian resident businessman and a Palestinian-refugee building contractor begins poorly with a petty conflict. Because both men are alpha-male "Type A" personalities who can't bring themselves to apologize or back down, this interpersonal discord soon spirals out of control, until it becomes a matter of highly public controversy. 
Lebanon's Oscar submission feature is a discomfiting drama that puts a distinctive spin Rodney King's timeless question, "Can't we all get along?" Opens Friday, Clay Theater. More info here.
MEXICAN MALADIES
For over half a century, Arturo Ripstein has been Mexico's most unpredictable as well as laureled auteur, his voluminous output encompassing stark neorealism, operatic melodrama, black comedy, surrealism and more. Center for the Arts celebrates that career span with a short tribute consisting of his very first and most-recent features. 
Ripstein's 1966 debut Time to Die, shown in a new restoration, is a B&W "existential neo-Western" written by none other than literary legends Gabriel Garcia Marquez and Carlos Fuentes. Also shot in striking monochrome is 2015's bizarre quasi-noir Bleak Street, a tale of hapless criminal mischief involving middle-aged Mexico City prostitutes and pint-sized luchadores (aka masked wrestlers a la Santo). Incredibly, it's based on a true story. Thurs/25-Sun/28, YBCA. More info here. 
WINDOW HORSES: THE POETIC PERSIAN EPIPHANY OF ROSIE MING
After scoring a hit with the terrific Birdboy: The Forgotten Children, the Roxie returns to the adult animation well with this very different Canadian feature. Sandra Oh voices Rosie, a fast-food worker who moonlights as an aspiring poet and dreams of visiting Paris. But instead her writing wins an invitation to a conference in Shiraz, Iran, of all places, where her culture-shocked insecurity isn't helped much by the non-camaraderie of stereotypically humorless German scribe Dietmar (Don McKellar). 
Ann Marie Fleming's mix of history, mythology, comedy and empowerment—not to mention disparate visual techniques—owes a conspicuous inspirational debt to Nina Paley's Sita Sings the Blues from a decade ago. Her film isn't in that league, but it still has appeal both antic and aesthetic. Opens Friday, Roxie. More info here.
LIFEFORCE
A prize of some sort should have gone to whoever convinced normally penny-pinching Golan Globus Productions to spend $25 million—a huge budget at the time—on this 1985 sci-fi thriller from the director of The Texas Chainsaw Massacre, about a sexy lady vampire who arrives via Halley's Comet to suck the you-know-what (I mean life-force, you filthy slobs!) from Earthlings. 
The result was, alongside Howard the Duck and Ishtar, one of the most notorious and costly box-office bombs of the decade. And like them, it has its defenders. The combination of daft plot, elaborate production, Lovecraftian concepts and a hardworking if less-than-starry cast (including Mathilda May, Steve Railsback, Peter Firth, and pre-Star Trek Patrick Stewart) make Lifeforce a garish horror-fantasy worthy of its cult following. (By the way, Howard the Duck—in 70mm!—is also being shown by at the Alamo this week, on Sat/27.) Wed/31, Alamo Drafthouse. More info here.