PUFF My good friend Philippe found a portable mini dab kit for $40 on, of all places, Walmart.com. That is right, you read it correctly, Walmart. That's where we are the cannabis revolution.
We were talking at a party about making a rig on the cheap, so Philippe started investigating. He found something called the Happy Dab Kit. He conferred with some experts at the party and was told, yes, it was a nectar collector with everything needed to dab. Ecstatic, Philippe ordered it. (Happy Kit offers a variety of "discrete travel kits" for cannabis users.)
We have been using the Happy Dab Kit for a few weeks now. As a matter of fact, Philippe is spreading dabs like a minister passing the good word to his flock. The other weekend at a backyard BBQ, I tried chatting with my friends only to discover happy, stoney zombies in Philipe's dabbing wake. They loved that BBQ though!
You simply take a small dab of concentrate and put it in a silicone cup provided in the kit. The the metal end of the collector is heated to glowing red hot by a blow torch. You count down from 8 and then use the collector to suck up the small dab which is immediately turned into steam. It's like a line you suck up rather than snort up. Yes, it is a little druggy, but I have enjoyed dabbing out and about. I find the high to be more social than smoking flower can sometimes be.
My review of the product would be a solid B. The nectar collector is great and easy to use. It all fits into a nice, small, well-made case with plenty of room for all your concentrates. The problems are the dabbing tool included which is used to scoop up concentrates was way too small and delicate, and the mini-blow-torch lighter was a piece of junk that barely made it a week.
So Philippe bought a fancy portable blow torch. An added cost to that original $40 investment. A proper dab tool would cost another $10, so now the total investment is $65-$70.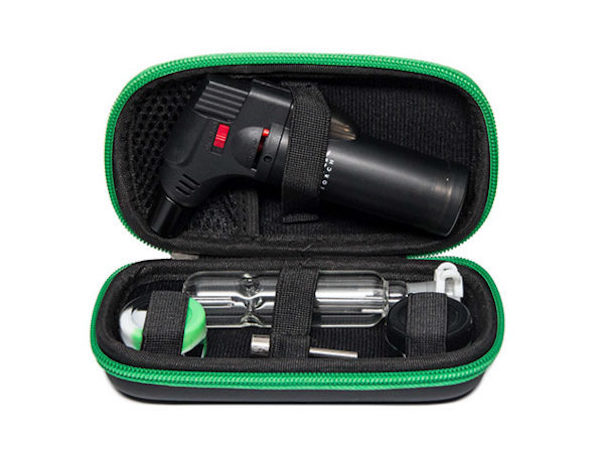 I started thinking, are there even better deals out there? So I checked.
First of all, the Happy Dab Kit is no longer available at Walmart.com. (You can still get it on the Happy Kit site.) After some investigation, I found evidence it had been available at Walmart through a Pinterest posting, but that link was dead. Funny, they were also selling a Rosineer RNR-MV2 Manual Rosin Press last year which is used to squeeze concentrates out of cannabis plants. It is not currently in stock. Were these listed out of ignorance of their use or is the nation's biggest retailer branching out into cannabis with these test items? The mind reels. After all, this is the Walmart that would only sell censored versions of music.
Something like the Happy Dab Kit is available on other sites. Amazon has a couple of interesting items, but the first item that came up when I filtered "dab kit" was a $14 blowtorch which made me chuckle. They knew what was what. I found a cute nectar collector kit for only $16.88. It is interestingly labeled as a "Great Holiday/Birthday Gift Box" but it came up in my filter anyway. Just add the blowtorch and a dab tool to that, and you have a bargain. But how portable is it? Not very, it seems.
Next was this groovy portable vaporizer from Anlerr Homles. It promises you can vabe herb and also dab concentrate, but investigating the pipe's specs, I found that the chamber doesn't get hot enough to actually dab concentrate. The pipe goes up to 149-224 degrees Celsius and you want around 377 degrees Celsius for dabbing. You always need to check these things out, no matter what the pitch is. 
So it looks like Philippe did indeed get a very good deal with portable Happy Dab Kit. It is a great way to try out dabbing and do it almost Old School (that would be hot knifing) with a blow torch.
When I was in Mendocino at a cannabis event recently, I met a CEO of a cannabis company who had his own electronic dab pipe made to his specs. It looked like something Sherlock Holmes would have smoked out of, and it hit great with no blow torch needed. I snapped a pic of it and was immediately asked to delete it. Top Secret! So there is definitely more portable dab madness coming our way soon!
Now it's time to light up…or dab!