Wow – just the first afternoon, no candidates for president yet — and so much is happening at the state Democratic Party convention.
We had the battle around allowing undocumented immigrants to play a full role in the party. We have a new policy that seeks to block demonstrations in the convention center – which the party as a whole has never approved. Party activist Hene Kelly told me that she has asked where those rules came from and said she won't support them unless the entire convention votes to approve the ban on "disruptive" actions.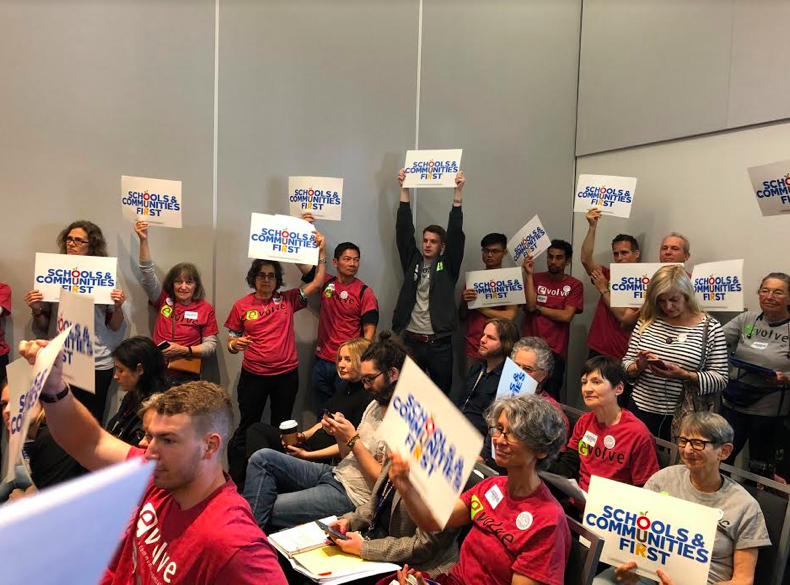 The Resolutions Committee had more than 150 proposals, and the way these things go, only about 10 ever make it to the floor. One will be a measure putting the party on record supporting the 2020 split-role initiative to reform Prop. 13.
Supporters of the resolution packed the room, and other then a bit of concern from business owners, there was little doubt about the outcome.
Down the hall at the Progressive Caucus, the candidates for party chair were asked about their positions on the issues. But it was clear from the loud cheers and applause for Kimberly Ellis that she is the clear favorite of this group of Democrats.
And it was clear from the crowd at this caucus that there's a huge grassroots movement for party reform.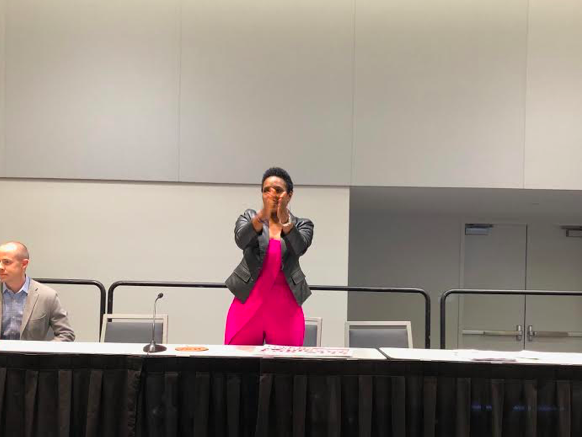 I talked tonight to Tom Ammiano, the former supervisor and state Assembly member, who was on his way to speak at the Bernicrats dinner. He had a lot to say about the state of Democratic Party, and the slow movement of the moderates, and the need for dramatic change.
"Enough of this, I'm joining the Democratic Socialists of America," he told me.
We're back tomorrow, starting with Speaker Nancy Pelosi's address to the Women's Caucus at 7:45am. Then all of the candidates for president will get exactly seven minutes to address the convention.
Stay tuned.