Brandon Lee, a Chinese-American San Francisco native and human rights advocate, returned home this weekend nearly three months after his attempted assassination in the Philippines.
Brandon and his mother Louise Lee left Manila and traveled by medical airlift for more than 20 hours, making stops in Japan, Russia, and Alaska before touching down at San Francisco International Airport early Saturday morning. Lee's family, friends, and SF Supervisors Gordon Mar and Matt Haney gathered at the airport and hospital to welcome him home. It has been nearly 10 years since Lee has been back in San Francisco.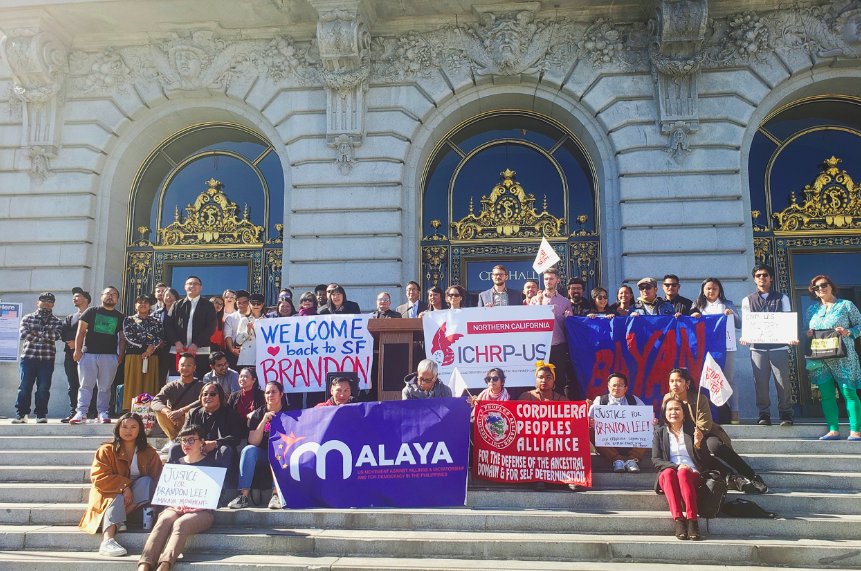 On Monday afternoon, Mar hosted a press conference at City Hall to formally welcome Lee home and provide updates on his condition and shed light on the severity of Lee's attack.
"Brandon is the first United States citizen believed to be a target of an extrajudicial assassination attempt by the regime of Philippine president Rodrigo Duterte," Mar said. "I'm so glad we have Brandon back, but we're not done yet… There's much more work to be done to address the underlying injustices that led to Brandon's attack."
In August, Lee was shot multiple times outside of his home in Ifugao, a province in the northern Luzon region of the Philippines. Lee's supporters maintain that the attack was an attempted assassination orchestrated by the Philippine government. Four years ago, Lee was red-tagged as an enemy of the state for his work as a journalist, environmental rights advocate, and defender of indigenous rights. And he's not the only one targeted; according to Global Witness, the Philippines has been labeled the deadliest country in the world for environmental activists.
"What happened to Brandon is part of an effort to silence dissent against Duterte. We are very dismayed that $193.5 million US tax dollars were handed over to Duterte over the past year. That money is going to the Philippine military and police," said Rhonda Ramiro, Chair of BAYAN-USA. "Brandon very clearly identified the 54th Infantry Battalion of the Armed Forces as the people who shot him. The bullets that they used, the training they received, and the counterinsurgency program that they're operating under are all being funded by the US. This needs to stop."
In September, the Board of Supervisors unanimously passed a resolution authored by Mar that condemned the attack on Brandon and urged a congressional investigation, a moratorium on US taxpayer dollars going to the Philippine armed forces and national police, and Lee's safe return home. According to Mar's legislative aide Edward Wright, the congressional investigation has not happened. Lee's supporters still want these actions taken to not only get justice for Lee, but for all at risk under Duterte's regime.
Lee's friends, family, and supporters were instrumental in pushing for the US Embassy and elected officials to get Lee back to San Francisco for medical attention. While Lee is still on a long road to recovery, he is currently receiving treatment at San Francisco General Hospital. Dr. Susan Ehrlich, CEO of SFGH, reported that Lee is comfortable and undergoing a full multi-disciplinary workup to understand the best treatment plan for his full recovery.
"I'm breathing a sigh of relief because I know he is in good hands and under great care," said Louise Lee, Brandon's mom. "And it's been a happy reunion with his family and his friends. There have been tears of joy."
While both Louise and Brandon were able to make it to San Francisco safely, Brandon's wife and daughter are still in the Philippines and are sticking close to their support network. However, according to Louise, they are working hard to get all of their necessary paperwork and could fly to San Francisco as early as next month.