The political mess that is Sup. Vallie Brown's attempt to explain her eviction of African-American tenants from a building she bought on Fillmore Street took another twist today when an attorney for one of the former tenants presented evidence that the residents were, indeed, paying rent.
Brown had argued that one of the reasons she cleared out residents was that the building was in terrible shape and that the tenants "refused to pay rent."
In a piece on her website, she says that "tenants were asked to stay, but refused because staying would mean paying rent."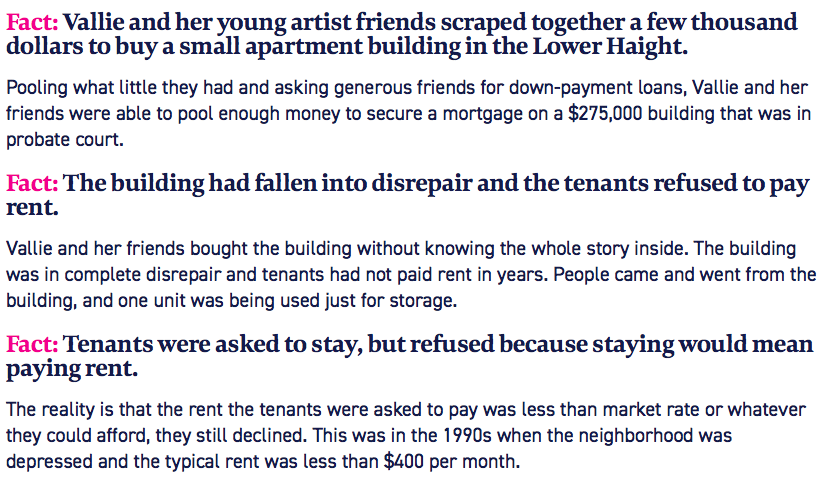 But Mary Packer, a longtime tenant, disputed that and said it was insulting to say she wasn't paying her rent on a regular basis.
Now Robert DeVries, a tenant lawyer representing Packer, has presented Brown with not only sworn statements from the probate lawyer who handled the building sale but detailed receipts that show that Packer – and Tom Cotton, who Brown also said was not paying – were in fact paying rent in full every month.

DeVries, in an Oct. 28 letter to Brown, noted that "there is no legitimate question that your accusations against Ms. Packer are false." The letter demands that Brown "immediately and publicly" withdraw all communications suggesting that Packer wasn't paying rent.
That could be tricky, since Brown has already sent out mailers with the allegation.
Brown's explanation that she was just a struggling artist who bought the building with every intention of allowing the existing residents to stay is now completely falling apart.
Brown initially said that she wanted tenant Tom Cotton to stay, but that he wasn't living in the building or paying rent. The receipts show he paid every month.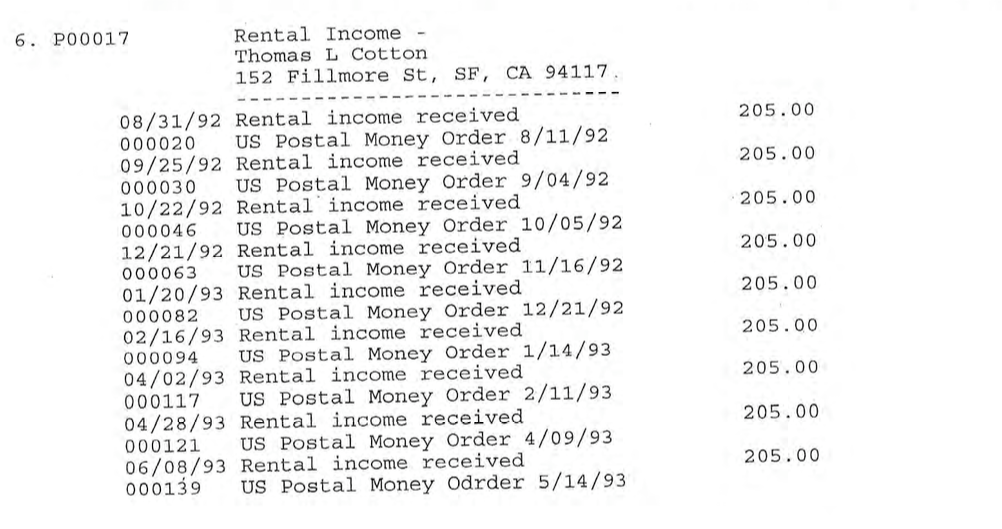 Mission Local reported that another tenant, Wandolyn Dressman, and her son were forced into dangerous public housing when Brown threw them out.
And now she is going to have to retract a large part of her explanation.
I have contacted her campaign for comment, and will post as soon as they send me something.
UPDATE: Brown has sent a letter to DeVries which says the following:
Yesterday, you indicated that one contention among the many in the response – that
the tenants of 152-A Fillmore Street had not paid rent for years and had refused to pay rent – was inaccurate. Supervisor Brown is sorry for repeating incorrect information and she thanks you for bringing it to her attention. Supervisor Brown and her campaign apologize to Ms. Packer, and to the other tenants, for that misstatement, which they retract and which they have removed from their website.
Dean Preston, a tenant lawyer who is challenging Brown, told me: Mary Parker not only had to live through a terrible eviction, now she has had to live through a sitting supervisor insulting her. It takes enormous courage to speak out like this and she deserves the community's support."