In Miguel Arzabe's exhibition "Cóndor de Cuatro Cabezas (Four-Headed Condor)," through July 24 at Johansson Projects, the Oakland artist presents a series of striking woven works. In a laborious process, Arzabe creates abstract paintings, slices them into strips, then weaves them together.
As an exploration of Arzabe's own Andean heritage, the works reference indigenous Bolivian Sacaca textiles, highly regarded for their intricate geometric patterns and vibrant colors. In lieu of thread, Arzabe's half inch strips of canvas and paper result in scaled up textile-like works that move between bold colorful Andean patterns and painterly brush marks and organic shapes. Operating between the mediums of painting and textiles, Arzabe's work produce a space where Western abstract painting meets indigenous craft.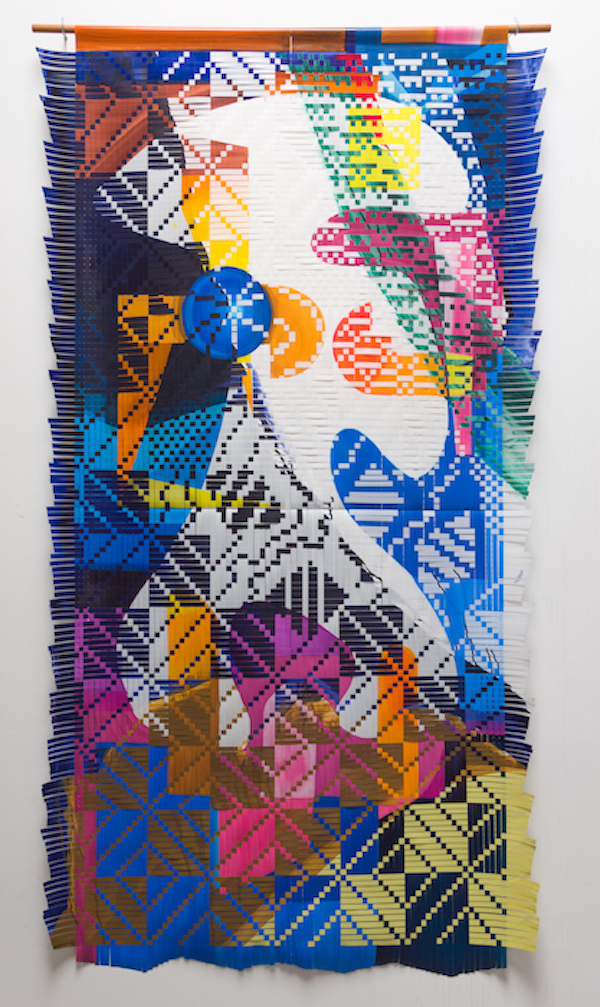 Sourced from Sacaca mythology, titles like "Cóndor de Cuatro Cabezas " and "En El Ojo Del Cóndor" (2021) invokes pájaros monstruosos, "monster birds"–hybridized animals who traverse the cosmic and earthly realms. These captivating narratives represent in-between entities and spaces, as an analogy to the hybridity within Bolivian and Bolivian American culture, language, and place. While there is very little imagery that seems to directly represent the mythology of his titles, the works operate on a more suggestive level, where pattern, color, and textile references are the most intriguing and accessible.
In the title, "Cuniraya" (2021), Arzabe references the Inca god associated with fertility, creation, and the moon. In the lower portion, a geometric textile design diagonally bisects the work into squares and diamonds. The pattern disintegrates in the upper right side to reveal a white biomorphic shape, suggestive of a silhouette. Between Arzabe's abstract source paintings and his weaving process, imagery becomes almost pixelated with squares of color overlaping each other as warp and weft. As one of the larger pieces in the exhibition, at about four by seven feet, the work has a scale that allows the artist to create more complex imagery with his strips of paper.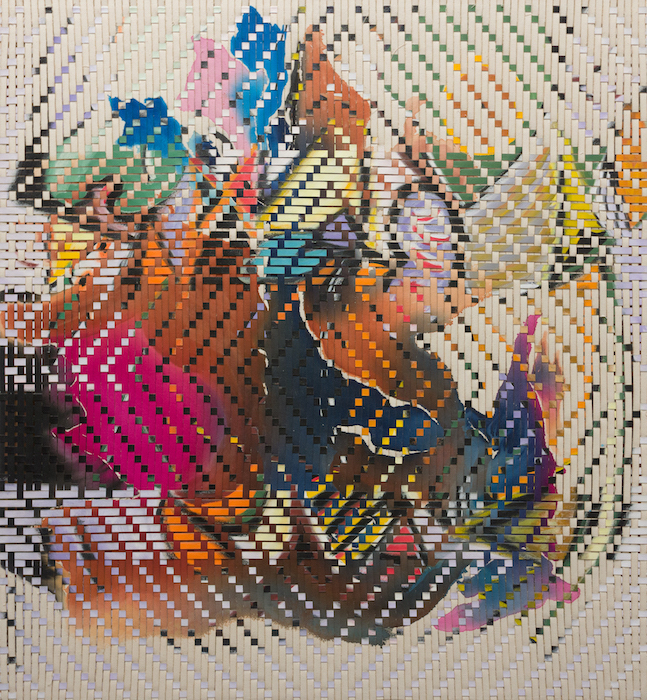 While many of the works have an all-over-pattern, "Cosme" (2021) and "Quemado" (2021) also have dense and complex centers that fade-out as emanating energy, almost glitching-out. In "Quemado," Spanish for scorched, the woven triangular pattern in sienna suggests dry brush, fiber baskets, or tinder. The dark black, bright yellow, and blue abstract forms in the center have the density and force of fire, from which a subtle orange ring radiates outward. Likewise, in the center of "Cosme," a diamond pattern fades out to the periphery while in the center abstract shapes collide and break apart. Together, the works suggest that fire and the cosmic Big Bang are radiating origins or energy.
Arzabe's energetic patterns and meticulous crafting present a formally strong show where the artist's process of making, unmaking, and reassembly speaks to the hybridity and nonlinearity of traditions, narratives, and place. Moreover, Arzabe's show demonstrates the artist's keen ability to push viewers back to take in the whole while also pulling them into to inspect the details, where from both perspectives the view is entrancing.