Getting my press pass to this year's edition of the cannabis industry-only expo Hall of Flowers was like finding a golden ticket in a stoner Wonka bar.
I felt giddy as our Golden Gate Transit bus crossed the storied span of the Golden Gate Bridge, pushing into the morning fog. We traveled up the highway, winding through the Marin County towns, toward our destination; the Sonoma County Fairgrounds in Santa Rosa.
If there was ever a model for an adult-oriented Halloween trick-or-treating session, it is this massive weed biz gathering. Buyers from dispensaries and the press are treated to three big halls of cannabis companies who want to tell you about their new products—and sell you samples, at a very low price.
Yours truly was in attendance at the last, pre-pandemic Hall of Flowers in 2019, and I had an excellent time. The event is returning strong — Hall of Flowers has even added events; a Las Vegas appearance at MJBiz later this month, and a Palm Springs happening in December.
Understandably, there was a slightly different vibe at this Santa Rosa gathering. The September 22 and 23 event paid full attention to Covid safety. Vax cards were checked, and there were announcements all day about wearing masks inside.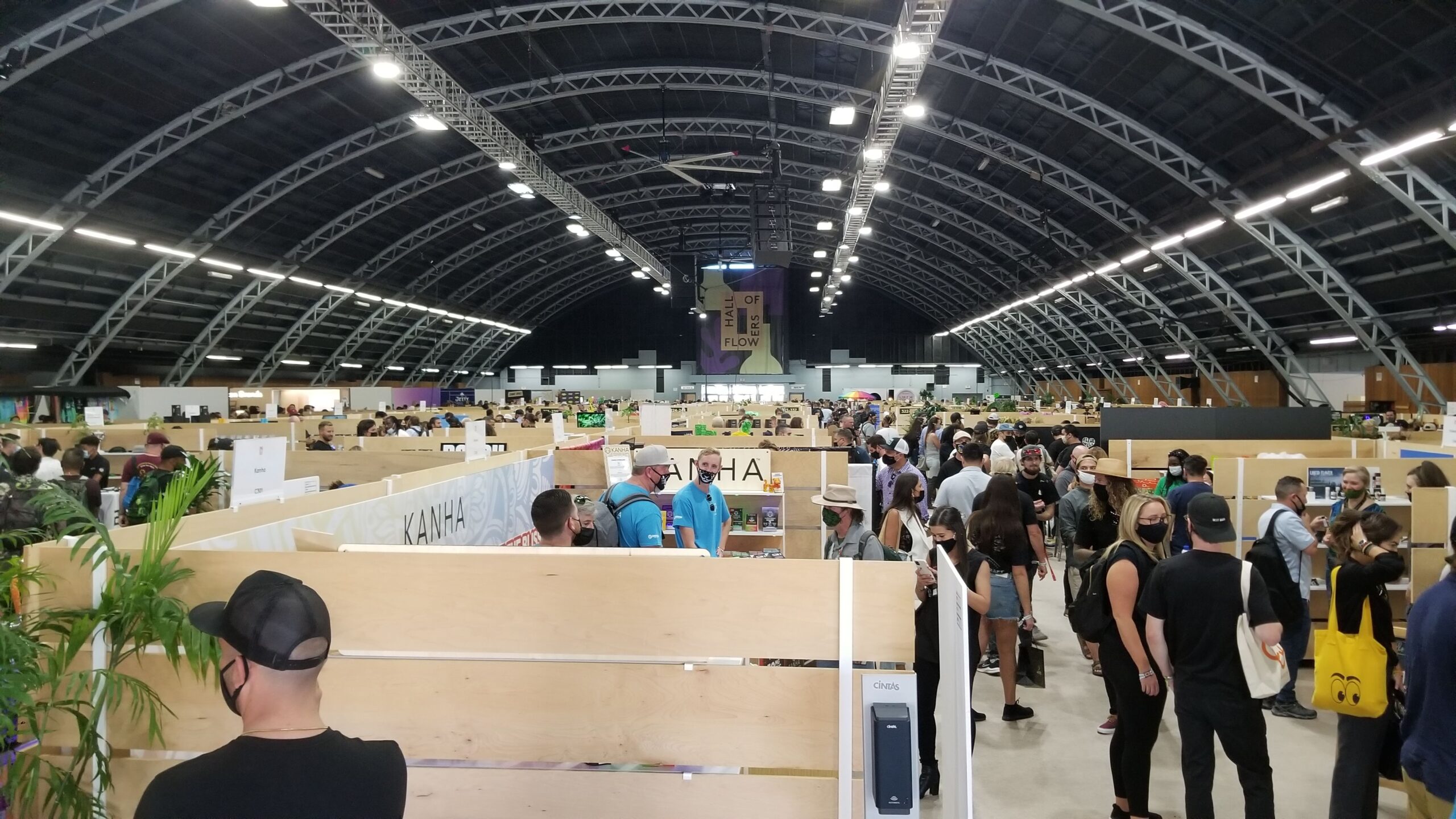 Having done my homework, I had a plan; get there early and hit the key brands first. I reasoned that early in the day, vendors are excited and eager to get started, so they are more liberal in handing out coupons. Some companies sell directly to you on the floor, others give you coupons that can be redeemed in the dispensary building at the end of the day. A few just have complimentary swag, or non-medicated samples. I can go visit friends and take selfies later, I told myself. First, I wanted to hit the places I knew would be mobbed later in the day, like Alien Labs. This proved to be an astute strategy.
The plan did not include getting high before going into the exhibitions. Puffco always has a booth out in front of Building B giving away free dabs. The last time I excitedly stopped there first, sucked down a couple of dabs, and couldn't make sense of anything once inside. I decided to hold off on the dabs until all my stops had been made.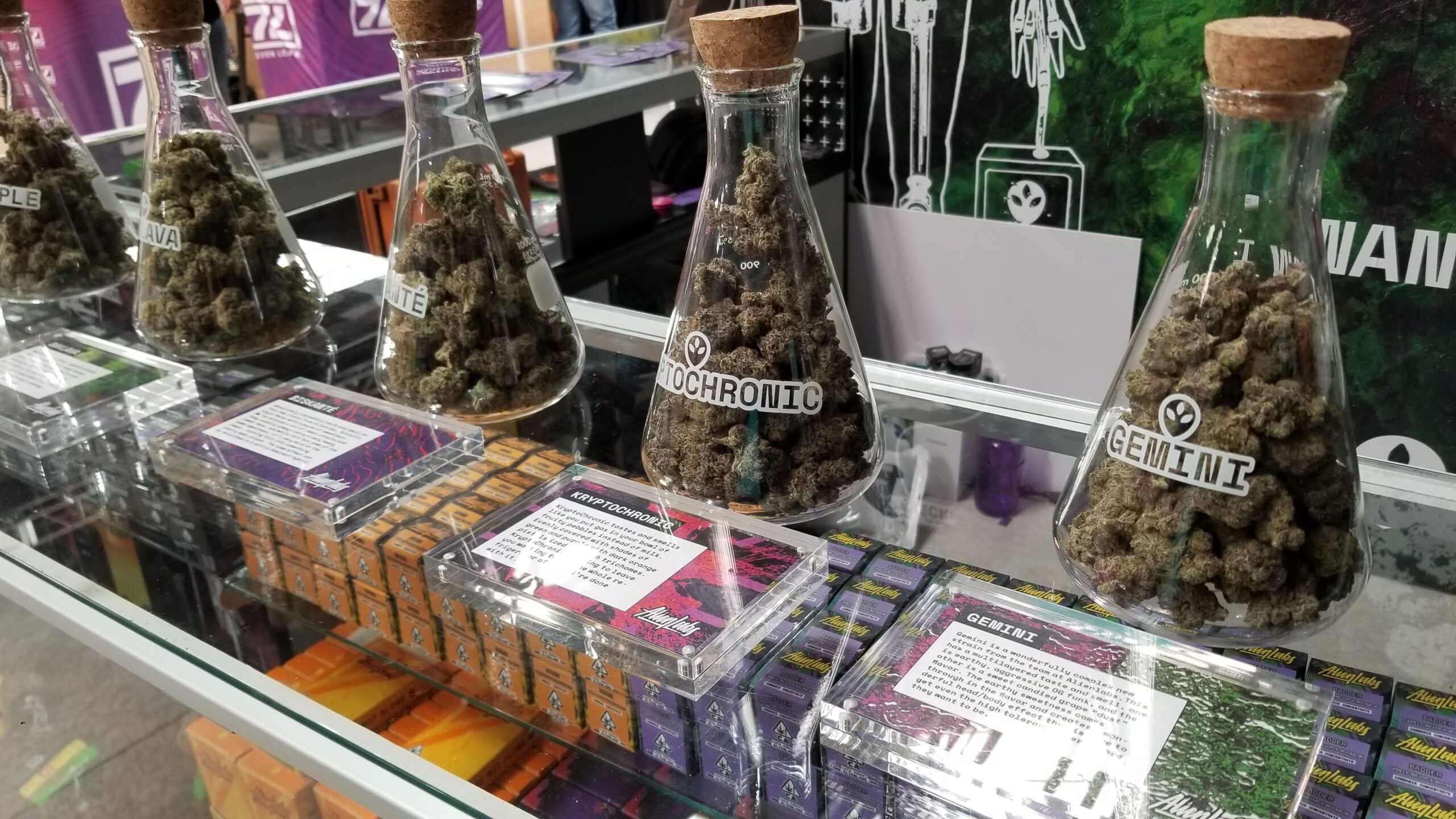 Once I got through check in and showed my vaccination card, I headed to Building B and visited Alien Labs. They partnered with another great brand called Connected for their booth. I had a wonderful conversation with Alien Labs and got stocked up on their current flavors (Gemini, Area 41, and Baklava.) Connected gave me a giant blue bag to carry away my swag and samples of their Chemist and Gelonade strains. I was off with a bang.
I spent the next few hours wandering the booths and stopping by my favorite brands. I was ready to talk about brands and strains. After being cooped up in my studio for two years, ordering delivery from dispensaries during Covid, I was well versed in what strains were popular, and the importance of brand recognition when consumers can't always see and smell the cannabis before purchasing.
There weren't a lot of hot new strains out there, but I did see a lot more bright, interesting packaging, and promotions. There were also a lot more companies from outside the Bay Area as compared to the last edition of the expo.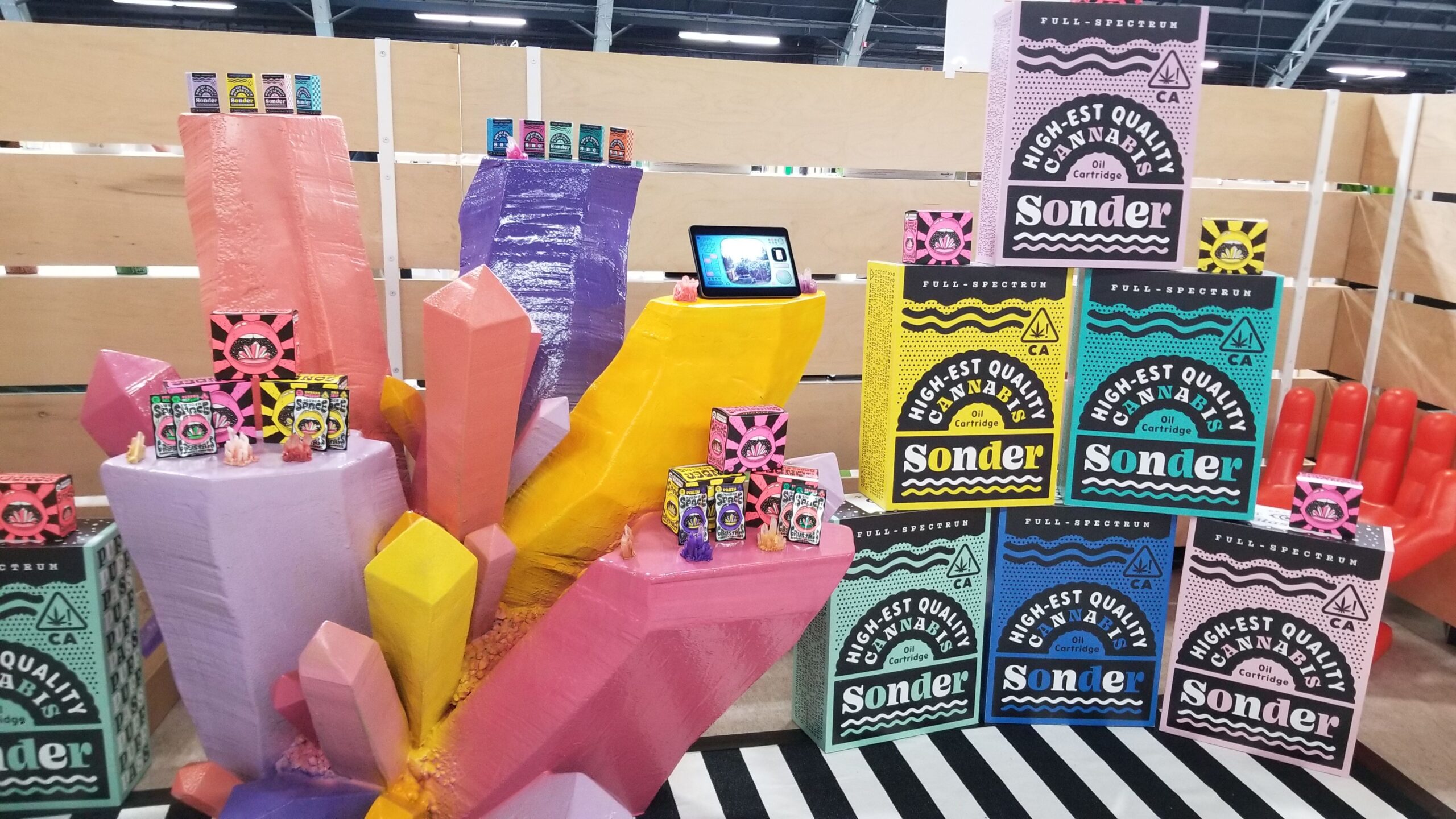 Sonder definitely had the artiest and coolest booth, with a display of Day-Glo boxes and giant space crystals promoting their fantastic cannabis pop rocks. I also enjoyed the colors and enthusiasm generated at the Super Wow! tincture and Luchador gummies booths as well.
Luchador has been promoting their gummies in Los Angeles by producing lucha libre matches. The videos were hilarious, and I told them they needed to bring the bouts up here. So, I am looking for an appropriate venue to get high on infused gummies while watching Mexican-style wrestlers. Sounds fun to me. Calling Mama Dora!
Another new product that did catch my eye was Presidential Moon Rocks. They produce actual moon rocks, which are flower nugs dipped in cannabis oil or distillate, then rolled in kief, and aged. They also have a slate of moon-rock-filled blunts and pre-rolls, which I thought was a great idea. I have tried the new version where they spray a distillate on the cannabis in lieu of oil, and I am still not sure if it is better or worse. I am eager to try their sample and see.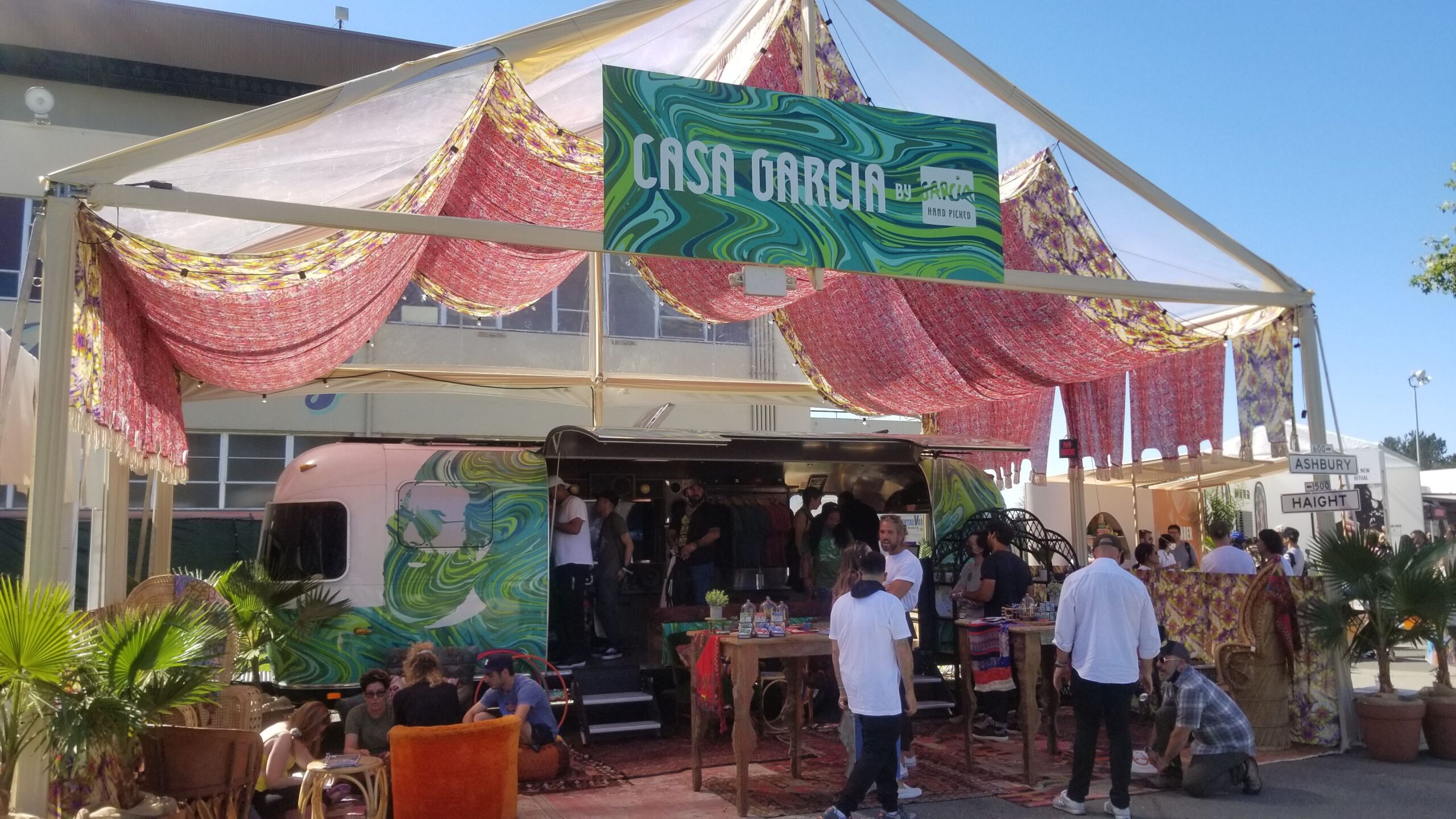 This year's big launch was the Garcia Hand Picked label, from the actual Jerry Garcia family. There was a giant tent set up outside with an old Volkswagen van inside, which served as the store and check-out area. There were plenty of Jerry Garcia-Grateful Dead momentos sprinkled among the swag and impulse buy items. Whether or not the weed is good seemed to not be as important as the memory and lifestyle buttons this boutique brand hits. The line includes flower, pre-rolls, and gummies in super-nice packaging that included a swirly, trippy design featuring Garcia's face. Guitar picks are a recurring motif, and the joints slide out in a tray with a front piece containing classic song titles. Inside the box, the joints are packaged in a little envelope with a set of wooden matches for lighting. The gummies are in a nice big tin with flavorful, guitar-pick-sized gummies (5 milligrams each.) This is the kind of thing you would buy as a gift.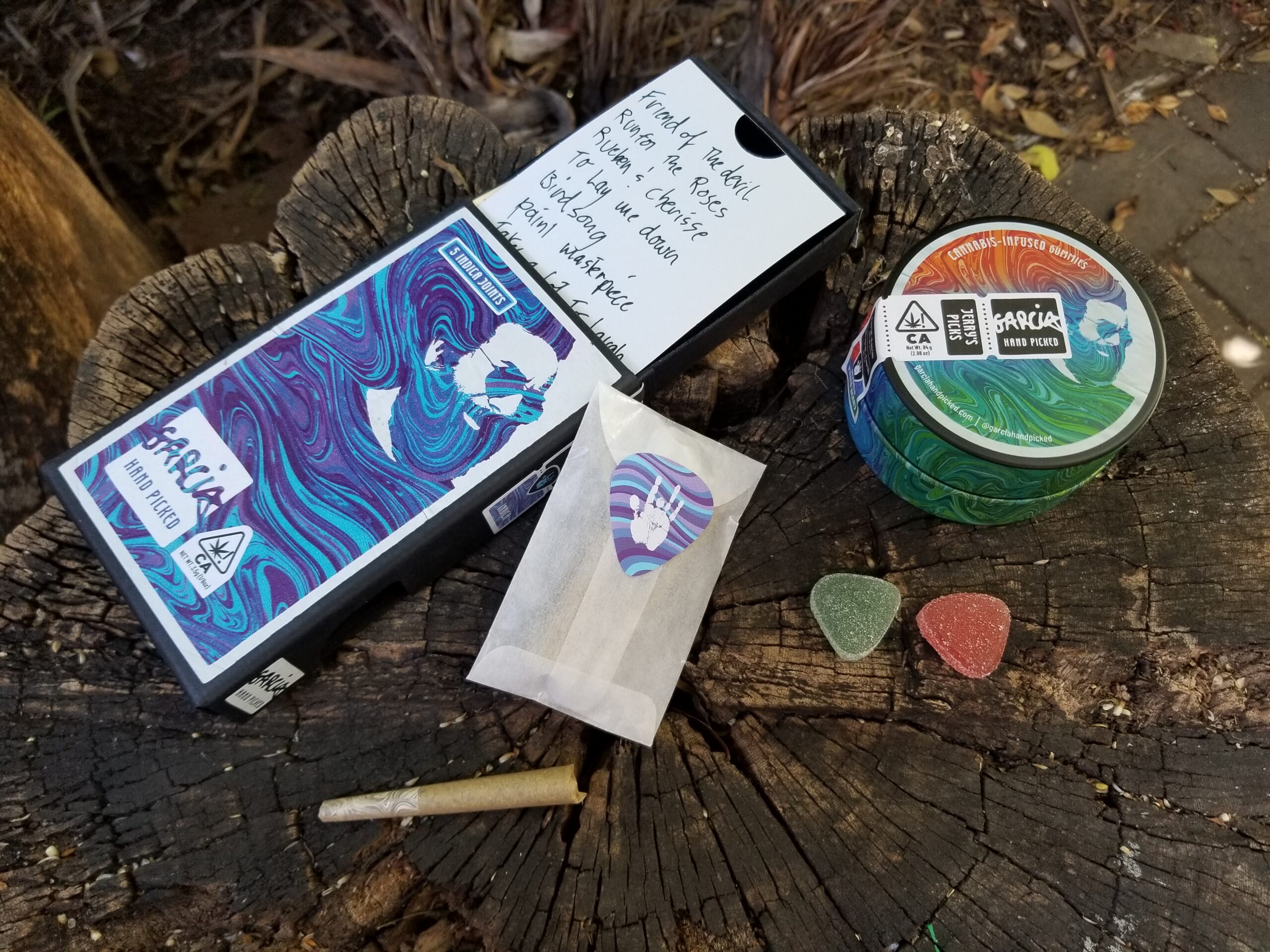 Hi-Fi Hops and Wunder, both fantastic sparkling cannabis beverage brands, had outdoor cafes to stop by and have a refreshing drink. There was upbeat-but-subtle DJ music playing outdoors. Two food truck courts offered a panoply of eating choices, including Korean, Indian, Thai, Mexican, fried chicken, and more.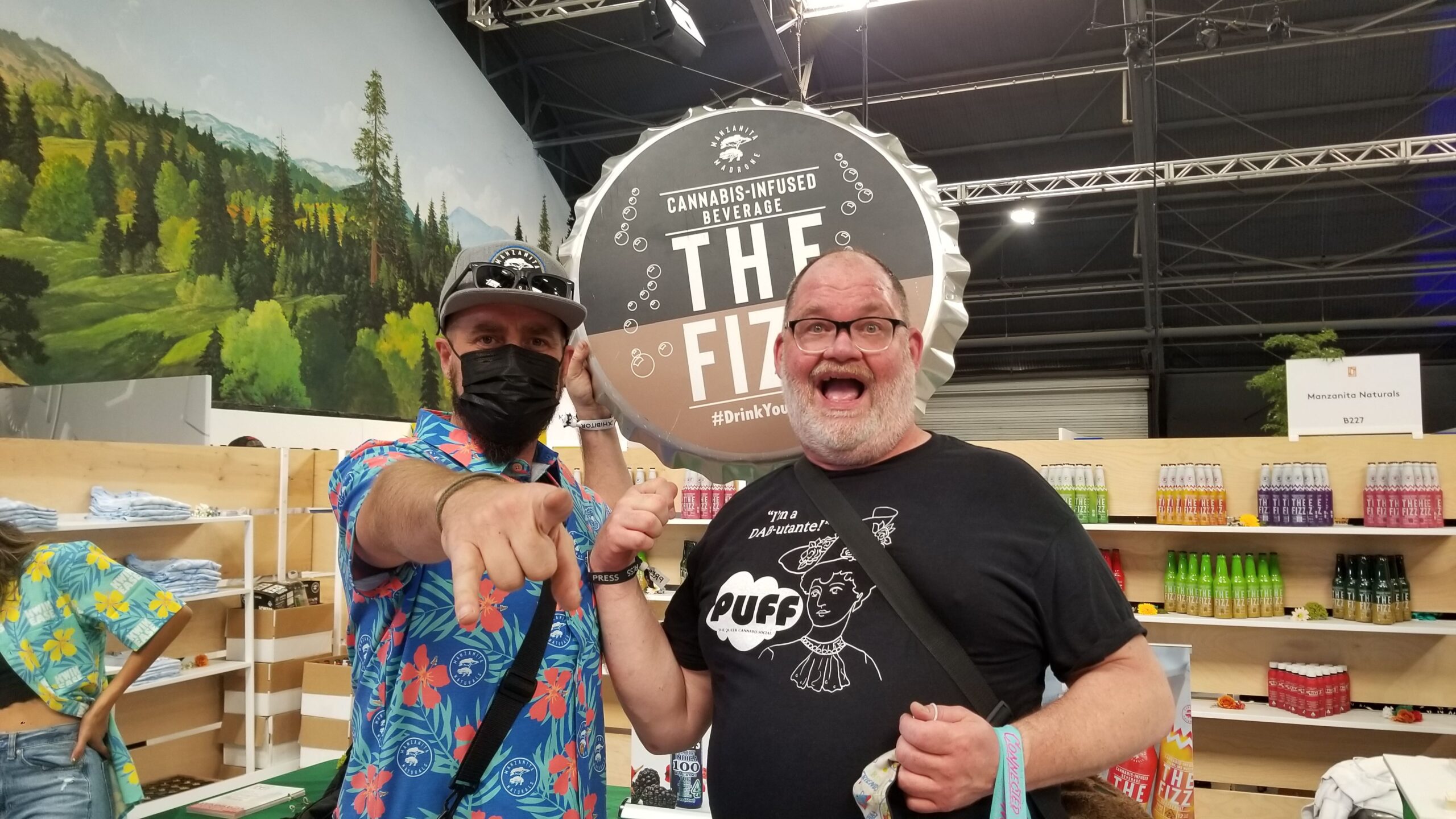 I made it through the first round of the exhibition halls. My bag was full of t-shirts, caps, blankets, pins, lanyards, stickers, postcards, catalogs, and most importantly, samples and coupons. I refilled at a water station and ate a Korean spicy pork rice bowl. I visited the Puffco booth for my after lunch dab, and headed in for round two (because you can't just walk through once … this time I floated, though.)
Kings Garden, one of my favorite brands, had a nice space with wonderful booklets promoting their strains. They were also selling quarters of their new Apple Fritter strain for $2. Hooray!
Jetty Extracts was promoting their new Solventless Vapes and Cold Water Hash pre-rolls, as well their Unrefined Live Resin pods, cartridgesm and dablicators. Their new small-batch strains include Lionheart and Cannalope Haze (sativas), Sky OG (hybrid), and 3 Bears Kush (hybrid).
Plus Gummies was on hand with their new fast-acting, dual-action, long-lasting sleep gummies. They even had a cute, sleepy moon and cloud photo op in their booth. I can't wait to try these gummies!
By this time, most of the big booths were swamped with people. Getting on that 8:30 a.m. bus and arriving early did pay off!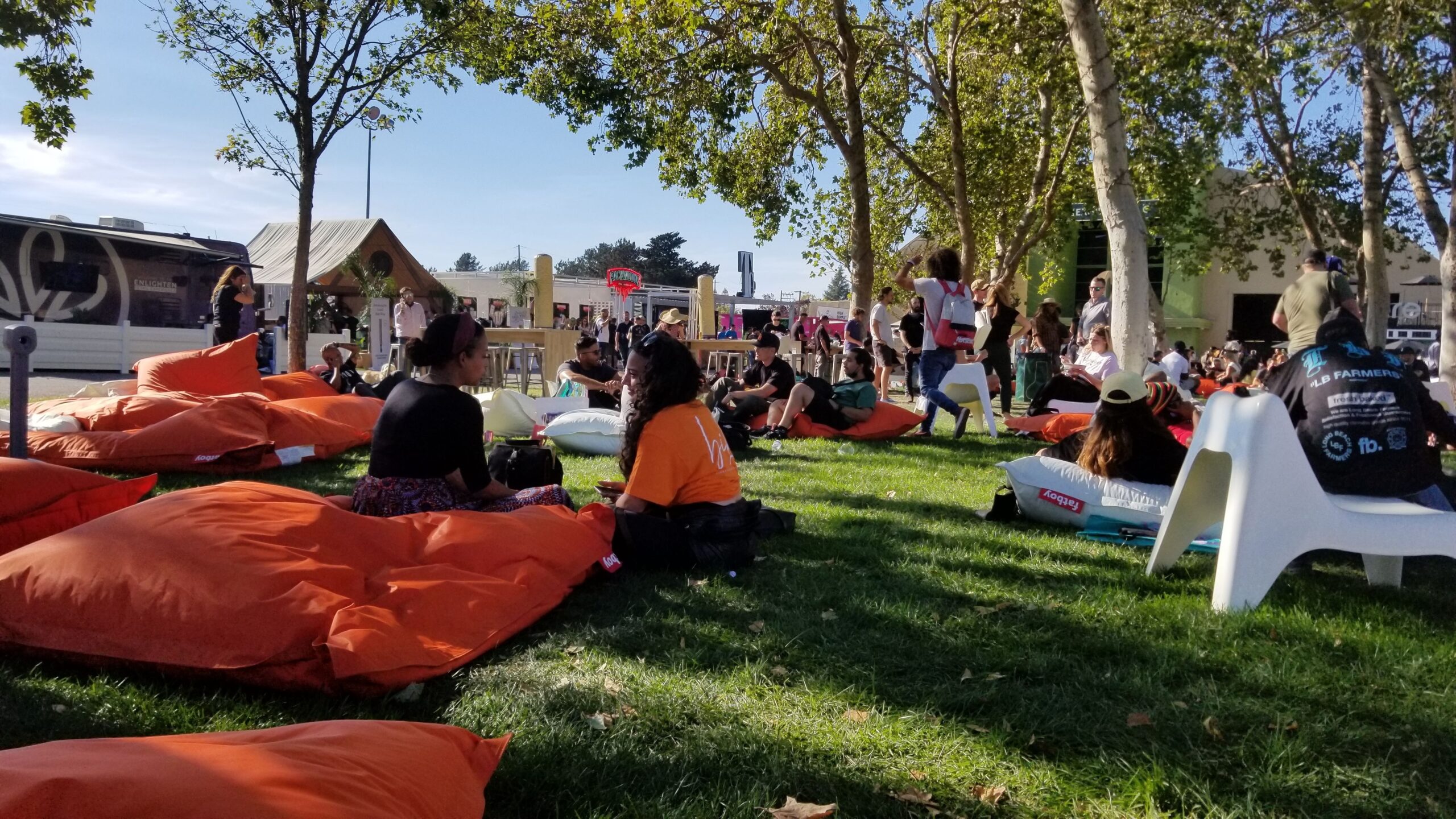 I finished my second round and headed to the dispensary building with my coupons. With a minimum of waiting time, I cashed in, and received my bag of goodies. I headed over to Shade Park and plopped down under the trees, exhausted, on one of the comfortable orange bean bags strewn about. I dug into my bag, pulled out a pre-roll, and lit it up, inhaling deeply. Stoniness enveloped my body as the music, crowd sounds, and gentle breezes took me away.
As always at these events, I am reminded of my love for the cannabis community and all the great people behind the brands. It goes beyond just getting high and realizing we are all united around this one plant that offers so many options for our health and well being, and we are all working to get this information out to those who will benefit from it.
I am super looking forward to trying all these samples, but that is for the next column! For now, it's time to get to weed writer work.