There is a cannabis showroom in Westfield Centre. (Yes, a mall—like in Fast Times at Ridgemont High!) It is not a dispensary. There is no cannabis present in the store itself, only displays and promotional materials.
The store is called Joy Reserve, and it opened on November 14 on the mall's second floor, right between Bloomingdales and J. Crew. It is a bright, welcoming storefront, and inside there are shelves full of cannabis brands from the Bay Area and beyond. I noticed products from Green Bee Botanicals, Clarified, Kiva, Kings Garden, Protabs, Canndescent, Kinslips, Potli, Cann, A Golden State, and quite a few more.
Several eager staffers (don't call them budtenders!) were there to answer all my questions about the products, and there were a couple of demo stations that highlighted specific companies.
Along with each display came promotional materials, stickers and a card with pricing information and a QR code. If any of the products interest you at Joy Reserve, you can scan the appropriate code, and order it from a delivery service that will meet you just downstairs—outside of the mall, in a safe location.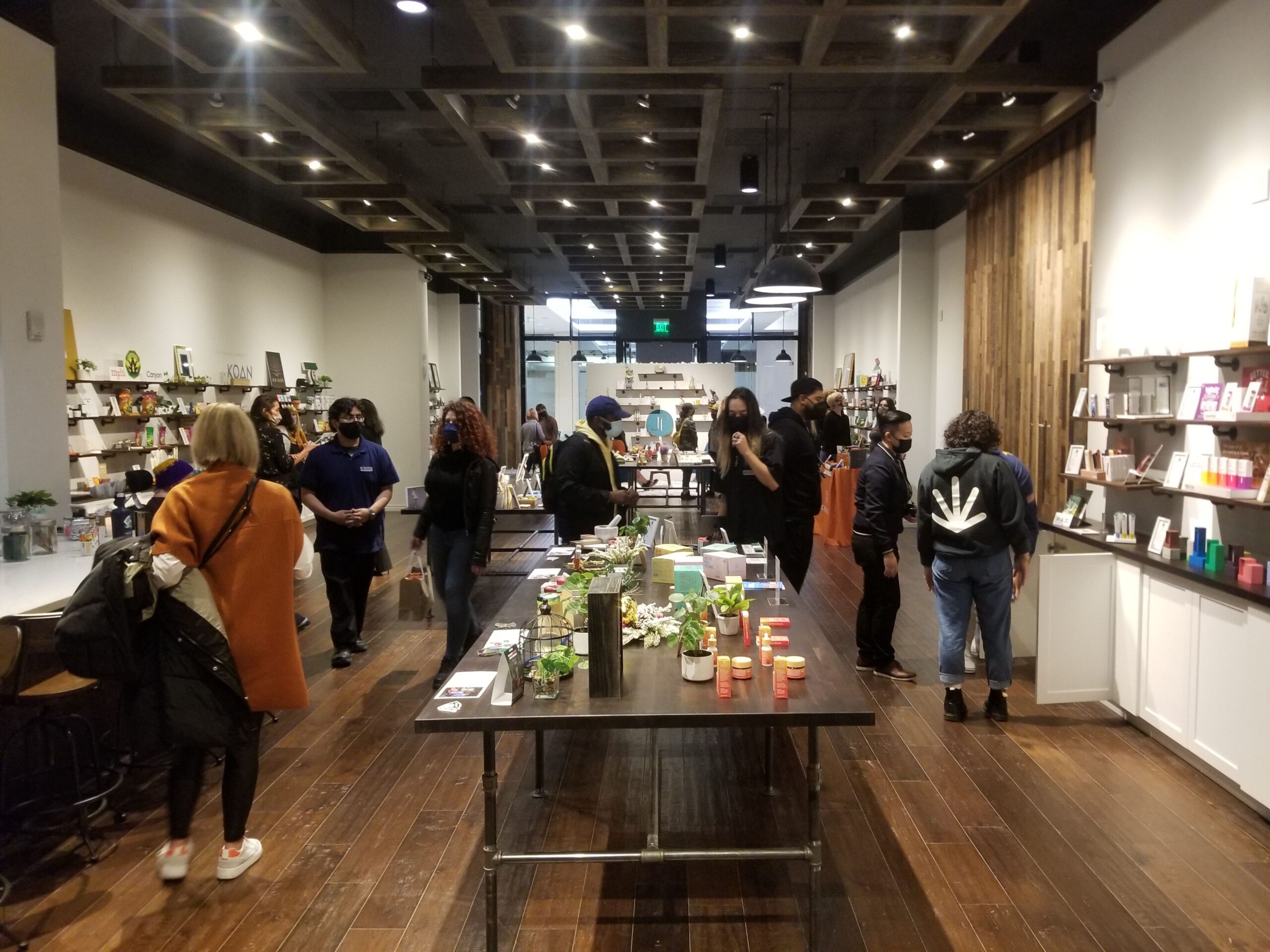 I talked with owner Vivian Vu, who lives in San Francisco, and she said the point of the store is to provide cannabis education to those who might be too intimidated to ever enter a dispensary.
"As a 'showroom' and not a 'dispensary,' we wish to make cannabis accessible to all demographics by providing an experience that is both interactive and educational," she said.
As with so many weed entrepreneurs, she was inspired to get in the business after her mother became ill and cannabis was the only thing that would ease the pain. Sure enough, when I dropped by her wheelchair-utilizing mother was in the store, supporting her daughter.
In fact, Joy Reserve had a distinct feel of family, in part due to the local cannabis companies setting up their displays, mingling, and chatting. Everyone seemed very excited about this new venture. It was a nice throwback to the days when I would go to a cannabis party, meet people, and sample new stuff. (Of course, any samples at Joy Reserve are non-medicated.)
Such was the familial air that I could well imagine a family making its trek to the mall, visiting all their favorite shops, eating their giant Cinnabons, and voilà, the adults (ID that proves you are 21+ is required at Joy Reserve, of course) can sashay into a pot showroom, learn about cannabis—and maybe walk away with a sleep gummy or a pre-roll. I imagined that I could see and hear them joshing around in the entrance, challenging each other to go into the pot store.
It all sounds like a Jeff Spicoli dream come true; weed at the mall. One of the guys working at the store told me his first job was at a Spencer's Gifts mall location, and that he used to sell weed out back during his shifts. "Somehow, I feel like I have come full circle now," he joked.
But is it legal? Considering that many people have put so much time, money, and effort into getting the proper licensing from the state and city to open a dispensary, is it OK to just open a fancy showroom in a mall connected to a delivery service?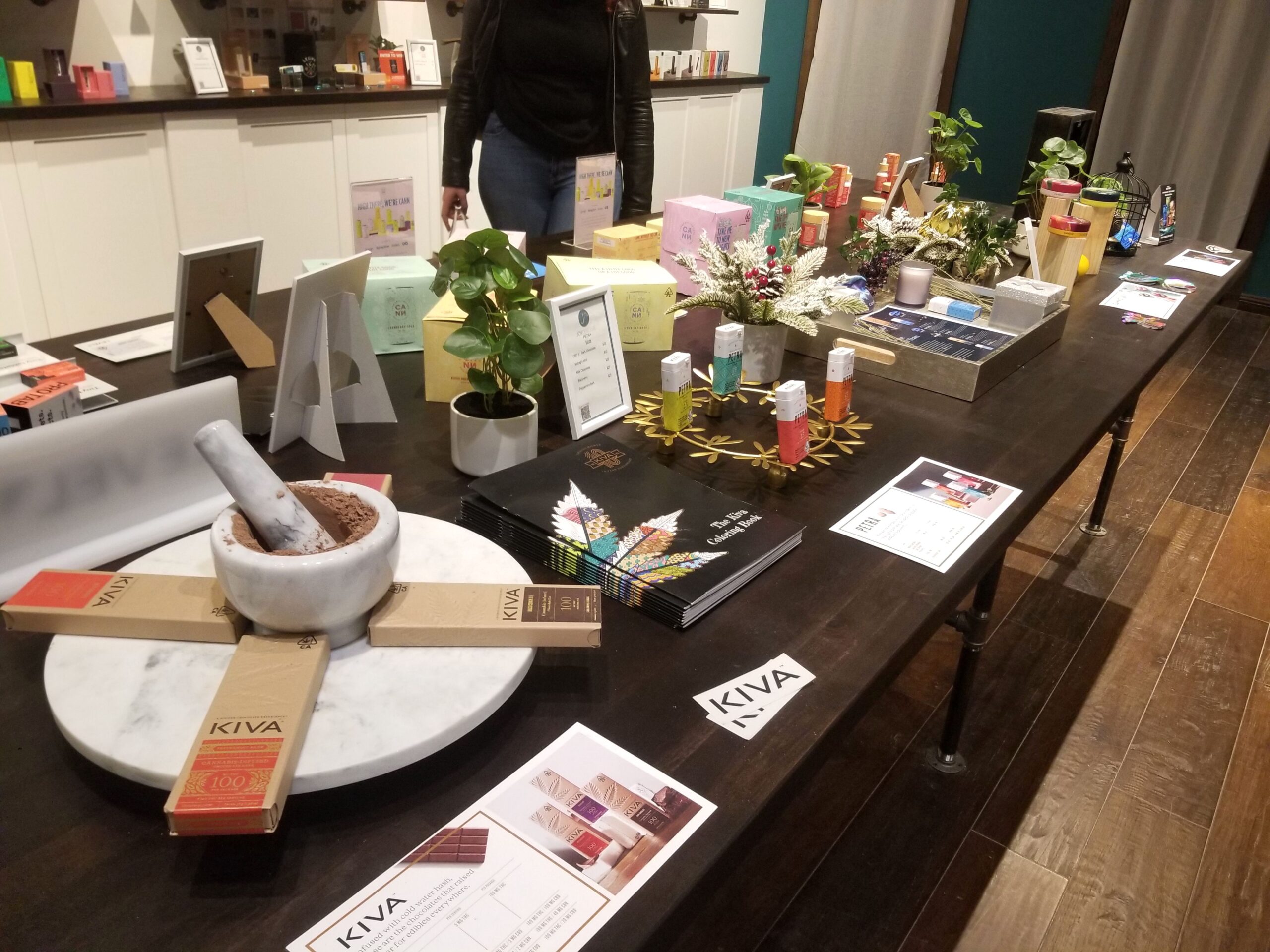 "There are no live products in our showroom, and we only work with licensed entities in order to provide outside sales in a safe and compliant manner," responded Vu when I asked her about the project's legal status. "Being a marketing agency, we are working fully within the guidelines of the DCC [Department of Cannabis Control] and San Francisco."
"Westfield has been very supportive, and has provided us with many opportunities to promote not only ourselves, but the brands we carry as well," she continued.
Westfield is not the only mall to welcome pot inside their walls. Retailers are looking to fill empty spaces post Covid, and there are even cannabis-specific retail spaces popping up. Hopefully, this will start a conversation that will benefit us all.
When cannabis became legal in California, I fantasized about a stoner mall named "Weed World," where you could put your stuff in a locker, get high, and shop, eat, go to the movies, and play—all while being stoned and safe. Joy Reserve could be a baby step towards that vision.
Don't get me wrong—I fully support all the amazing individuals working tirelessly to get their dispensary opened. It is difficult and time-consuming work. Should it really need to be that tough?
It seems like Joy Reserve is looking to streamline the process. Truthfully, I am happy someone is out there pushing the norms, challenging our perceptions of what the modern cannabis lifestyle looks like.
I've watched so many great, local companies fall prey to state regulations. People dotted every "i" and crossed every "t" to make sure they did it correctly—only to lose it all.
And now, along comes an upstart like Joy Reserve, bringing weed sales all gift-wrapped and pretty to the mall.
"Black Friday was great," said Vu. "There was a lot of good traffic coming in, full of people tired of sheltering at home for the past two years. Favorite items are edibles, beverages, and pre-roll variety packs."
I am fascinated to hear what everyone has to say and how it will perform.
And hey, this time you don't have to drop by the Spencer's to get high before the movie.
Now it is time to light up!