I traveled to Cuba November 15-26 as part of the IFCO/Pastors for Peace Friendshipment campaign. We brought approximately three tons of medicines and medical supplies, seeking to make a small dent in what Cubans needed because of shortages caused by the pandemic shutdown and the 60-year-old US embargo, tightened by Trump and then President Biden.
Our material aid was also a symbolic act of international solidarity, in the spirit of the long history of Pastors for Peace, which for many years defied the blockade by delivering medical supplies and computers, often with arrests of religious leaders at US borders.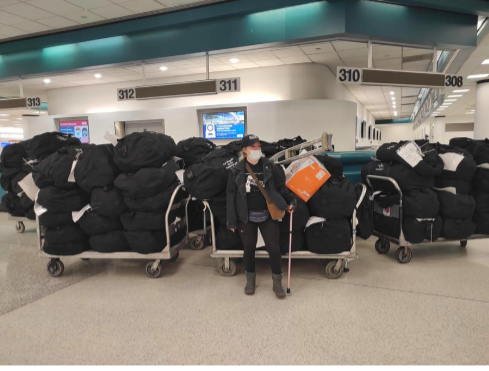 The delegation included 72 people from 19 states. Reflecting the long history of international solidarity from Black and Latinx communities, roughly half the delegation was made up of BIPOC people and half of the delegation was in their 20s, 30s and 40s.
The date of our arrival in Cuba, November 15, is noteworthy for several reasons. First, it was the first day that Cuba opened up to organized group travel, made possible by its impressive rate of vaccinations against COVID for Cubans aged two and older, with vaccines its biopharma industry had developed and tested (showing more than 92 percent effectiveness).
Second, it was the day when schools and universities opened for in-person education for students, a cause for great rejoicing.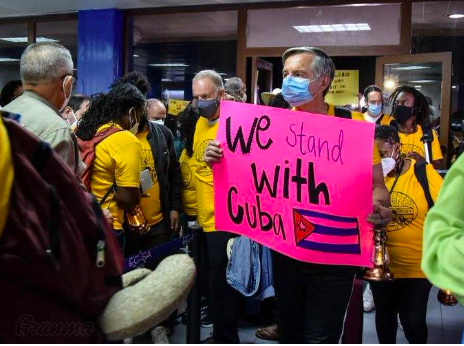 Third, it was the day in which large-scale anti-government protests, provoked by the difficult economic situation but also fomented by efforts and funding from the US government, were scheduled. Since 1959, the US has spent over $1 billion dollars toward "regime change" in Cuba, funneling money mainly through USAID, the National Endowment for Democracy, and right-wing Cuban groups in Miami.
We arrived in Havana in the evening of November 15, constituting one of the first international delegations to visit Cuba since the island's pandemic closure. We had opportunities to speak with educators and students who expressed their enthusiasm for the resumption of in-person classes. Parents I spoke with were also delighted that their children were once again benefiting from high quality, free, universal education.
However, the anti-government protest actions didn't materialize.
We arrived after these were projected to take place, but one of our caravanistas arrived two days earlier and walked around to the announced protest assembly sites in Havana, reporting no anti-government actions. She did note that there were pro-government actions and gatherings. These included a demonstration initiated by university students, the "Sit-in of the Red Bandanas" in Havana's Central Park, which Cuban President Miguel Diaz-Canal joined for part of the day on Nov. 14.
We were honored that Diaz-Canel met with us for close to two hours. He highlighted three shifts in US policy that would help release the economic strangulation of the island: a) ending prohibition on remittances being sent from the US to family members in Cuba; b) rolling back the restrictions making it hard for Cuba to buy medications and ingredients needed for producing vaccines; and c) discontinuing policies that limit travel to and from Cuba.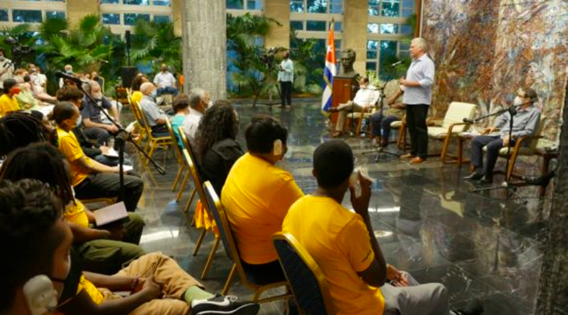 During our time in Cuba the caravanistas participated in many activities, including visits to the soon-to-be-opened Fidel Castro Center featuring interactive, multi-media exhibitions about the former president's work. We toured the Latin American Medical School, known as the largest medical school in the world, having trained some 30,000 doctors to serve in poor countries and low-income communities, including in the US, at Cuban government expense. We heard presentations at the Center for Molecular Immunology and three other institutes that developed the COVID vaccines along with many other medical breakthroughs.
We also visited the Memorial of Denouncement that features artistic expressions and digital technology dedicated to the victims of terrorism and subversive aggression by consecutive US governments since 1959. This including bombings of departments stores, destroying crops, and attempting to assassinate Fidel Castro, Ruiz, and other leaders of the revolution. For me, the Denouncement Memorial put into sharp focus the dishonest and belligerent action by the Trump administration, and continuing under President Biden, to place Cuba on a U.S. Department of State list of "State Sponsors of Terrorism."
My experiences in Cuba during this visit (and the many other times I have traveled there since 1993) offered the starkest contradiction with the way Cuba is portrayed by the US government and much of the mainstream, corporate media. One example is that the US government has placed Cuba on a "special watch list" of countries that repress religious freedoms. Nothing could have been further from our direct experience.
Our delegation was organized by Pastors for Peace, a 30-year initiative of the Interfaith Foundation for Community Organization, originally headed by Rev. Lucius Walker and now led by his very dynamic daughter, Gail Walker. In Havana we were hosted at the Martin Luther King Center, an ecumenical organization attached to the Ebenezer Baptist Church. During the trip we also had the opportunity to meet with representatives of Christian, Muslim, Jewish, and Yoruba/Santeria institutions that promote faith and community development activities.
Now that Cuba has re-opened, we are all warmly invited to visit the island. Two organizations that set up educational trips are: a) the Venceremos Brigade and IFCO/Pastors for Peace.
Mark Ginsburg is a resident of Santa Cruz and a member of the (SF) Bay Area Saving Lives Committee.