Legacy has been heavy on the frontal lobes these days, people, especially with the passings of the critic, musician, and artist Greg Tate and Robbie Shakespeare of the prolific Jamaican rhythm section and production duo Sly and Robbie. Spectral acts that I've seen and missed over the years have been talking back to me in my dreams.
Maceo Parker, Miles Davis, Fela Anikulapo Kuti & The Egypt 80 Band, BB King, Bad Brains, Patti Smith, Whitney Houston, Prince, Pharoah Sanders, Bootsy Collins, Michael Jackson, P-Funk All-Stars, Digital Underground, Public Enemy, Beastie Boys, Fugees, INXS, Allman Brothers, Buddy Guy, Radiohead, U2, ATCQ, De La Soul…..
All those shows bestow more wisdom as I acquire grey hairs.
Many years ago Dave Aju offered me a ticket to Alice Coltrane at The Masonic, but I had a DJ gig and more importantly rent coming up. I opted for the cash. Alice Coltrane passed on six months later.
It's a regret I still can't shake.
So to see the post-punk funk of ESG, live, straight from the South Bronx circa 1978, on a weird nite in our city, nobody saying it but temperature checks upon entry to the show reflecting several viruses spiking.
To spot Renee Scroggins, seated playing guitar all-nite, still in the pocket and her children Nicole Nicholas on bass with adorning wavy grey Afro-giving everybody that frequency, that light, plus Nicholas Nicholas on congas and hand percussion, with drummer Mike Giordano running those breakbeat licks like a human Akai MPC 2000 sampler. Dag. It's good to be alive.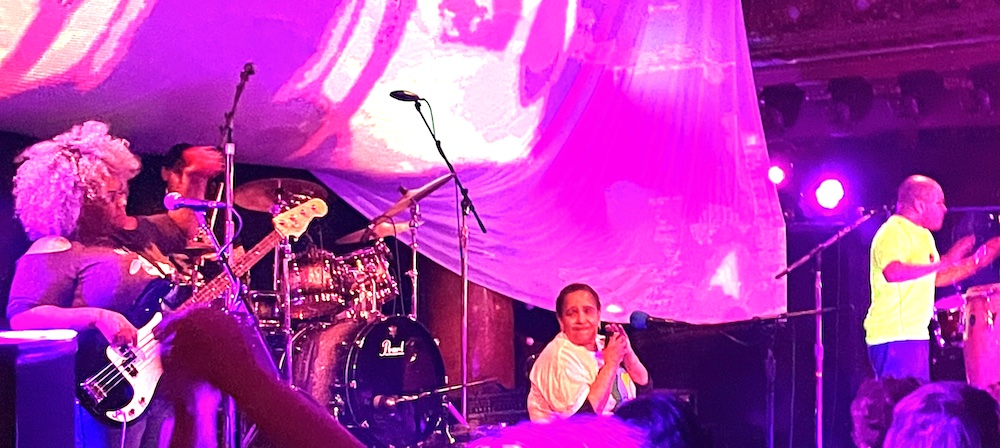 This crest-bearing, minimalist, brown-skinned manifestation of Divine feminine energy gave hip-hop, house, techno, drum and bass, and too many other sub-genres to mention, existence.
ESG, whose records could get played at any type of party, destroys dance floors. Women walk through bathroom walls to get to a dancefloor when "Moody" comes on. Hardcore beat heads come running and freaking melt with that "aw shit" smile when "UFO" blares those opening sirens. I've witnessed all that sorcery, first hand no less, too many times, their songs playing at Madrone, Laszlo, The Attic (RIP), and scandalous house parties.
So ESG's saintly presence turned an old-school, opinionated (well actually, I'm a bit of a scientist, too) ESS EFF crowd at The Great American Music Hall last Thursday into a bunch of playful, effervescent teens, bouncing and pogoing. High on life. Reliving those pause tapes days and Bartles and James wine coolers nights.
Putting some credence back in a hectic week, well actually, a frenetic, non-sensical year.
One 19-month span, mostly devoid of going into my local, grabbing a stool, ordering a drink or five from any bartender. Catching a little sports ball with the volume turned down coming from the flatscreen, a smattering of BS talk to the right, an easy on the eyes view of the attractive throng of ladies converging for a Sunday afternoon Negroni or Cadillac Margarita to the left. All underscored with some type of sampled mellow groove featuring snare hits, horn blares, and percussive piano breaks on loop.
ESG, in the flesh, gave us that indoor adult play date back. For an hour or so.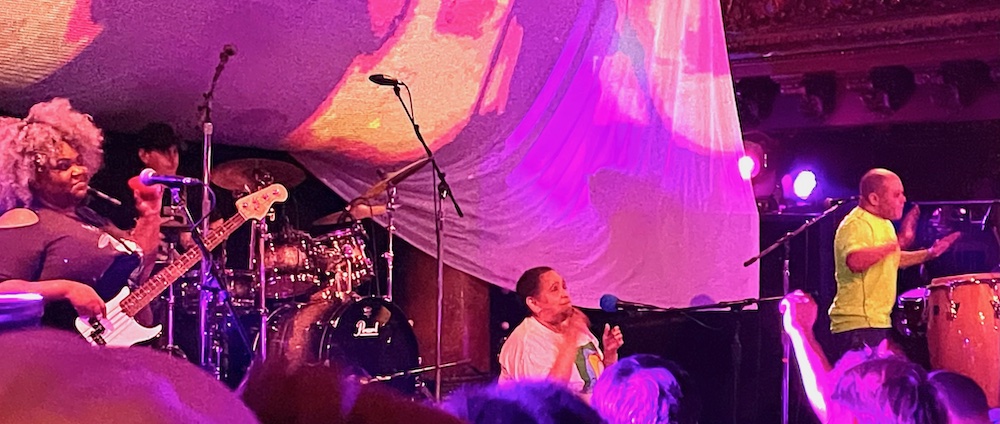 As they worked the bejesus out of "Dance" early on in the set, folks clad in Mission district hipster thrift store Bammer fashion show ensemble (patterns on patterns, shit that doesn't match for the funk of it) started jumping around.
Sisters and I do mean for sure, Black women got to the grinding, down to the floor and back up. Twerking, working it. Shaking that thing, feeling totally free. Un-Karened, if you will, in this scene. Able to be unapologetically Black. Free, sexy, alive, and unfettered.
As I randomly bumped into Mophono, we dapped it up and reminisced about crossing paths going and coming from playing the six-hour DJ shift at the Diesel store in the late '90s. Lugging multiple crates of records—no CDJ's or flash drives—representing every type of beat-oriented music. Using the time to link genres, practice, experiment, and work out frustrations of playing a bullshit gig the nite before strictly for the payout. All for some jeans that do not fit the typical African American butt. I've done the research, people.
So when Nicole Nicholas announced "UFO" and informed everyone "this is the most sampled record in history," Benji and I smiled in unison, under our masks, recognizing THIS is what gave birth to all those records we used to lug around town. As the droney sirens loomed in, and everyone at the sold-out show, shrieked, yelled, whipped out phones, grooved, grunted, and fanned themselves. A rando woman started speaking to us "I saw ESG in the '80s in New York and it was magic." Looking into her tearing eyes, this woman wasn't flexing.
She was having a moment, reliving her Hip-Hop.