By 1971, guitarist Leo Nocentelli, was an accomplished member of the bonafide, groove-pumping unit The Meters. But that wasn't all—in addition, he was also working as a session musician for New Orleans R&B royalty, from Allen Toussaint to Lee Dorsey. Nocentelli was just trying to keep the creative light on in his head. These hardscrabble days are captured by Another Side, a previously-unreleased studio album by Nocentelli that was unleashed late last year by Light In The Attic.
Listening to Another Side, it's clear how the then 20-something Nocentelli's career might have gone a much different way. The release captures him working out ideas in blues, country, and Southern rock, finding new alchemy and inspiration secondhand from other singer-songwriters like James Taylor. As told to me by George Clinton 20-plus years ago, funk ain't nothing but the blues sped up.
We'll get back to that idea.
Rhythm guitarist Nocentelli was schooled in jazz, funk, Dixieland, and R&B. His ability to match, answer, and explore inner songcraft made his group The Meters, formed in the 1960s, a venerable and lethal funk unit that added significantly to that New Orleans legacy. Nocentelli understood that it was the song—not the solo—that made each track of The Meters a boogie-type situation that put IT on folk.
First signed by Josie Records for a three-album deal, The Meters went sideways for a spell when their label went bankrupt after the group's contract expired. Successful, but not quite dominating in the commercial sense, the group was hamstrung by that situation in fully cashing in on its 1969 hit "Cissy Strut." By '71, Nocentelli was just trying to maintain, having been left in limbo with no cash rolling in or gigs to keep the chemistry popping.
But eventually, the success of "Cissy Strut" would bring The Meters touring gigs with The Rolling Stones and recording contracts with Warner Brothers. Not to mention, the forever respect and endearment from hip hop artists who, decades later, found some billion ways to repurpose "Cissy Strut"'s devastating lick. Go listen to any album by A Tribe Called Quest, NWA, 2Pac, or Public Enemy—you're gonna find The Meters embedded in their rhythms, holding them down.
All the mega-sounding ax wielders of the day, from the Mission's own Carlos Santana to Hendrix and Eddie Hazel, they time-stretched their primal colors, wrapping the song up with sorcery, a wailing voodoo. The Meters hypnotized their intergenerational forever congregation with syncopated funk. They made their music a joyful, "set your watch to it" recurrence rather than one electromagnetic release.
But Nocentelli's Another Side, a sublime collection of open-hearted acoustic soul, austere country blues, and thumping folk that was recorded as demos at the time, goes its own way. Pulling inspiration from Taylor's tight little funk riffs circa "Baby Jane," personal tribulations, and everyday life stories, the newly-available sounds give us a glimpse of a young genius trying on a different bag. Turns out, the new sound fits him with regal nobility.
The release, which Nocentelli fondly refers to as his "country and western album," paints a picture of a young man yearning to find a sense of purpose.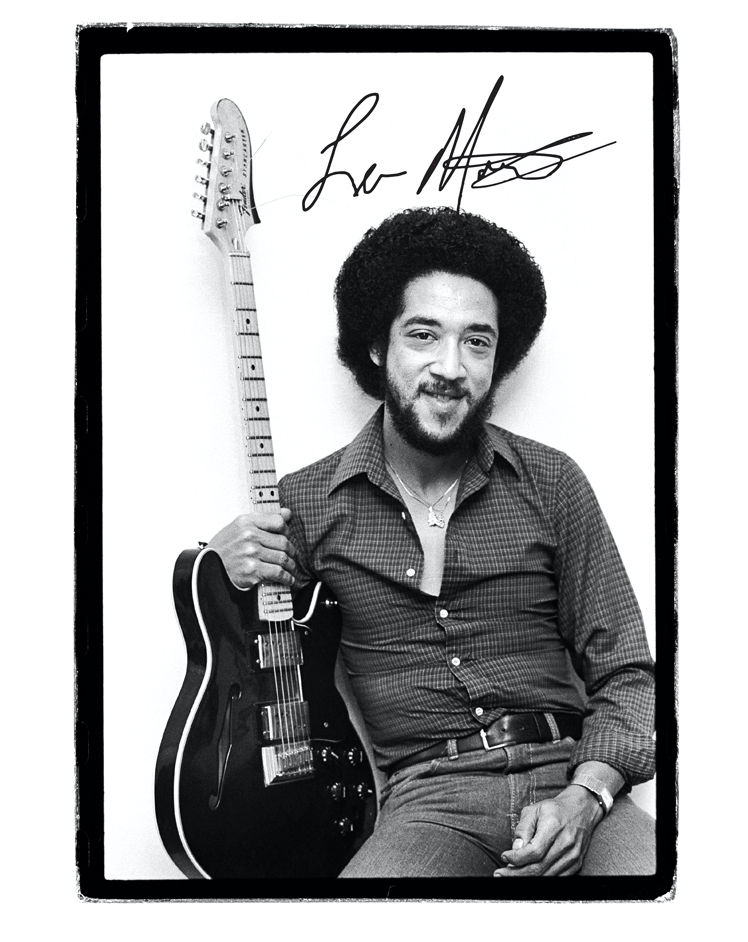 What makes Another Side even more uncanny is the sound's journey, post-release. Its master tapes sat untouched for decades and then disappeared in the devastating Hurricane Katrina in 2005. Three years later, they were miraculously discovered 2,000 miles away at a Southern California swap meet by record collector Mike Nishita.
The album's moods shift from ruminative to persistent as a young Nocentelli arranges new stratagems, forging different destinies. Tracks contemplate faith in a higher power and self. Narratives range from the traveling-man blues of "Thinking of The Day," to the end of a relationship with an endearing sex worker (the crux of "You've Become A Habit," a song inspired by the Jack Lemmon and Shirley Maclane film Irma La Douche.) That song details the moment when lust moves into the love zone, delivered with guitar and the naked voice. All 10 songs are cooed with plain-spoken delivery. Separate from his work with The Meters, we see Leo's full potential. Listeners bear witness to an alternate path of brilliance, a sliding door that had not been previously considered by the musicians of the time.
That the album closes out with "Your Song," a track made famous by a young Elton John but penned by the mighty Bennie Taupin, may seem odd upon first listen. But during the late '60s and early '70s, it was quite common for jazz, blues, and R&B musicians (code for predominantly Black) to cover mainstream (code for white) pop hits from The Beatles to Steppenwolf, from Blood, Sweat, and Tears to Bob Dylan. Funky folks were trying to sell units and get paid, too.
Another Side was recorded at Cosimo Matassa's Jazz City Studio in New Orleans between 1970 and '72. Nocentelli was backed by his longtime Meters bandmate George Porter Jr. on bass and the ever-influential Allen Toussaint. Percussion duties were split between local legend James N. Black and the masterful Zigaboo Modeliste of The Meters. The importance of the Light in the Attic re-release becomes clear: here we have the damn basement tapes for a career that never was.
Buy Another Side here.