If you already think this year could use a do-over, good news is right around the corner: You can start fresh with Lunar New Year, which begins on February 1, with celebrations planned for several weeks. Whether you want to go all out and join the big Chinese New Year Festival & Parade or be a little more low key and eat some lucky foods at home, this guide will help you make a plan.
If you want to take the family out
The Warriors' and Kaiser's Thrive City are hosting a family-friendly Lunar New Year Celebration with live entertainment, airbrush tattoos, Mahjong stations and arts and crafts corners from 5-8pm on Fri/28. The event is free, but requires advance online registration. Participants are encouraged to wear "traditional attire that celebrates your heritage at this time of year."
The Crossing at East Cut will also host a free (registration encouraged) Lunar New Year celebration from 11am-3pm on Sun/30. Watch a lion dancing performance and a cooking demo from Chef Kathy Fang, whose restaurants House of Nanking and Fang will also offer food for sale alongside Vietnamese truck Little Green Cyclo.
Another option is to take the kids to Chinatown for a matinee or evening performance of The Magic Tea Shop: Lunar New Year Cabaret at Great Star Theater (Feb. 4-12) and ring in the new year with entertainment from circus aerialists, traditional lion dancers, comedians and live Guzheng music. The historic theater, which has had recent interior improvements, requires proof of vaccination to attend.
If you want to go BIG
San Francisco's annual Chinese New Year Festival and Parade is the oldest and biggest in the United States, and while some people may still stay home this Year of the Tiger, count on crowds if you go on February 19. The event runs from 5-9pm and admission is free to attend unless you want to sit in the bleachers, in which case you need to purchase tickets ($38-65) in advance. The Parade is shown on KTVU (Channel 2) and KTSF (Channel 26), so you can check it out from home as well.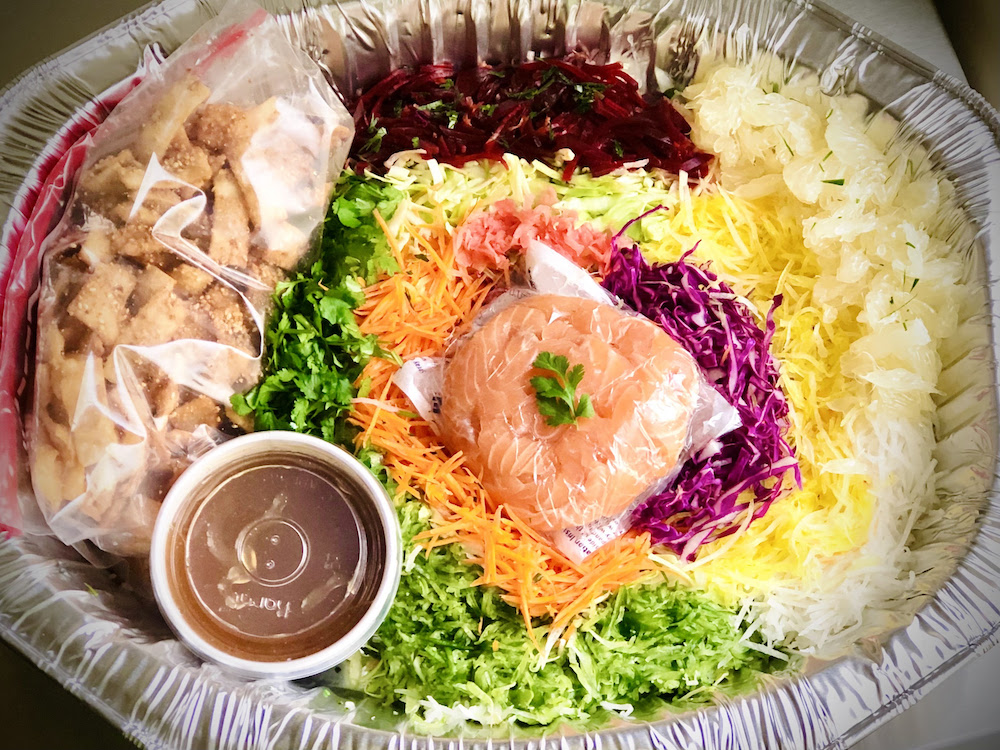 If you'd prefer to whoop it up at home
One extra special way to start the Lunar New Year off on a fortunate foot is to serve a Prosperity Salad from Damansara to friends and family. Chef Tracy Goh describes the colorful platters, which are enough to feed five or 10 people, as "labor intensive," with (to name a few) lots of shredded and marinated veggies, herbs, homemade crackers, and crushed peanuts and optional sashimi in a garlicky dressing with plum, pomelo, and calamansi. Your party tosses them in hopes of a healthily wealthy year.
An annual tradition for Goh, she described the salad's early Chinese roots before becoming popular in Singapore and Malaysia (where Goh is from) in a 2020 video posted to Instagram:
It came from obscure Chaoshan origin [of China] where fishermen would make a quick snack of raw fish while out at sea. The recipe was introduced to Southeast Asia through mass migration, which was then localized and popularized as an auspicious Lunar New Year appetizer. The modern Southeast Asian rendition is now a culinary trend of the diaspora and has come full circle back to Hong Kong & southern China. It's fascinating to hear that in modern China & Hong Kong, it is considered a Lunar New Year novelty from distant Nanyang (Mandarin for Southeast Asia) descendants.
Damansara's salad, as well as two preparations of whole Dungeness crab (chili and salted egg with cereal, respectively), are selling out for pickup and delivery quickly on her online shop. Don't say no one ever gave you a hot tip!
Attention, sugar fiends with a budget: you can order/pre-order a high-end Lunar New Years pastry box from Stonemill Matcha or Sunday Bakeshop (SF and Oakland) right now, but other fiends may beat you to them if you don't act fast. And B. Patisserie is offering a full Lunar New Year menu from February 1 to 13, with a number of items that can be pre-ordered if you're concerned about getting scooped..
Now is a great time to go and spread some wealth to Chinatown restaurants and businesses — you'll find four small businesses, including Golden Gate Fortune Cooking Company, offering goodies at the Ferry building on weekends through February 13. Check out our Chinatown food guide for casual spots where you can go for noodles, dumplings and other lucky foods to begin this fresh chapter with a little boost.