As we earthlings work out strange new parameters when it comes to consuming live performances, amongst strangers once again, in a public space—there is joy.
Auditory and ocular exultation. Fulfillment in the casual or accidental glance that meets a stranger's eyes. Our masks blunt the exchange, but somehow we manage to wordlessly communicate, "Did we just experience that? I mean, did that actually happen IRT?" We receive the head nod back: "Uh-huh. That's what's up."
And so it was that poet and vocalist Camae Ayewa (a.k.a. Moor Mother) of the liberation-oriented, improvisational quintet Irreversible Entanglements landed their muscular and awe-inspiring Noise Pop performance at The New Parish in Oakland this past Wednesday night. Moor Mother, with that specific cultural enunciation of hers, stated "We have arrived." The night's show had indeed begun, consisting of two albums worth of material coiled into a rigid, terse, and relentless 58 (maybe 72)-minute performance. We got time-hacked by the rocket fumes emanating from the quintet on stage. Without question this outfit, of fully-possessed stature, in total control, gave a highly-knowledgeable and fully-invested audience Black experimentalism at its zenith.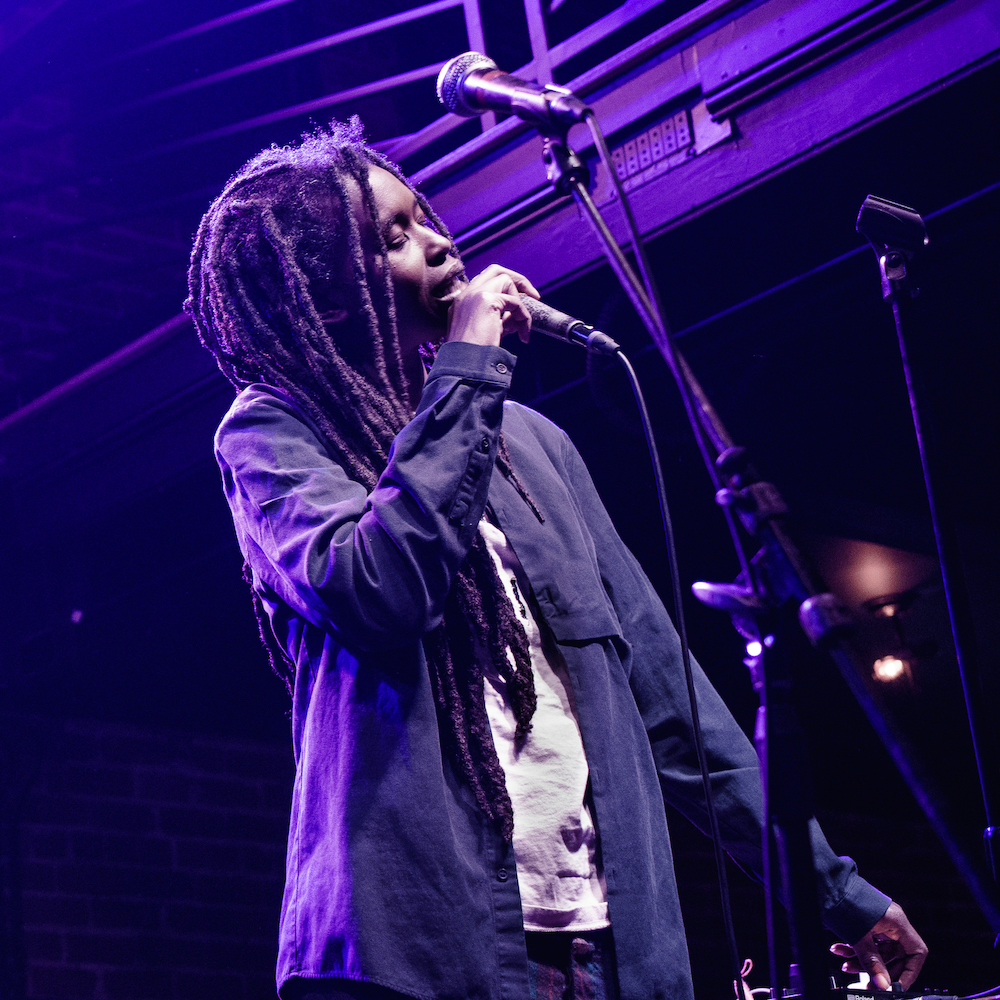 Irreversible Entanglements' free jazz combustible outfit is made up of members from Washington DC, Philadelphia, and New York. They met during a Musicians Against Police Brutality concert in 2015, where they were protesting the murder of Akai Gurley by an NYPD officer. In 2017, the New Jersey punks of Don Giovanni and the International Anthem label jointly released the group's self-titled debut album.
Saxophonist and keyboard sorcerer Keir Neuringer, trumpeter and synth wielder Aquiles Navarro, bassist Luke Stewart, and drummer Tcheser Holmes work with and against Ayewaʻs words in live performance. They are pogo-ing between a push-pull friction on a stopgap fierce grind.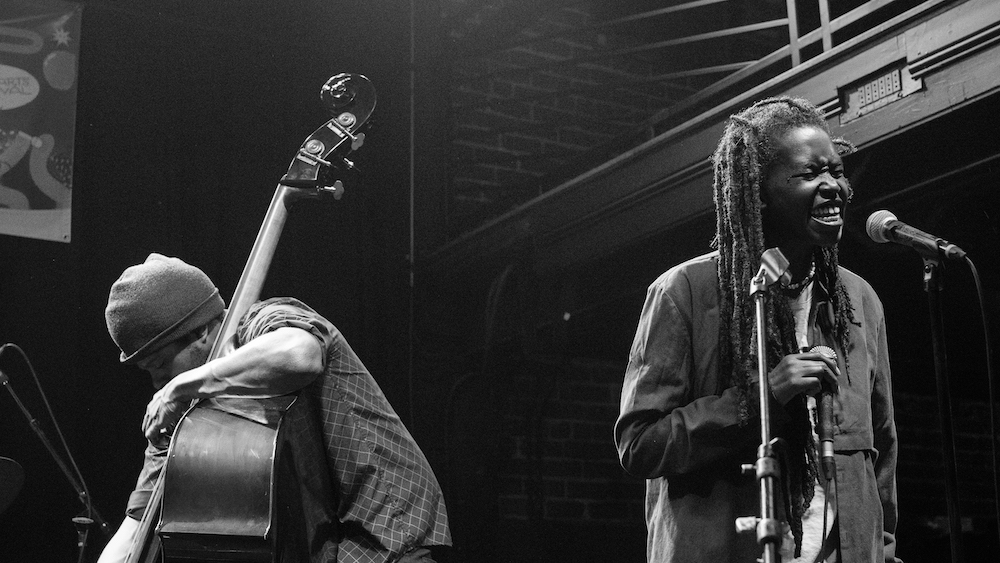 Words and phrases got thrown out, impersonations of law enforcement declarations made upon civilians monitored under abject scrutiny. Sometimes manipulated by a sound device, the impressions portrayed the behavior of an automated droid. Moor Mother switched between her commanding reveals and garbled Decepticon mandates. Holmes, fully engaged and happily fighting with his drums, his head cocked to one side for 30 minutes straight. He was just dealing out weighted blankets of rhythm. Those octopus arms, keeping double and triple time. He forced bassist Luke Stewart to pivot between standing and crouching, rising and falling like an elevator, maintaining and chasing the rhythm on that ginormous upright bass.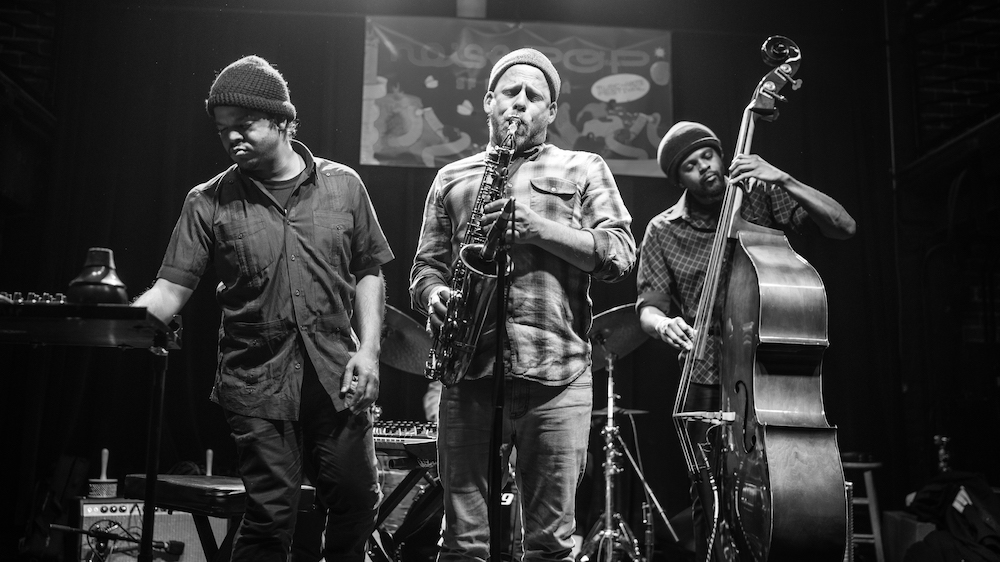 When horn players Keir Neuringer and Aquiles Navarro align on the interrogating "Who Sent You," their trumpet and saxophone wail in chaos, a sonic representation of the micro-aggressions Black and Brown folks experience every day in America. Walking. Or running in the wrong side of town. Guilty, every day, for being of the pigmentation in America. YES. All that free-jazz warrior energy of Ornette Coleman, Cecil Taylor, Sonny Sharrock (a guitarist who played punk-jazz saxophone-like arrangements), Pharoah Sanders, John Coltrane, Eric Dolphy, and Albery Ayler gets released into the atmosphere.
Those ancestors were in the room, guiding and orchestrating the benediction.
As the band received their standing ovation at the end of the performance—the only time they stopped—we see each member hug, embrace, and dap each other up as if to indicate they too, were in the midst of a trance. It was their own way of acknowledging it: "Yes, that did just happen, that's what's up."