Even before the show started, there were a few surprises at the War Memorial Opera House. The continued use of COVID booster checks and mask requirements is a welcome sight (even if certain staff members and information tables continued to speak of the pandemic in past tense terms), as was the Ukrainian flag waved on stage during the final bow.
Yet one element that struck me was that there seemed to be fewer children in the audience than usual. Oh, they were there, including one fellow critic who brought her daughter as her plus-one, but I was surprised that this show didn't bring out a Nutcracker-like crowd. La Sylphide, the first of the night's two shows, has all the things that one would normally sell to a younger crowd: magic, witches, fairies, handsome men dancing in kilts. These just scream "family entertainment."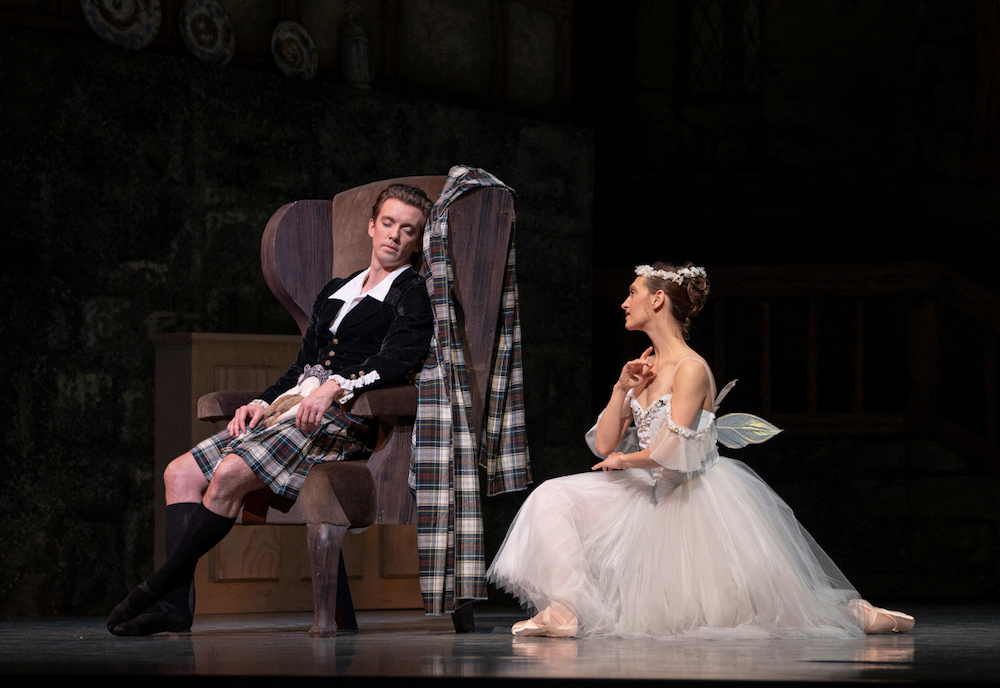 Then again, one of the oldest surviving ballets (August Bournonville's 1836 version was based on the lost Marie Taglioni piece from four years prior) has a very Hans Christian Andersen air of tragedy about it, which might make the little ones weepy. It's about proud Scottish farmer James (Ulrik Birkkjaer) becoming so entranced by a supernatural Sylph (Sarah van Patten) that he walks away from his marriage to Effie (Ellen Rose Hummel) to live amongst the woodland spirits. With the assistance of a witch (Eva Kloborg) whom James disrespected, James' rival Gürn (Esteban Hernandez) courts Effie.
All does not end well, but it looks gorgeous. Jose Varona's sets and costumes represent an image of Scotland most of us have seen in our minds, which makes it perfect for fairy tale ballet. The lodge of the first half, with its glowing hearth-mounted deer heads, is both grand and intimate. Colors are mostly muted Earth tones, making the primary reds of the kilts and blinding white of a wedding gown really pop. The forest of the second half evoked layered paper art (the second show in a row I've seen this), and to strong effect. And Sara Linnie Slocum's lights might be best during the cauldron scene.
Birkkjaer, who assisted with the coaching, makes an adequate "straight man" for all the supernatural goings-on, remaining grounded (if not literally) as James suddenly discovers a world beyond his ken. Hernandez once again brings a high-flying, adolescent joy to his dancing, so much so that you have to wonder why Gürn was Effie's second choice? Hummel imbues the young ingenue with the right amount of cascading joy and heartbreak.
But the indisputable standout is van Patten as the titular Sylph. In fact, the Sylph's departure at the end of the ballet is almost metaphorical for the dancer herself. Like Artistic Director Helgi Tomasson, van Patten is leaving the SF Ballet at the end of this season. This Tomasson-directed piece shows what we'll miss when the two are gone. Even if she weren't adorned with wings, van Patten brings a supernatural presence to her role with every en pointe step that glides her across the stage.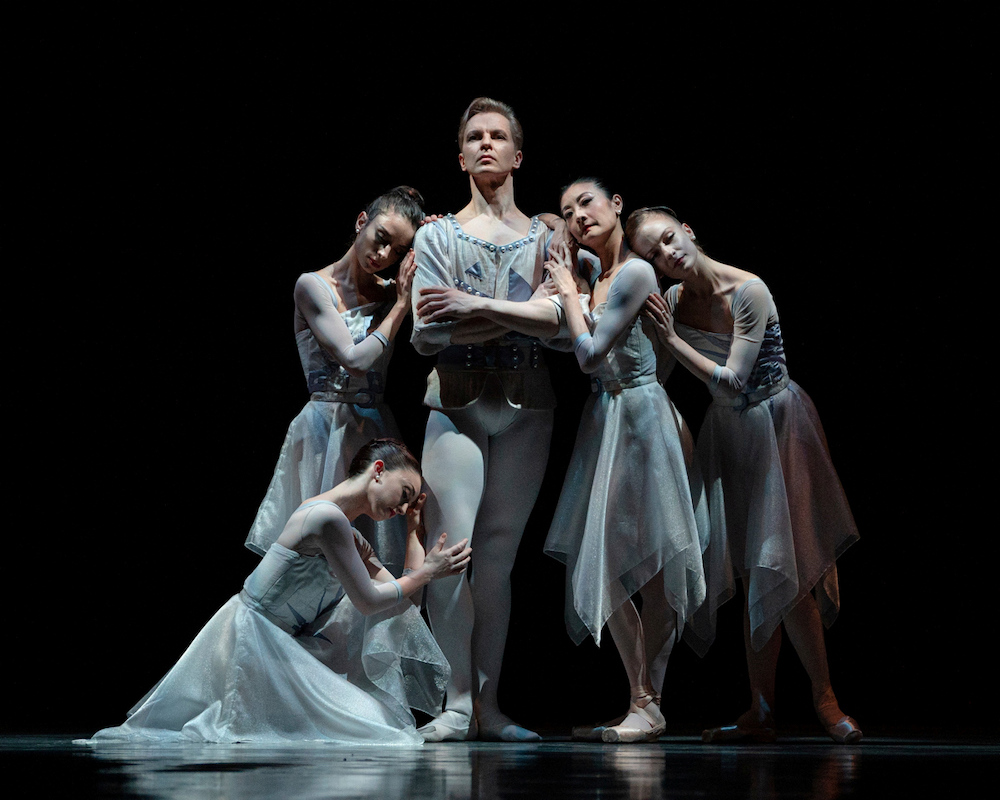 Perhaps it's kismet that this production opened the same day the US Senate decided to make Daylight Savings Time a year-round event. The expeditious change of seasons is personified in, well, The Seasons, Alexei Ratmansky's piece making its West Coast premiere with SF Ballet. With a score by Alexander Glazunov, the piece sees the elements themselves vying for dominance in an apparent void. There are frost spirits, fauns, satyrs, watermen, Bacchae, a Queen of the Corns, and even a couple of gnomes to round things out.
They compete with one another, amuse one another, and finally end the shift of four seasons by coming together as if for a portrait. Though the seasons always arrive, their appearances here are as random as a sudden rain on a sunny day.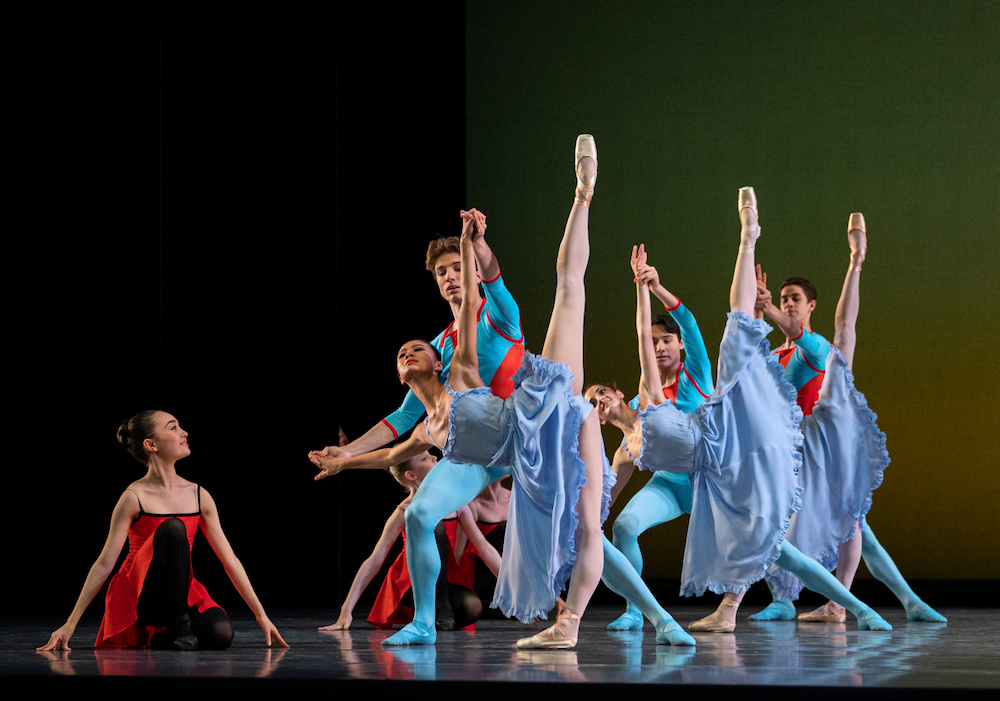 Singling out a particular dancer in this ballet would be redundant, as every company member not in Sylphide appears here—all of them put to excellent use. What's most striking is how, after the muted tones of the previous piece, Robert Perdziola was clearly given carte blanche with the costumes here. The result is the sort of "Crayola explosion" often depicted in science journals showcasing Greco-Roman statues before they lost their paint. Every movement is a burst of blue, red, green, yellow, and pink (and those are just the ones I can remember).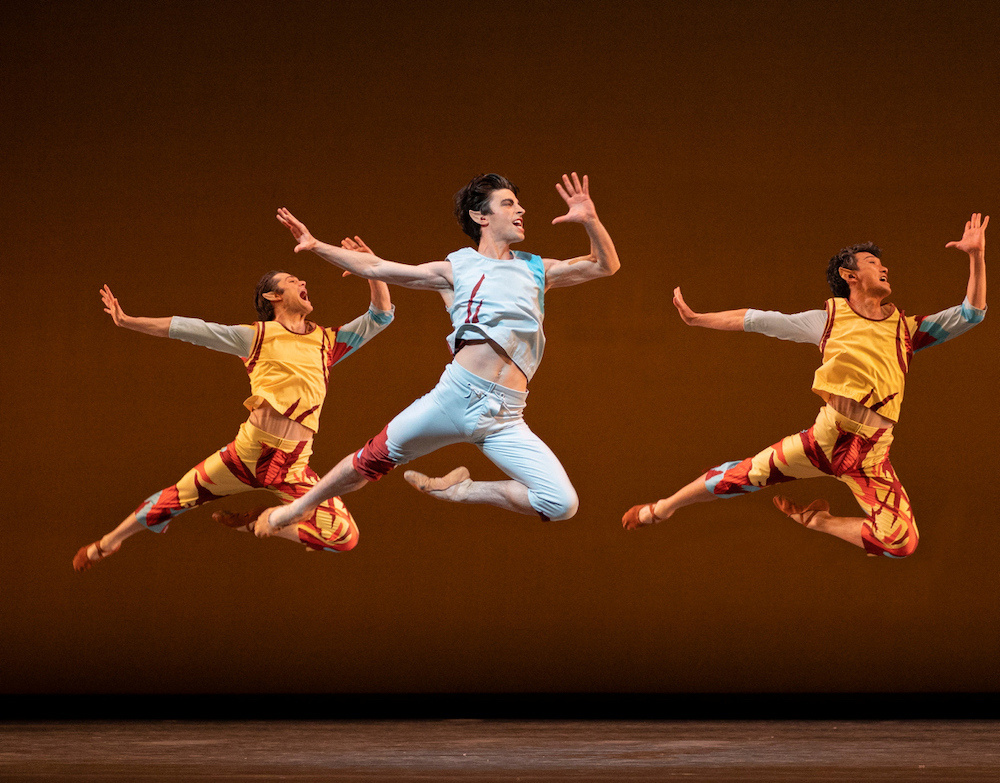 There aren't many extensive solos, even with refined experts like Tiit Helimets and Yuan Yuan Tan, but when you're presenting the elements as grand forces of nature, it's best to go as big as possible. After all, both Ratmansky's choreography and Perdziola's are allowed to go all out when contrasted with the bare set lit by Mark Stanley. The upstage wall occasionally shift color to indicate a season change, but it happens so subtly that it's easy to miss. A nice touch of nuance in a piece defined by quite a few excesses.
It's hard to believe that after nearly two years away, the SF Ballet's season is halfway over. Sarah van Patten will already have gone by the time Helgi Tomasson exits with a literal "swan" song (hint, hint). It's hard to say if he's using this program as a distraction from that grand show, or as a warm up to it. Either way, it's a delightfully colorful 2½ hours.
Don't be afraid to bring the kids.
SF BALLET PROGRAM 4 runs until March 20 at the War Memorial Opera House, SF. Tickets and information here.