Despite mere days separating the opening nights of SF Ballet Programs 5 and 6 (through April 16 and 15, more info here), the weather differences couldn't have been any more obvious. The former saw plenty of patrons arriving in winter coats and multiple layers, while the latter saw far more sun hats, sun glasses, and breathable materials worn. As always, the mask requirement was treated as either an amusing suggestion or a mere necessity for entry to be dismissed once inside.
Most folks who leave San Francisco (or its organizations) don't like to admit how much they miss the weather, but they do. One has to wonder how outgoing Artistic Director Helgi Tómasson, born in Iceland, will adjust to not showing up to work each day in a climate that turns on a dime. Let's hope successor Tamara Rojo has plenty of light coats and visored hats on hand.
One of the promotional points for Program 5 was that its inclusion of Harmony (based on music by Rameau) would mark Tómasson's final world premiere for the SF Ballet. Though only the second piece of the evening—featuring stunning literal and figurative turns by dancers Wona Park, Max Cauthorn, and the ever-lively Diego Cruz—it's well worth the bow Tómasson took right after. Yet, it was the preceding piece, The Fifth Season, also choreographed by Tómasson with music by Karl Jenkins, that was the evening's highlight.
With Ballet heavy-hitters Yuan Yuan Tan and Tiit Helimets in vital roles, the electricity of Tómasson's choreography is all the more visceral. Originally premiering in 2006, the piece has a near-perfect balance of grand and subtle movements, featuring a few semi-contortionist bends that could be in Cirque du Soleil. Colors glow from the wall (set and costumes by Sandra Woodall, lighting designed by Michael Mazzola) in a way that is comforting, yet jarring at the same time.
The night concludes with Magrittomania, choreographed by Yuri Possokhov (music composed by Yuri Krasavin, after Beethoven), a well-intentioned tribute to the painter most of us know as "the floaty-head, apple-face guy." That recognition plays a vital role in a piece that includes, well, lots of bowler hats and floating apples. As a surrealist, most narrative interpretations of Magritte's work are just that: interpretations.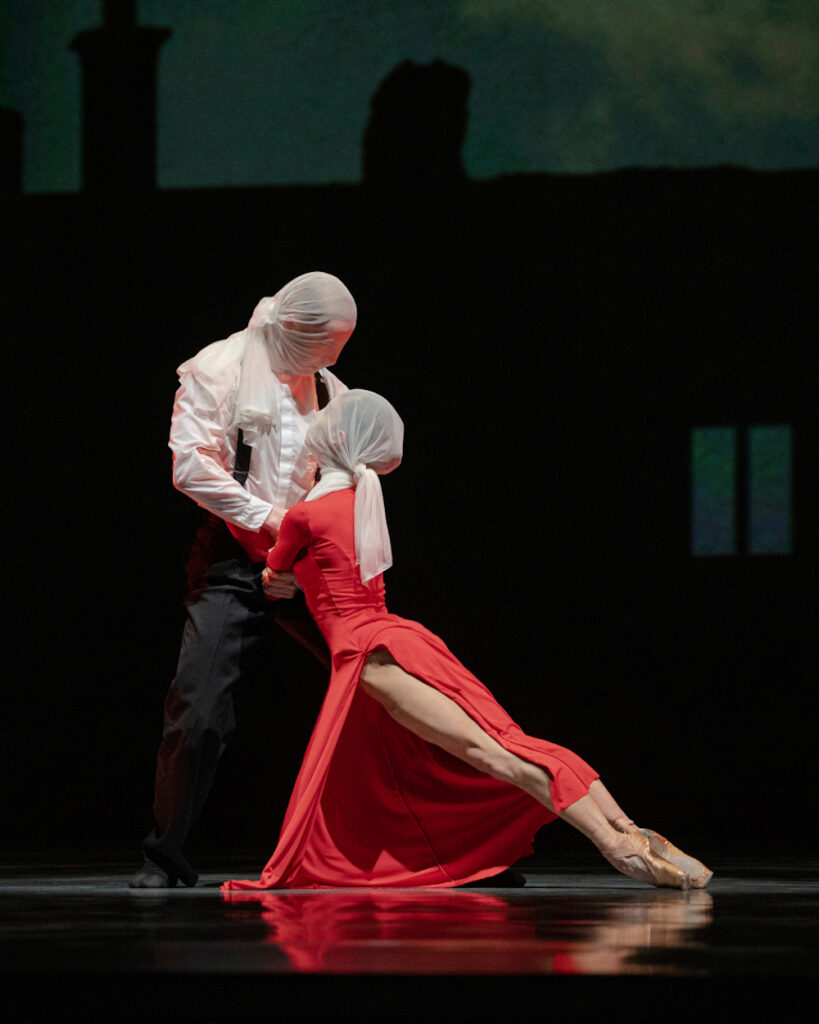 Magrittomania doesn't really spin a narrative, but does try to turn the silhouettes to actual characters. That works well for showing off the solo skills of Dores André (in a stunning primary red dress by Thyra Hartshorn), who also has a chilling duet in which she and Tiit Heliments are shrouded. Yet, the piece is akin to the recent "immersive artist" trend that sells a lot merchandise, but gives no great insight into said artist.
Having said that, André's final moment with a big green apple made the entire evening worth it.
Program 6 premiered at the end of a warm day that made for a stuffy night inside the Opera House. I'd love to attribute the frequent sneezing and coughing inside to seasonal allergies, but with SF now stuck with the highest COVID numbers in California, let's just say I was glad to be double-masked and face-shielded.
The night began with the Tómasson-choreographed Prism (Beethoven), which is, like the first two pieces of the preceding program, a fine hybrid of Tómasson's command of the body like a finely tuned instrument. It should come as no surprise that this piece also features Yuan Yuan Tan and Tiit Helimets in vital roles as a passionate couple, she in primary red. Opening night featured an overly enthusiastic audience member who seemed to want to clap during every gesture made on stage for this piece. I don't begrudge them their love of ballet, but it quickly became grating for those of able to wait until the end of a movement, at the very least.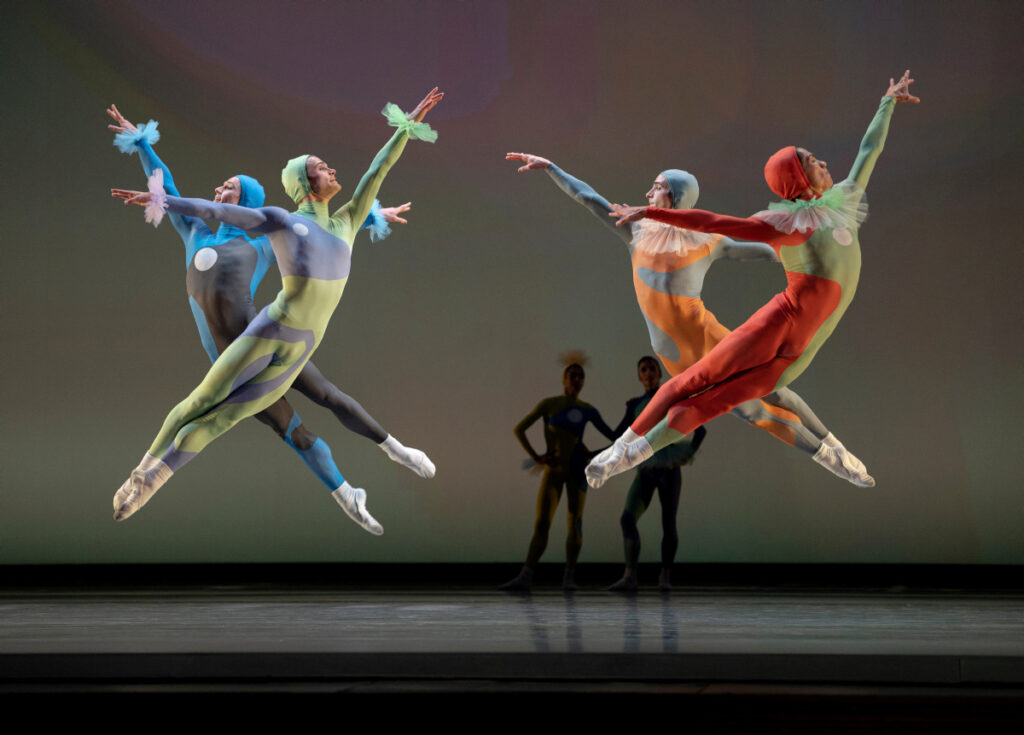 The world premiere of the Darius Milhaud-composed, Christopher Wheeldon-choreographed Finale Finale was an amusing showcase for, if nothing else, Reid Bartelme and Harriet Jung's costumes, but feels extended. Wheeldon's very modern choreo has a very Dell'Arte feel to it, turning the company into a corps of clowns whose pantomime is frequently accompanied by sound effects. Still, a joke that goes on too long loses its punch, and Finale Finale could use some trimming down. However, Milhaud's Latin-inspired score is entertaining.
Finale Finale, despite its title, is not the final piece of the evening. That distinction goes to the world premiere for The Promised Land, choregraphed by Dwight Rhoden to the music of Philip Glass, Rodrigo Sigal, Luke Howard, Kirill Richter, and Hans Zimmer. At the risk of showing my age, Christine Darch's sparkly costumes reminded me of the TV show Solid Gold. Her threads turned nearly all the dancers into walking gold disco balls with "streams" of sheer material along the sides suggesting nudity.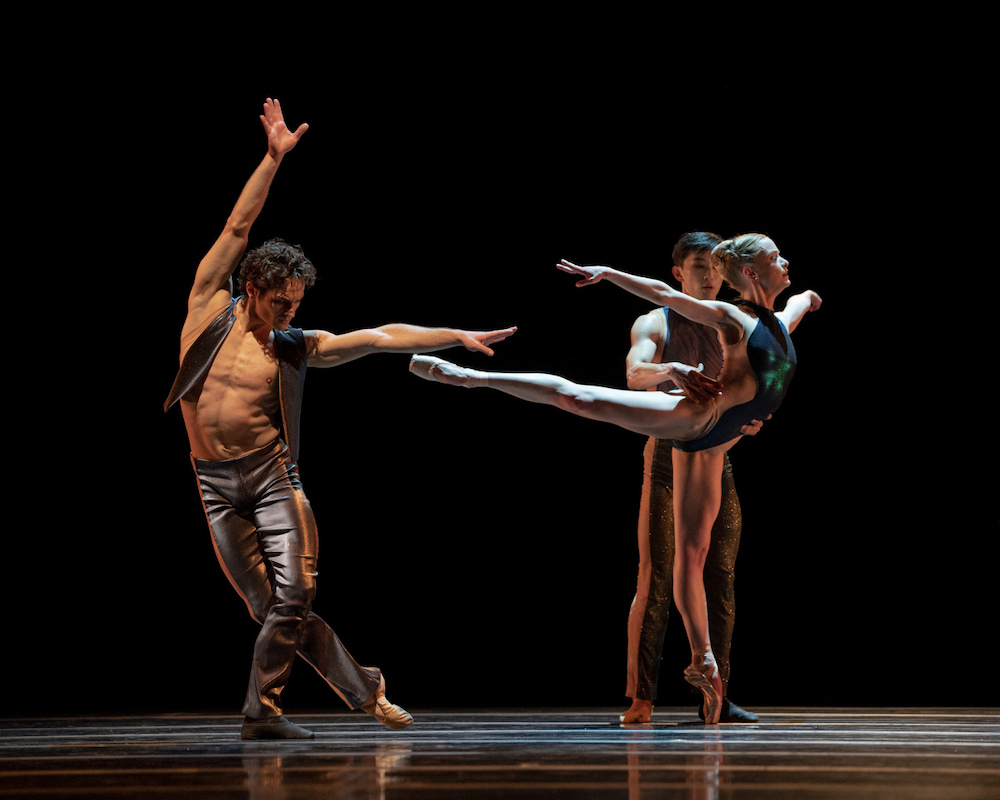 Sometimes the choreo is almost contradictory to the music (which features an electric guitar in the finale), but both are fine for what they are. I can't say that I ever expected to hear music from The Thin Red Line as what-look-like-dancers-from-an-'80s-TV-special did high-energy moves, but life is full of surprises.
What isn't surprising is that Tómasson's final SF Ballet show is at the end of this incredibly busy month for the company. These two programs don't have the perfect balance of the talent he's shown, but they do show the sharp eye he'll be using for other endeavors.
PROGRAMS 5 and 6 are scheduled to run until April 16 and 15, respectively, at the War Memorial Opera House, San Francisco. Tickets and information here.