When it comes to acquiring reliable big men through the NBA Draft (happening this Thursday), the Golden State Warriors might as well adopt a new slogan: "We Don't Believe."
For as long as I can remember—going back to the washed days of Todd Fuller, a 6-foot-11 center who was added to the team with the No. 11 pick ahead of Kobe Bryant before ending up as a member of Gijón Baloncesto en España after five NBA seasons —the Warriors have been absolutely putrid at finding a center to supplement their historic lineups of small, high-octane shooters.
More often than not, the Dubs have whiffed with a 7-foot whacking stick whenever they've swung at big temptations: Chris Webber, Troy Murphy, Ike Diogu, Andris Biedrins, Patrick O'Bryant, Festus Ezeli, Damian Jones. For different reasons—whether health, skill, or contractual—no giant (besides Kevon Looney, a 2015 first rounder, and Adonal Foyle, a 1997 lottery selection) has lasted more than a few seasons. That's all to say that I both love—and fear—what James Wiseman, the Warriors' No. 2 overall pick from the 2020 Draft, will become.
For the record, I'm more excited about Wiseman's future than I have been for any other center or power forward Dub Nation has seen. Shoot, I'd even say I'm more excited for him to flourish than any "debut" Warrior, besides maybe a rubber band-thin Stephen Curry in 2009 or the lighting bolt-quick Monta Ellis in 2005. Wiseman is much different than those two though—he's a higher pick with an immediately taller ceiling (literally) and he's no longer just a rookie prospect.
Entering his third season, Wiseman is built for throwback "Nelly Ball" with a prototypical tree trunk stature that allows him to cloud-hop on his way to a fastbreak dunk. He's a promising hybrid caught between various skill sets—an evolving Gen Zer who is both mimicking the past and rewriting the present as a 7 foot 1 human basketball algorithm.
With Wiseman, there's genuine hope that he may, indeed, be the chosen one: the high IQ, rimrunning, shot blocking, deftly-footed big who has forever eluded the Warriors in the modern era.
And when he's on, his engine is tremendous. There's that time he gray-hounded across the entire court for an alley oop jam against the (lowly) Sacramento Kings last year. Or the time when he slow-fed Bol Bol—the son of former Warriors big man, Manute Bol—a one-handed yam in Mile High City.
When he's healthy, Wiseman can spin for a slam. He can Euro Step to the rack. Or he can become the youngest Warriors in franchise history to put up 25 points (along with 6 rebounds and a pair of blocks) at age 19.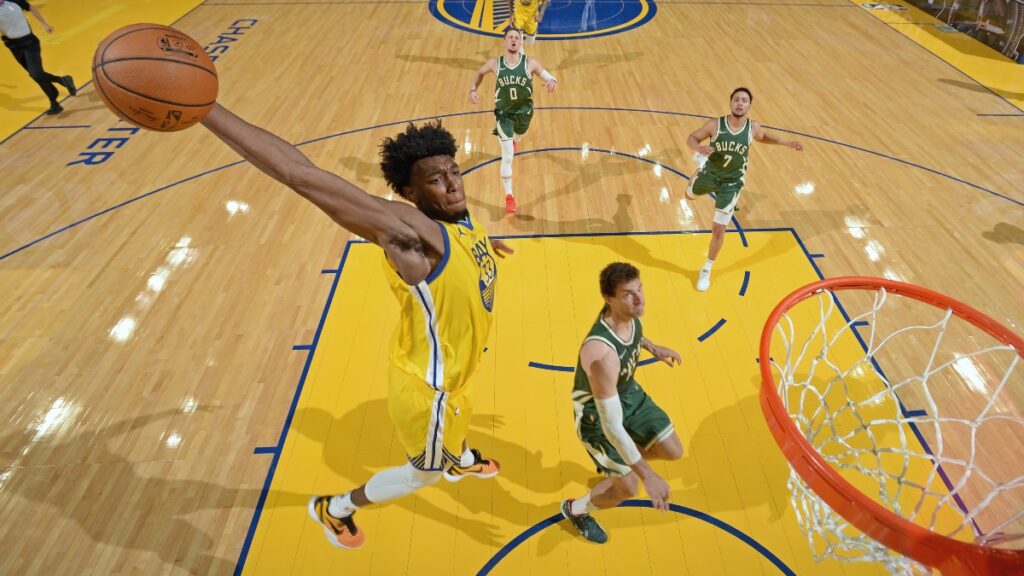 In the brief flashes of gameplay we've witnessed from him, Wiseman is as alluring as any Warriors pick I can remember. But if you have zero recollection of his gameplay, or fixate on his documented blunders, you may begin to think he's just another overrated flub. The truth of the matter is that he has struggled to stay on the court due to injuries and hasn't gelled yet with coach Steve Kerr's motion offense. His erratic track record isn't exactly convincing.
After joining the University of Memphis as a five star recruit to play for Anfernee "Penny Hardaway in 2019, Wiseman—a Tennessee native—suited up for only three NCAA games before being suspended for recruitment violations and forfeiting the remainder of a COVID-impacted season. As such, there's virtually no evidence of him hooping at the college level.
Factor in his rocky two year start as a professional NBA player—in which the talented youngster has appeared in only 39 games out of 164 regular season opportunities—and you can see why Warriors fans would suddenly begin to recall their past of big men who have ghosted the organization for reasons beyond—and sometimes within—their control.
I'm not putting Wiseman in that category, though. Not yet. The Mandarin-speaking, bouncy-hair-with-a-big-smile, music-producing 21-year-old (he once jokingly solicited All-Star Damian Lillard to collaborate on a rap song together) deserves all the latitude and support he needs to heal up from his April 2021 right knee meniscus tear. If it was possible, I'd rather see the Dub's trade this year's draft picks for a curandera who could cure Wiseman's bodily ailments. But alas, no amount of medical miracles or imaginary dealings can speed up what must happen next: to get Wiseman back on the hardwood and see what he becomes.
I haven't scouted any of the Warriors predicted prospects for this summer. Why should I? We still have "The Big Ticket" in the wings, ready to make an eventual full-season debut. And when he does, the dynastic, trophy-hoisting Warriors will be there to carry him along.
Until then, I'll continue to remember those two weeks during Wiseman's rookie campaign when he led all rooks in rebounds and blocks—while also cracking the top-5 in scoring and efficiency—and was on his way to becoming a prime Rookie of the Year candidate. Although those days are behind him and the Warriors, there's still a Chase Center chance that he'll break the Warriors' big man curse.