I witnessed a fascinating bit of synchronicity during the July 4 opening of SF Mime Troupe's Back to the Way Things Were (through September 5 at various Bay Area parks).
Though the show had clearly been in the works for some time; there was also enough room for the script to include up-to-date allusions to current events, such as the recent repeal of Roe v. Wade. As I sat on the Dolores Park grass behind the tech booth, I heard the dialogue make the first explicit reference to the ruling. Coincidentally, that was the very moment an older woman with thick glasses and jeans walked in front of me wearing a purple t-shirt with the words "I Had an Abortion" written in bold white letters.
At face value, one would be forgiven for thinking such a thing was arranged. Rather, the coincidence merely highlighted the revolving-door nature of authoritarianism's evils. Hell, "Plus ça change, plus c'est la même chose" could have been the show's tagline.
The past alluded to in Michael Gene Sullivan and Marie Cartier's script is pretty much any time before the pandemic. (This may be the first non–virtual show I've seen to explicitly acknowledge COVID, and the only dramatic work to acknowledge Long COVID. Yet, none of the characters wear masks.) Interracial SF boomers Ralph (Norman Gee) and Alice (Lizzie Calogero) long for the halcyon "post-racial" days of Obama; an era whose façade shows more apparent cracks with each passing day.
The couple are the parents of college student Zoe (Alicia MP Nelson), who has spent the last 23 months living with them—because pandemic—and treasures any time she can have alone. When the couple decide to have their first night out in years, Zoe's as elated as one can be after countless days interning at a nonprofit which puts her face-to-face with the system's disdain for the homeless.
Unfortunately, she can't even leave her work behind, as one of her clients, a woman named "Book" (Keiko Shimosato Carreiro), shows up to make tinfoil hat ravings about how Zoe is someone of importance, in the Sarah Connor sense. Between Book, normal job stress, and a rich new executive director named Emerson (Andre Amarotico) wanting to micro-manage the place toward profitability, it's gonna be tough to convince Zoe that she's anything more than a cog in the wheel.
If you've never attended an SF Mime Troupe show before, you should know that subtlety isn't the raison d'être of the unabashedly Socialist troupe. They put on productions for the plebes, the proletariat, and the peanut gallery. It's no coincidence that the stage was flanked with booths for the Green Party, climate activists, and a group whose banner read "Socialism or Extinction!" My guess is the groups were specifically invited by the troupe. And yes, they use a Dell'Arte form of "big" performance to hammer home their message of taking down The Man. Some shows are more successful than others.
After two years of audio productions, Back to the Way Things Were marks their return to live shows in public parks, which makes it one of the more COVID-safe ways a theatre troupe has returned. (I was told I'd have a space reserved near the stage, but I sat behind the booth because I wasn't comfortable with the crowd density that far up.) The result is a Velina Brown-directed show that definitely pulsates with righteous anger, even if it stumbles a bit.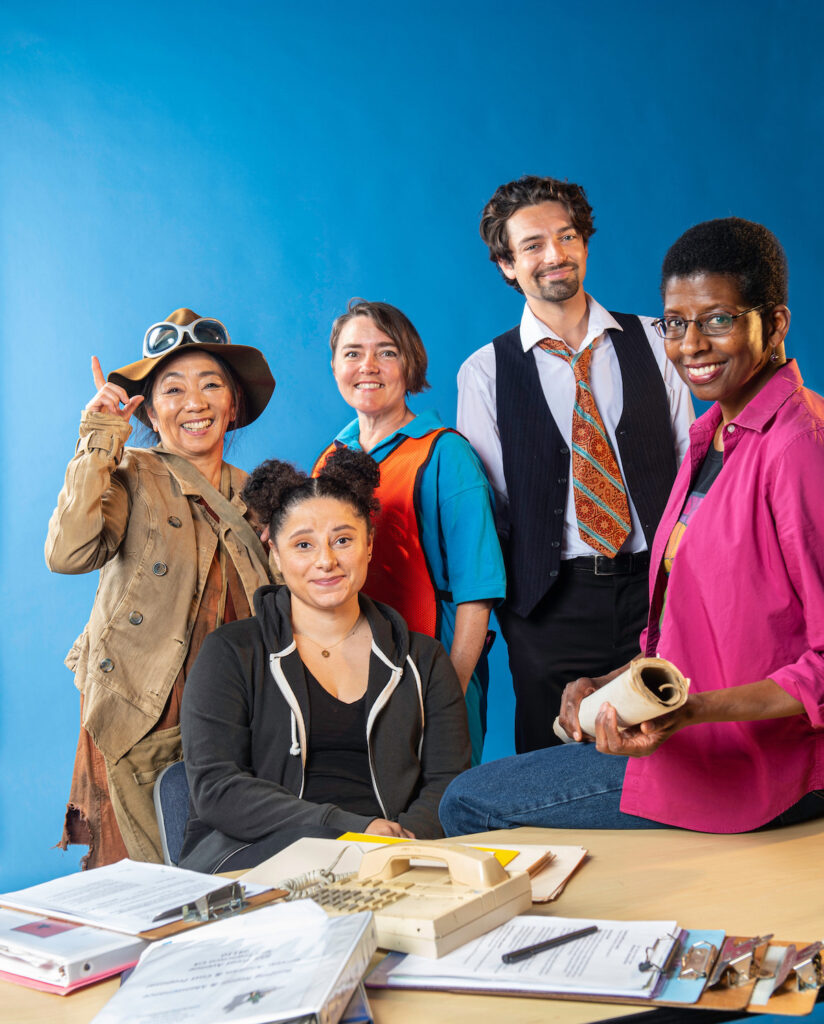 The lack of subtlety will always be a make-or-break prospect for potential audiences, so plot threads like Ralph's jealousy over Alice's high school boyfriend pay off better than one in which a cop commandeers Ralph's car (he's a former bus driver now rolling an Uber) to be escorted to a protest he plans to violently stop. That scene has one of the play's most pointed moments—a chilling "joke" about turning off a bodycam—but the scene almost seems to come from an entirely different production.
On the other hand, a similarly short scene in which a fast food employee reaches his breaking point is able to come and go without disrupting the narrative. Scenes like the cop one aren't bad, but Sullivan and Cartier's 65-minute story is strongest when it has laser focus (something crucial in a tale that eventually incorporates time travel), like drawing a through line from the "robber-baron" skullduggery of Daniel Drew to the libertarian hellscape we have now, all while trying to make us laugh.
Yet, the show lives or dies not by the sci-fi tropes or the songs by Daniel Savio, but by the performance of Zoe by Alicia Nelson. For the past few years, I've seen the clown-trained actress play everything from Judy Moody for children's theatre, a post-apocalyptic scrounger for Ragged Wing, and a traveller through a Tolkien-esque Oakland for Awesome Theatre.
Here, under Brown's guidance, Nelson may be at her most heart-breaking. She projects Zoe's Gen-Z/Millennial disillusionment by understating when everyone around her goes big; adding a quiver to her voice when she seems at her lowest point: What's the use in saving a future we won't live to see? It takes nothing away from the rest of the cast to say that Nelson carries the entire show on her shoulders the way her character (and generation) carries the fate of the future on theirs.
The repeal of Roe hangs heavy over the show that warns of nostalgia being as dangerous as it is profitable. The decision single-handedly reverses 50 years of civil rights progress at a time when the more sensible things would be to tax the rich they way they did under Eisenhower.
The creators of Back to the Way Things Were know this, but as with most forms of art that have a valid point, they struggle to balance how much they have to say with the limited amount of time to say it. Bolstered by Nelson's strong performance, the latest SF Mime Troupe show at least proves that their passion is still red-hot, even if other aspects are a bit rusty.
BACK TO THE WAY THINGS WERE runs through September 5 at various Bay Area parks. All shows are free to the public. More information here.