After a three years' wait, Burning Man will officially return from Sun/28 to September 5. In cities across the globe, and in particular San Francisco, thousands of us festival attendees are preparing for their return pilgrimage to the Playa.
But do we truly take the time while Burning to center the people who have lived around the Playa since time immemorial?
As we are double-checking our tents, moving our camping equipment out of storage, and buying new looks, let's ask ourselves the tough questions. Like: what does it mean to have the equivalent of hundreds of millions of dollars flow in and out of Black Rock City without visitors paying much thought to the tribal nation that is still very much maintaining its presence and sovereignty on the land we've come to enjoy?
The radically-queer Burning Man camp and San Francisco-based organization Comfort & Joy has tackled these questions head on.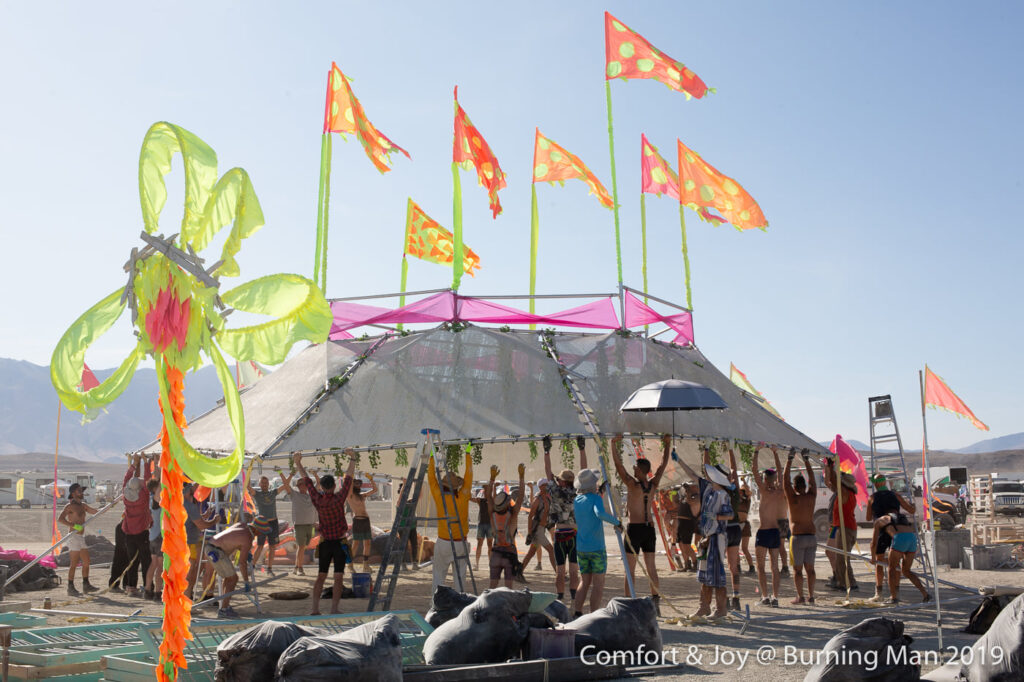 For the last 15 years, Comfort & Joy has been committed to addressing food insecurity within the Pyramid Lake Paiute Tribe, the caretakers of the land that welcomes Burners
The story goes that the collaborative relationship was ignited when Dean Barlese, the last traditional healer of the Pyramid Lake Paiute and a respected Two Spirit member of the tribe, came to give an educational speech and ceremony to Comfort & Joy. Barlese has been conducting blessings for various Burning Man groups for over a decade. He transmits knowledge to those who are willing to listen, self-assured that it will spread and return to his community—and has become a spiritual figurehead for Comfort & Joy.
Barlese's words inspired Comfort & Joy founder Kitten Calfee to reach out to the Pyramid Lake Paiute Tribe Human Services Program. The Pyramid Lake Paiute tradition of respect for Two Spirit members is in keeping with Comfort & Joy's own values and mission of celebrating queer people and expression.
Part of this expression has always included the preparation and sharing of food as a community.
Together, Calfee and the Pyramid Lake Paiute Tribal Community created the Burning Man Paiute Food Drive, which was originally run through a group called Burners Give Back. That drive collected excess food items throughout Black Rock City, and delivered the supplies to the Tribal Community.
Micheal "Coop" Cooper and Fabien Gestas, former members of Comfort & Joy, lead the way in expanding this initial project into Comfort & Joy's annual Paiute Tribe fundraiser, which to date has raised over $40,000 for the tribal food bank which opened this spring in Nixon, Nevada.
Burners or not, all are welcome to donate funds to the project, which provides crucial nutrition to the Tribe and non-Tribal members who live on the community's lands.
I began interacting and engaging Comfort and Joy around 2016, meeting individuals at dinners and outdoors events, and eventually becoming a volunteer. Within a short time, people within the organization heard of my work centering racial and gender equity, and it was those individuals who gave me a platform to challenge, or propose shifts within the organization. I was also entrusted with engaging QTPOC Bay Area community members with Comfort & Joy's public, year-round events in San Francisco.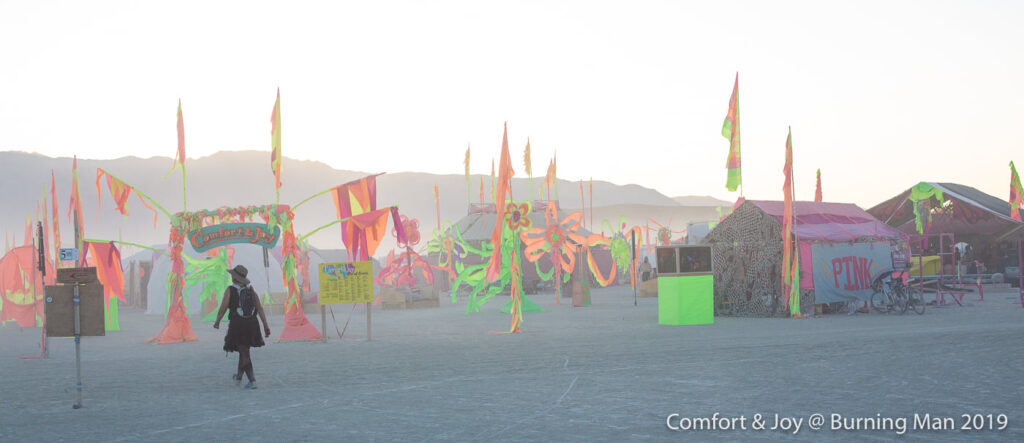 I believe that as guests to the Playa, we must contribute to, and invest in, the traditional caretakers of Pyramid Lake and surrounding area, the Pyramid Lake Paiute Tribe, and their plans for greater autonomy and self-sufficiency of their citizenry.
That means offering something to our gracious hosts who, for 31 years, have seen the Burn's temporary cities rise and fall over the course of two weeks. 
Barlese told me that the Playa itself is a site of immense spiritual—but most importantly, ancestral—power. Ancient trails cut across the extinct lake bed. It is an intrinsic aspect of Paiute cosmogony, and the community conducts on-site private ceremonies for their ancestors and for those traveling to and from Playa.
Comfort & Joy's annual Paiute Tribe fundraiser is an opportunity for us to engage with Indian Country, tribal governments, and tribal citizens in tangible and material ways. Again, the food drive is for all of us—whether or not we are queer, whether or not we have ever Burned, and especially for those who yearn to Burn some day but have not gone to the playa just yet.
This is about returning the blessing of the playa existing, even if we are only there momentarily to those who have truly known and have maintained their presence on the land from the very beginning.
When we acknowledge the people of the land, when we offer a show of thanks, we are acknowledging they are inseparable from their land. 
There can be no Burning Man without the Playa, and there is no Playa without the Pyramid Lake Paiute Tribe.
To contribute to Comfort & Joy's fundraiser for the Pyramid Lake Paiute Tribal Food Bank, go here.