Under the Stars is a quasi-weekly column that presents new music releases, upcoming shows, opinions, and a number of other adjacent items. We keep moving with the changes, thinking outside the margins, and getting excited for Emmylou Harris and Antibalas performing at Hardly Strictly Bluegrass in late September.
Just a quick note: The Chapel will be celebrating their 10-year anniversary this fall with spectacular multiple night shows featuring Thee Sacred Souls, OSees, Cold Cave, Bonnie 'Prince' Billy, Beach Fossils, Allah Las, plus single nights with Os Mutantes, Dry Cleaning, and The King Khan & BBQ Show.
It will be a celebration, for sure. Get on those tickets now, many of those shows will sell out.
OK, let's get to it!
LIVE REVIEW: BRIJEAN BAPTIZED WITH THE BEAT AT THE INDEPENDENT, AUGUST 11
When Brijean (phonetically enunciated as BREEJEEN—just found that one out last week, demonstrating you are never too old to learn) leans into a section, stretching the limits with polyrhythmic passion, it can fill a room with pure excitement. It's August 11, and Brijean Murphy, on percussion, is just reclining with a slant back, setting the meter. Her eyes are staring at the ceiling, the crowd, and then beaming at her partner Doug Stuart as they perform at The Independent for a homecoming show, and to celebrate the release of their phenomenal new EP "Angelo."
With the cowboy frills on her shirt moving a half-second behind the pace, those congas she's lighting up are pushing vibration through the sold-out venue. Stuart puts down powerful disco basslines and later funk rhythms, moving in time while mouthing the congo notes his companion Murphy is playing.
Both are in sync, laughing and grinning at one another while delivering this enormous atmosphere that includes house, tropicalia, disco, pop, rich atmospherics, and some Willie Bobo, too.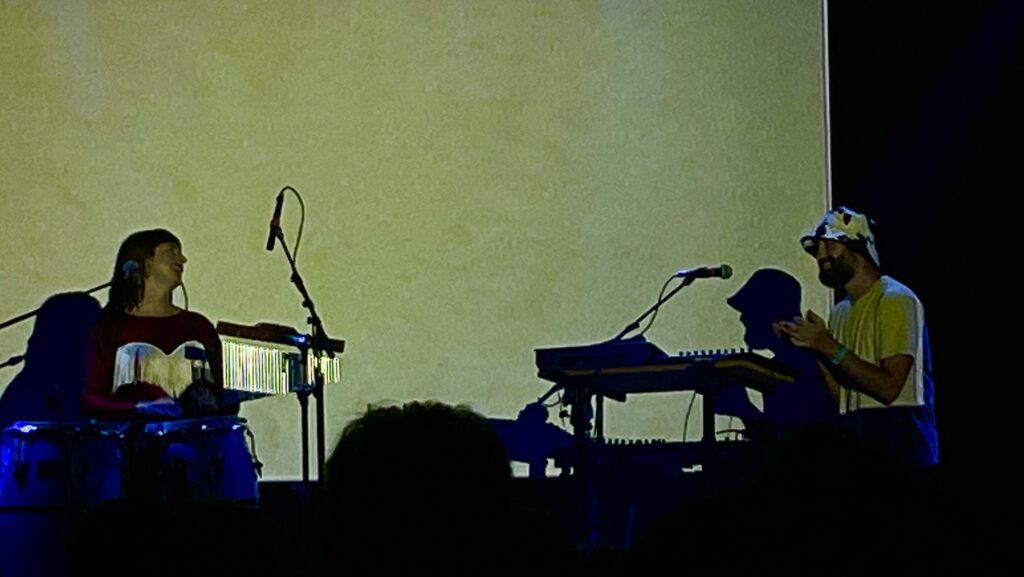 I've always been intrigued by these two, who sound all over the place while being quite distinct.
In their live performances, you see a microcosm of the Bay Area's population, the part that is NOT rhythmically-impaired. These are professionals, who go see bands and DJs, and shake it.
For a split second, I feared we'd lost this sort of SF audience, but they were just waiting for their moment until the other muppets got done flopping around.
On this night, there are several ways to get baptized by the beat.
Plus, for around 30 minutes, the Seshen band featuring Lalin St. Juste's nearly placed two size 13's in that booty.
Low-end thickness. Made for dropping it all night, which most folks did.
Stanley Ipkuss, a producer and emcee based out of Oakland, played a frenetic DJ set that alternated between percolating house and soul music, designed for continual movement. If you happened to catch a peek of him while he was mixing, you will have witnessed a human having the time of their life.
THAT is what DJing is all about.
But Brijean, who played songs from all of their releases, worked their magic on an audience that wanted to be worked on.
"We wrote this music in Berkeley [note: they reside in LA now], it's so nice to be back with all of you in the Bay Area." The entire audience melted, swooned, and high-stepped it into the midnight hour as Brijean proceeded with one of my favorites, "Wifi Beach."
When you play straight from the heart, everyone can hear it.
NORIKO MIYAMOTO WITH ISAO SUZUKI, PUSH (BBE)
Noriko Miyamoto, described in the liner notes of this release as "a soul music and disco loving lady," began her music career as a dancer at Tokyo's legendary 'Mugen' disco. There, she caught a Tina Turner performance that inspired her to pursue a career as a soul singer.
Her story's not dissimilar to those of many disco singers, or those looking for work in the entertainment industry in the 1970s in the United States, who got their "in" by checking coats, mixing drinks, or serving attitude.
Anything is possible if Alec Baldwin can work the door at Studio 54 for two months—which he did.
Isao Suzuki scouted Miyamoto to join his band Soul Family in 1977, and with the group's support, he produced Push, an album that launched her career—and is now being reissued by BBE Records. Suzuki, a bassist, cellist, multi-instrumentalist, composer, arranger, producer, and bandleader, is widely regarded as one of Japanese jazz history's most influential figures. He recruited Miyamoto while on the hunt for a good vocalist to add something extra to his most-instrumental releases—if you listen to "Stella By Starlight," you start to understand just how talented Suzuki is on bass. Adding vocals to instrumentation was a throughline to mainstream bankability for any jazz musician in the late '70s.
With funk scat-singing ferocity, the album's eponymous single centers Miyamoto in the spotlight. It's intentional that her voice is right next to Suzuki's aqua-boogie bass licks. This is squiggly funk done right, somewhere between early Al Jarreau (circa 1974, not late '80s pop) and out there George Duke.
Push is part of the continuous reveal to the rest of the world of contemporary Japan's lockstep with the jazz, funk, disco, and boogie trends that dominated the United States in the late 1970s and early '80s.
Miyamoto eventually made it as a singer in the United States, working with Eddie Murphy's band Graham Central Station, the Brothers Johnson, and Side Effect.
But it's Push that remains evergreen.
Purchase here.
ZYAH BELLE, YAM GRIER (GUIN)
Zyah Belle, Bay Area native, rising star, and phenomenal R&B vocalist with verve, will release her debut album Yam Grier this September.
Zyah shared that, "Yam Grier is representative of a woman that is reclaiming her time, agency over her body and voice through the generations. Inspired by Pam Grier's fierceness that she emoted in her prominent '70s blaxploitation roles. Yam Grier is the embodiment of a woman who has finally come into her own, unapologetically."
The project's "DND", is a sure-fire bop, joint, dart, jawn… whichever colloquialism you choose. It doubles down on the singer's narrative of self-love, while radiating what she likes to call "bad bitch energy".
Underneath all the bravado and posturing, you'll fine a bonafide vocalist ready for the next level.
With accolades from Noisey and VIBE, it's only a matter of time.
Look out for this one, here.
TAKUYA KURODA, MIDNIGHT CRISP (FIRST WORD)
Takuya Kuroda, a veteran trumpet player and arranger from Kobe, Japan who now resides in New York City, returns with the little album Midnight Crisp. In 2020, he released his debut album Fly Moon Die Soon for First Word Records. It was a wide-ranging jazz record that touched on the corners of soul, funk, post-bop, fusion, and hip-hop, striking strongest while channeling 1970s West African-inspired, highly-rhythmic Fela Kuti-type compositions.
Takuya entrenched himself in the NYC jazz scene, performing with the likes of Akoya Afrobeat and in recent years, with DJ Premier's BADDER band. Premier said, "The BADDER Band project was put together by my manager, and an agent I've known since the beginning of my Gang Starr career. He said, 'What if you put a band together that revolved around a trumpet player from Japan named Takuya Kuroda?' He's got a hip-hop perspective and respect in the jazz field."
Midnight Crisp comes out on October 21. Pre-order here.
THANK YOU COME AGAIN AT BOTTOM OF THE HILL, AUGUST 20
The last time I saw this band, shit got cray-cray within the first couple of songs.
It was at a Noise Pop's Benders happy hour earlier this year where said band put it on the crowd. Outta nowhere, a mosh-pit assembled. Flannel shirts and fried chicken sammies were flying everywhere, and it felt kinda awesome to be alive again. Mainly, because nobody was trying to separate my shoulder. But that is a different mosh-pit story for another washed chronicle entry.
So, as I was leaving the super dope Spacemoth show at Rickshaw last week, the box office person asks my name, and then reminds me that I covered her band.
She writes down the details of their next gig, and I immediately remember this frenzy-driven garage-rock dragon, Thank You Come Again, being on several bills with Buzzed Light Beer and some other local bands that are also making a big noise for The Bay.
If my old arse is in gear, I'm gonna try and make this show. I can't promise chix sammies flying up in the air again, but this band, especially lead singer and carnival barker Izzie Clark, knows how to bring it.
Don't eat a heavy dinner before. They play between Pure Hex and Grooblen.
Buy tix here.