Ferocious Lotus is one of those brands that can be hard to pin down, and not just because it's one of the Bay Area's many "nomadic" companies that don't have permanent physical theaters (a list that's only grown since the start of the pandemic). It's also due to the fact that the company has only done a few shows in the past seven years. Although these productions maintain the company's focus on Asian American stories, they run the gamut from the esoteric (Crane by JC Lee) to post-modern satirical (Two Mile Hollow by Leah Nanako Walker.)
By that measurement, it should come as no surprise that Ferocious Lotus' current collection of short plays, "Evolution" (through September 25 at Berkeley's Live Oak Theater), features an eclectic line-up that begins with a supernatural historical epic, ends with a time-traveling sci-fi comedy, and features a rumination on relationships gone wrong in-between. The problem is that the shows are so disparate that there seems to be no through-line tying them all together, save for the fact that they all revolve around Asian characters.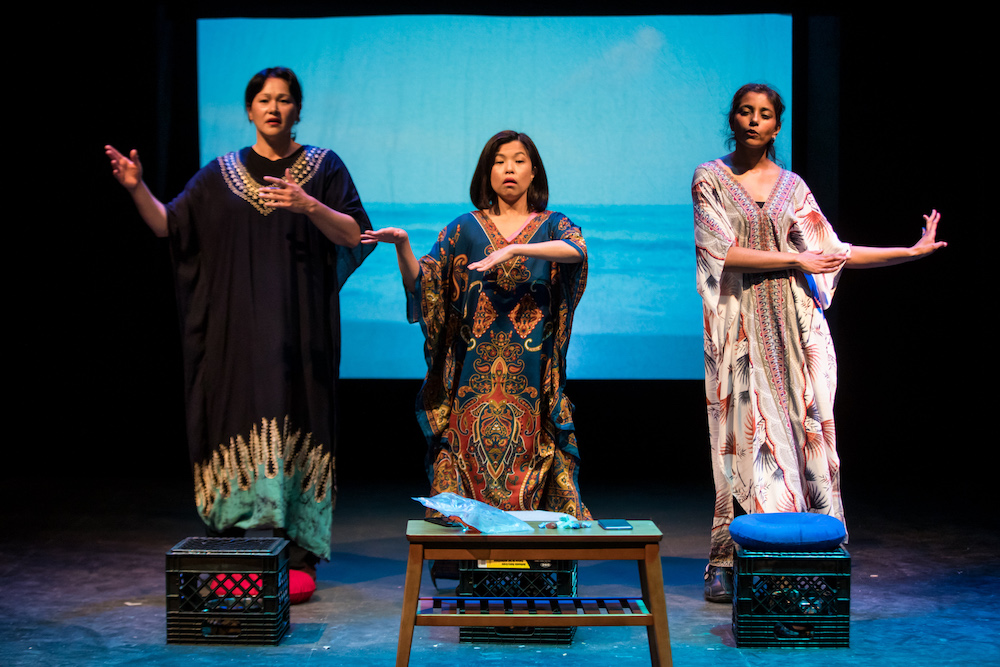 The program begins with an excerpt from Mahābhārata, Geetha Reddy's adaptation of the legendary Indian epic. Mithra Vankipuram takes the persona of a jovial woman tossing tea packets at us (yes, really) to get us in the mood for a tale of royals, the sun god Surya, and a baby born with golden armor. A tale as old as time. As directed by Ogie Zulueta, Vankipuram's storyteller is a delightful proxy for Reddy's story, which cuts off at just a point that we are kept intrigued as to what the full adaptation would bring.
Next is Cindy Cesca Yoshiyama's Where are We Going?, directed by Ferocious Lotus' homegrown talent Rinabeth Apostol. It features Vankipuram as a bride-to-be on a gondola trip through Venice with her two BFF bridesmaids (Karen Offereins and Karla Acosta), who retrace their steps from a similar Eurotrip that they took in their younger days. It brings up memories both pleasant and distressing, as they recall the lingering effects of anti-Asian hate they had to endure.
Leon Goertzman is behind Let's Go to Casa Vega (also directed by Zulueta), a comedy about two women (Offereins and Acosta) on a date in which the former relives her entire amorous history, throughout which all partners are played by Vankipuram. This is followed by The Floater, written by Bay Area actor Sango Tajima and directed by May Liang. I don't really know how to describe the plot of this comedy without giving away too much, so I'll just say that it's a reminder that we all should learn to keep track of personal hygiene products—you never know where they might turn up.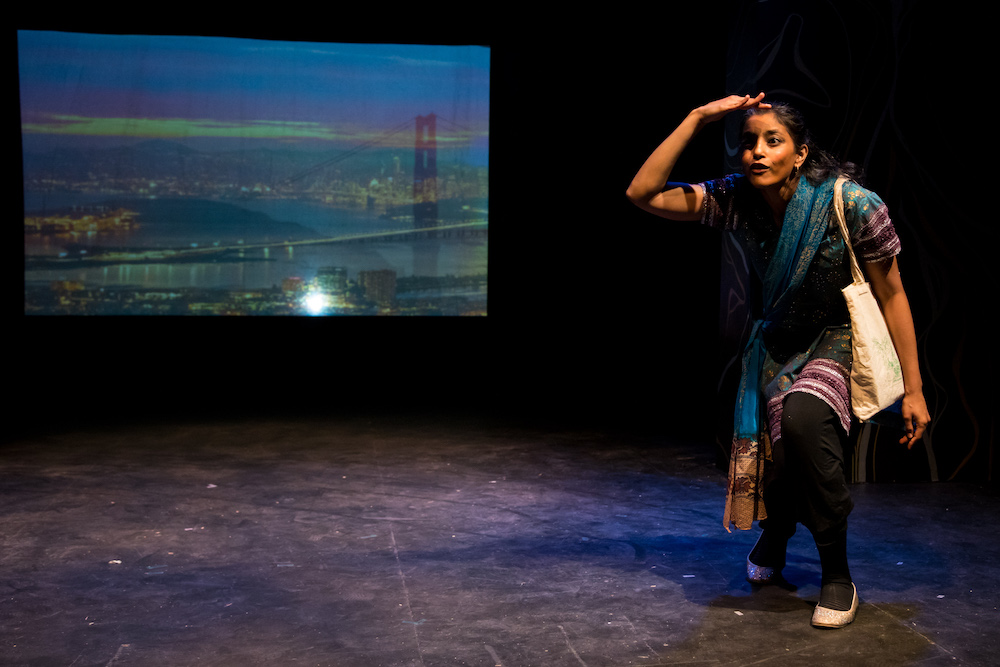 Lisa Kang brings us Written in Water (also directed by Liang) about a couple who suddenly realize they were never on the same page about starting a family, let alone about how and when to reveal one partner's transgender identity to conservative Asian in-laws.
Apostol returns to direct the closer, Greg Lam's Interventions. It asks the question few people ever consider: What if your future child travelled from the future to prevent their own birth? Yes, it's a comedy.
On the whole, the show works best when its stories really commit themselves to tackling the nuances of Asian and Asian American identity. Where are We Going? and Let's Go to Casa Vega both have moments where this truly resonates. In the former, two of the ladies argue whether they properly dealt with bigotry of the previous trip, or if one of them is holding on to it unnecessarily. The latter touches upon how people fall into having "types" that reduce their romantic partner to something that is less than human.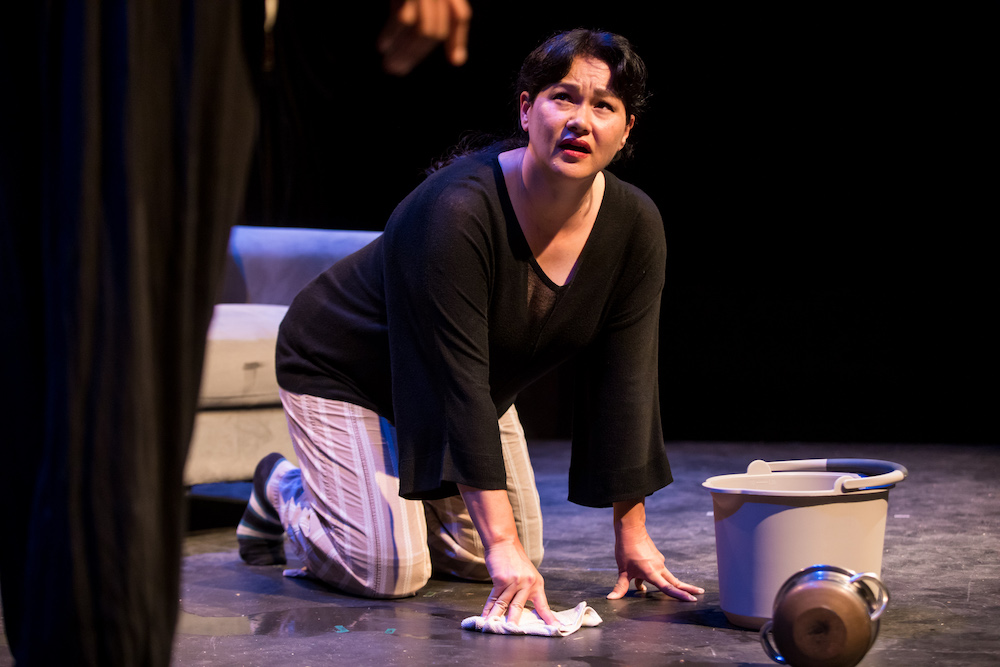 The former piece loses it way at the end when it becomes a surreal parody of European romance films, as if it were trying to distract us rather than actually drawing a conclusion. The Floater and Interventions are both funny, but Asian identity doesn't explicitly figure into either one. Ultimately, the entire show is a bit like PCSF's annual "Scheherazade" collection of shorts: unified by status if not theme. The direction is pretty sturdy, the acting much the same (though Vankipuram seems to be stretched too thin by playing so many characters), and Randy Wong-Westbrooke's celestial set (with lighting and projections by Spenser Matabang) make ample use of spartan resources. Still, they all make for pieces, rather than a cohesive whole.
Seeing the show on opening weekend, I was part of a "small-but-mighty" crowd at the Live Oak. The venue still requires vaccines and masks, and CO² readings on my Aranet4 never got much higher than 650 to 700ppm over the course of a 90-minute run time.
"Evolution" is sort of like a theatrical sizzle reel for Ferocious Lotus. It's as if they wanted to sell themselves as being "up for anything" in terms of the sort of Asian and Asian American stories they wish to tell. Nothing wrong with that, it just feels disjointed. Hopefully, it won't be too long before the company stages a proper show to demonstrate how they operate at full speed.
EVOLUTION runs through September 25 at the Live Oak Theater, Berk. Tickets and info here.