During her recent stint as artist-in-residence at Chinatown gallery 41 Ross, Heesoo Kwon wanted to do what she could for people in Chinatown.
"I wanted to think about how to support the community and the economics there," she told 48hills. "People were suffering during the pandemic, so I wanted to give positive energy to the neighborhood."
Her work was noticed by the team at Kearny Street Workshop, who invited Kwon to be a featured artist in the organization's multidisciplinary arts festival APAture, which runs Sat/8 through October 30. The theme of its 50th year celebration is "autonomy," a core principle at Kearny Street, which is one of the oldest Asian Pacific American arts organizations in the country.
The festival seems to be a perfect fit for Kwon, who interviewed residents and small business owners as part of her work with 41 Ross, touching on subjects of neighborhood life and immigration. She archived their narratives, and did some 3D models of businesses in the neighborhood. Another part of her residency, which ran from March to June of this year, involved putting together pop-up exhibitions in the gallery, such as one for people in the Korean diaspora.
"I invited friends and the new friends I had met during the residency," Kwon said. "We celebrated their art and cooked some Korean food. We had tattoo artists, because tattoos are related to my work. I use molting or shedding to become new bodies for my 3D avatars of my ancestors."
Kwon has a remarkable background. She won an award for "Female Inventor of the Year" from the Korean Intellectual Property Office in 2012, earned a 2015 business degree from a women's college in Seoul, and is currently working as an artist-curator at the Chinese Cultural Center. She says she began to make art as an effort to shed a patriarchal and misogynist society, receiving her MFA from the University of California, Berkeley in 2019. Her work has been exhibited both nationally and internationally. She even started her own feminist religion, which she dubbed Leymusoom.
Delaney Chieyen Holton, a PhD candidate in art history at Stanford, thinks Kwon's work fits with the idea of autonomy. Holton is a member of KSW's general planning committee, and serves on the visual arts and film committees for the festival. They heard about Kwon's work from others on the planning committee and went to see Kwon's show that is currently at re.riddle gallery, "Mago Leymusoom" (the exhibition's inspiration is described in press materials as "where investigation of ancestral healing, queer bodies and the metaverse converge.")
"Leymusoom, her religious and spiritual practice, is in line with our theme," Holton said. "I see it as a way of having control and reworking past lives and memories."
For the APAture festival, a video of Kwon's that was in the Chinese Culture Center's 2021 show "WOMEN我們: From Her to Here," will be on display at the Arc Gallery.
Holton says this piece, called "Leymusoom Bridge," works with another principle of the KSW: abundance.
"That resonates, thinking about Heesoo's video," Holton said. "There's this heartbeat audio, and it's oddly comforting. It's a very welcoming work."
Holton said she knew about KSW's longstanding reputation, of which she wanted to form part. She says working with APAture has been a great experience, and she plans to stay involved in the organization.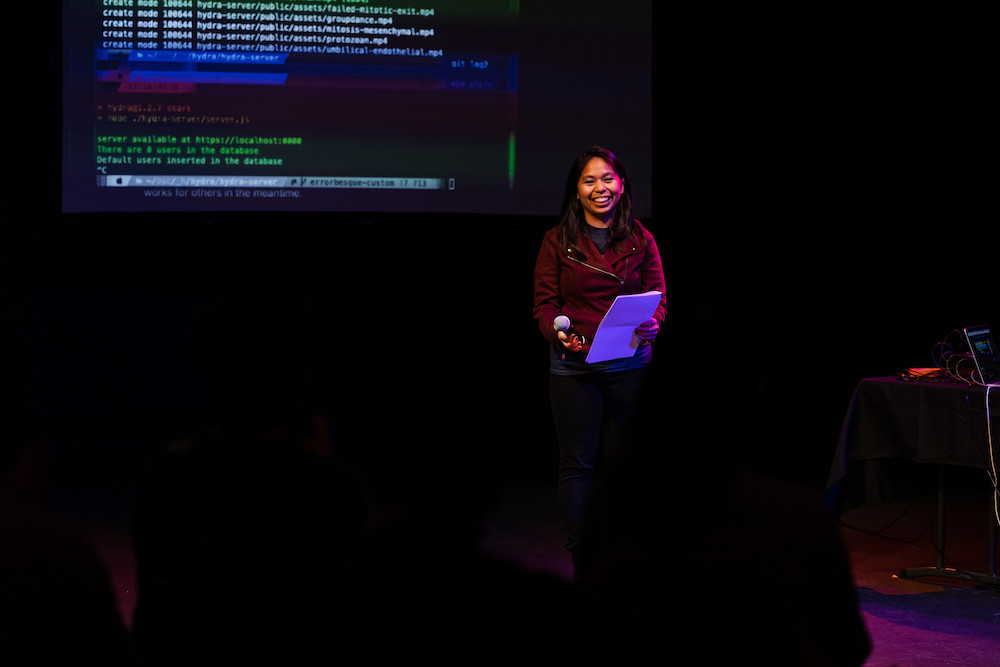 Another enthusiastic member of the KSW community, poet and dancer Dawn Angelicca Barcelona, was also on the planning committee for APAture. She subscribed to the group's newsletter, and saw that Kearny Street Workshop was looking for volunteers for a community reading. She signed up, and went on to get involved with both the 2021 and 2022 editions of APAture.
"I could tell they had it all together," she said. "I enjoyed the experience and it helped with isolation during the pandemic. We met every other Sunday for a couple months, and then weekly when it got closer. We really bonded."
This year the festival's featured artists include Kwon, Christine No in literary arts, Rocky G in music, and Pallavi Somusetty for film.
APATURE runs Sat/8 through October 30. Various venues, SF. Opening and closing ceremonies at Arc Gallery are free. Tickets and more info here.