I honestly thought I'd never see this show. NCTC used to have some of the best COVID safety measures of any theatre: vax checks that included QR code-scanning; reduced "checkered" seating; omnipresent masking everywhere outside the bar or the stage proper. It was a bit of a shock to show up for their last show and find all those measures removed, with only a mention of masks as being "encouraged". I instantly knew that I'd be missing out on their opening nights from here on out, but I did take notice of the one-night "enhanced safety performance" listed in the press release.
I went to that performance for this show. Check-in included all the vax checking and reduced seating that they'd done so well before now. When people walked out of the bar, where masks are allowed off for consumption, staff members chastised them for not putting their masks back on—which they then did. It's further proof that COVID safety measures, especially when backed up by public awareness and enforcement, do work. With the winter surge having already begun, one hopes NCTC and other lapsed companies restore those life-saving measures. (The 90-minute show was in the intimate Walker theatre with a masked audience of 11, not counting myself. CO² levels on my Aranet4 peaked around 1022ppm before dropping to the mid-700s.)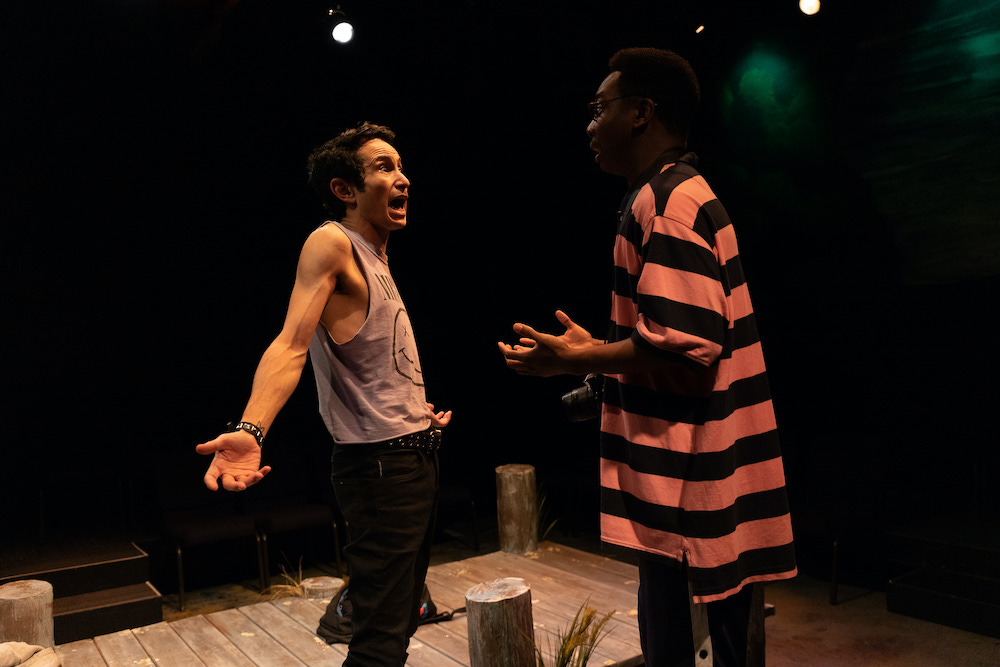 But I digress. I was, after all, there to see a show. The show in question being the world premiere run of Nick Malakhow's A Picture of Two Boys (through Sun/27.) Not being familiar with Malakhow's work, I had no expectations to carry in with me. Still, it didn't help that the script, though addressing a serious topic, feels like it covers well-worn territory.
One a seaside dock in rural Pennsylvania, nerdy Black high schooler Marcus (Leon Jones) is taking photos as part of an extracurricular-booster for his transcripts. He's soon joined by his Latino best friend Peter (Tim Garcia), a track athlete with a habit of frequently getting inebriated with his redneck friends. The thought of Marcus graduating a year early and leaving for college doesn't sit too well with Peter, who'd suddenly be the only POC kid left amongst their good ol' boy classmates. What's more, Peter would be left all alone with the trauma created by their sexually abusive coach, who's still on staff at the school.
Cut to 10 years later, and Marcus has well-paying financial job. He returns to the dock he loved in his youth for a catharsis: he wants to finally destroy the last remnant of his past pain. It turns out to be harder to do than he thought, especially when Peter unexpectedly shows up, having never left the town in the first place. He also never forgot what happened to them, nor will he leave until sees Marcus finally come to terms with it.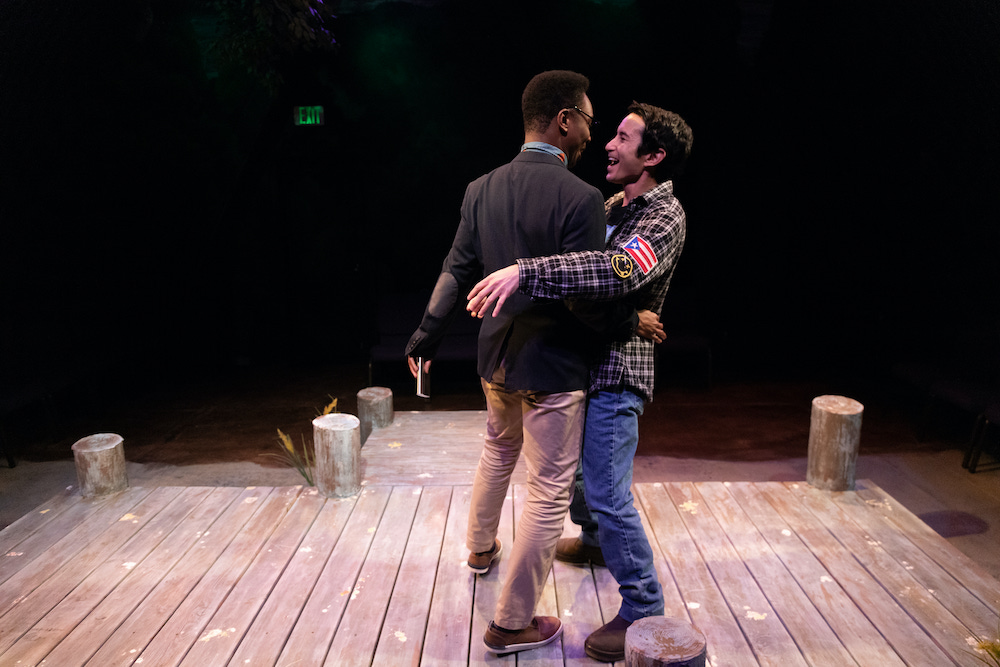 The biggest problem with A Picture of Two Boys is that it never finds its own way out of the conventions and tropes of its genre. The production will feel familiar to anyone who seen or read a story about how "you can't go home again" and past traumas slowly being revealed.
There's always a place for those stories, especially from the perspective of marginalized peoples, but Malakhow (of Afro Latinx and Ukrainian descent) never distinguishes himself or his characters. Despite bringing up how the Black Marcus and Latino Peter are the only BIPOC kids at their school, the topic of race is brought up so rarely that one could probably remove those allusions, insert two white actors, and not lose anything in doing so. Also, Malakhow doesn't really shade in the personality traits of his duo, other than descriptors that appear to conflict with what we see. For instance, we're told that Peter runs track and is an aspiring musician, but there's nothing about him that we see other than his being the teen drinker who lacks focus. Marcus is said to be a writer, but nothing about him suggests that either. It's not that teens can't have multiple interests, but nothing about those interests is ever really shown to us through performance or body language.
It's to the play's credit that it draws a clear line between queerness and sexual abuse, with Marcus explicitly stating the difference in the play's latter-half. Yet, we also never get any real idea for the duo's sexual identities (queer or otherwise) outside of the abuse. Mind you, they're processing trauma, but we never get any hold on what relationships (platonic or otherwise) the two have away from each other, save for Peter living with his mother. In fact, the youthful scenes show that our duo are clearly attracted to one another, but Marcus in particular is hesitant to act on it. Again, with full acknowledgement to the abuse they've suffered, we miss another opportunity to truly know who these two are.
Director Richard Mosqueda stages the action well on Micaela Sinclair's intimate set, formed into a round. The detailed wooden dock, with its real and faux fauna and rocks, blends together nicely with the forest-based set paintings on the walls. Corrida Carr's costumes are clearly what was referenced in the script, but they do make me wonder when the story takes place? Peter's Nirvana gear might suggest the '90s, but the teens mention "emo", which was a 2000s term. Plus, Marcus uses a high-end analogue camera and neither of the boys has a mobile phone, yet the decade-later portion seems as if it's meant to be today, which feels disjointed.
A Picture of Two Boys serves as a reminder that the urge to tackle an important topic isn't enough; you have to address it correctly. The play has a wonderful amount of sympathy for its two leads, but never gets a firm grasp on who they are as human beings, which is all the more important when covering abuse. And though I applaud NCTC for creating a safe place to tell these stories, I wish they'd go back to providing a safe place to watch them live all season.
A PICTURE OF TWO BOYS world premiere runs through Sun/27 at the New Conservatory Theatre Center, SF. Tickets and more info here.