There are supernatural elements in Nikyatu Jusu's Sundance Grand Jury prize-winning debut feature, Nanny, as she works the African water spirit Mami Wata and Anansi, a trickster spider, into her narrative. But the most terrifying element of this low-key horror film is simply the situation that the titular caregiver, Aisha (Anna Diop), finds herself in when she takes a job caring for the child of a pair of progressive New Yorkers (Michelle Monaghan, Morgan Spector) who are not as benign as they first seem. She needs the work to survive and to bring her own child to the States, but as an undocumented immigrant from Senegal, she is at the mercy of her employers' whim and subject to their growing hostility.
"My mother was a caregiver, on people's death beds," Jusu said during a visit to the Bay Area where she was a recipient of a Spotlight presentation at the Mill Valley Film Festival. 
"Caregiving, domestic work, is a job that is the most accessible form of labor for immigrant women, for Black and Brown women. I'm just hyper-aware of these women at all times. And it's interesting to me that we live in a society that makes them invisible even though they're upholding society essentially. If every domestic worker stopped working tomorrow, a lot of people's lives would fall apart in this capitalistic system. I think it's just part and parcel to our society functioning, and yet it's one of the most undervalued forms of work."
Jusu worked on her script off and on for eight years. She got her MFA at NYU's Tisch School of the Arts, where she received a Spike Lee Fellowship Award. And in the neighborhood surrounding the university, she was reminded of the story she was writing every day as she watched mostly Black and Brown nannies pushing strollers containing mostly white children. She paused writing the screenplay sometimes to work on other projects, and occasionally doubted herself, but eventually pushed through to finish it, rewarded initially when it was named to the 2019 Black List of best unproduced scripts. That is where Diop, whose own mother was a domestic worker, first encountered it.
"The entire industry was abuzz about this script," Diop said. "Everyone was talking about it; everyone was excited about it. And when it finally landed in my inbox and I got to read it, I knew exactly why and I was so prayerful and hopeful that she would cast me in this because the story was deeply personal to me. When I first read the character wasn't necessarily Senegalese—Niki changed it, because I am Senegalese—but it was a West African woman. It was a woman that was a mother; it was a woman that was an immigrant. And all of these parallels to my own mother's life were so personal to me.
"It was a dream that she allowed me to play Aisha, because I've always wanted to tell my mother's story because she's my hero. Niki's own mother is a phenomenal woman, a brilliant woman who came to the States and had to do this work in order to survive and make ends meet.. These women I've always known and they are my heroes. And so, I was honored to, to be able to bring them to life in this way."
The supernatural elements in Nanny were also vital to the story that Jusu wanted to tell. Mama Wati and Anansi are rooted in Africa but traveled to the Americas long ago.
"Nothing about my gaze in this world is standard, so nothing about the way that I see the world, I don't think, has been really reflected on the screen in America," Jusu says. "We're a nation of immigrants, we're a nation of this confluence of intersections of being both Black, being from another nation. I don't think Black immigrants in particular are showcased a lot on the screen. And so, I knew that I wanted to incorporate our folklore into the horror genre in the American paradigm, but it's not something that's foreign to America. These figures are figures of resistance that came with enslaved people to this nation.
"More superficially, Guillermo del Toro, I love his creatures, his approach to creature creation," she adds. "And I knew that a mermaid and a spider would be more identifiable figures for American, whether they knew about Anansi or they knew about Mami Wata or not. On a visual level, they're creatures that we recognize. And so those were the elements that I wanted to play with."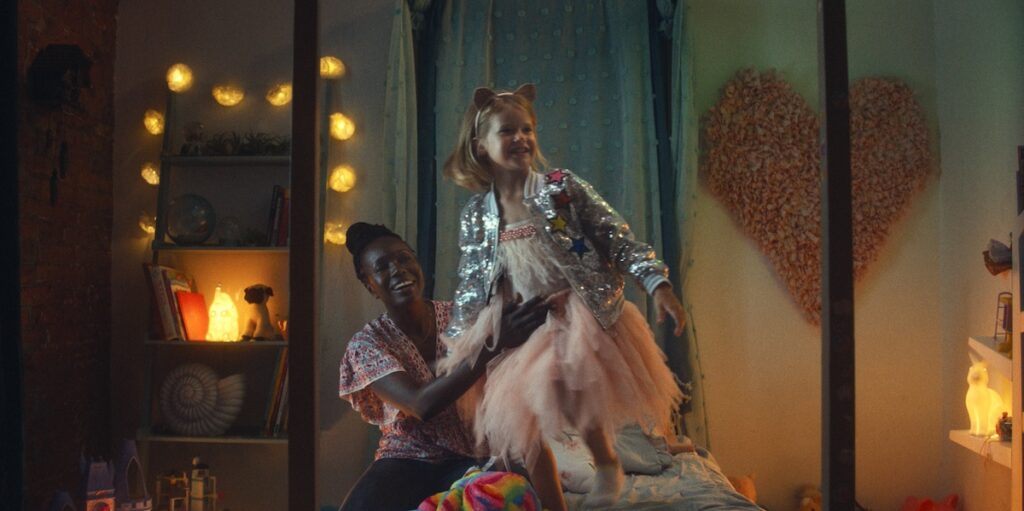 Nanny has won multiple awards since its debut in January at the Sundance Film Festival, among them a Best Feature Film prize at the Denver International Film Festival, a Rising Star Award for Diop at the Chicago International Film Festival, and Future/Now Award for Jusu at the Montclair Film Festival. Next year, Jusu will be competing for the Someone to Watch Award at the Film Independent Spirit Awards. As lovely as all that acclaim is, there are more personal reactions that have delighted the filmmaker and her actor: those of their mothers.
"My mother was very moved," Diop says. "We are not used to seeing ourselves on screen. So, it was a rare experience for her to witness a character on screen that had so many parallels to her life. She told me it took her back to that time when she first came to the States. And it's a confusing time. It's a lonely time. Thankfully, I was with her, unlike Aisha, who had to leave her son behind. But it's a daunting and haunting experience and she said it just so reminded her of that time in her life."
"My mom, she saw every cut," laughs Jusu. "She's seen every edit. She has never gotten tired of seeing it, and we just had a screening in London and she says she cried like a baby again watching it on that screen. It just feels good to immortalize our mothers' sacrifices to the screen. You know? I feel like if I never make another film again, I've done what I came here to do."
NANNY opens in Bay Area theaters Fri/2. It begins streaming on Amazon Prime on Friday, December 16.