With SOMArts show "The Indigo Project" (Fri/9-February 5)—which tells stories about the African Diaspora with indigo, denim, and cotton—Bushmama Africa is clear on what she wants.
"With the everyday, run-of-the-mill African American who has their jeans on, I want them to look down and say, 'This is my royalty, this is my lineage,'" Africa said. "I want people to go away knowing we are not forgotten, and this is what we brought to the table."
Africa has been part of group shows at SOMArts before, like "The Black Woman is God." She and co-curator Isha Rosemond, founder of the Black Freedom Fellowship, successfully applied for the curatorial residency there to put on this show.
Africa says she got the idea for The Indigo Project when she was in New Orleans in 2017. Her vision for what to do was clear, she says: She calls it "a spiritual assignment."
"I needed to figure out the thread between indigo and denim and cotton and how it relates to Africa," she said. "Not just the industries themselves but the people who worked in them in a celebratory way to honor them."
Rosemond was interested in finding out about indigo and its history in Asia, parts of South America, and particularly in West Africa.
"Early dynasties in Nigeria wore indigo as a royal cloth, and women created designs so you could tell where the wearer was from," they said. "We wanted to bring forward some of the stories of Africans first stolen industry."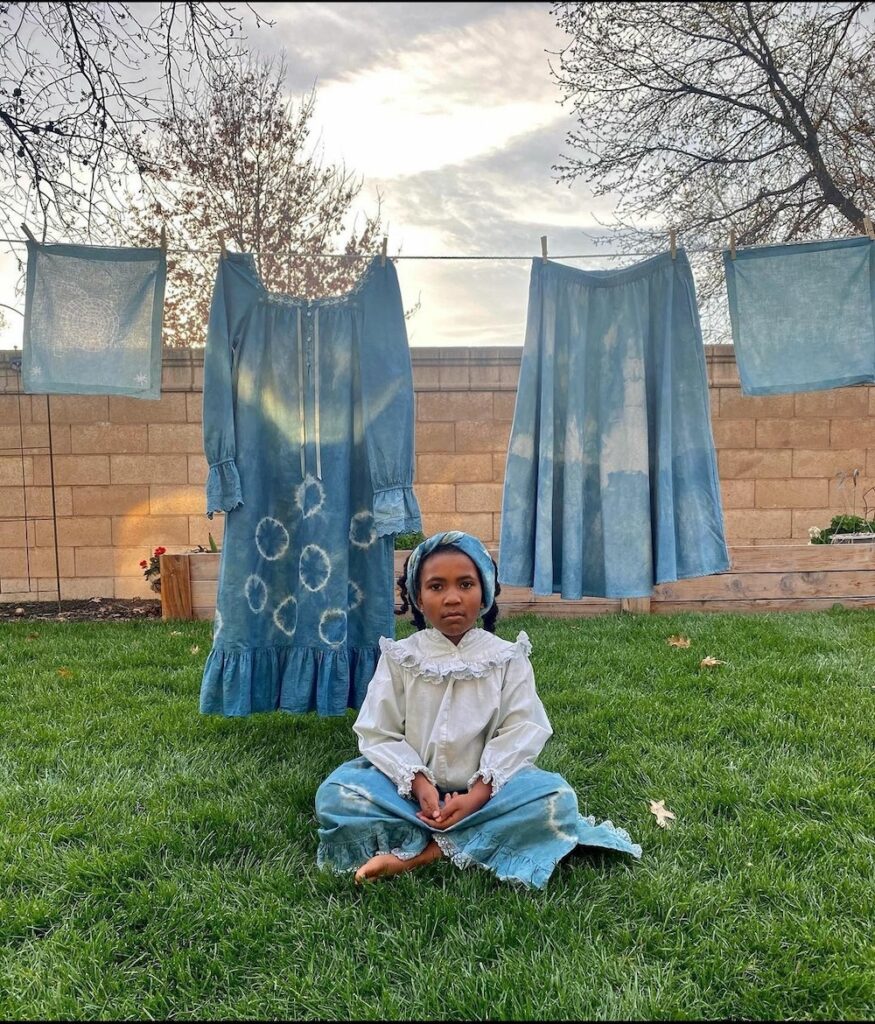 Those stories are in danger of being forgotten, Rosemond said.
"If you look at "indigo dyeing" on YouTube, the majority of faces you see will be white," they said. "We are trying to let people know part of our history."
Both say the show came together easily and all the artists they wanted to be part of it are. They include Oakland artists Bryan Keith Thomas and Abayomi Anli, (who was also part of the "Black Woman is God" show), and Stephen Hamilton, who lives in Boston.
Africa is excited about the participants in the show.
Anli's work in the show consists of intergenerational photos of people wearing garments that were worn on plantations, and represents the post-colonial contribution, Africa says.
Thomas "does a lot of assemblage and uses old images, and his work is rich and ornate," she said. "He crystalizes a period we wanted to showcase with style and grace.
Hamilton, a PhD student at Harvard, works with dying, weaving, painting, and wood carving as well as indigo.
"He went to West Africa and learned how to dye indigo," Africa said. "He paints people like dignitaries and his work was the pre-colonial contribution."
INDIGO PROJECT runs Sat/10 through February 5, 2023, at SOMArts, SF. A Denim Camp takes place on Saturday, January 14, led by Rosemond and Africa, open to all ages, where participants can bring denim to upcycle, and on Thursday, February 2 there will be an "Ancestral Reverence Revival" panel held with artists in the show, led by the curators.