Exploring contrasts in color, light, and shadow, Berkeley painter Sonia Gill elevates everyday objects to meaningful metaphor.
"I am raising the mundane to the marvelous," Gill told 48hills.
Growing up in Whitefish Bay, Wisconsin, a suburb north of Milwaukee, Gill knew she was a creative. Many people tried to deny her that dream. When she told her mother, Mom said, "We have one in the family already." (Her uncle was a well-known and respected actor.) Gill responded with an obedient "OK."
Outside the home, she ran into even more lack of faith.
"I attended classes on Saturdays at the local art school, but the teachers were very discouraging, and teachers at my public school did not recognize me," Gill said.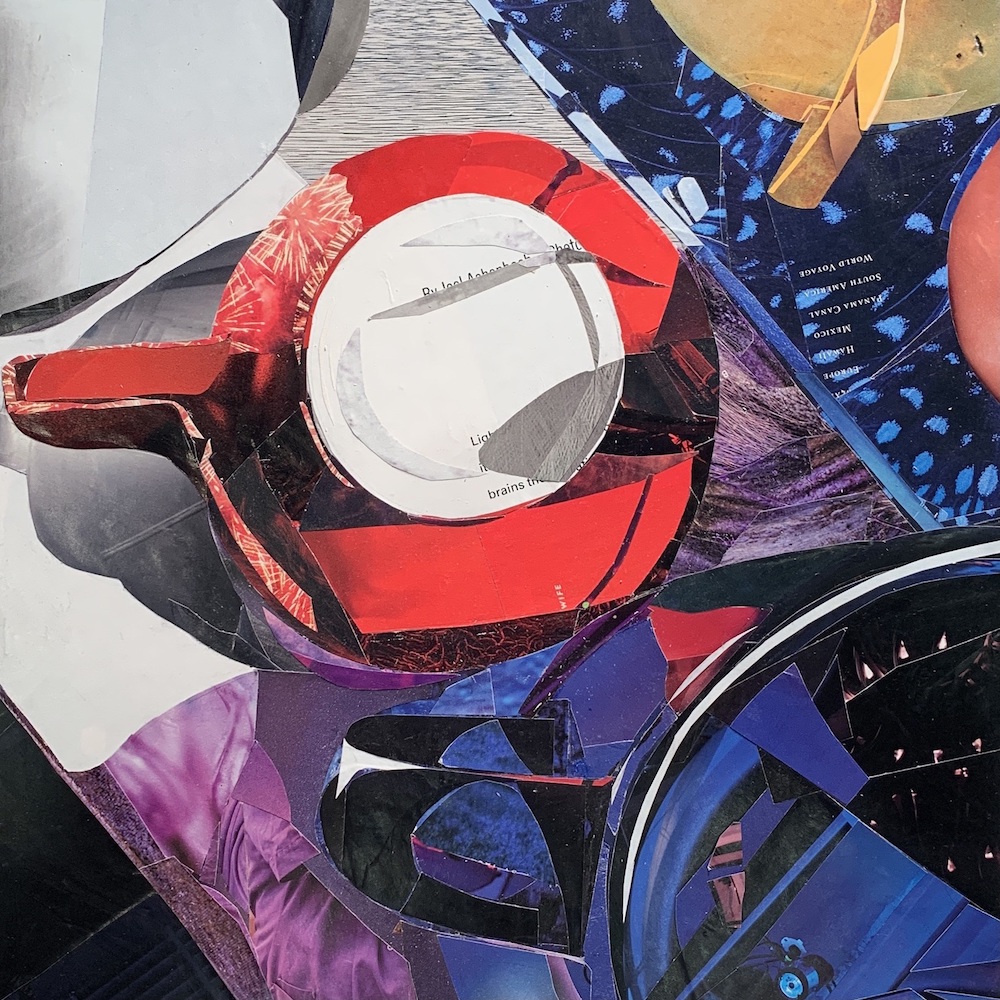 She attended the University of WI-Madison, but would eventually graduate from Michigan State with a bachelor's and master's in French. She had longed to live in California since first visiting the state in 1960 for a family reunion. Meeting cousins in Kensington and Berkeley, Gill felt like she had landed in another country. It would take another 15 years to return to California, but finally she made it. Gill came to San Francisco in 1974 from Baltimore, ostensibly to reconcile with her then-husband, who was pursuing a post-doctoral degree at UC San Francisco. It didn't work out with him, but she stayed in town anyway, finding a one-room apartment that felt a world apart from her former life. 
"I tried to figure out when I had last been comfortable in my skin, and I went back to five years old!" Gill said. "And what did I like to do at five? Sit quietly and draw."
She went to the dime store, bought some colored pencils and paper, started drawing the things around her room. A young art student from Maryland Institute College of Art (MICA) she had connected with while living in Baltimore tracked her down and eventually, the two started a life together.
"He turned me on to so much that he had learned in art school," Gill said. "I felt so relieved. I could finally breathe again. I found myself: I am an artist."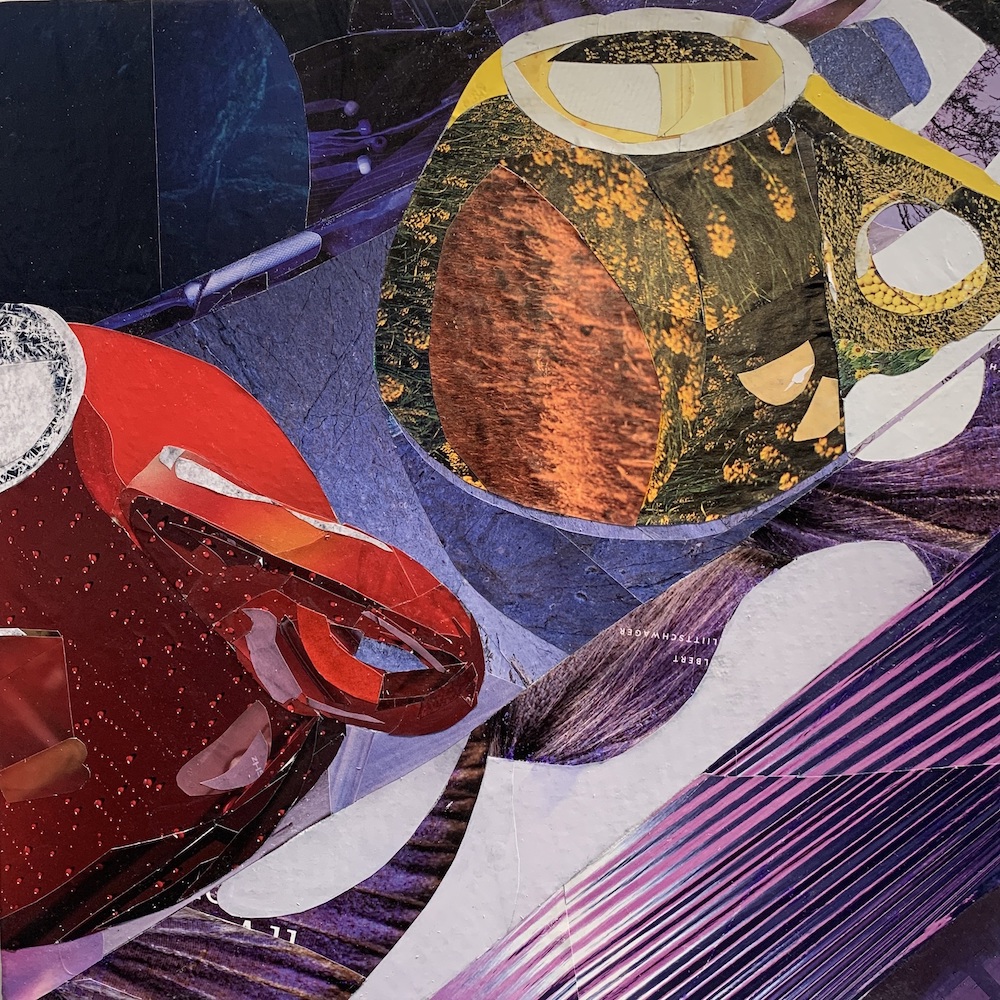 She completed her BFA in 1980 at California College of the Arts (formerly CCAC), deepening her epiphany. She now lives in the McGee/Spaulding neighborhood of Berkeley, within walking distance of downtown and her West Berkeley studio. She also maintains a home and studio in Mendocino County's Yorkville.
Gill is greatly inspired by her family: her husband of 40 years (that art student from MICA), their son, their dog, and two homes. She feels lucky to live with people with whom she shares mutual love and understanding, including their extended family, from her two-year-old great-nephew to her 95-year-old aunt.
Describing her work and herself as intimate, generous, and determined, Gill said another real inspiration is her freedom to choose. She is aware that the ability to live as she likes, with whom she wants, and to create art are privileges not granted to everyone.
"Years of therapy and hard work have created a nurturing environment," she said. "It has taken me a very long time to take my personal power back. Although I continue to work on this daily, I am worlds away from that small girl who said, 'OK, I will not be an artist' to my mother."
Gill arrives at her studio most often in the late afternoon, and works into the evening. The space she found ten years ago is long and narrow, just under 700 square feet, with three skylights in 20-foot ceilings.
Once inside, Gill busies herself with collage, watercolor, and oil paintings simultaneously. Though she has a library of art and technique books that she references often, it is important to Gill to paint what she loves. For the past several years, that subject has been the cups and bowls that she has collected over a long period of time.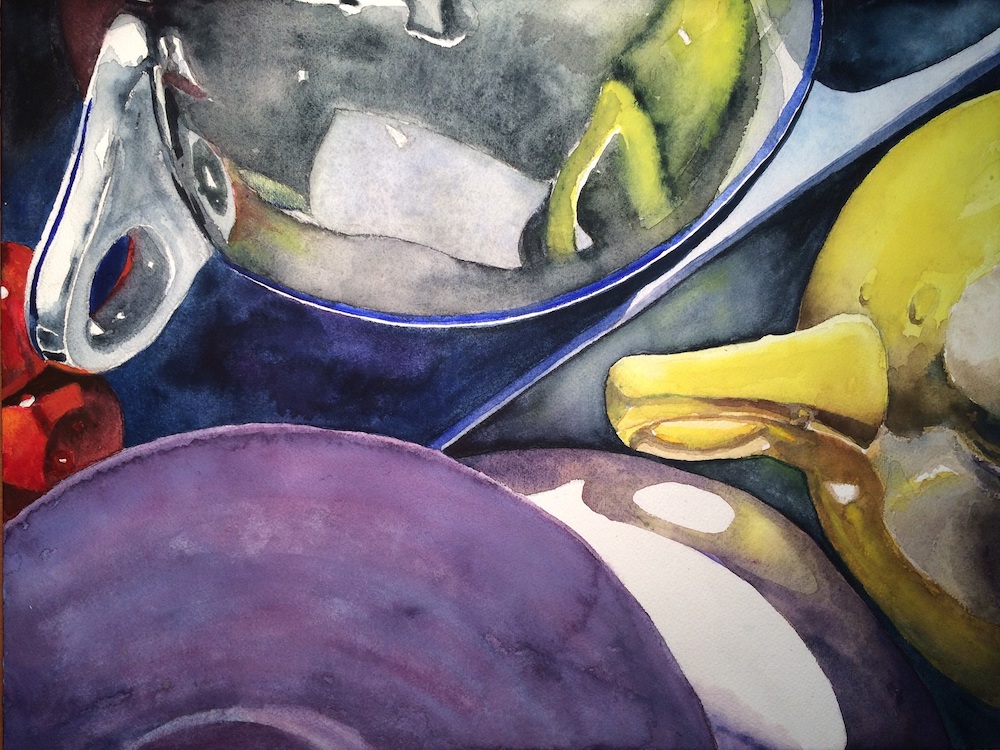 "I am not just painting my dishes," she said. "I am painting the light that creates shadows and reflections between the dishes. Together these elements make a statement full of healing, wonder, and passion that I want to share."
Her precise compositions locate a wildness within gathered objects drying by the sink, things that have been chosen for specific reasons: shape, color, uniqueness, or a memory that they hold. These prosaic household effects become metaphors for the people and sacred moments in her life.
Gill is fascinated by the parallels that are created through each object's proximity to another, and their reflections and distortions that she discovers as she paints. These discoveries are often revealed in her titles: "A Good Marriage," "Queen For Today," and "I Can See Myself In Your Shine," for a few examples.
But there is more to her art than things. Gill speaks of our "outrageously volatile times," which are constantly on her mind and, while not represented literally in her work, are expressed in the heightened contrasts of her pieces.
"Watching the political games of the previous American president and experiencing the increased racism, misogyny, and xenophobia he has stirred up has only made me dig deeper for compositions that are intended to heal," Gill said.
Also reflected in her approach is her daily practice of Tai Chi Chuan, her love of needlecraft, and of caring for the orchards of her Yorkville home. She has also been a teacher of art and French for over four decades.
Gill's new work is a series of 12-inch-by-12-inch collage paper paintings. She utilizes magazines to find color, value, and pattern for its palette. She loves the challenge of avoiding the printed image and text, choosing to use such fragments in a purely aesthetic manner.
As a member of the Gearbox Gallery collective in Oakland since January 2022, Gill was part of a two-person show this past summer, and her work can be seen at various juried shows around the Bay Area. In 2020, she showed work at Artifact Gallery and was represented online in the "Collage Biennial" exhibit at Denise Bibro Fine Art Gallery, both of which spaces are located in New York.
Gill's work is an active meditation on the simple object as sacred messenger. It is her hope that viewers will find an island of peace and comfort in her work, and seek deeper meaning within the images. And they do. She said she has been told that people see much more than still life and that the artwork changes as they live with it.
"I love that," she said. "Perhaps it is that they change, but always find something new within my work. Whatever it is, I am delighted."
For more information, visit her website at soniagill.com and on Instagram @soniagillstudio.