"For us it was a chance basically to build bridges," said curator Meghan Smith on a walkthrough of "as you summon other worlds" at Minnesota Street Project through January 28.
"Not only between the disciplines at California College of the Arts," she continued. "But also between the years, to have an intergenerational dialogue as well as dialogues between mediums."
Such linkages are apparent, beginning in the atrium of 1275 Minnesota Street. There stands an installation called "Entidades del Mundo," one of what silk painter Florencia Montefalcone calls her "genderful figures." The work is surrounded by serpentine stones by the show's other two co-curators Charles Lee and Claire Dunn dubbed "Piedras del Mundo," which reflect the four cardinal directions.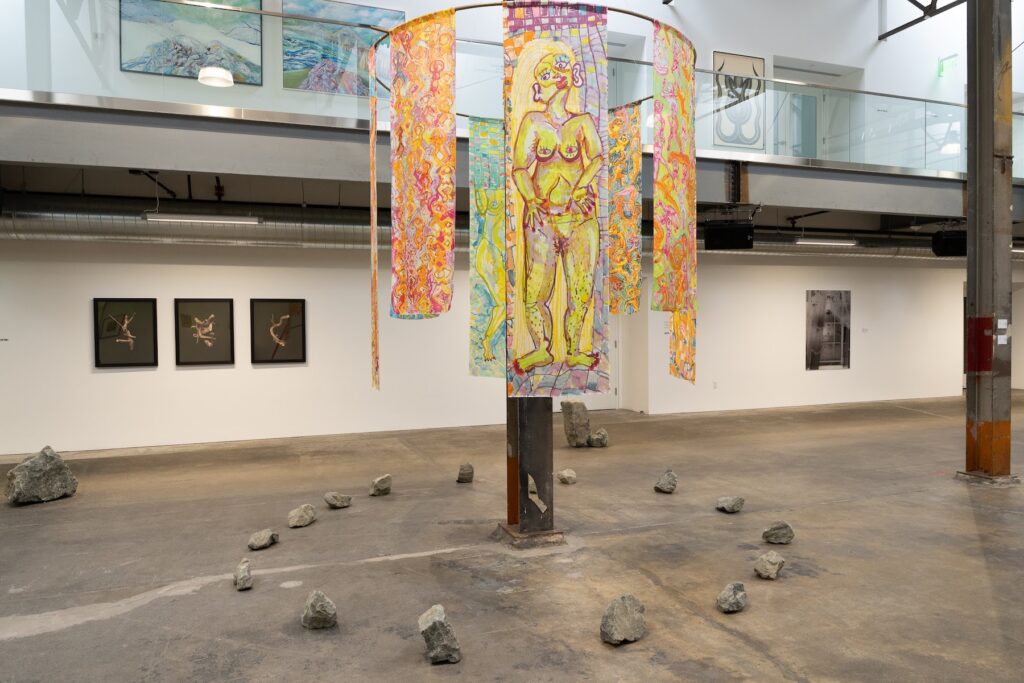 Inside one gallery, Bryan Keith Thomas' "Beloved" takes up an entire wall to form a sort-of altar to Blackness and the ancestors, with Dunn's "All cyclical, nothing dies" mirroring it on the wall across the across the room with found objects from her travels, leaves, beads, and bark. Shao Feng Hsu's "Night Swimming" series also hangs in this gallery, with its photograms of exhaled bubbles of air. They were made when the artist held his breath underwater, then blew out, and used a flash to make exposures onto light-sensitive paper.
In another gallery, Trina Michelle Robinson's short multichannel video "Encoded" plays, showing moments related to her ancestry from Ohio to Kentucky to Senegal.
The theme of the exhibition is the idea of a portal—both literally, as the artists thought about their next steps and transitions, as well as metaphysically. The idea came about from a shared interest in the spiritual, stone circles, ceremonies, and honoring ancestors and the earth. Graduates, faculty members, and MFA students from the California School of the Arts were invited to participate, largely by Lee, and the show's works were created over the past year.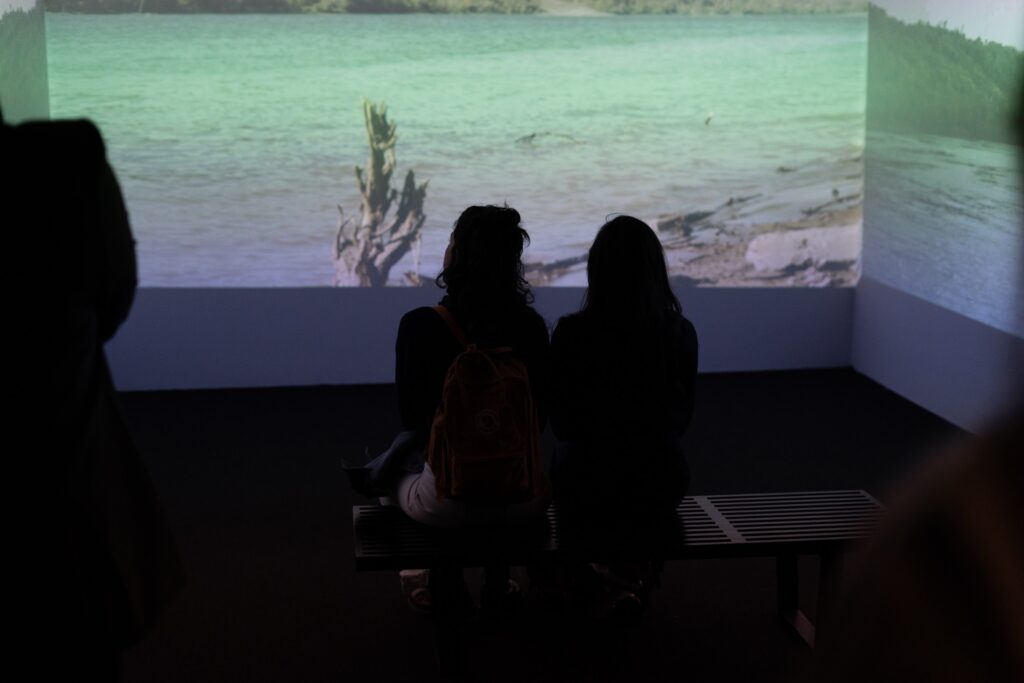 "The sub-themes that started to emerge from that concept of a portal were, I would say, time, ancestry, and changes from one state to the next—a metamorphosis in some way," said Smith.
A big part of what they wanted to do with the show was create community, Lee told 48hills on a video call with Dunn. The "portal" theme left the interdisciplinary artists who were involved considering boundaries, and how to get rid of them.
The process of putting together the exhibition has been confidence-building for Lee, who said that other art professionals like artists Leila Weefur and Sam Vernon have been particularly helpful.
"In the community that I'm familiar with, they do not gatekeep," said Lee.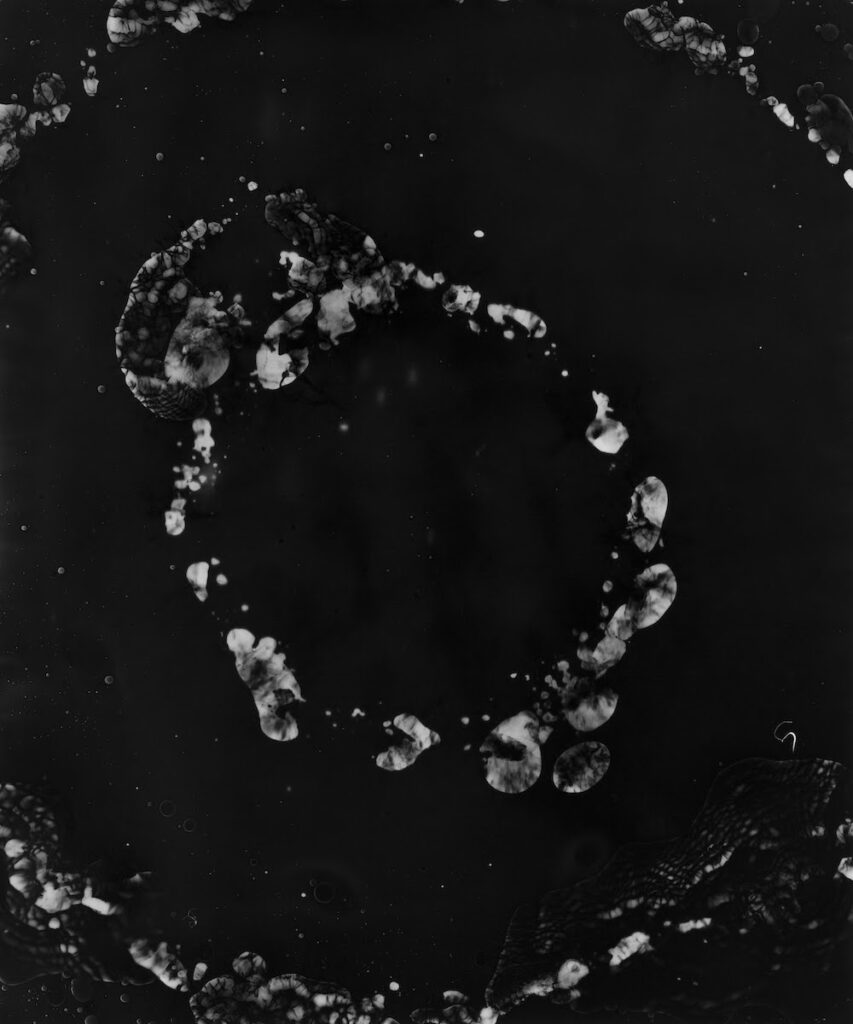 Dunn said the team had a mission to elevate work from a diversity of artists.
"Many times, it's like Black art, or Latino art, and categorized by ethnicity," said Dunn who is from Argentina. "We just wanted to bring a theme and a question and people from different cultures and all over the world. What do they think about it? What's their vision? What is the portal for them?"
They didn't see most of the work in the show until it was installed, but they're both pleased with the exhibition's reception.
"I'm very excited about the feeling that the show transmits," Dunn said. "People are feeling that they are transported somewhere."
AS YOU SUMMON OTHER WORLDS through January 28 at Minnesota Street Project, 1275 Minnesota Street, SF. More info here.