It was announced last week that Tommy Guerrero, Spellling, and Chime School have been added to the second phase lineup of the 30th anniversary edition of Noise Pop, the week-long, citywide festival that hits like a damn crosstown hands-in-the-air music party.
When I first started covering Noise Pop in 2020, I encountered a representative from the next wave of San Francisco bands at a Saturday night show at The Chapel, the Mission's epicenter for divine and independent music. The act I saw was part of a group of upstart ensembles who would go on to define the region's guitar-driven sound at the opening of this decade. Seablite, a quartet whose sound is the union of fuzz ax and ethereal, catchy melodies, quickly conquered the stage and our hearts that evening. The group rendered me and my squad of music specialists, dazed.
I don't even remember who we had originally set out to see; Seablite had found us.
The band served as my gateway to a variety of other upstarts who were transforming neighborhood clubs in the city with paisley-to-punkish, melancholy jangle-bliss that has now traveled around the world and back to Valencia Street.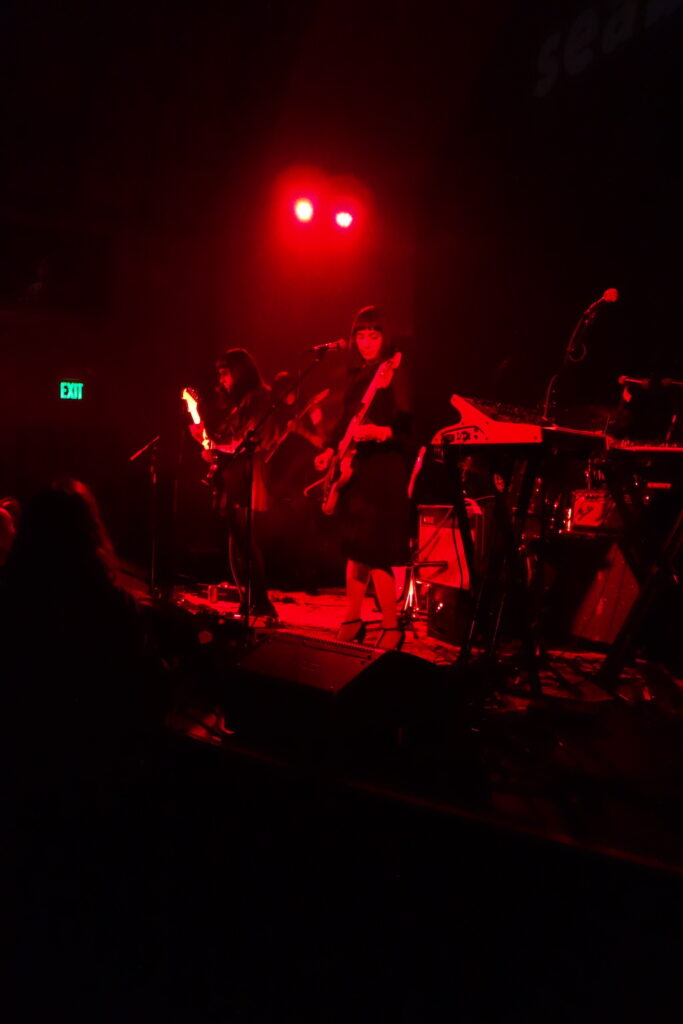 Two years later after my fated first sighting, Seablite drummer-percussionist Andy Pastalaniec was fronting his own band Chime School, which he formed on a bet from his girlfriend at yet another Noise Pop showcase. This time, the action took place at the venue that has been deemed by Rolling Stone as the best place to hear live music in San Francisco, Bottom of The Hill. Pastalaniec, with an expertly coiffed hairdo and a spiffy Rickenbacker guitar, proceeded to make the capacity crowd swoon to treacly dream-pop melodies.
Joining Chime School on the Noise Pop lineup this year are alt legends Yo La Tengo, Bob Mould, San Jose's resurrected '90s group Duster, and international acts Yu Su, Junglepussy, and Jacques Greene. Let's not forget that when this year's phase one announcement broke, we highlighted its inclusion of San Francisco band No Vacation and East Bay breakout quartet Fake Fruit. Bay Area musicians Madeline Kenney, The Reds Pinks & Purples, and Maria BC have now also been selected to perform at the all-encompassing full week of music concerts, art shows, film screenings, happy hours, and secret after-hour parties this February. Another debut on this year's festival lineup comes from local favorite The #HellaFunny Comedy Night showcase.
You can grab tickets and gaze at the full line-up here.
"It's great to be included in Noise Pop for the second year in a row," stated Pastalaniec via email to 48hills. "Last year was special; Chime School was a brand new project with a new record out, and our Noise Pop show was just my second show performing with a band. It gave us a little springboard for sure. Noise Pop exists for touring bands of course, so despite the fact that you have to squint to see some of our band names on the poster, it's cool to see us and some of our friends included, such as Reds, Pinks & Purples, and Aluminum, among the list of Bay artists."
Here's some additional local acts at this year's Noise Pop who are worth your time:
MARIA BC AT RICKSHAW STOP, FEBRUARY 21
The Ohio-born, Oakland-based musician creates heady, poignant music that expresses with the smallest of gestures. They recast the uncomplicated-yet-appealing ambient folk structures of their debut album Hyaline through doom metal, avant-garde pop, and darkwave techno on "The Hyaline Remixes" EP. Featuring a group of rising artists (No Home, Rachika Nayar, Nina Keith, Lucy Liyou, and Ragana), it sees Maria BC's compositions extended from the acoustic into other sonic frequencies. The project also led to a live tour date with Maria BC, Helado Negro, and Vagabon in New York City last year.
TOMMY GUERRERO AT THE CHAPEL, FEBRUARY 25
The San Francisco former pro skater, raised by his mother in the Inner Sunset, began playing music at the age of nine and skateboarding at 12. He prospered at both. A rare variety for sure, and one that permitted the entire Bay Area to watch him evolve through many phases over the past several decades since his career(s) launched in the 1980s.
Last February at Bottom of The Hill during his Noise Pop showcase, Guerrero, who claims he's a better bass player than a guitarist, ran a smoldering 90-minute set of what he identified as "groove music," which kept an intergenerational, culturally swirled well-wisher lot in a merry and at-times reckless state of optimism.
Folks were out here … acknowledging, and rightfully so, that cool-ass uncle-type energy. This year's performance at The Chapel promises to keep that same type of chi in motion.
The Turning Wheel is Chrystia Cabral's most extravagant album to date, and festival organizers were wise to book the consistently spellbinding artist to close out their 30th anniversary commemoration with high-flying panache.
Spellling has triumphantly created a celestially twisted, Fellini-risque pop masterpiece. The Turning Wheel arrives fully stocked, with amusement park house of haunted mirrors melodies to make you quiver, fleshed out by an ensemble of 31 collaborating musicians using an endless variety of vivid acoustic sounds.
Under the stoic GAMH rafters, where so many performances over the years have stunned audiences, this concert has the makings of high art on the grandest of scales.
See the entire Noise Pop 2023 lineup here.