Facilitators of Noise Pop Music and Arts Festival know the key to running a successful week-long bill of shows throughout the Bay Area, which extended this year to Santa Cruz and Sacramento, is quite similar to maintaining a long-standing intimate relationship.
You got to keep it Fresh… Baby.
And that's how it felt all over, February 24-March 1. The 2020 line-up packed the most diverse bill of acts, over 70 local, in the 28-year history of the fest. It felt like the experimental, techno-oriented SF Mutek let its presence be known—and Noise Pop refused to be dunked on by the upstart festival. That's good. Booking Shigeto, Mary Jane Coles, Washed Out, Jamilla Woods, Sudan Archives, and a host of others represent modernity challenging normcore. New forms of electronic music and leftfield artistry keep pushing the middle towards unexplored genre territory and out of the Vanilla ghetto. Thatʻs growth.
Established in 1993 with just one over-capacity show at the former Kennel Club on Divisadero Street (now the Independent) Noise Pop has featured early career performances by The White Stripes, Modest Mouse, Joanna Newsom, The Flaming Lips, Death Cab for Cutie, Grimes, and more. Itʻs the one thing this festival has consistently made its bones on: presenting tomorrow's stars, today. Consistency outruns trends, by a mile, and Noise Pop still knows how to pick em.
From the blistering punk-rock discharge of trio Sarchasm, who blew doors off at their Bender's Happy Hour performance Thursday, February 27. Matching swift anxiety with Beatles-inspired clarity, the alternative Berkeley punk band—eagerly awaiting the next System of a Down project—may just rumble up to Green Day status in the future.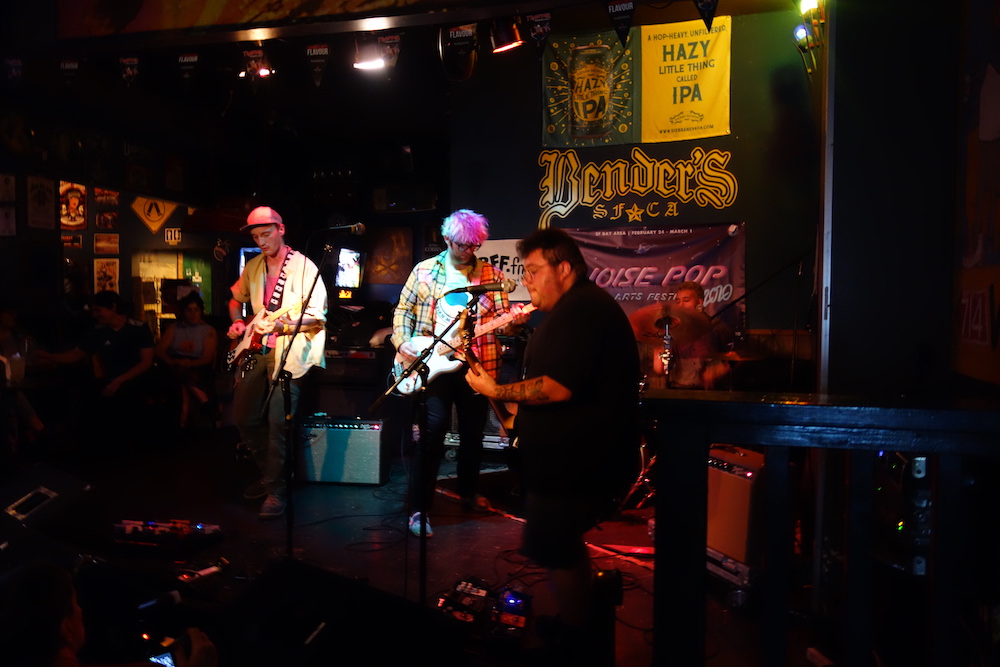 To the all-woman Brooklyn based project called Habibi—the brainchild of Detroit natives Rahill Jamalifard and Lenny Lynch—who added Erin Campbell on bass and Karen Isabel on drums in 2011. Itʻs a hard flex of Iggy Pop and Suzi Quatro posture. Punk frame of mind with Motown harmonies. They are a mood, for sure. At their headline performance at Bottom of The Hill this Saturday, February 29, high-energy '60s style garage rock emanated from their set, dominated by simple, catchy songs.
Helado Negro—the performing moniker of Roberto Carlos Lange—played to a full-capacity, multi-diverse, sold-out show at Great American Music Hall on the third night of the festival. Heʻs a celestial entity. An amalgam of acoustic and electronic music, with lingering ambient components. A mostly young, brown, queer, and gay crowd hung onto every finite gesture, every hand movement through his fully mushroomed afro, with the smoky blue light outlining his frame.
"Were gonna play the record we put out last year" was greeted to billows of cheering fans just waiting to be serenaded by the man they came to be swooned by. As soon as the mellow groove of "Please Wonʻt Please" arrived, varying couples toasted drinks with one another, privately kissed their partners admiringly on the cheek, and Lange turned the sold-out crowd into one giant cuddle puddle. Randomly asking a waitress how her night was going for the show nobody could get a ticket to, "The crowd is OK. Very nice people. Ainʻt nobody drinking. But they are really nice."
Yet it was his opening acts that gave the surprise. Angelica Garcia, handpicked by Helado Negro to open for him, grew up in a musical and multigenerational home, filled with ranchera music always playing. With Mexican and Salvadoran roots in the San Gabriel Valley, east of Los Angeles, Garcia's music is a "mental scrapbook" of her journey for listeners, and for herself, conveying the feeling of being split between two identities.
She opened her set by looping her voice into all the components needed for a song. Percussion. Harmony. Rhythm. As she delivered the lyrics, the hand gestures and energy propelled the crowd to shrieks of elation. In the first two minutes of her performance audience members immediately started pulling her up on their phones and nodding in agreement about this young ingenue—whose song "Jicama" was President Obamaʻs 2019 favorite song of the year—catching fire.
</center.
Tré Burt, the Sacramento/SF based artist—and recent signee to John Prine's Oh Boy label—came on the stage very nonchalant, with a raspy voice and bewildered-sounding way making statements like "Iʻm winging it up here" and "Whoʻs in love?" His songs came off melodic, while the strumming on his acoustic guitar, not so much percussive, but blues-oriented. Still, Tré Burt makes you immediately stop what you are doing, get real quiet, and take in the quiet magic that appears when he lets that creaky voice do its duty as a master storyteller.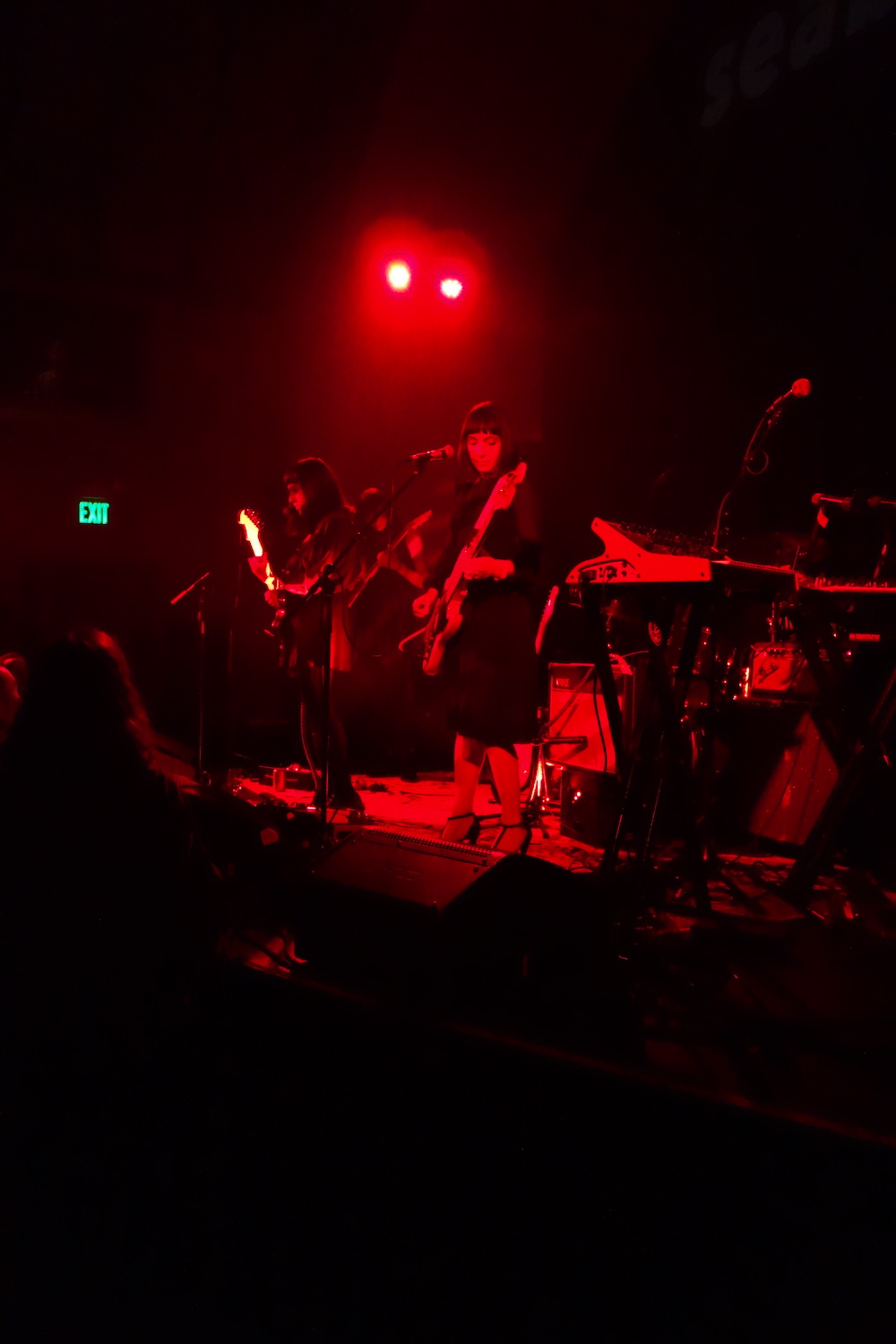 And then… by sneak attack… while waiting to see Imperial Teen at The Chapel Saturday night, Seablite a San Francisco four-piece band, loaded to the gills with fuzz, reverb, delay and songs whose lyrics fade in and out like a sugar rush that never crashes, stole the entire show. This 8pm opening act, in a crisp 35 minutes, maneuvered jangle-pop sensations and bubbly effervescent whimsy, overtaking The Chapel. The 65 people in attendance got a good look at what's coming around the corner. "They did the same thing opening for Ladytron a while back" shouted the bands' merch person ever so jubilantly in my ear. "Seablite is the shit," she happily announced while bouncing back to sell more vinyl records by the local band. Indeed they are.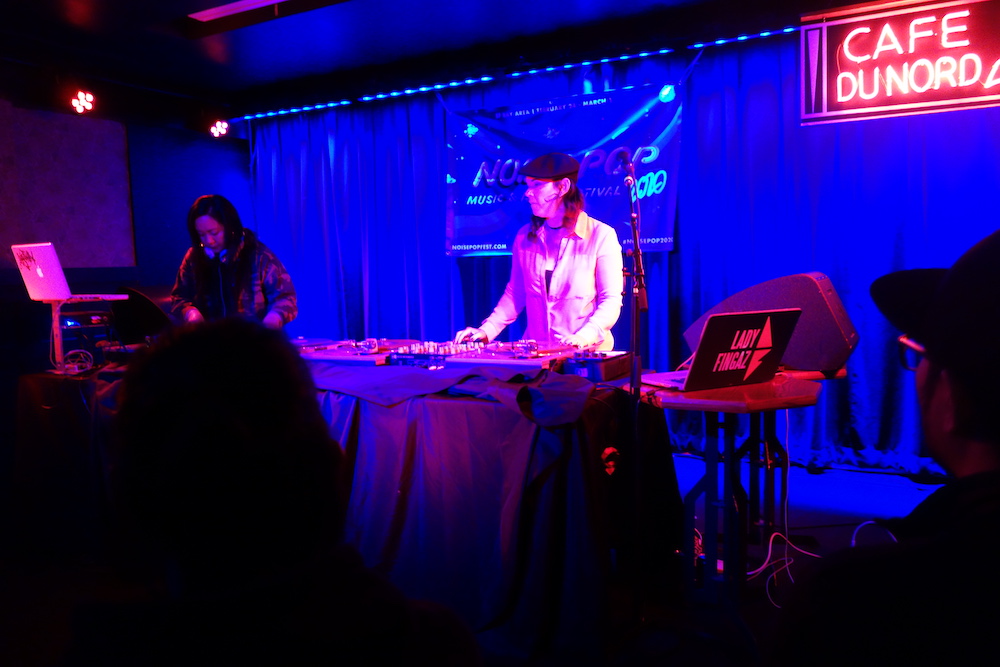 Closing down the Saturday night with a Midnite Pop-up show at Cafe Du Nord was a special appearance by Richard Quitevis aka DJ QBert the award-winning Filipino-American Turntablist and composer.
DEEANDROID and Lady Fingaz, supporting on the bill, running a fierce B2B session with high-flying cuts, scratches, drops, and finesse opened and at one point actually challenged to steal the show. Once on, QBert initially teased "Iʻm DJ Bathroom Break" and then proceeded to run through tricks, beats, and drops that kept the attendee's eyes fiercely planted on the ones and twoʻs until closing.
While some luminaries do shows to showcase some of the fire that made them famous, this performance, made it very clear, quickly: Q-Bert has not collected one speck of dust in that trick bag. It was a "RUN COME TEST" set, that left his legacy intact without the tiniest imperfection.