This is Good Taste, your weekly menu for eating well in the Bay Area. Since pizza on demand is a sexy thing to have in your freezer at all times, and especially so when it's not exactly warm outside, this week we are talking about frozen pizza and pitting popular restaurant versions against a local cold OG.
The local frozen pizza landscape isn't as rich as it was over the past few years, when several places started putting them on ice to sell when people weren't eating in restaurants. Unfortunately, some of these spots are no longer in business, but there are still some choice restaurant pizzas available at local markets such as Rainbow Grocery, Gus's Community Market, and Bi-Rite. I chose three of them and a local OG wholesaler to sample during this recent spate of cold and wet weather. Read on for the unscientific results and some recommendations for your freezer; individual stockists beyond the actual restaurants are listed on each pizza parlor's website.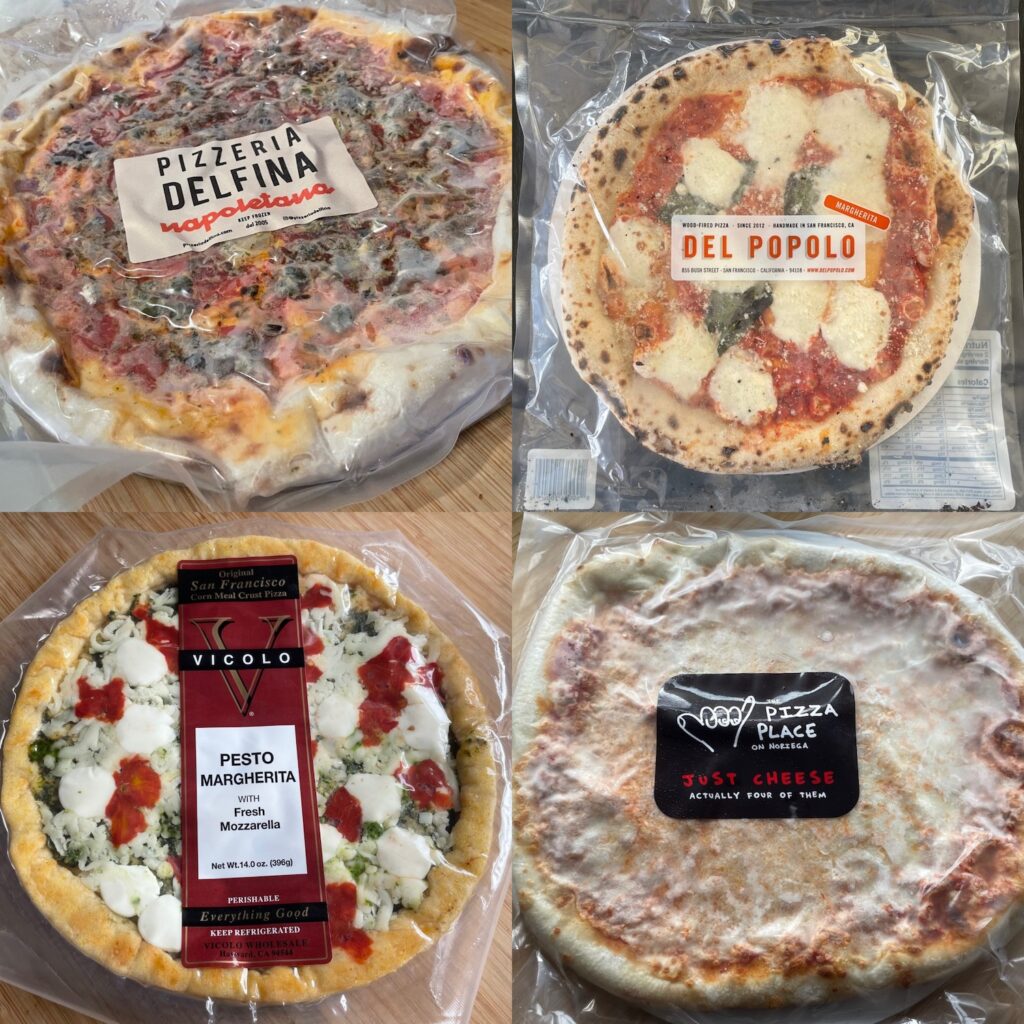 THE CONTENDERS
Napoletana by Pizzeria Delfina
Margherita by Del Popolo
Pesto Margherita by Vicolo Pizza
Just Cheese by The Pizza Place on Noriega
Each pie is ranked below in order of personal preference.
#4: Pizzeria Delfina's Napoletana
PD's seasonal Cherry Pie (with cherry tomatoes) is seared in pleasure in my brain, but the frozen Napoletana I tried was the most disappointing of this bunch. For me, the crust was too cracker-y and not doughy enough to come close to what I remember from the restaurant. While I will give their frozen pies another chance at some point, it didn't hit the spot this week.
#3: Vicolo Pizza's Pesto Margherita
Hayward wholesaler Vicolo has been slanging refrigerated and frozen pizzas on cornmeal crusts for decades. A small pie runs around $10, which is a good price point for sure, but I get a little bit frustrated that the line between baking a perfect crust and overdoing it is like two seconds flat. Still, I really enjoy the addition of pesto on their version of a margherita.
#2: Del Popolo's Margherita
Del Popolo has a restaurant in San Francisco and an incredible truck available for rent that is often spotted at local festivals and special events. I definitely enjoyed the frozen pie that I tried and would recommend it if my top choice isn't available where you're shopping. But it also had a bit of a stiff crust and I would rather hit them up for a fresh one.
#1: The Pizza Place on Noriega's Just Cheese
The Sunset District parlor has the frozen pizza I've been looking for since I started this experiment—I'm not sure if I would have been able to detect that it was once frozen after baking, if I didn't already know. The cheese doesn't have that iced out flavor that frozen pizzas can develop, and there's a more generous amount of it than in the other pizzas I sampled. At almost $20, it's also the most expensive here by a few dollars, but it's the one that will be in my freezer for the next apocalypse. Find it at Gus's markets, Bi-Rite, Luke's Local, and Gratta Wines.
Parting tip: if you're more into making a pizza with fresh dough, I'd highly recommend buying $4 naturally leavened dough balls from PizzaHacker, which has locations in San Francisco and Mill Valley.
Eat more with your eyes at Tamara's site California Eating.