The roots of French-Cambodian filmmaker Davy Chou's latest work, Return to Seoul (opening Fri/24 at Opera Plaza, SF), is rooted in a memory from when he brought his first feature, his 2011 documentary, Golden Slumbers, to the Busan Film Festival.
A French-Korean friend of his, Laure Badulfe, decided to accompany him. She had gone there before as an exchange student and stayed even longer, living and working there for two years, during which she met her birth father. She told Chou they would not be meeting up; she hated her dad. But within days of landing in the county, she changed her mind, bringing Chou along to the reunion with her parent.
"It was the first time for me, witnessing such a crazy moment," says Chou during a January visit to San Francisco. "I was seeing these two worlds that have nothing in common but, at the same time, they have this blood thing in common and they are trying desperately to connect but failing. It's not only a language barrier but so much is non-digested, strong feelings and emotions and there is so much you would like to explain that you can't. It's just impossible.
"That experience was the starting point of the film."
French-Korean artist Park Ji-min makes a striking debut as Freddie in the Film Independent Spirt Awards Best International Film nominee and Cambodia's short-listed entry for the international feature Oscar. Like Laure in real life, Freddie is a French woman born in Korea and adopted as an infant, who visits the nation of her birth with no initial interest in searching for her biological parents.
But curiosity gets the better of this smart, sardonic woman. It is a rocky first meeting with her dad (Ow Kwang-Rok), one that Freddie means to be one and done. But as she returns over and over again to the country, it is a relationship she cannot bring herself to completely sever.
The biggest challenge that faced Chou when it came to making Return to Seoul was casting Freddie. There are few French-Asian actresses; fewer still that are French-Korean. Opportunities for them are few and far between, so people aren't drawn to acting. It was essential that Freddie be played by a native French speaker and, since Return to Seoul is so much about identity, the lead also needed to be Korean.
Emotionally, Freddie can turn on a dime within a scene. Given those kinds of extreme emotions, Chou wanted the French-Korean equivalent of Isabelle Huppert but she doesn't exist yet. Instead, he opened his casting to non-professionals. He could easily have missed Park, who never had the desire to act and so never would have responded to an open casting call but a mutual friend told Chou he needed to meet her.
"It was right," he says. "She was the one, so close in terms of character. We took the camera and made a test and she just demonstrated that she had a natural instinct for the role."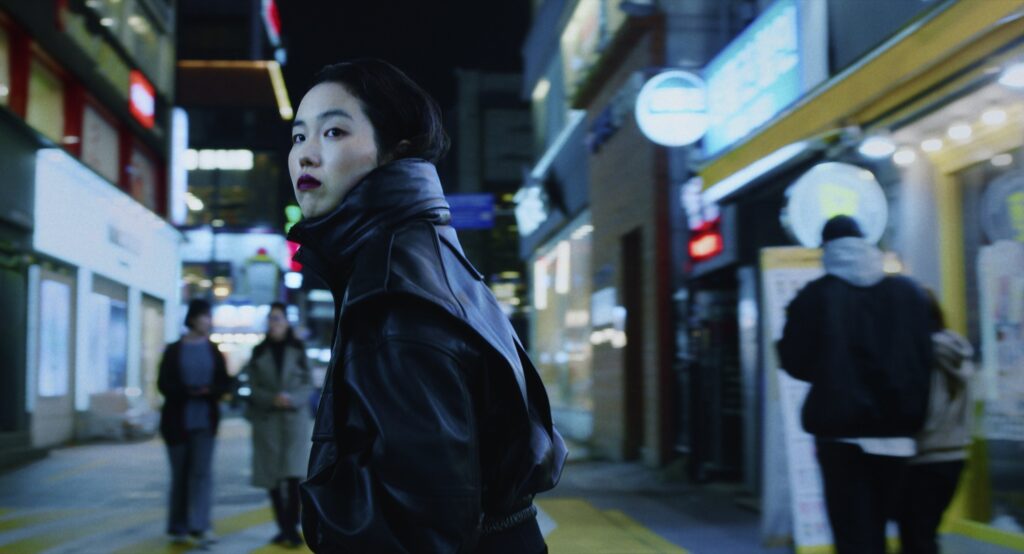 In casting Park, Chou gained not just a lead but a true collaborator. A meeting to talk about questions she had about the script that he thought would be half an hour ended up being a days-long process. Park had detailed questions and observations about nearly every scene. She also had certain objections, and Chou had to concede the point.
"I had to stop trying to justify the script and just listen to what she had to say," he says. "I created the character based on my friend, so I thought I understood things. But she said, 'No, you don't understand. You'll never fully understand because you don't have experience of what it means to be a French Asian woman in France.
"That was a learning experience for me, not only a director's learning experience, which I believe it is, but it's also the question of how represent characters in a film that have different experiences from your own. Not only from a director's point of view, but as a human being, that affected me and I'm grateful for that."
Chou is neither Korean nor adopted, yet it is a certain commonality he shares with Laure that led him to write Freddie's story. He makes his home in Cambodia now but he was born and raised in France. His parents were teenagers when they were sent to study there in the 1970s, so they were far out of harm's way and ended up setting down roots in France when the murderous Khmer Rouge regime took hold of Cambodia in 1975.
"I grew up in the 1980s and '90s in ignorance of my parents' background, culturally speaking, historically speaking, and grew up in a non-Asian environment as well," Chou says. "To the point where my parents weren't teaching us Cambodian and talked very rarely about the history of the country. Me and my siblings, not being curious enough to open a history book, became ahistoric. That taboo and trauma of something we don't talk about gets to the point that kids will not even be curious to open their minds to it.
"I believe that sometimes when the door is so locked, it's natural for people to suddenly, at one point, want to open it. And when they open it, they really go for it. That's what I did when I was 25."
Indeed, there are certain parallels between Chou and Freddie. The first time he visited Cambodia, it was for three weeks on a family holiday. Then he went back six months later, intending to stay for six or seven months. Eventually, he settled there. A new father, he is raising his family there.
And it was in Cambodia that Chou began his film career making Golden Slumbers, a documentary about how the Khmer Rouge decimated the nation's film industry, right down to erasing history by destroying prints of Cambodian films. It was a personal project for Chou, whose grandfather, Vann Chan, was a prolific producer until his death in 1969.
Much of what ensues in Return to Seoul is based on his friend's experience, as well as that of two other adoptees, but also on his on Chou's own sense of living in two worlds, in Paris and Phnom Penh.
"It's been 13 years now that I'm between France and Cambodia," he says. "I still can't totally define what exactly my position is between the two. It's something that is always shifting, every day."
RETURN TO SEOUL opens Fri/24 at Opera Plaza, SF, and March 24 at Regal Stonestown Galleria, SF. More info here.