Although I am currently layered in clothing with my space heater on "high" keeping me warm in my chilly San Francisco studio, I have been experimenting with ice and my bongs.
There are just certain things that I like chilly when I start using them, like pillows on my bed.
There is nothing like snuggling into my covers as I go to bed and cuddling a nice chilly pillow as my body starts to warm it up. Sometimes in the middle of the night I even toss out a warmed-up pillow for a new chilly one. Maybe that is the Texan in me who grew up in the heat, or I am just plain crazy, but I have always loved a nice chilly pillow.
Now, when it comes to bongs, I do love a nice icy bong. I know others share this opinion with me because when I heard about freezer bongs, I mentioned them to some friends who were highly interested.
Did I say freezer bongs? Yes! Hara Brands produces the Kryo system, in which each glass piece is infused with Kryogel, an all-natural freezable glycerin-based gel that cools your smoke as it passes through the coiled Kryo-chamber. 
The beaker bong I tried comes in three freezable pieces, the showerhead-style body, the kyro-chamber which pulls the smoke through and even the smoking bowl. So when it is Bong:30 at my place, aka the proper time to get stoned (actual times may vary), I go to my freezer, pull out my frozen bong pieces, assemble them and hit the slopes for some icy hits on this 14" tall glass bong.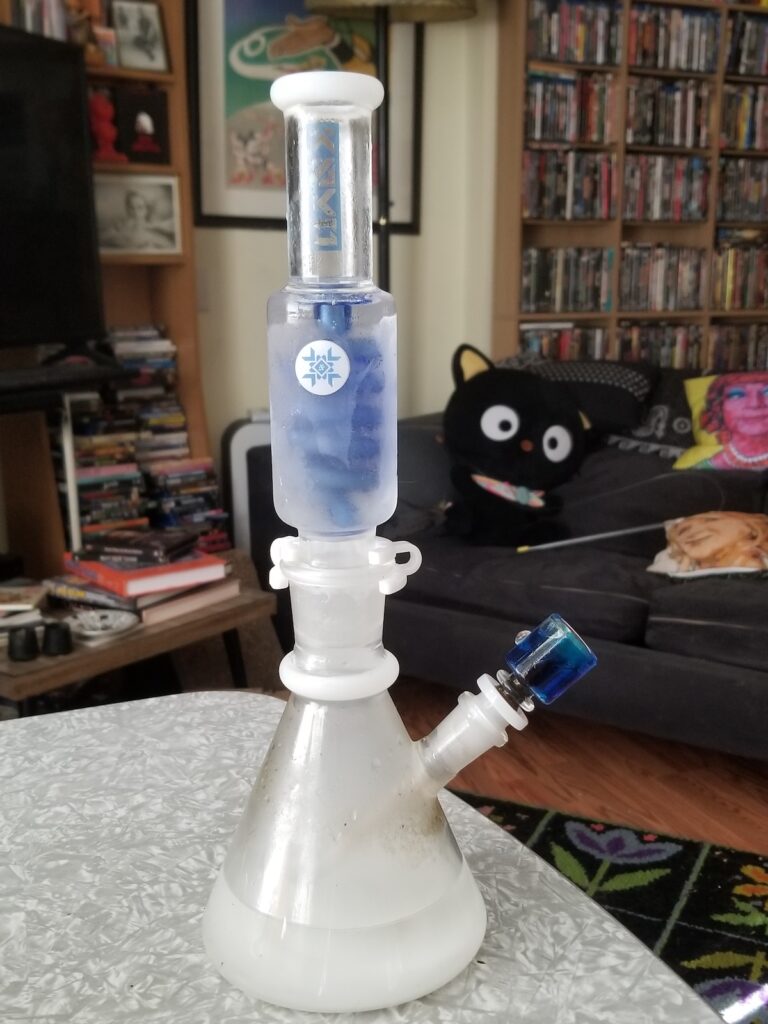 Of course the best hits are the first icy few. The glycerin does not stay solid and frozen long, but it does retain a chill for a long time. It also freezes up quite quickly once you put it back in the freezer.
The two main bong pieces are held together by a plastic clip, so you need to remember to always pick it up by its base. The bong is well made, has a nice weight to it and hits well. I like the shotgun stem because it shoots the smoke right up into my lungs. Icey bong hits allow you to take bigger hits which are very smooth and don't cause a coughing fit.
Kryo also makes a hand pipe, a Sherlock pipe, a dab rig, an upright bubbler, and bubble beaker bong. The pipes run about $70-$80 and the bongs and rigs $149-$199.
My current bong has indentions in the glass to hold ice cubes to chill down that smoke as it enters into my lungs. Of course this is a lot cheaper than buying a new system. You just pop some cubes into the bong, and you are ready to go. The ice cubes last longer at chilling the bong, but you do have to wait longer for the bong to actually chill.
I wouldn't go out to buy a freezer bong just to have one, but if I was in the market for a new bong, I would definitely recommend it. I spent the weekend toking on it, and it hits well frozen or at room temperature. Of course room temperature for me right now is around 50 degrees, so I look forward to trying it in warmer weather!
Now on to proper bong etiquette, when you have guests over, it is best to offer them a clean bong with clean water.
Keeping your bong clean will also help you smoke the plant better by creating a nice clear pathway for the smoke. Cannabis residue can gum up the stems and pipes in your bong which can impede easy smoking and cost you to lose some valuable THC bits.
For years I used Formula 420 which you just dump in the bong and shake and swirl until the build up melts away. You can easily find it at most head shops for about $13 a bottle, or you can order it online.
For the thrifty smoker, just buy a box of coarse kosher salt or rock salt and a bottle of 91% Isopropyl Alcohol. Shake those ingredients up in the bong and Voila!, you get the same result for a lot less money.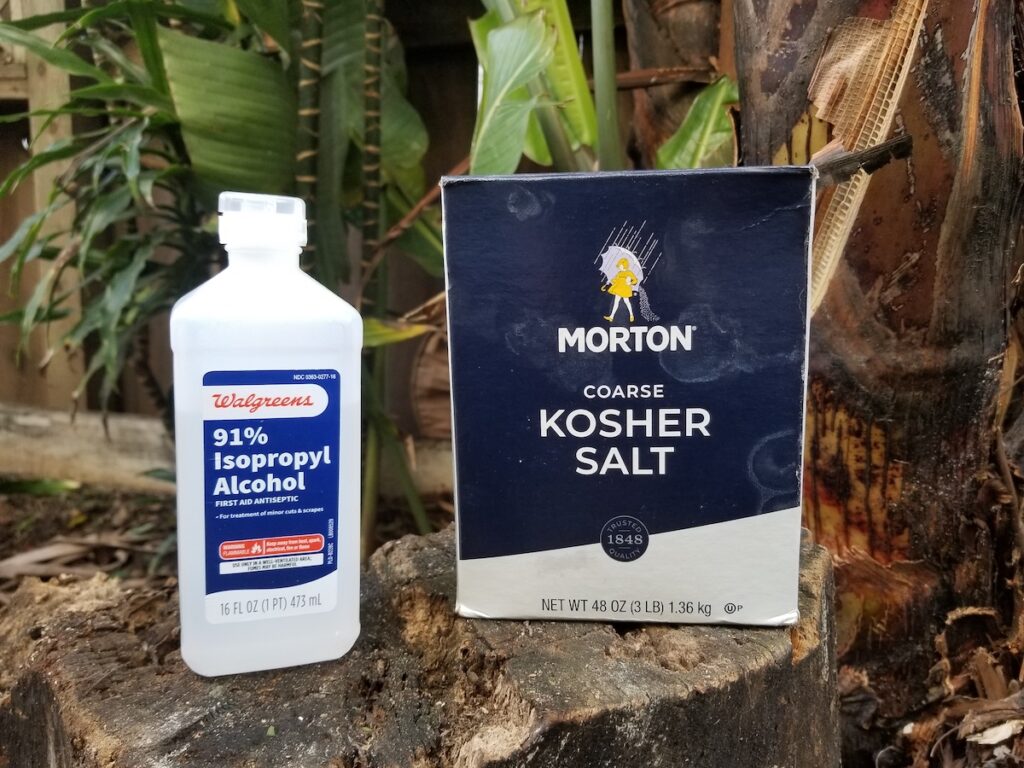 Stoners, the key now is to keep that bong clean and not to backslide into having a crusty bong.
Now that the bong is clean, load it by gently tearing up your cannabis or coarsely grinding it. Some people like to plop in a whole nugget, but I find that smoking it that way can lead to the smoke becoming acrid and harsh tasting after a few hits, and sometimes that inner core of the bud is left unsmoked. Tear it up a little to let oxygen in to help everything light up and smoke at the same time.
If you have company over, it is always best to offer them a fully untouched green bowl, and let them toke away.
If you start out smoking a party bowl (More than one guest), it is polite to just smoke on one portion of the bowl leaving some green material for others to toke on afterwards. If the last person is left with an ashy hit, promptly reload the bowl, and hand it to them first for a fresh hit.
Of course, you can always serve individual bowls to people, let them smoke it all and then reload for the next person. This may take a bit more time, but if you are all just hanging out listening to music or something, it won't matter. There is a certain satisfaction in smoking a whole bowl to yourself. Just be sure and tell everyone beforehand so they know it's all for them.
Be sure and smoke the entire bowl before handing it back, and do not bogart the bong while talking nonstop. It is a bong not a microphone. Finish your hit and quickly pass it back to your host for the next eager stoner.
Before you go adding root beer or another liquid besides water to your bong, remember those liquids can gum up your bong especially if you have a bunch of small pieces and can be a pain to clean out completely.
I have been a bong aficionado my whole life. Bongs cool the smoke through water as it enters your lungs and allow for the least amount of smoke to escape from being inhaled. It helps you get the most bang for your cannabis buck. Keep it clean and know your bong etiquette when in a group.
Just know when you come over to my place that clean icy bong with a fresh bowl of green cannabis will be waiting for you to take some sweet, smooth hits off it.
Bong Appetit!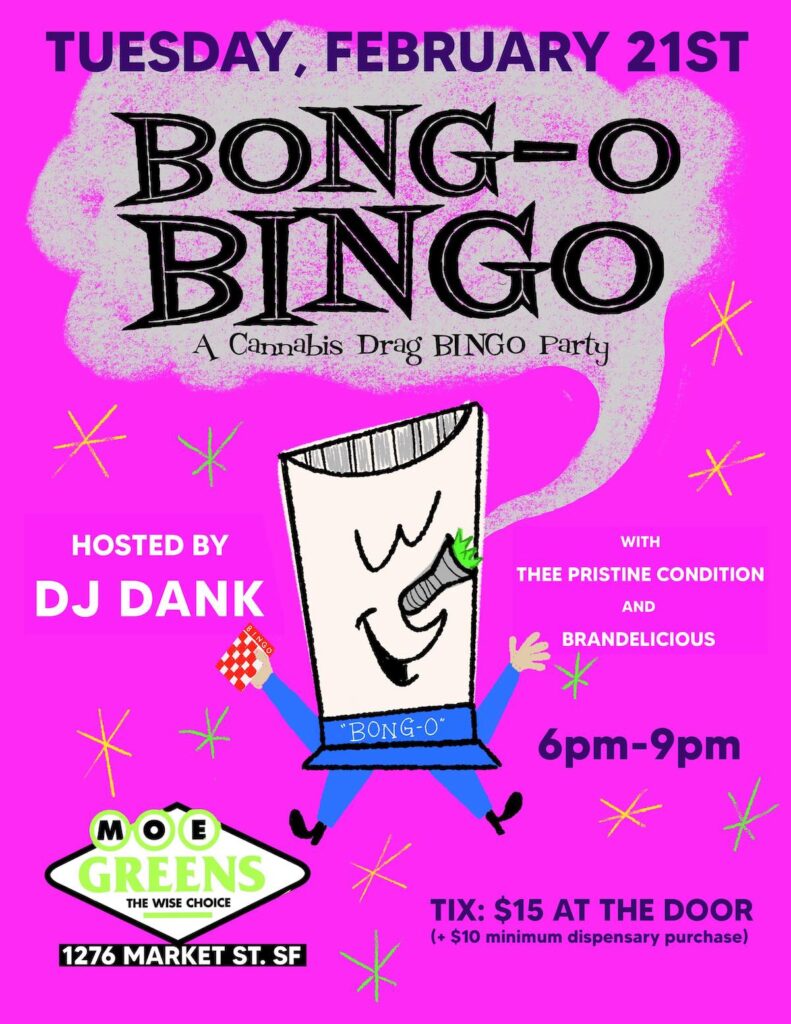 Also, BONG-O BINGO, drag cannabis bingo, (more info here) is back at Moe Greens Dispensary on Tuesday, Feb 21 from 6-9pm. For $15 at the door, you get entry, one bingo card, one raffle ticket and a fun night of drag, bingo and cannabis prizes. The event is hosted by Brandelicious, Thee Pristine Condition and myself, and this month's sponsors include Manzanita Naturals, Seven Leaves, Mirayo by Santana, That Good Good Farm, Stone Road, Califari, and more! We have been having a blast, so make time to come out and support the ever blooming cannabis nightlife. Plus win free weed!
Now it's time to light up!